Valentine's Day Tornadoes since 1950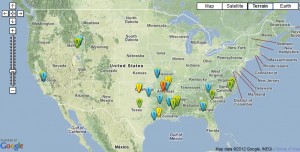 There have been 38 tornadoes in the United States on Valentine's Day (February 14) since modern records began in 1950.
11 states have seen tornadoes on Valentine's Day: Mississippi (9), Arkansas (5), Idaho (5), Georgia (3), Oklahoma (3), Texas (3), California (2), Louisiana (2), Missouri (2), North Carolina (2) and South Carolina (2).
Eight of these tornadoes have been significant (F2 or higher), with one F3 during 1956 in Arkansas. This F3 also produced the longest track length of any Valentine's Day tornado at 33 miles.
The last time the U.S. experienced a tornado on Valentine's Day was 2000, when 11 of them impacted Idaho and the Southeast U.S.
Image and data collected at Tornado History Project. Follow us on Twitter.
The following two tabs change content below.
Defense and foreign policy researcher at a D.C. think tank. Information lead for the Washington Post's Capital Weather Gang.
Latest posts by Ian Livingston (see all)