The Mississippi Valley Outbreak of 1971 and February's only F5 tornado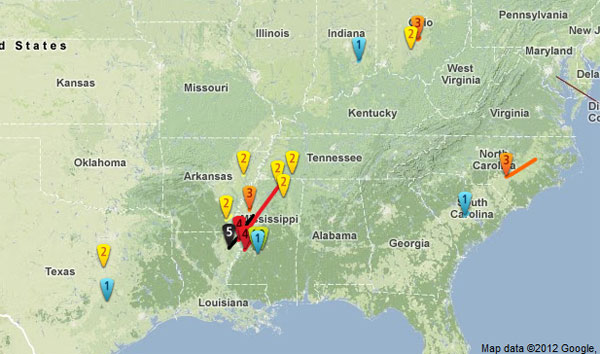 Nineteen tornadoes struck from Texas to Ohio and North Carolina on February 21-22, 1971. The greatest concentration of them was in Louisiana, Arkansas, Tennessee, and especially Mississippi. The outbreak was responsible for 123 deaths and nearly 1,600 injuries. This event (with 121 of the deaths on the 21st) accounts for over 1/4 of all February tornado deaths since 1950. It is regarded as the second deadliest February outbreak, behind the Enigma Outbreak in 1884.
The outbreak came together when a rapidly deepening surface low pressure system passed through parts of east Texas and toward central Missouri from the 21st through the 22nd. Concurrently, an upper-level low moved out of the Rockies on its way toward the the central Plains. To the southeast of the main surface low, a triple point developed in the vicinity of the Louisiana, Arkansas and Mississippi borders. Through the 22nd, this triple point headed toward Tennessee with a warm front draped eventually across the Carolinas.
The main show occurred on February 21, in the heart of the outbreak area — La., Ar., Ms., and Tn. — as temperatures rose into the 60s and 70s replete with high dew points. The devloping triple point helped spawn the eventual boundary where strong southeast and east winds could clash with the incoming air mass. Strong wind shear and abnormal instability for February combined to create a dangerous mix, all while a heavy snowstorm impacted the upper mid-west and the Plains.
The first storms of the evening began to spawn tornadoes between 3 and 5 p.m. in southeast Arkansas, northeast Louisiana, and western Mississippi. Storms continued to drop tornadoes across the area and to the northeast into Tennessee until late evening. The storms and tornadoes associated with them raced northeast at speeds up to and past 50 mph.Three of these tornadoes would become quite prolific and march northeast for hours, two are still ranked as the top two deadliest February tornadoes since 1950.
This outbreak was unusual, particularly for February, in its percentage (nearly 70%) of significant (F2+) tornadoes, with 13 of the group reaching such a strength. Over the two days, there were three F3s, two F4s and February's only F5 tornado on record. As comparison, the Super Tuesday outbreak of February 5-6, 2008 had 10 EF-3/EF-4 and no EF-5s out of 86 total tornadoes. Keep in mind, it is possible that some tornadoes were not reported in 1971 or that one or more were classified as one tornado and was actually several.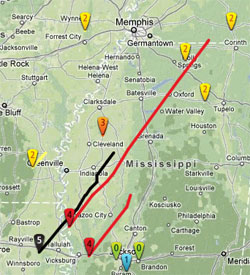 The F5 tornado in the Mississippi Valley Outbreak killed 47 people and injured over 500. It had a track length of an incredible 109 miles, and was 500 feet wide at its greatest. It's also the only F5 on record (since 1950) to strike Louisiana. Perhaps the hardest hit place from this tornado was Inverness in Mississippi. The town was basically completely destroyed and 21 people died there. At any time of year, this was a respectable tornado on every metric, and for February it was rather astounding.
Sadly, the F5 tornado was not the deadliest of this outbreak. That status is held by an F4 which traveled from just east of the Louisiana/Mississippi border all the way to Tennessee and had an amazing track length of 202 miles (there is some question to the Tennessee portion, and this may have been a family of tornadoes rather than just one). This tornado completely leveled several small towns, and killed entire families in its path. It is ranked as the deadliest tornado in February during modern records.
Though the majority of tornadoes happened in fairly close proximity to each other, F2+ tornadoes occurred in Texas, Ohio and North Carolina as well. Both Ohio and North Carolina were hit by F3s on the 22nd. The North Carolina tornado was particularly prolific, starting in Fayetteville and moving on a path to the northeast for 85 miles.
Quick Stats
Number of tornadoes: 19
Number of significant (F2+) tornadoes: 13
States impacted: Tx., Ar., La., Ms., In., Oh., SC, NC
Tornadoes with 50+ mile paths: 4
Deadly tornadoes: 5
Fatalities: 123 (121 in La. and Ms.)
Injuries: 1,592
Sources
Tornado History Project. http://www.tornadohistoryproject.com
Thomas P. Grazulis, Significant Tornadoes 1680-1991 (Environmental Films, 1993).
NOAA Earth System Research Laboratory, Daily Mean Composites. http://www.esrl.noaa.gov/psd/data/composites/day
NOAA Central Library, U.S. Daily Weather Maps Project. http://docs.lib.noaa.gov/rescue/dwm/data_rescue_daily_weather_maps.html
The following two tabs change content below.
Defense and foreign policy researcher at a D.C. think tank. Information lead for the Washington Post's Capital Weather Gang.
Latest posts by Ian Livingston (see all)