Leap Day Tornadoes 1952-2008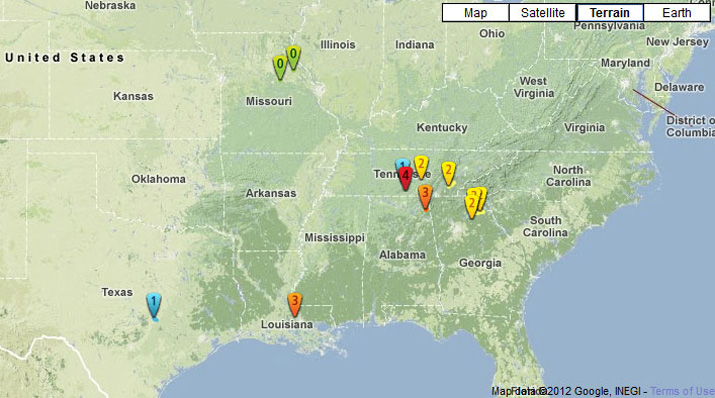 Note: This post does not consider any additional tornadoes that are confirmed on Feb 29, 2012 with storms ongoing or additional storms today. It will be updated or a follow-on post will be made as necessary.

A few weeks ago I took a look at Valentine's Day tornadoes – there were 38 of them.
Now, when it comes to "Leap Day" (or February 29), the opportunities are obviously much less numerous since this odd day out only comes once every four years. Let's take a look since records began in 1950…
Through 2008, six states were impacted by Leap Day tornadoes: Tennessee (4), Georgia (3), Missouri (2), Alabama (1), Louisiana (1) and Texas (1).
If you add up those numbers, you'll see that there were 12 tornadoes on Leap Day, eight of which occurred in 1952 during a solid (for February) mini outbreak of tornadoes that included an F4 in Tennessee.
Prior to 2012, Leap Day tornadoes caused 5 fatalities and 339 injuries. The majority of both came in two tornadoes (including the F4) during the 1952 outbreak. During the period, the most killed by one Leap Day tornado was the three in an F1 which struck Tennessee on that day.
Eight, or 66%, of all Leap Day tornadoes from 1952-2008 were F2 or stronger. The longest track length of any previous Leap Day tornado was 15 miles by an F2 that hit McMinn County in Tennessee in 1952.
SPC tornado data and map plots obtained at the Tornado History Project. Get updates about U.S. Tornadoes on Twitter and Facebook.
The following two tabs change content below.
Defense and foreign policy researcher at a D.C. think tank. Information lead for the Washington Post's Capital Weather Gang.
Latest posts by Ian Livingston (see all)