March calendar day tornado records and the March 2012 outbreak
As the March 2, 2012 tornado outbreak was kicking into high gear today, I shared the image below on Twitter and Facebook. It's a look at the highest number of tornadoes in one calendar day in March. The historical odds against even getting to 25+ tornadoes are rather significant (only a 0.8% chance).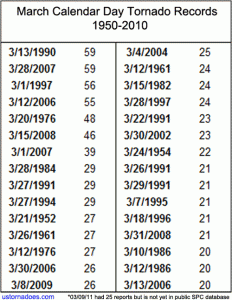 Now, we can't yet accurately compare today's reports as far as historical records go, and there is a chance that some reports are double reports from the same area. Or one tornado reported as several while moving along a line, but the map is still rather staggering.
The following two tabs change content below.
Defense and foreign policy researcher at a D.C. think tank. Information lead for the Washington Post's Capital Weather Gang.
Latest posts by Ian Livingston (see all)