U.S. Tornadoes: The Month of May by the Numbers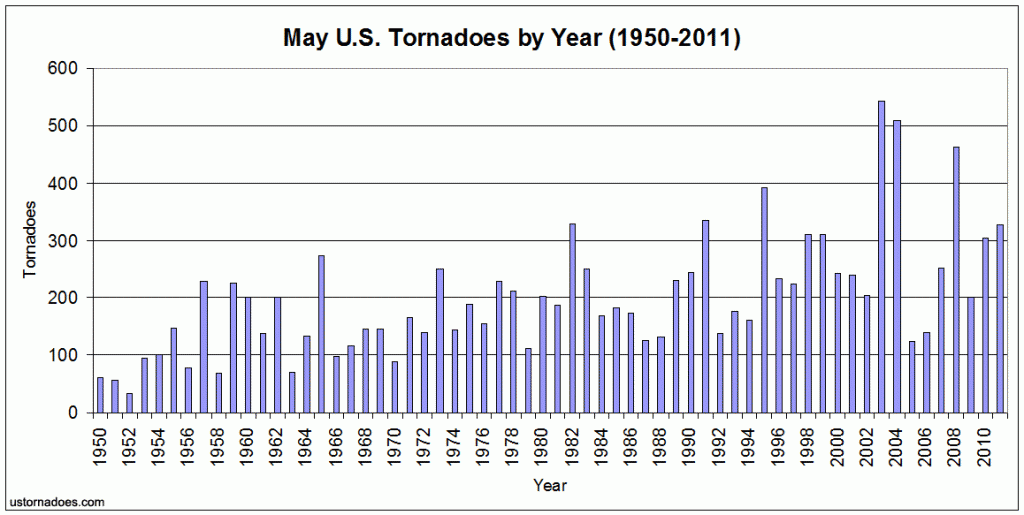 When it comes to raw numbers of tornadoes, May is king. And, unlike prior months, days per month with tornadoes are — on average — quite frequent, in addition to the larger outbreaks which crank up sizable totals. While quiet periods are still certainly possible in May, it's more unusual to find stretches of time with no tornado activity in the U.S. compared to April. About 22 percent (1950-2011) of all tornadoes have occurred in May. This compares to 14 percent in April and 20 percent in June.
The May tornado map detailing density of strikes by county shows almost the entire lower 48 lit up in blue in one spot or another. In fact, the only states that have not seen a May tornado are Rhode Island and Alaska. In addition to much of the U.S. facing a potential tornado threat in May, the southern and central Plains often play host to dozens to hundreds of tornadoes throughout the month.
May Tornado Stats (1950-2011)

Total tornadoes: 12,349 (+4,464 from Apr)
Climatological average (1991-2010): 275 (+120.4 from Apr)
10-year average (2002-2011): 306.2
Long-term average (1950-2011): 199.2
Monthly high: 542 (2003)
Monthly low: 34 (1952)
Total fatalities: 1,253
Total injuries: 17,009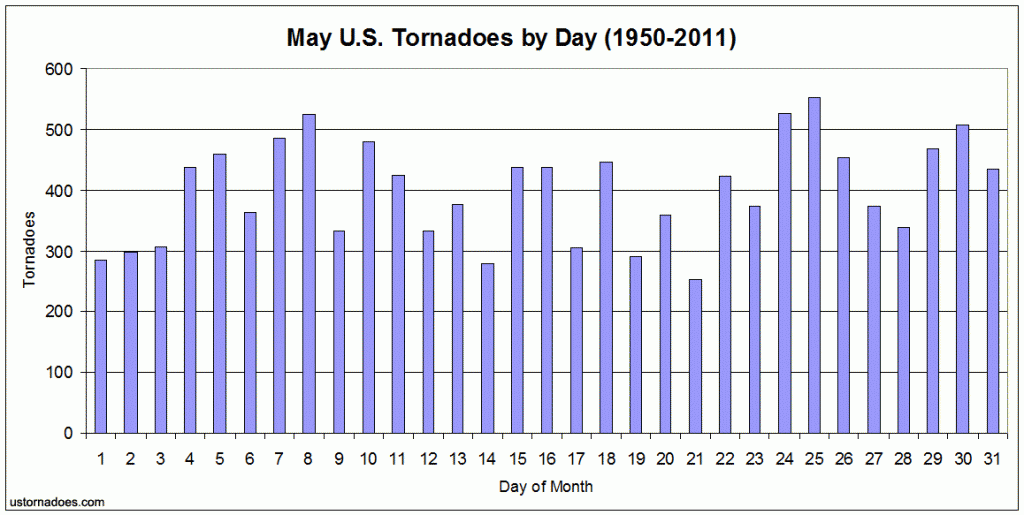 A raw daily-count of tornadoes in May sets the low bar about 100 tornadoes higher than April. Tornado activity appears relatively stable, with a noted slight increase through the month. Of course, the raw count is impacted by outbreaks, so we can look at the tornado day averages as well. The first week of May averages (1991-2010) about an 83 percent shot of a tornado touching down on any day. The final seven days odds are 87 percent.
The southern Plains tornado season peak is more often than not in May, as the numbers show. Whereas early-season (March, April) featured heavy presence of states in the southeast U.S., they all fall out of the top set heading into May. Texas to Kansas (including Oklahoma) is a particular hotspot throughout the month, with Nebraska and Iowa rounding out the top-5 states for May tornadoes. Florida is the only southeast state in the top-10, and as throughout the year, most Florida tornadoes are relatively weak.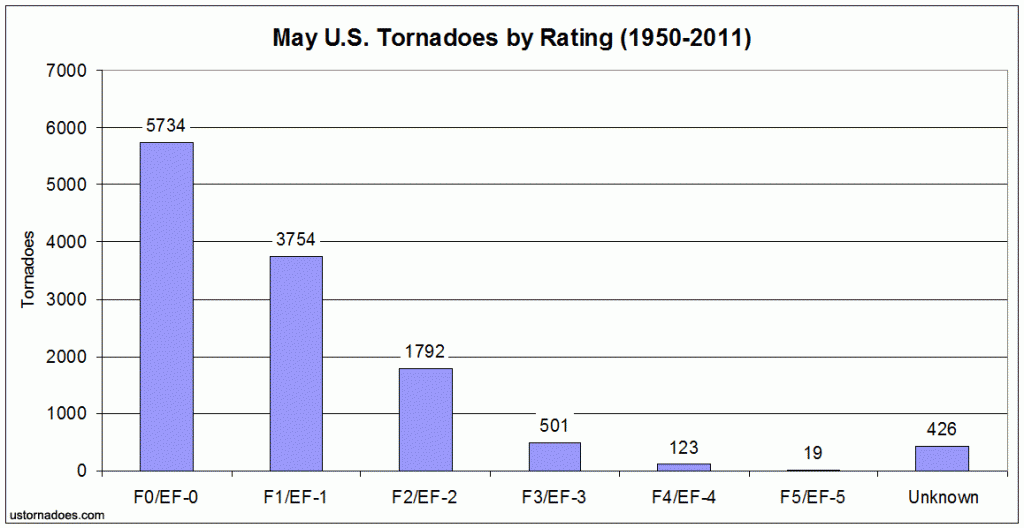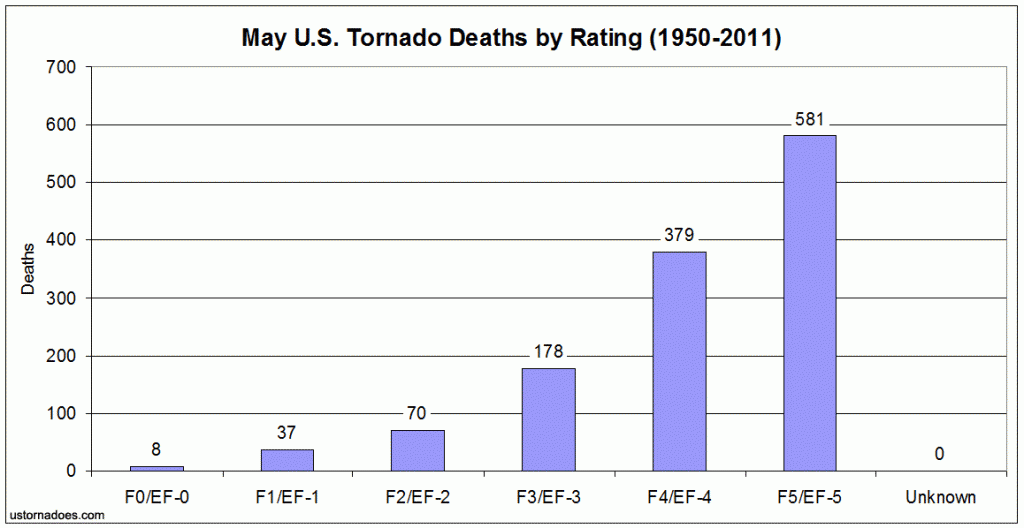 Significant (F2/EF-2+) tornadoes made up 19.7 percent of May tornadoes in the period, and they caused 96 percent of the deaths. While overall tornado numbers peak in May, the ratio of significant to overall tornadoes is down from the months prior. The deadliest tornado on record in May is the EF-5 that struck Joplin, Mo. on the 22nd in 2011, killing at least 158.
SPC tornado data obtained at the Tornado History Project. Images can be selected for larger versions. Get updates about U.S. Tornadoes on Twitter and Facebook. Official 2012 data will be available during spring 2013.
The following two tabs change content below.
Defense and foreign policy researcher at a D.C. think tank. Information lead for the Washington Post's Capital Weather Gang.
Latest posts by Ian Livingston (see all)