Tornado Threat Forecast: May 7-13, 2012
1-3 DAY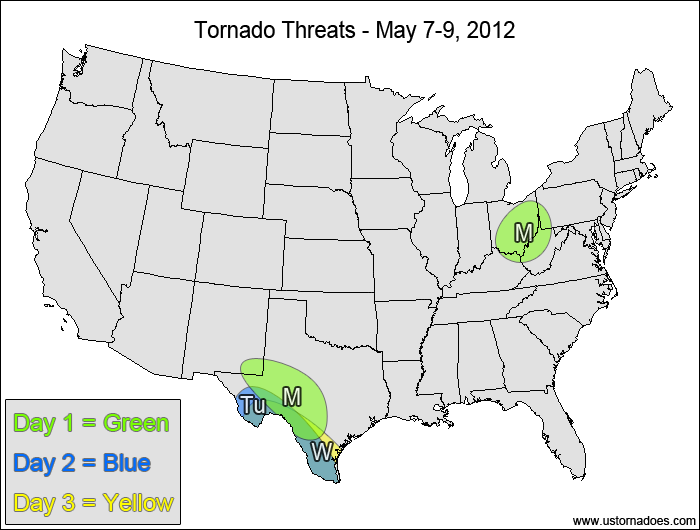 Monday
West-central Texas — POTENTIAL: Medium — CONFIDENCE: High
Storms in a moderate CAPE and low to moderate shear environment could become tornadic today as a jet streak starts to poke into northern Mexico and southern Texas, with the risk area under the left-exit region of the jet. Directional shear and upper-level winds will be favorable for rotating, sustainable storms to form, but weak mid-level winds will work against tornado development. Latest analyses and RAP forecasts show much higher CAPE (3000-4000 J/kg) in this area compared to the NAM/GFS, indicating a more unstable environment capable of strong to severe storms. The southern and western extent of the risk area will be limited by high LCLs.
Ohio Valley — POTENTIAL: Low — CONFIDENCE: High
Enough instability and directional shear is available for tornadic potential, but the speed shear is weak overall and the winds are unidirectional in the mid to upper levels, which will work against maintaining a more discrete storm mode. CAPE will be in the range of 1500-2500 J/kg, so there is plenty of instability for storms to work with if they can mature enough to become tornadic.
Tuesday
Southwestern Texas — POTENTIAL: Low — CONFIDENCE: Normal
It is difficult to determine the overall potential given how the models have underplayed the instability in their Monday forecasts. The overall setup looks similar to Monday, but with more "dirty convection" and cloud cover that will work to limit the overall instability.

Wednesday
Southwestern Texas — POTENTIAL: Very Low — CONFIDENCE: Normal
The stubborn cut-off low west of Texas will start to drift eastward on Wednesday, keeping a low tornado potential around with similar conditions to Tuesday.
4-7 DAY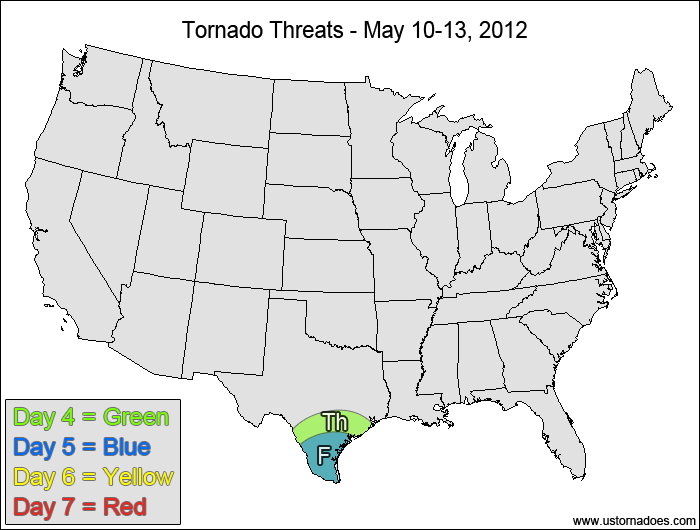 Thursday
Southern Texas — POTENTIAL: Low — CONFIDENCE: Normal
The disturbance in Texas will work a little more eastward on Thursday, and it will be dealing with the same advantages and disadvantages it has had since Tuesday. CAPE will be on the low side and the mid-level winds will be weak, but there will be good directional shear and decent upper-level support.
Friday
Southern Texas — POTENTIAL: Low — CONFIDENCE: Low
The tornado potential will finally push out of southern Texas on Friday as the upper-level low starts to gain eastward momentum and weaken.
Saturday
No tornadic activity expected.
Sunday
No tornadic activity expected.
The following two tabs change content below.
Operational Meteorologist at WeatherBug (Earth Networks).
See full bio
.
Latest posts by Mark Ellinwood (see all)