U.S. Tornadoes: The Month of August by the Numbers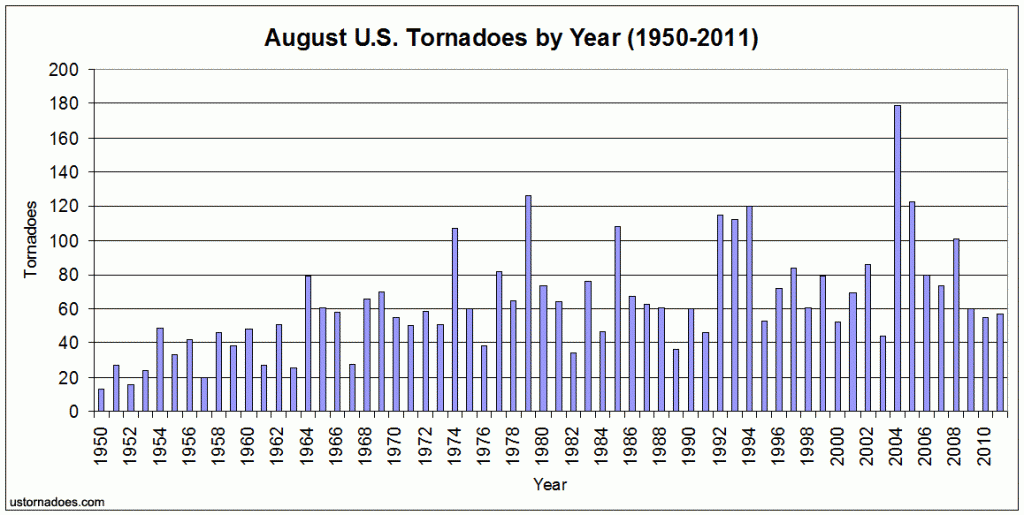 While August is the fifth most tornado-filled month of the year in the U.S. by overall numbers (1950-2011), it's the beginning of the "off season," when monthly expectations for tornadoes are not too high, but they can still be nearly a daily occurrence throughout the country.
As August is part of the peak warm season, tornadoes have happened and are possible across most of the United States. The north-central United States remains the general target of more organized activity in August, though the overall count leaders for the month are both southern states.
August Tornado Stats (1950-2011)

Total tornadoes: 3,925 (-2,129 from July)
Climatological average (1991-2010): 83.2 (-50.4 from July)
10-year average (2002-2011): 85.8
Long-term average (1950-2011): 63.3
Monthly high: 179 (2004)
Monthly low: 13 (1950) / 36 (1989), lowest recent
Total fatalities: 125
Total injuries: 2,848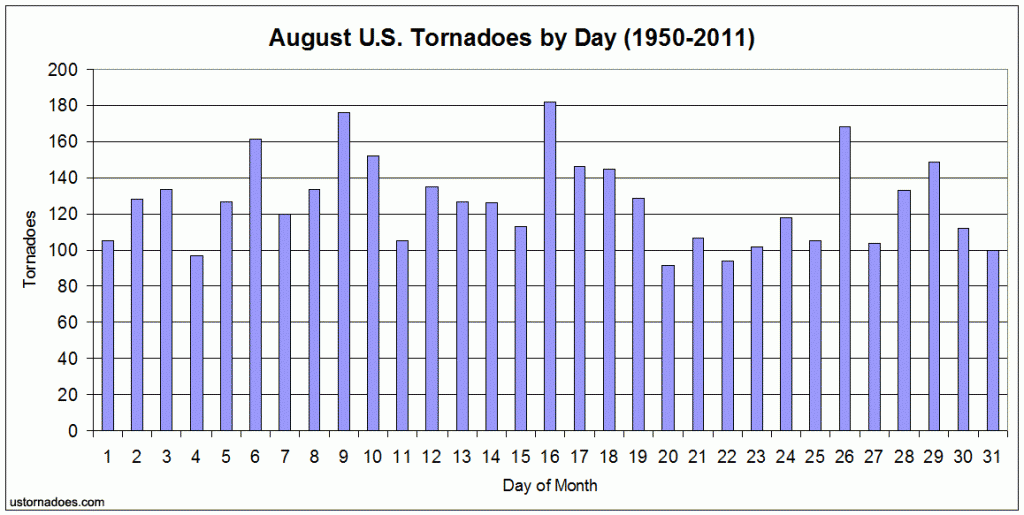 Tornado aggregates by day show a slight decrease through the month, but relatively consistent if overall lighter activity than months prior. When considering tornado day counts during the current 1991-2010 climatological period, August still shows a considerably sizeable 69.4 percent of days with a tornado touchdown. This is roughly ten percent higher than April even though April sees more tornadoes and tornado outbreaks. It's also much higher than other off-season months during the cool season to come.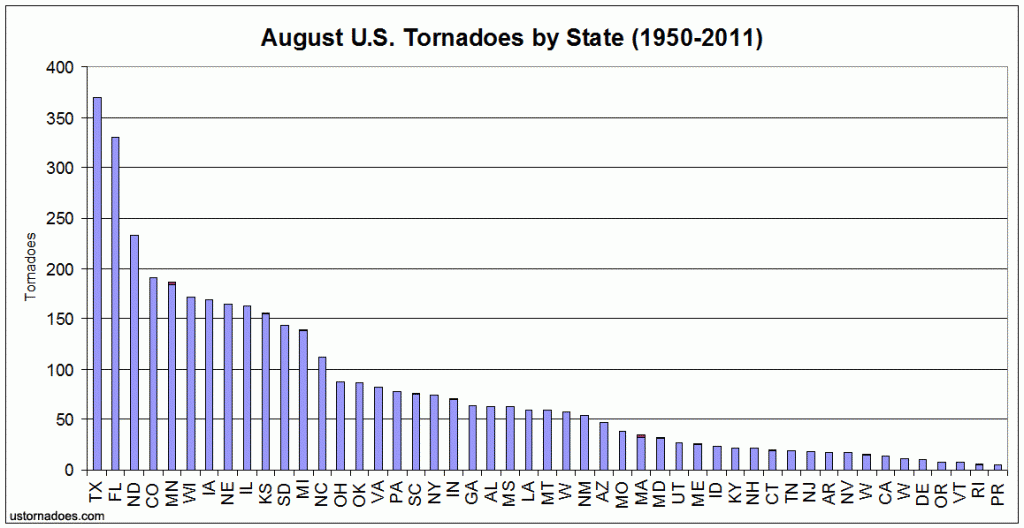 Texas and Florida regain leads on the state tornado count for August, primarily because most other states are seeing decreased tornado activity further from peak. Texas's size advantage lead returns, and both Texas and Florida see relatively normal tornadic activity associated with tropical systems during the month. Rounding out the top five are North Dakota, Colorado and Minnesota.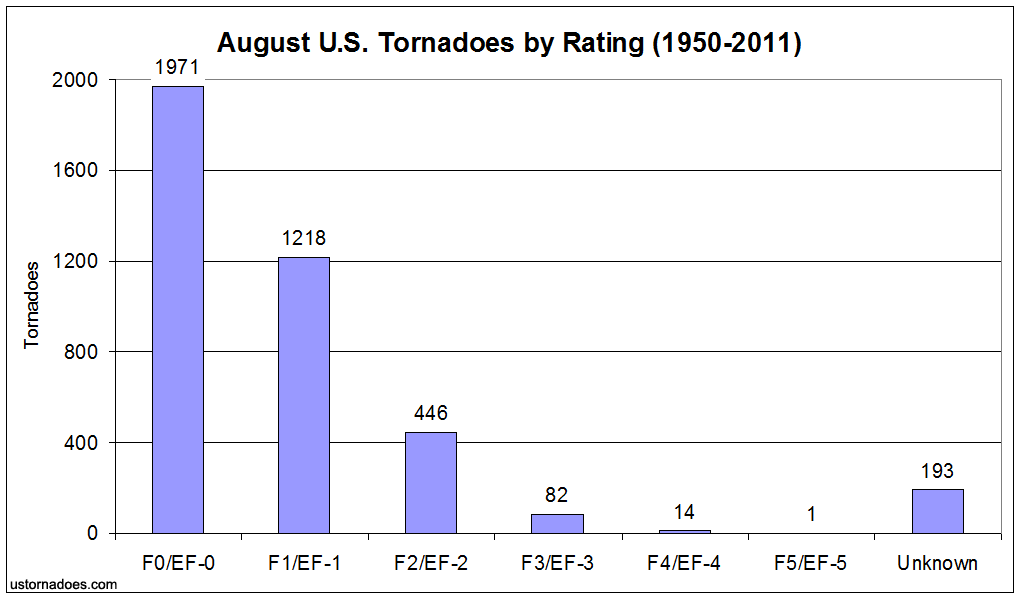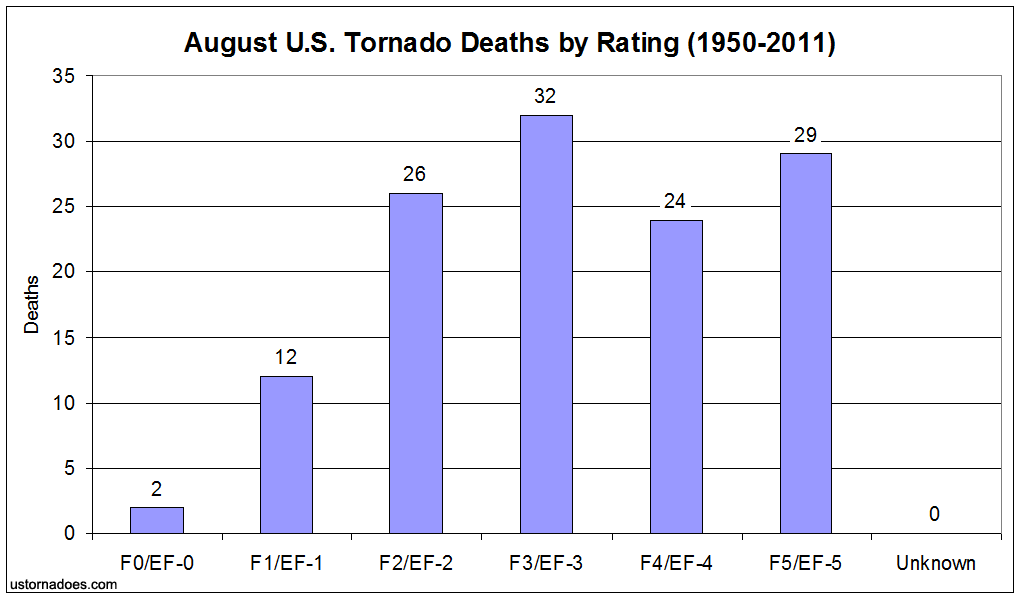 Significant tornadoes (those F2/EF-2+) make up 13.8 percent of August tornadoes, but have been responsible for 89 percent of deaths during the month. The deadliest tornado in August was an F5 which struck Plainfield, Illinois on the 28th in 1990. Even with much fewer tornadoes than July, August has had almost twice as many tornado deaths.
U.S. Tornadoes by The Numbers

All: Jan | Feb | Mar | Apr | May | Jun | Jul | Aug | Sep | Oct | Nov | Dec
Significant: Jan | Feb | Mar | Apr| May | Jun | Jul | Aug | Sep | Oct | Nov | Dec
SPC tornado data obtained at the Tornado History Project. Images can be selected for larger versions. Get updates about U.S. Tornadoes on Twitter and Facebook. Official 2012 data will be available during spring 2013.
The following two tabs change content below.
Defense and foreign policy researcher at a D.C. think tank. Information lead for the Washington Post's Capital Weather Gang.
Latest posts by Ian Livingston (see all)