Tornadoes from northern Gulf of Mexico hurricanes and tropical storms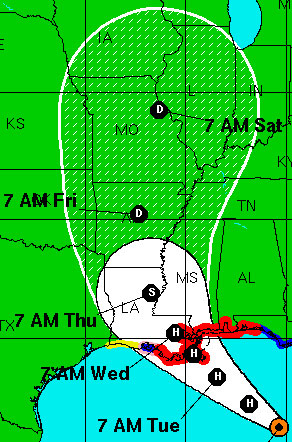 Almost all landfalling tropical systems present a tornado threat. Already in 2012, we've seen a fairly substantial tornado maker in Tropical Storm Debby, even though it was not that strong of a system.
In fact, the case in which a named storm makes landfall along the northern Gulf of Mexico without any tornadoes is the rare one. Among many other reasons, with this history we can surmise that tornadoes are to be expected as soon to be Hurricane Isaac makes landfall and then moves inland during the next few days.
This quick glance (I hope to return to the topic in more depth) at tornadoes from tropical cyclones will focus on storms that have struck the northern Gulf of Mexico since the mid-1990s. The utilization of Doppler radar which began during this time is especially critical in identifying tropical system tornadoes due to their often short-lived, weak, and rain-wrapped nature.
Even with Doppler radar to help us find these typically transient events, it seems pretty likely that additional tornadoes are still missed in these systems. A major reason here is that they coincide with a larger weather crisis. Particularly in the core of a strong system, it might be difficult to judge one type of severe wind damage from another.
What we know is that since 1995 no hurricane making landfall from Louisiana to the Florida panhandle produced fewer than 11 tornadoes in its life, including post-landfall while the system remained an identifiable and separate mid-level entity. Extending into northeast Texas, only Humberto, a small Hurricane that developed along the coast rapidly before landfall, provided numbers of tornadoes that were not at all noteworthy with two.
Stronger hurricanes have also tended to cause the most tornadoes during the period, though that's not a hard rule to live by. Some tropical storms like Allison (2001) and Bill (2003) spawned more recorded tornadoes than a number of their much stronger siblings.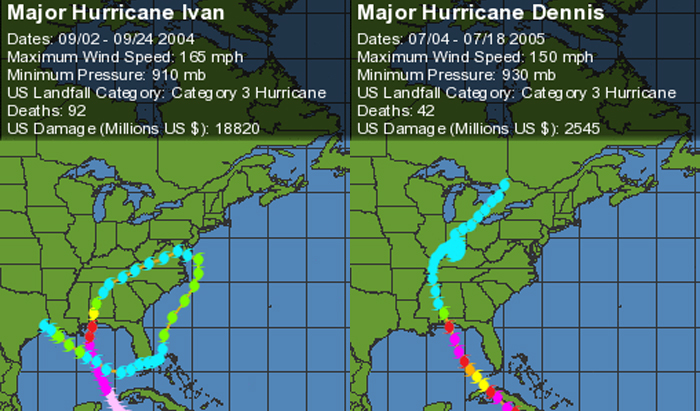 Perhaps the clearest example of two "similar" hurricanes producing much different results in confirmed tornado counts is that of Ivan (2004) and Dennis (2005). Landfall locations were rather close, as were wind speeds. Yet, Ivan went on to produce an all-time record 118 tornadoes along its track northeastward through the mid-Atlantic. Dennis produced a more paltry 17 tornadoes across Florida and the southeast, as its mid-level center quickly headed north and weakened while the surface low ran east off the coast.
Other recent big-name northern Gulf of Mexico storms have produced a considerable number of tornadoes. Rita (2005) closely follows Ivan on total tornado count with more than 100, but Rita is the winner when it comes to tornadoes over a smaller area. All of Rita's tornadoes were confined to the South. Its tornadoes were all a considerable distance from the landfall point near the Tx./La. border, with their center on Mississippi.
Katrina (2005), Gustav (2008), Georges (1998), Cindy (2005), and Opal (1995) all produced 35 or more tornadoes each. Ike (2008) fell just short. For the most part, the prolific tornado producers go on to spawn tornadoes for several days after landfall.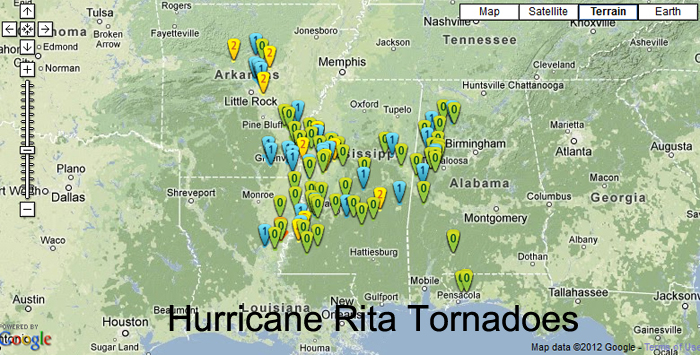 In cases like Isaac where the tropical system passed by south Florida before northern Gulf landfall, the vast majority of tornadoes occurred at the final landfall with only a handful or even none in Florida. Andrew (1992) caused over 60 known tornadoes, none of which were reported in Florida.
On course to make landfall in the northern Gulf of Mexico late August 28 of early August 29, Isaac will undoubtedly be remembered mainly for reasons other than its tornadoes. However, the threat for tornadoes can extend well outside the area in which damaging winds and surge are possible. For that reason, it's worth staying aware if within this storm's or the next's envelope of rain bands.
Storm Prediction Center and National Hurricane Center data were used as a basis for this post. Tornado database accessed at Tornado History Project. The North American Reanalysis Selection Page was also utilized in all storms noted as a basis for continuation of "outbreaks" after landfall through exiting the East Coast or disintegrating. Additional data resources including IEM VTEC were also used. 
The following two tabs change content below.
Defense and foreign policy researcher at a D.C. think tank. Information lead for the Washington Post's Capital Weather Gang.
Latest posts by Ian Livingston (see all)