Tornado Threat Forecast: October 17-18, 2012
A cold front aided by strong upper-level dynamics will produce a couple rounds of severe weather today and tomorrow, with tornado potential along and ahead of the front.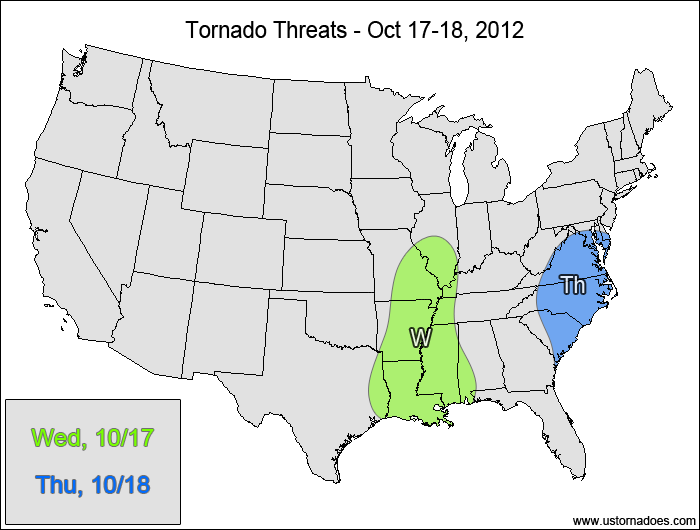 Wednesday
Central and southern Mississippi River Valley — POTENTIAL: High — CONFIDENCE: Normal
Thursday
Carolinas, southern Mid-Atlantic — POTENTIAL: Medium — CONFIDENCE: Normal

I'm feeling decently confident with getting at least a few tornadoes out of today's setup, but I do have my doubts. Strong speed shear and upper-level forcing will help the storms line out rather quickly, limiting the potential for discrete storms. Some storms could also form ahead of the front, but the models have been inconsistent with showing that potential. Limited instability will hedge the risk at the northern and eastern edges of the risk area, with the most favorable conditions lining up in Arkansas, northern Louisiana and western Mississippi.
Tomorrow's setup looks similar to what is expected for today, with a squall line developing along the cold front and a chance for pre-frontal storms. A lack of instability appears to be more of an issue compared to today's threat, but shear remains favorable enough that even modest instability should be enough to kick off a couple of tornadoes.
You may also like:
The following two tabs change content below.
Latest posts by Mark Ellinwood (see all)