Strongest tornadoes by state, territory and district in the U.S.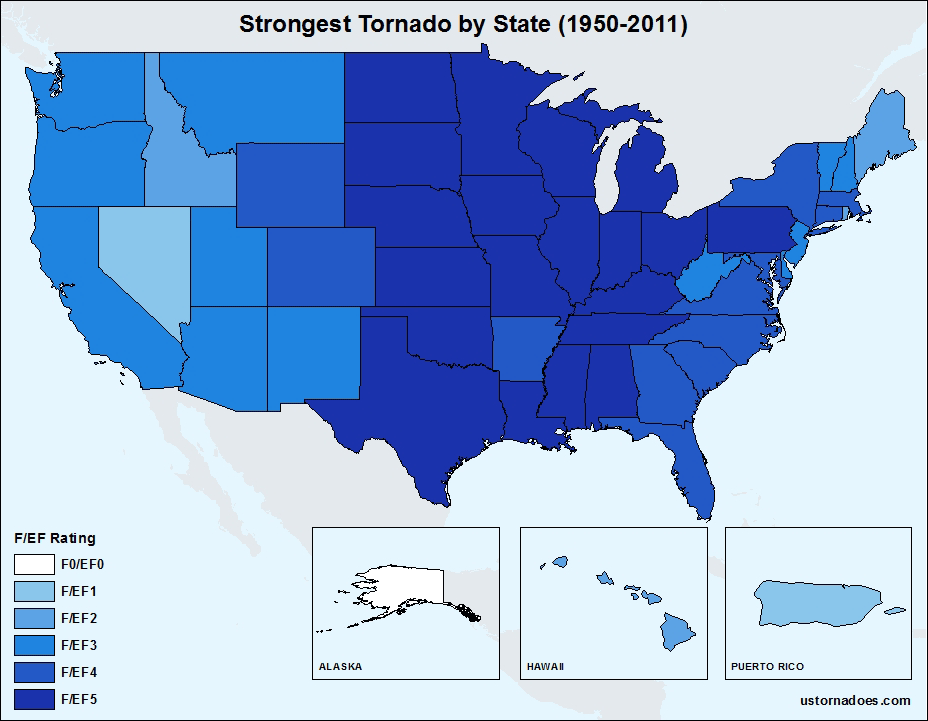 As we've mentioned before, tornadoes have occurred in every state in the country. But, how do the states, D.C. and Puerto Rico rank when it comes to their strongest tornadoes?
A vast majority of states (96.0 percent) have seen strong/significant tornadoes (F2/EF-2+), or greater, as the most intense tornado. Only Alaska and Nevada have not reported tornadoes of this strength, and Alaska is the only place with a maximum tornado at the weakest end of the scale.
The U.S. territory of Puerto Rico and the District of Columbia also fall into the low-end group with maximum tornadoes ranked at F1/EF-1 or less. In the case of D.C., a major factor is size, as the states surrounding it have had numerous tornadoes rated stronger.
While the strongest tornadoes are of course rarer than weaker ones when it comes to overall numbers, 64 percent of states have been impacted by a violent tornado (F4/EF-4 or F5/EF-5). 20 states, or 40 percent, have been impacted by an F5/EF-5. Tornadoes rated violent only make up about 1 percent of all tornadoes.
Alabama is the leader of all leaders when it comes to maximum rated tornado hits, with nine F5/EF-5s striking the state. Arkansas, while never recording a tornado of that strength, has seen 27 F4/EF-4s, the most of any state with a max at that level. On the East Coast, the Carolinas also have seen notable numbers of their strongest tornadoes (F4/EF-4), with North Carolina having 12 such tornadoes on record and South Carolina having 10.
Dipping below violent tornadoes as a maximum impact in a state, we have West Virginia leading the way with F3/EF-3s at six. Idaho's out ahead of the rest of the F2/EF-2 pack with 10. Nevada holds the top spot for places that have only seen F1/EF-1s as their strongest tornadoes, also with 10. Finally, Alaska, with only three tornadoes on record, has not had any of those surpass F0/EF-0.
Note: We initially published this showing an EF-5 in Georgia, which upon further investigation was only an EF-5 in Alabama. This shows a potential issue with multi-state tornadoes because they are categorized by their strongest intensity. In a vast majority (or all) cases these details will not change the fact of strongest per state, but specific detail is not available for all instances.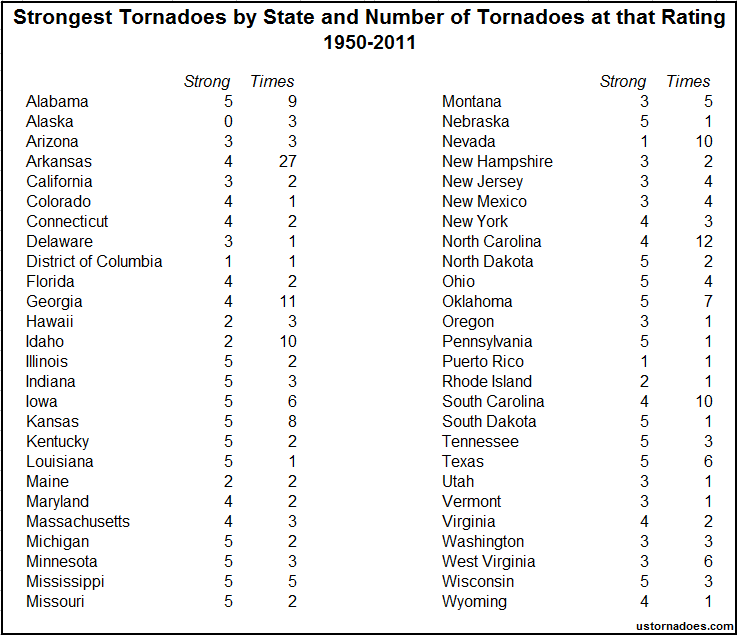 Map of strongest tornadoes by state created by Katie Wheatley.
SPC tornado data obtained at the Tornado History Project. Images can be selected for larger versions. Get updates about U.S. Tornadoes on Twitter and Facebook. Official 2012 data will be available during spring 2013.
The following two tabs change content below.
Defense and foreign policy researcher at a D.C. think tank. Information lead for the Washington Post's Capital Weather Gang.
Latest posts by Ian Livingston (see all)