Tornadoes in California: Daily records and other basic climatology for the state
Yesterday, it was widely reported that five apparent tornado touchdowns in California the day prior, October 22, 2012, tied a daily record for the state. Close, but not quite. The record is seven, on two different dates — April 1, 1996 (northern Ca.) and November 9, 1982 (southern Ca.).
5 tornadoes touched down in Northern CA yesterday, tying the single-day record set on April 1, 1996.

— Weather Underground (@wunderground) October 23, 2012
SPC database has seven 4/1/96 RT @wunderground 5 tornadoes touched down in N CA yesterday, tying single-day record set on April 1, 1996.

— Ian Livingston (@islivingston) October 23, 2012
Looking back at historical data, the California record for tornadoes in one day is 7, not 5 as the AP reported.

— Weather Underground (@wunderground) October 23, 2012
Now, newer reports indicate that four tornadoes have touched down. From what I can gather, there is no public "final" answer from the NWS at this time, but four survey results have been posted. Either way, it seems like a good opportunity to take a quick look at California's tornado history…

One weak tornado in Northern California on October 22, 2012.
Before this year, California has recorded 388 tornadoes since 1950. That's a long-term average of about six tornadoes per year. In the current climatological period spanning 1991-2010, California has averaged 11 tornadoes per year. Under either metric, Monday's tornado event was hefty, accounting for large chunk of "expected" tornadoes across the state in any year. In 2005, California saw a record high 30 tornadoes. In 2011, there were nine.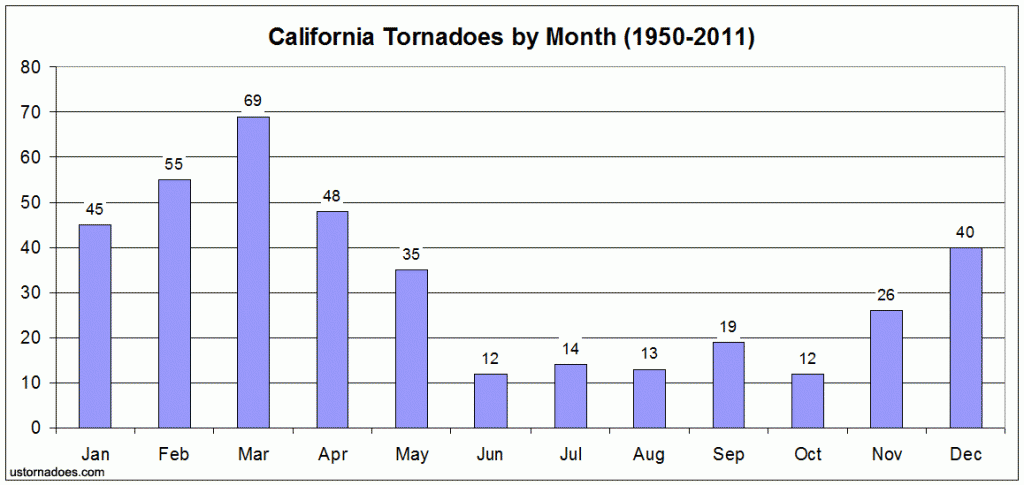 Tornado season for California generally occurs during the winter and spring (with a peak in March), when deep upper-level low pressure systems tend to impact the state with frequency unparalleled during much of the year. Prior to 2012, October only accounted for 12 tornadoes in the state, or about 3 percent of the overall total.
Almost 85 percent of California tornadoes from 1950-2011 were rated as weak, below the F2/EF-2 rating. The strongest tornado to hit the state is an F3, or more accurately two F3s on different dates. Interestingly enough, both were in the same general region of far southwestern parts of the state.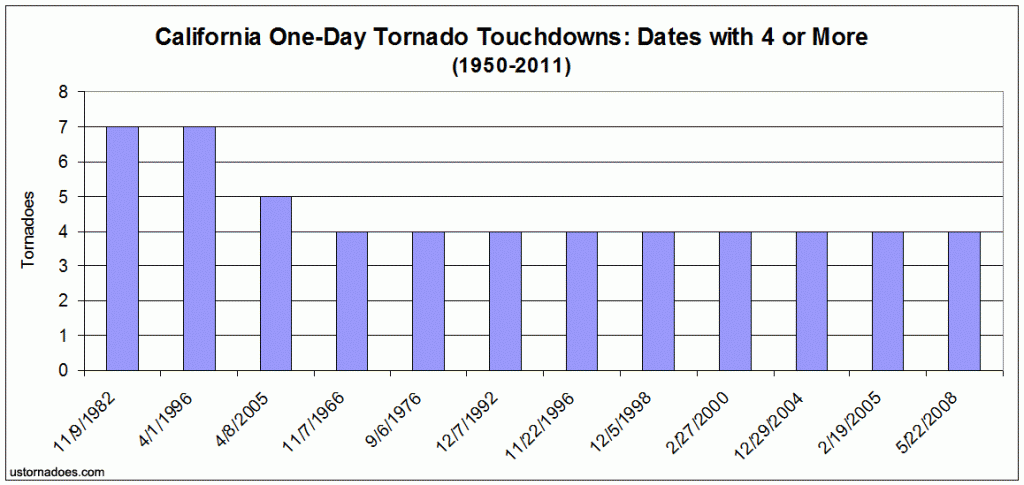 Regardless of misreported historical stats leading headlines to show the day as more significant than it appears to have been, days with four or more tornadoes are not that common in the state. There are only twelve other instances of that many over the last six decades. Of those, only three rose to the level of five or higher. Thus far in the 2000s, there have been five days with four or more tornadoes. Due to under-reports in the past, it seems likely this level of day happens not too uncommonly. But, it remains close to the ceiling of tornadic activity in California.

A funnel cloud is seen near Elk Grove, Ca. A tornado was confirmed in the area.
Sources include the SPC database, NWS Sacramento and the Tornado History Project.
The following two tabs change content below.
Defense and foreign policy researcher at a D.C. think tank. Information lead for the Washington Post's Capital Weather Gang.
Latest posts by Ian Livingston (see all)