Strong November tornadoes in the United States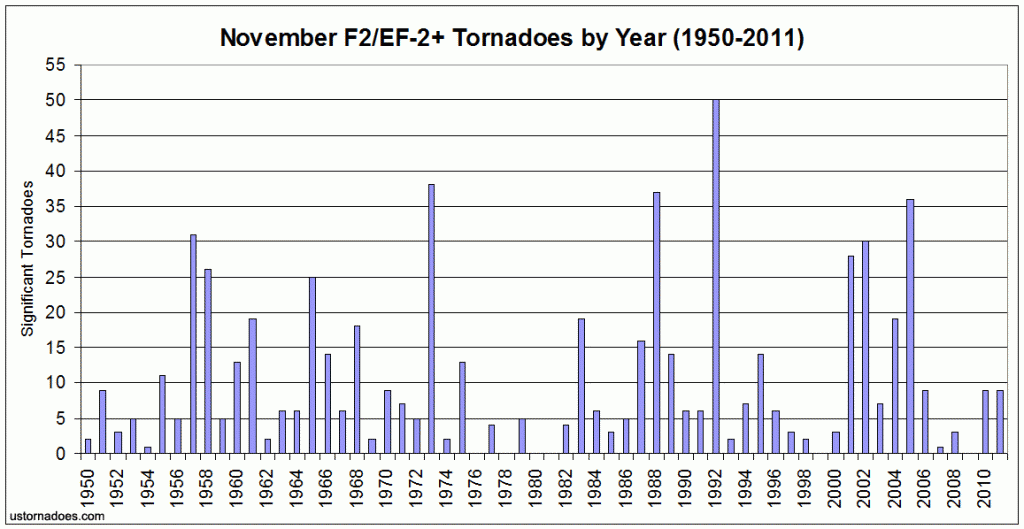 As with monthly cumulative tornado counts, the number of strong or significant (F2/EF-2) tornadoes in November across the country increases. On this tally, the difference is more notable, exhibiting an increase of around 200 tornadoes. The current climatological average rises by five as well.
The year-to-year distribution of tornadoes is not much different than October, with about two-thirds of years seeing 10 or less significant tornadoes in both cases. However, the top end of tornado years in November have bested October's top producer on nine occasions. This gives a glimpse at the potential for sometimes invigorated outbreaks.
November Significant Tornado Climatology (1950-2011)

Total significant tornadoes: 646
November high: 50 (1992)
November low: 0 (1976, 1978, 1980, 1981, 1999, 2009)
1991-2010 climatological average: 11.8
1991-2010 median: 6.5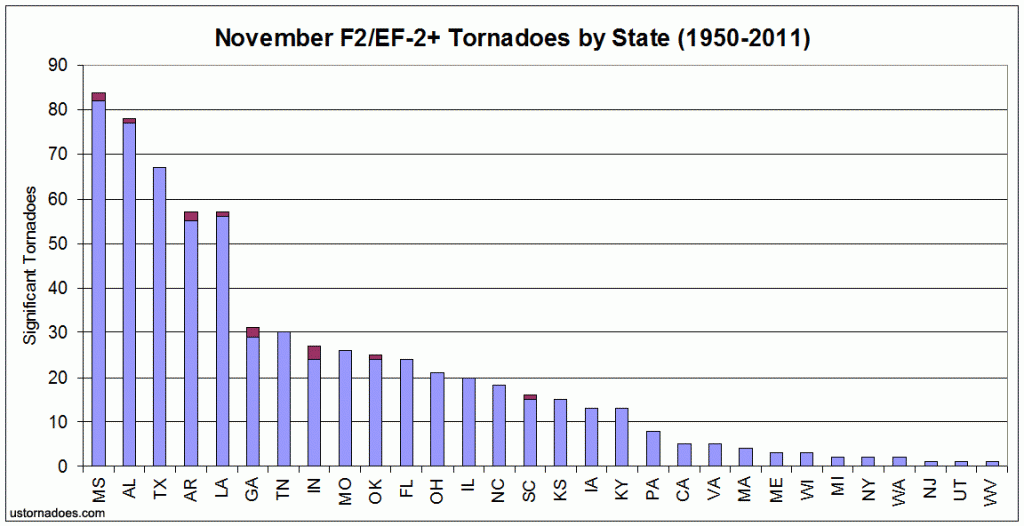 Unlike many metrics of these sorts, Texas doesn't come in first place for strong November tornadoes.
Instead, the Dixie Alley states of Mississippi and Alabama hold top spots. Arkansas and Louisiana book-end Texas in the middle, to round out the big five when it comes to significant November tornadoes.  By this point in the year, there is a pronounced favoring of the South when it comes to strong tornadoes. The leaders, Ms. and Al., both feature large increases in cumulative strong tornadoes from Oct to Nov, with 5-fold and 7-fold increases respectively.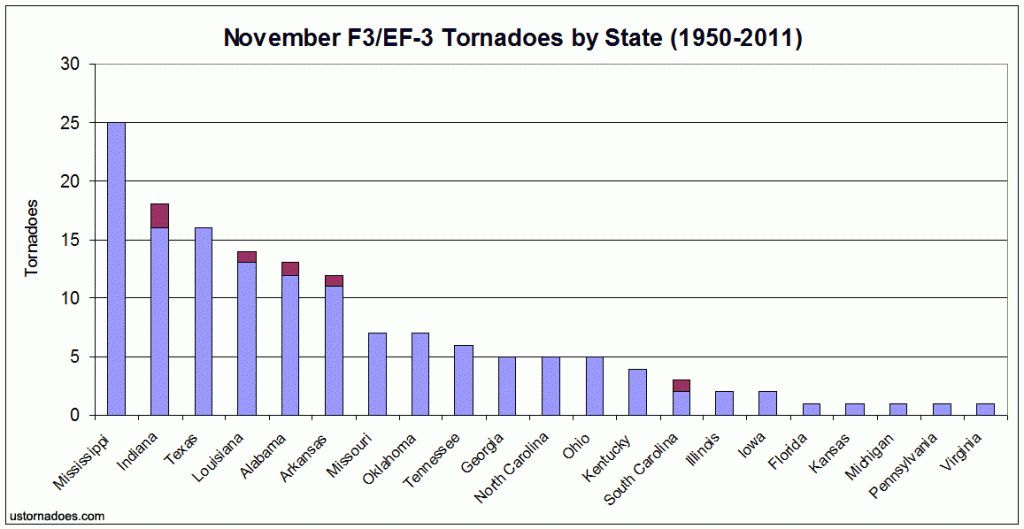 Examining just F3/EF-3 tornadoes, Mississippi remains the leader. However, Alabama (fifth) falls off a good bit, with about half as many instances as Mississippi. Indiana, Texas, and Louisiana fill the two through four spots, all with around 15 November tornadoes at such strength, give or take. The top end of these numbers are again considerably higher than October, though less states are represented overall thanks to the increasingly encroaching cold-season.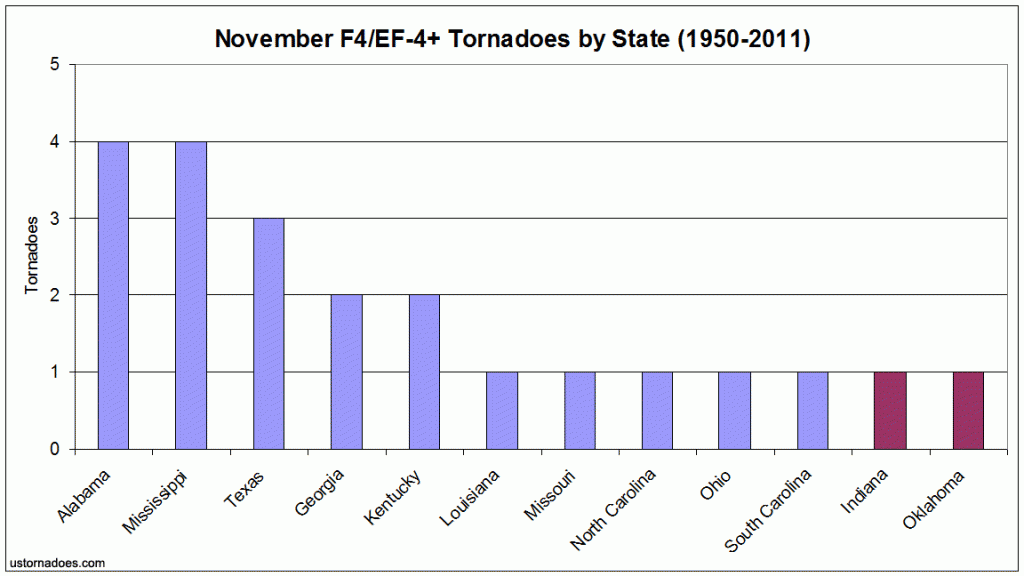 While October only has seen five violent (F4/EF-4+) tornadoes, November has witnessed 20. Again we see the southern United States well represented in these counts, with Alabama and Mississippi tied for the top spot at four each. Yet, even with the increase in violent tornado numbers month-to-month, November has not recorded an F5/EF-5, one of only three months not to.
U.S. Tornado Climatology by Month

All: Jan | Feb | Mar | Apr | May | Jun | Jul | Aug | Sep | Oct | Nov | Dec
Significant: Jan | Feb | Mar | Apr| May | Jun | Jul | Aug | Sep | Oct | Nov | Dec
SPC tornado data obtained at the Tornado History Project. Images can be selected for larger versions. Data for the prior year gets released in early spring the following year. Get updates about U.S. Tornadoes on Twitter and Facebook.
The following two tabs change content below.
Defense and foreign policy researcher at a D.C. think tank. Information lead for the Washington Post's Capital Weather Gang.
Latest posts by Ian Livingston (see all)