A strong disturbance will make its way into the southern Plains late Christmas Eve into Christmas morning. This system will get organized on Christmas Day, and it will have the potential to produce a tornado outbreak in the Gulf states. Details become less clear by Wednesday as it lifts northeastward and shifts the threat into the eastern Southeast.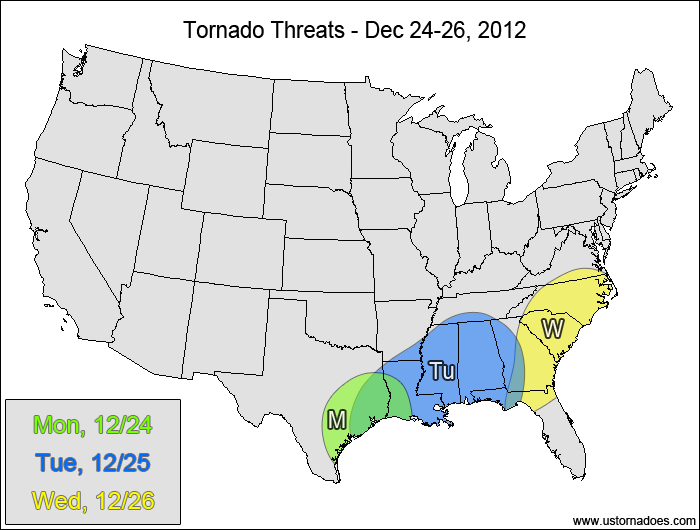 Monday – Christmas Eve
ArkLaTex — POTENTIAL: Low — CONFIDENCE: Normal
The threat will mostly be overnight as the main upper-level low dives into the southern Plains. Favorable shear and increasing instability will help fuel a tornado threat heading into early Christmas morning.

Tuesday – Christmas Day
Gulf States — POTENTIAL: High — CONFIDENCE: Normal
A tornado outbreak is more likely than not as strong, veering winds produce plenty of rotation in an atmosphere with low to moderate instability. The strong upper-level dynamics will help deepen the surface low as the upper-level trough goes from neutral tilt to negative tilt, resulting in a favorable wind field for tornadoes. Strong southerly flow will pull moist Gulf air northward, which will help produce the instability needed for tornadic activity. The areas most at risk are the central and southern parts of the Gulf states, where instability will be highest.
Wednesday
Eastern Southeast — POTENTIAL: High — CONFIDENCE: Normal
The forward speed of the disturbance will affect how far north and west the threat can expand, but there is enough agreement that the wind field will still be favorable for tornadic development, even with modest instability. Several tornadoes are possible before the cold front slides into the Atlantic.
Related: Christmas Eve and Christmas Day tornado history
Latest posts by Mark Ellinwood (see all)