January tornado climatology of the United States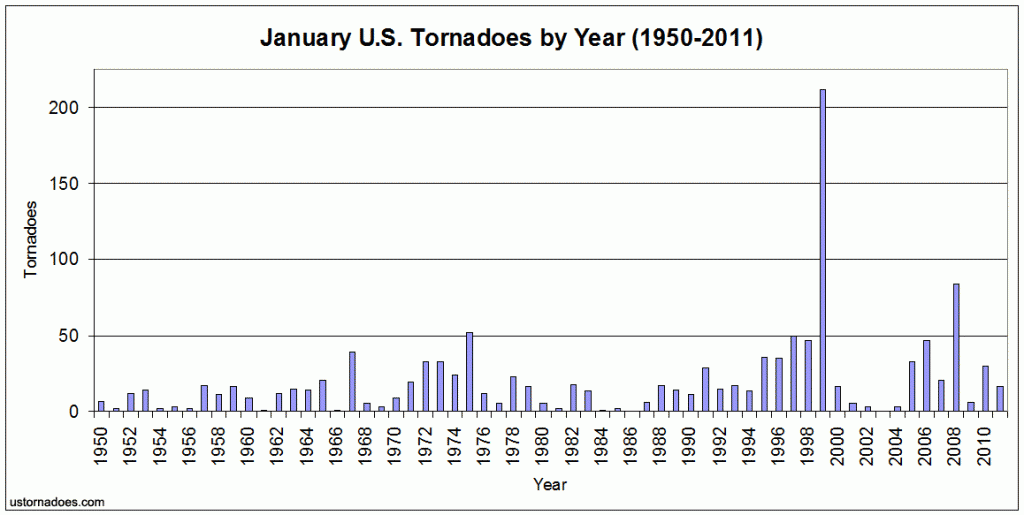 We start off the calendar year stuck in the middle of the tornado minimum that overlaps meteorological winter (Dec-Feb) pretty well. December and January are the low point overall throughout recorded history. The wintertime storm pattern remains generally unfavorable for large-scale tornado development. Outbreaks still do happen from time to time though, and the month hosts three of the five largest wintertime tornado events, including the top one. Quiet is the norm, but volatility is certainly possible.
January Tornado Climatology (1950-2011)

Total tornadoes: 1,239 (+8 from December)
Climatological average (1991-2010): 35.1 (+10.9 from December)
10-year average (2002-2011): 24.3
10-year median (2002-2011): 18.5
Long-term average (1950-2011): 20.0
Monthly high: 212 (1999)
Monthly low: 0 (1986, 2003)
Total fatalities: 138
Total injuries: 2,460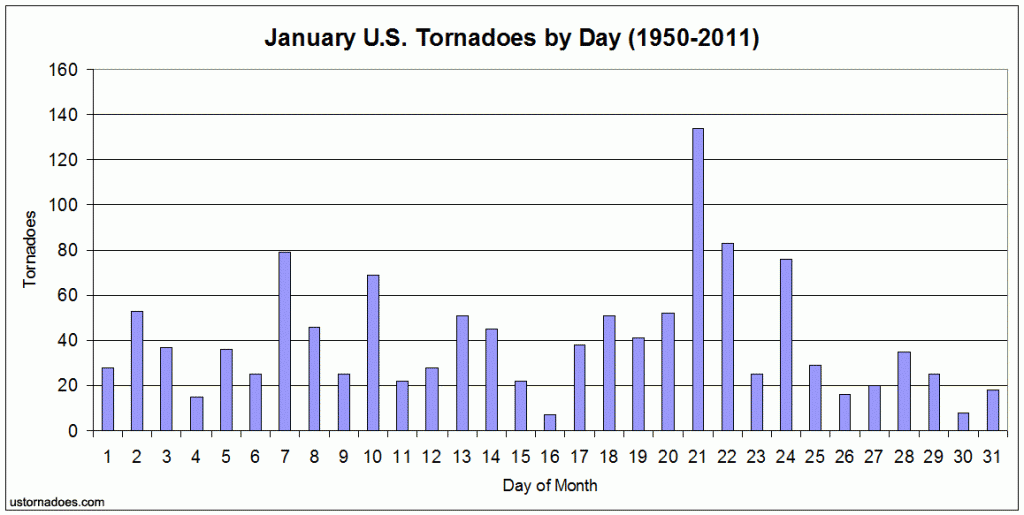 Cumulative tornado distribution by day shows that most typical days don't see tornadoes in January. 60+ years of these days added up gives us quite small numbers. The month does feature at least a bit more variability than December with the top day (bolstered by a major outbreak in 1999) significantly higher than any day in December. In the current climatological period running from 1991-2010, January touchdowns occurred on about 1/5th of all days. More or less on par with December, though there is a slight percentage increase noted (probably noise).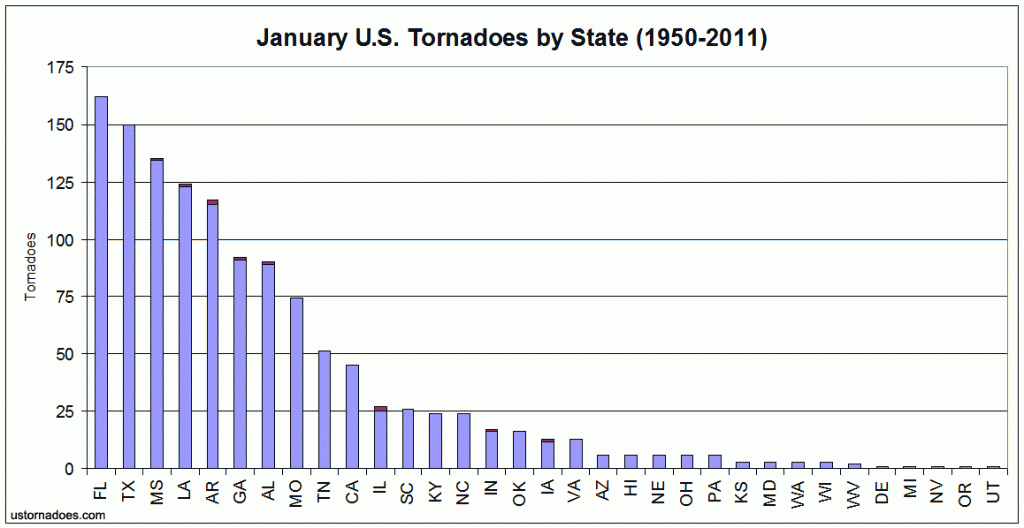 Related: Average Number of Tornadoes in January by State
Winter tornadoes heavily favor the South, though outbreaks have also included areas adjacent to the South like the Midwest and Southeast. The top five states for cumulative tornadoes remain the same from December, but Florida jumps from 3rd to 1st and some other similar shifts also occur. Texas, Mississippi, Louisiana and Arkansas round out the top five. California makes the top 10, as its tornado season heads toward peak.
Current climatological averages by state are also similar to December, but states like Arkansas, Louisiana, Mississippi and parts of the Southeast see small increases.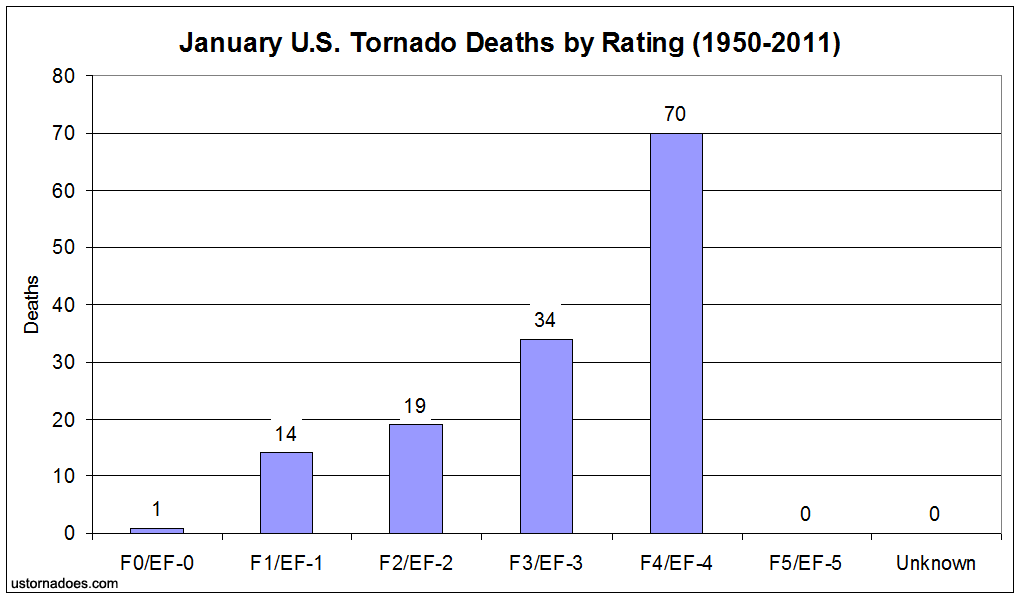 Significant tornadoes, rated F2/EF-2 or greater, made up about 27% of all tornadoes in January (1950-2011). These relatively higher percentages compared to peak season are seen throughout the cool season, at least partially due to population potential compared to the Plains. This time of year can also be more "all or nothing" in which outbreaks (6+ tornadoes without 6 hour break) make up a larger percent of the monthly total.
The deadliest tornado on record in January carved a 117 mile path through southern Mississippi. The town of Hazlehurst was hit particularly hard. 32 people died in this F4, which may have been a tornado family. Mississippi is the unfortunate host to the deadliest tornado in all winter months.
U.S. Tornado Climatology by Month
All: Jan | Feb | Mar | Apr | May | Jun | Jul | Aug | Sep | Oct | Nov | Dec
Significant: Jan | Feb | Mar | Apr| May | Jun | Jul | Aug | Sep | Oct | Nov | Dec
SPC tornado data obtained at the Tornado History Project. Images can be selected for larger versions. Get updates about U.S. Tornadoes on Twitter and Facebook. Official 2012 data will be available during spring 2013.
The following two tabs change content below.
Defense and foreign policy researcher at a D.C. think tank. Information lead for the Washington Post's Capital Weather Gang.
Latest posts by Ian Livingston (see all)