Here's where tornadoes typically form in October across the United States
These maps break down October tornadoes based on where they begin.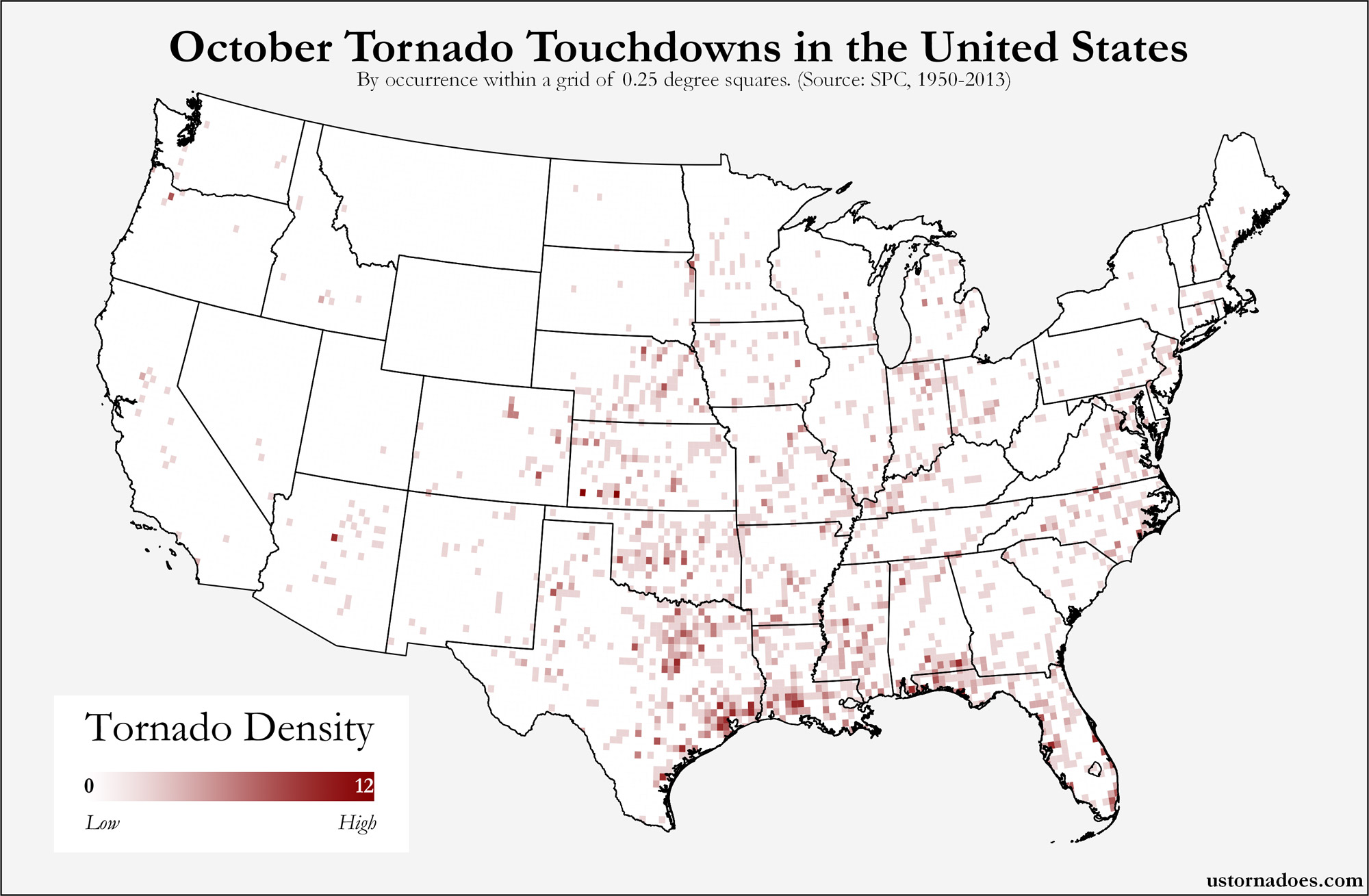 Often considered part of the "second season" which sometimes occurs in fall, tornado activity is significantly down by October when compared to the yearly peak in spring and early summer.
By October, tornado territory is dwindling with the encroachment south of colder and drier air, plus tropical season peak is behind us.
Where tornadoes form: January, February, March, April, May, June, July, August, September, October, November, December
Outside larger outbreaks that occur at random, a trend of fairly few tornadoes generally closer to the Gulf of Mexico becomes the norm around this time of year. U.S. tornadoes never really fully disappear, they just wane significantly.
The maps in this post examine where tornadoes touch down in order to get an idea of where the genesis zones for October tornado activity might be.
On the gridded map above, which cares much less about man-made boundaries than those below, one pattern that emerges is the aforementioned concentration of higher density areas near the Gulf coast. Of the top 20 cells in the U.S. grid, 16 occur in the immediate coastal area. Glancing through the tornado origination points within the cells in the region, most have multiple events across the record.
Of the remainder in the top 20 not located near the Gulf, three (including two of the dark splotches in Kansas and the one in Arizona) were defined by multiple tornadoes touching down in one event. October only has only ~2,300 tornadoes in its overall record since 1950. Less than 1/5th of May's tally.
Moving onto state values, we see a range from zero touchdowns in October for Wyoming (and D.C.) to 410 in Texas.
Here are the top 5 October tornado touchdown numbers by state: Texas (410), Florida (184), Louisiana (139), Oklahoma (128), Kansas (116).
Related: October tornado averages by state (NOAA)
The county map below again shows more reds around the Gulf coast than anywhere else, but also plenty of color across the southern and central Plains. A smattering of tornadoes remains historically possible across much of the country when examined this way, though the northern tier of states have often been shut down for winter by now.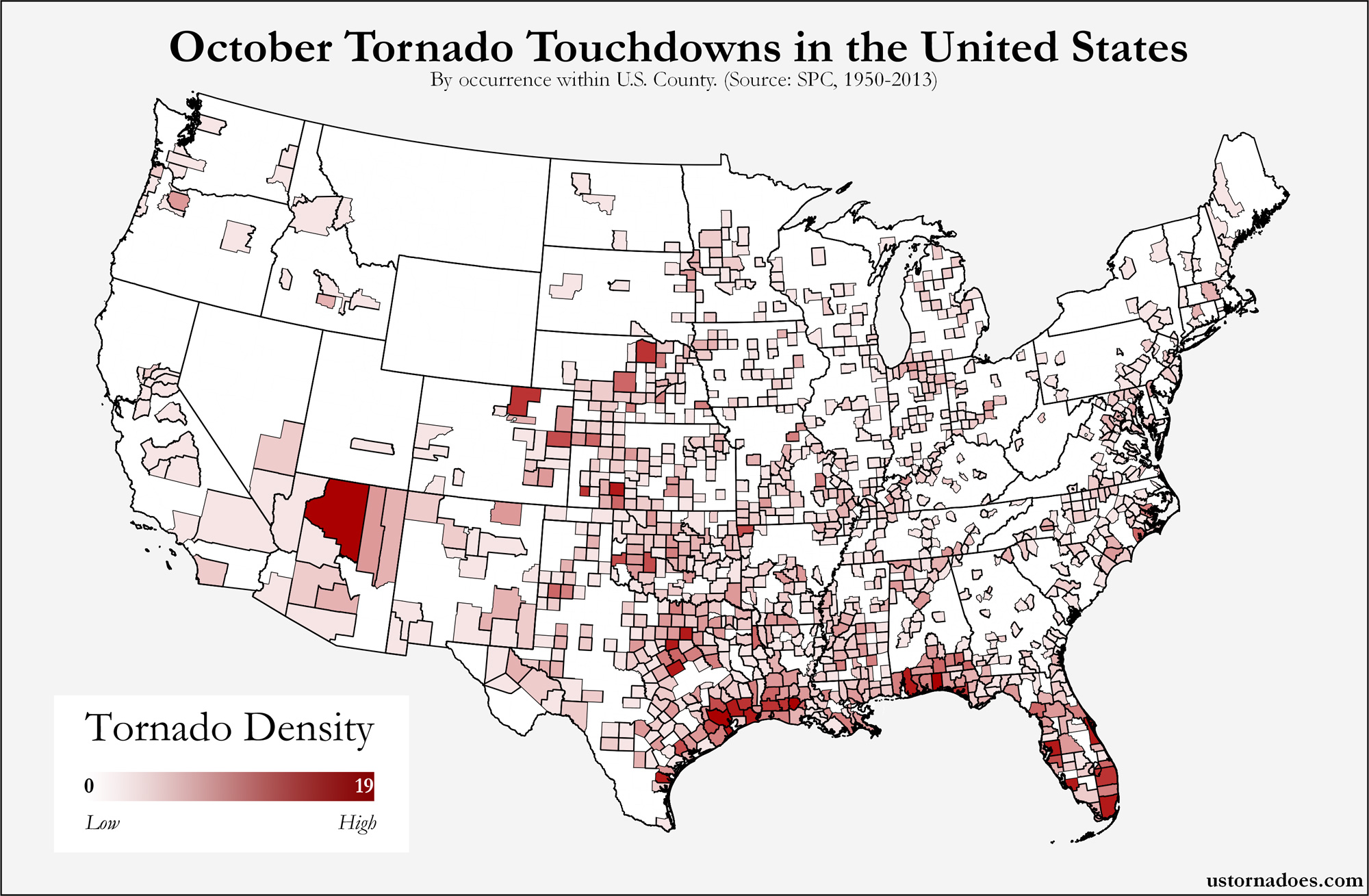 Top 5 (with ties for 5th included) counties for October tornado touchdowns are as follows: Harris, TX (13); Coconino, AZ (13); Acadia, LA (13); Okaloosa, FL (12); Jefferson, TX (11); Dallas, TX (11); McLennan, TX (11); Ford, KS (11); Liberty, TX (11).
Related: The month of October by the numbers | Significant tornadoes in October
Lastly let's look at which National Weather Service offices have been the busiest in October. The darkest reds–and thus highest tornado concentration–are focused on the south-central portions of the country. But, a majority of NWS county warning areas have had to deal with October tornadoes since modern records began.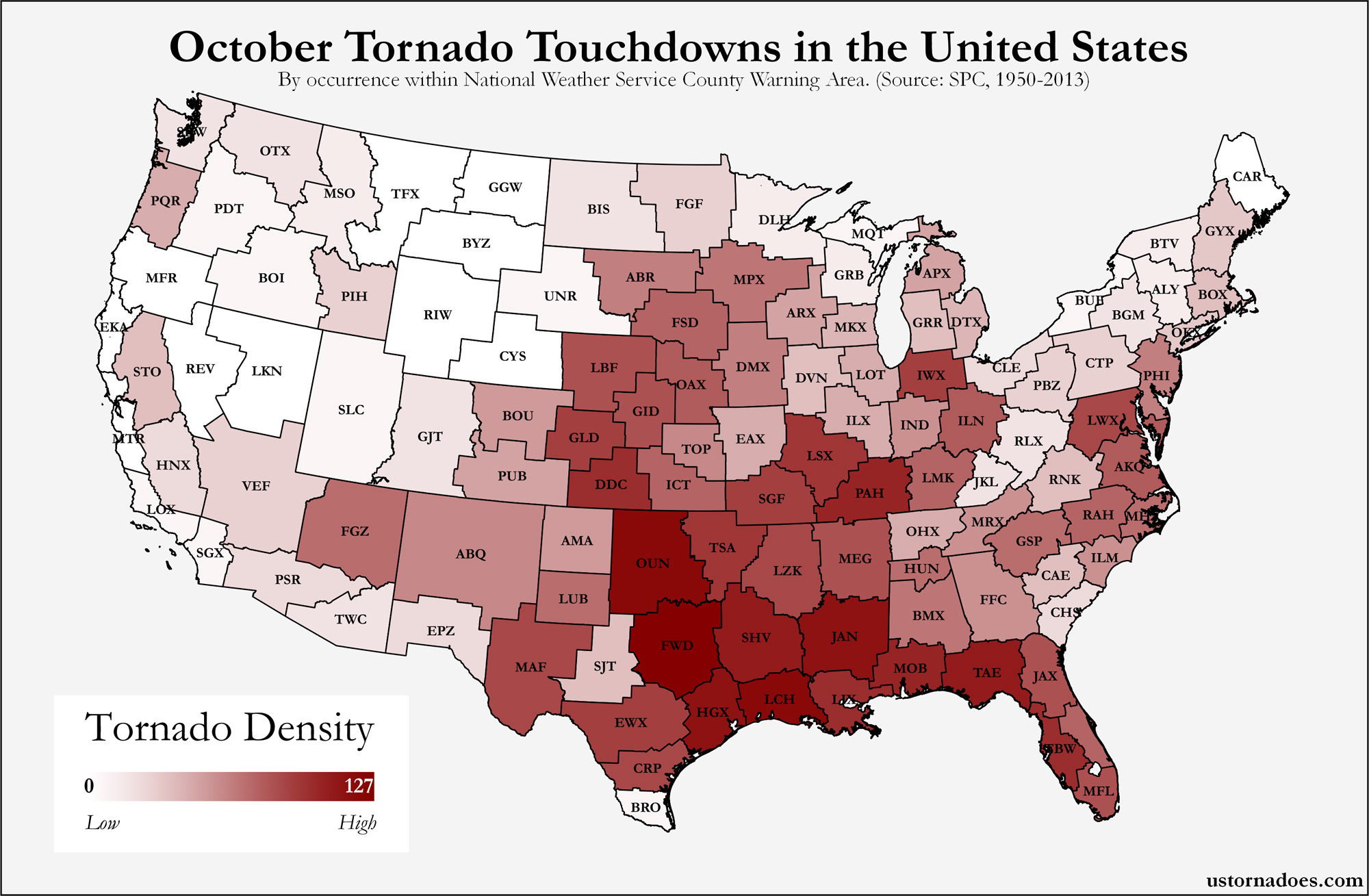 Top 5 NWS offices for October tornado touchdowns: Fort Worth, TX – FWD (127); Lake Charles, LA – LCH (102); Norman, OK – OUN (92); Jackson, MS – JAN (88); Houston, TX – HGX (88).
Data files (.csv): State | County | CWA
Note. This is the first in a year-long series looking at where tornadoes touch down each month. The map focus is on CONUS due to very low tornado numbers in Alaska and Hawaii, which we have detailed to some degree here. For the CWA map I have removed NWS Key West because it is too small to see the shading. If it stands out in any months it will be noted in the graphic or text.

The following two tabs change content below.
Defense and foreign policy researcher at a D.C. think tank. Information lead for the Washington Post's Capital Weather Gang.
Latest posts by Ian Livingston (see all)