Here's where tornadoes typically form in January across the United States
These maps break down January tornadoes based on where they begin.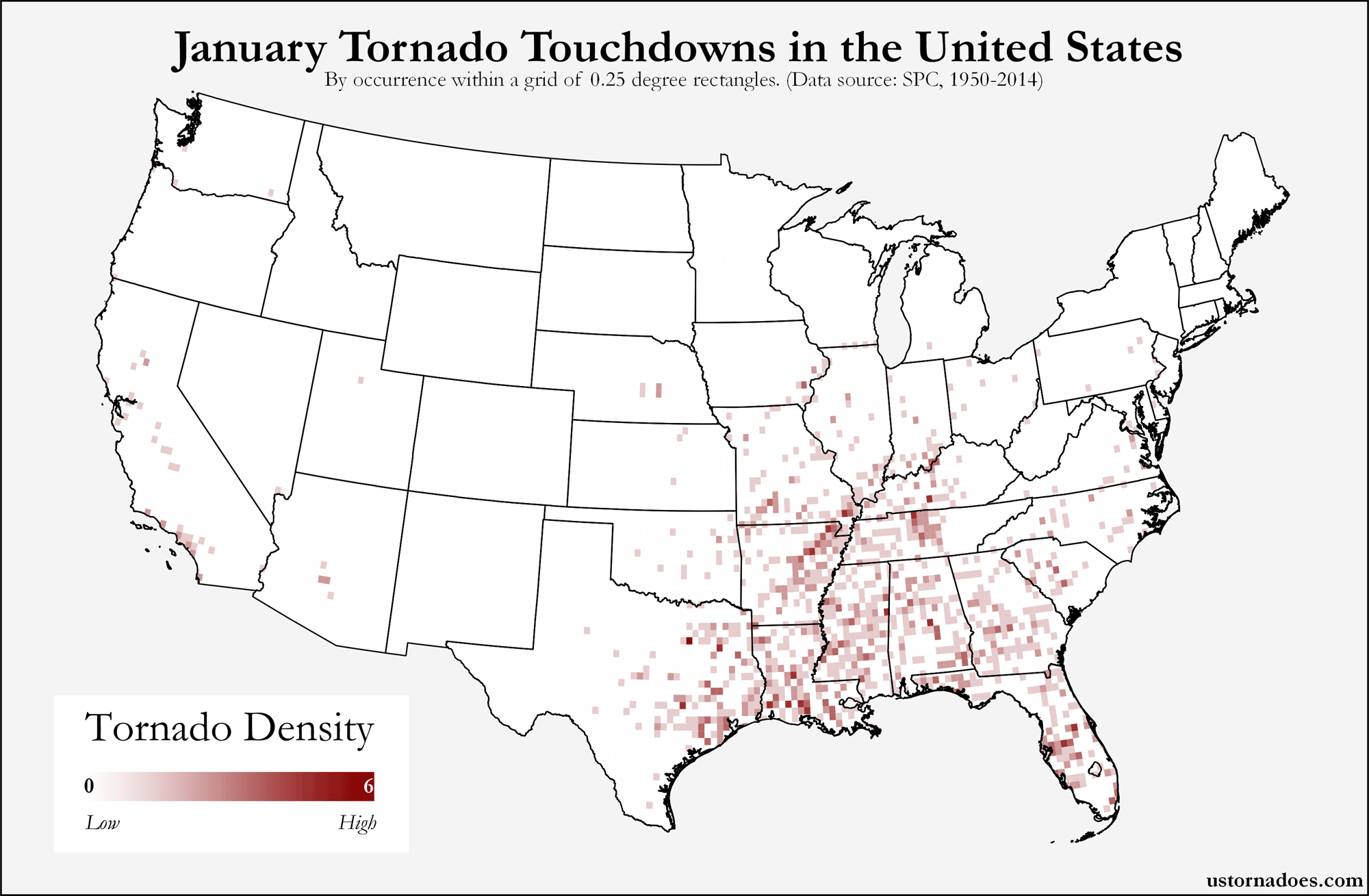 There have been about 100 more tornadoes in January than December throughout modern history. But as with most of the winter, the overall story is a quiet one.
Our most active zones during the month typically reside across the South and Mississippi Valley.
The present-day average for twisters during January is about 3 dozen. Even the coldest times of year often contain at least a handful of tornadoes.
17 states and D.C. in the lower 48 have not seen a tornado in January during the modern record dating back to 1950.
Where tornadoes form:  January, February, March, April, May, June, July, August, September, October, November, December
This number of tornadoless states spans the heart of winter, more or less. In some ways it's surprising that states often locked in the cold, like Nebraska, have seen tornadoes in January. Otherwise, the favored states are dominated by the South and lower Midwest with just a hint of West Coast.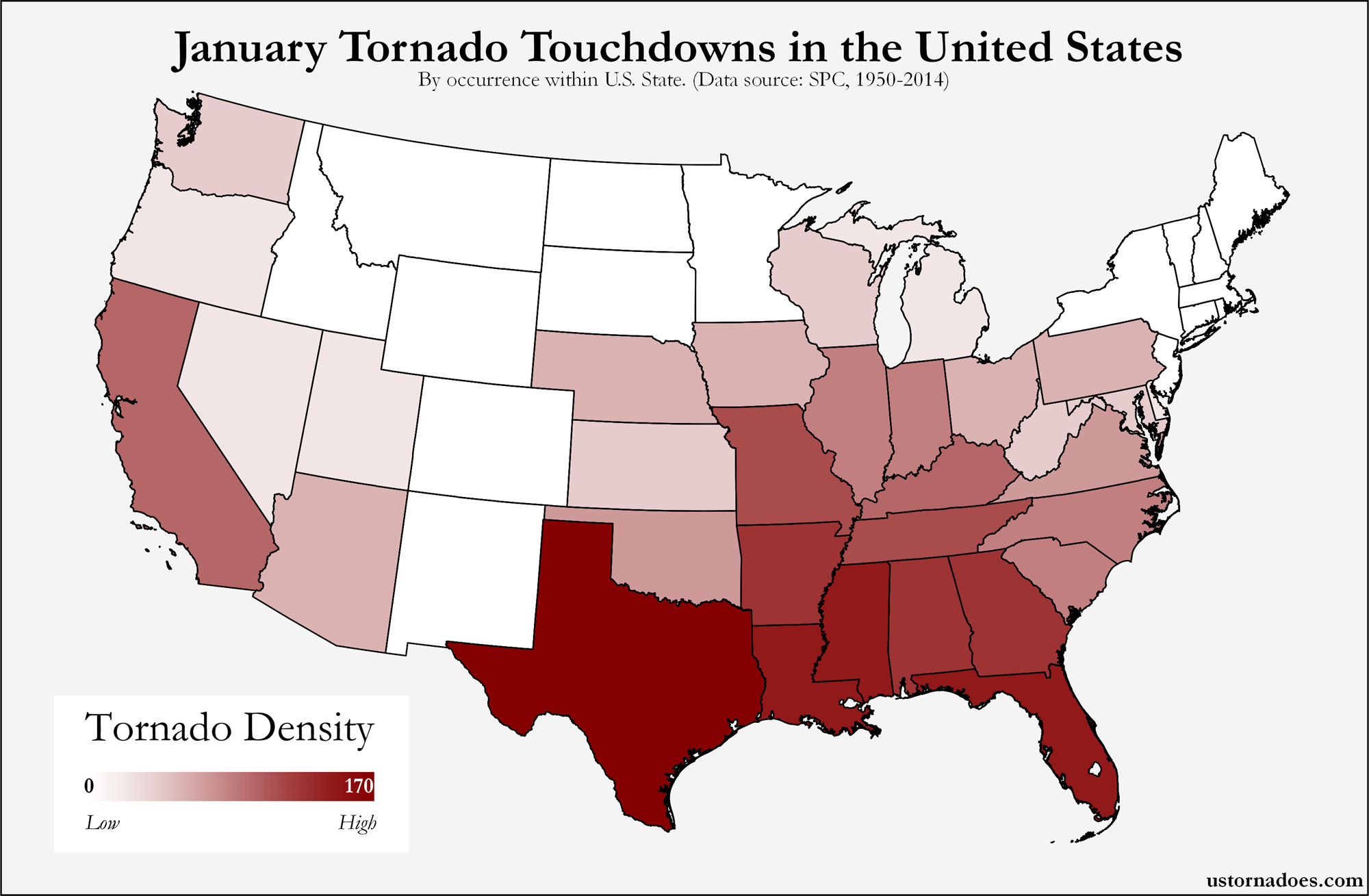 The top five states for January tornado touchdowns are as follows: Texas (170); Florida (151); Mississippi (145); Louisiana (140); Arkansas (126).
Related: January tornado averages by state (NOAA)
Counties where tornadoes have touched down in January are numerous in the east Texas through Mississippi Valley area, and into Dixie. Another hot zone is seen around the south-central Florida peninsula. Winter storm and associated spinup impacts on California are apparent as throughout the cold season. The Los Angeles area sticks out nicely in January.
Given low cumulative numbers, one bigger event or two can make for noticeable changes on the look of January's maps.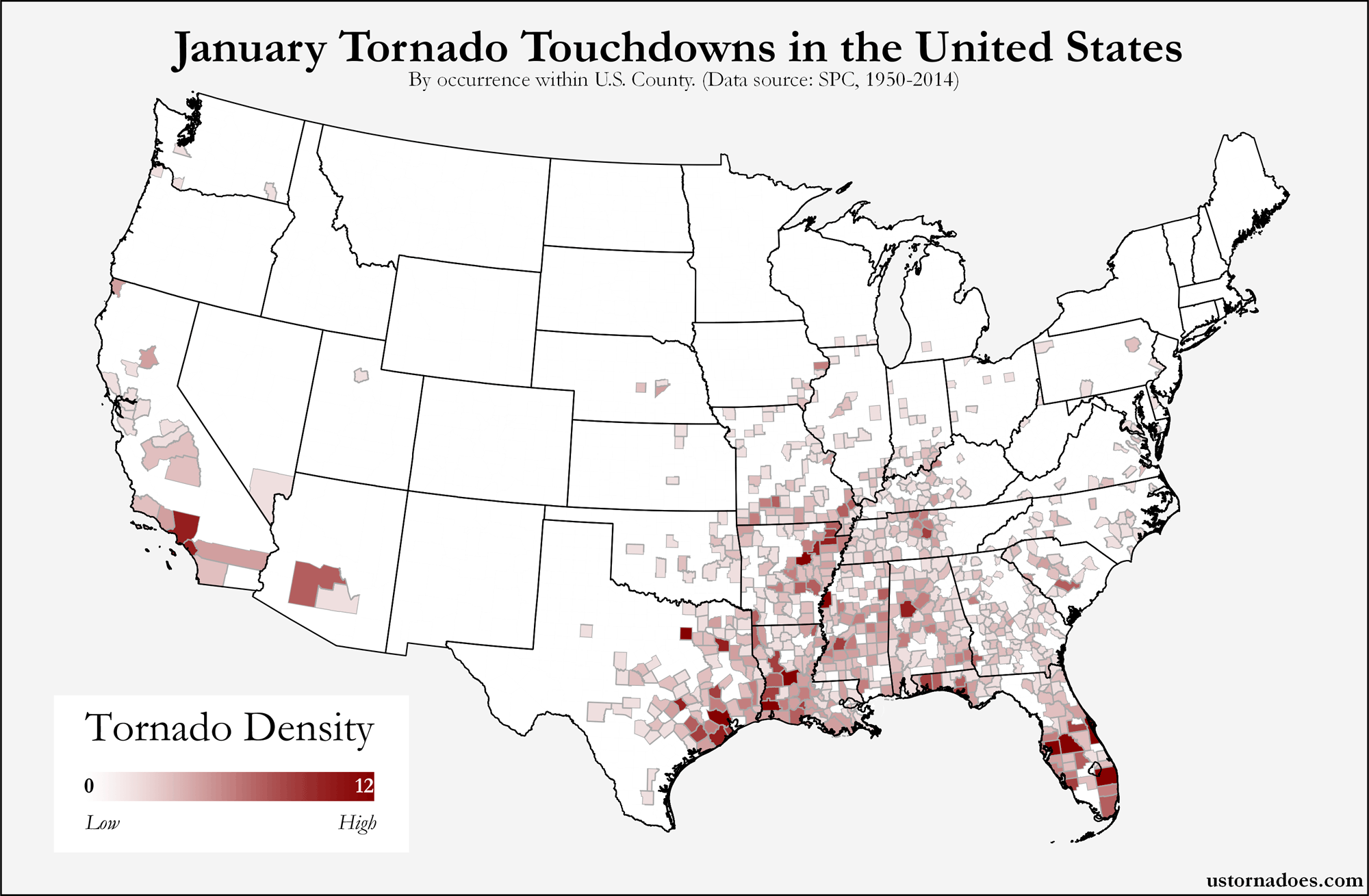 When it comes to January touchdowns, these are the top five counties/parishes: Hillsborough, Fl. (12); Brevard, Fl. (9); Poll, Fl. (9); White, Ar. (9); Harris, Tx. (8). Others with 8: Bolivar, Ms.; Rapides, La.; Calcasieu, La.; Palm Beach, Fl.; Dallas, Tx.
Related: The month of January by the numbers | Significant tornadoes in January
As with most of the maps, regional changes from month-to-month within winter are minimal for NWS office tallies of touchdowns in January. If anything, there appears to be a tightening of touchdowns around the Mississippi River, though again the cumulative numbers are rather low for major trend finding.
Southern NWS offices are often busiest in winter, and January is no exception with these five leading the pack: Jackson, Ms. – JAN (129); Memphis, Tn. – MEG (86); Lake Charles, La. – LCH (82); Little Rock, Ar. – LZK (72); Birmingham, Al. – BMX (66).
The following two tabs change content below.
Defense and foreign policy researcher at a D.C. think tank. Information lead for the Washington Post's Capital Weather Gang.
Latest posts by Ian Livingston (see all)