Here's where tornadoes typically form in February across the United States
These maps break down February tornadoes based on where they begin.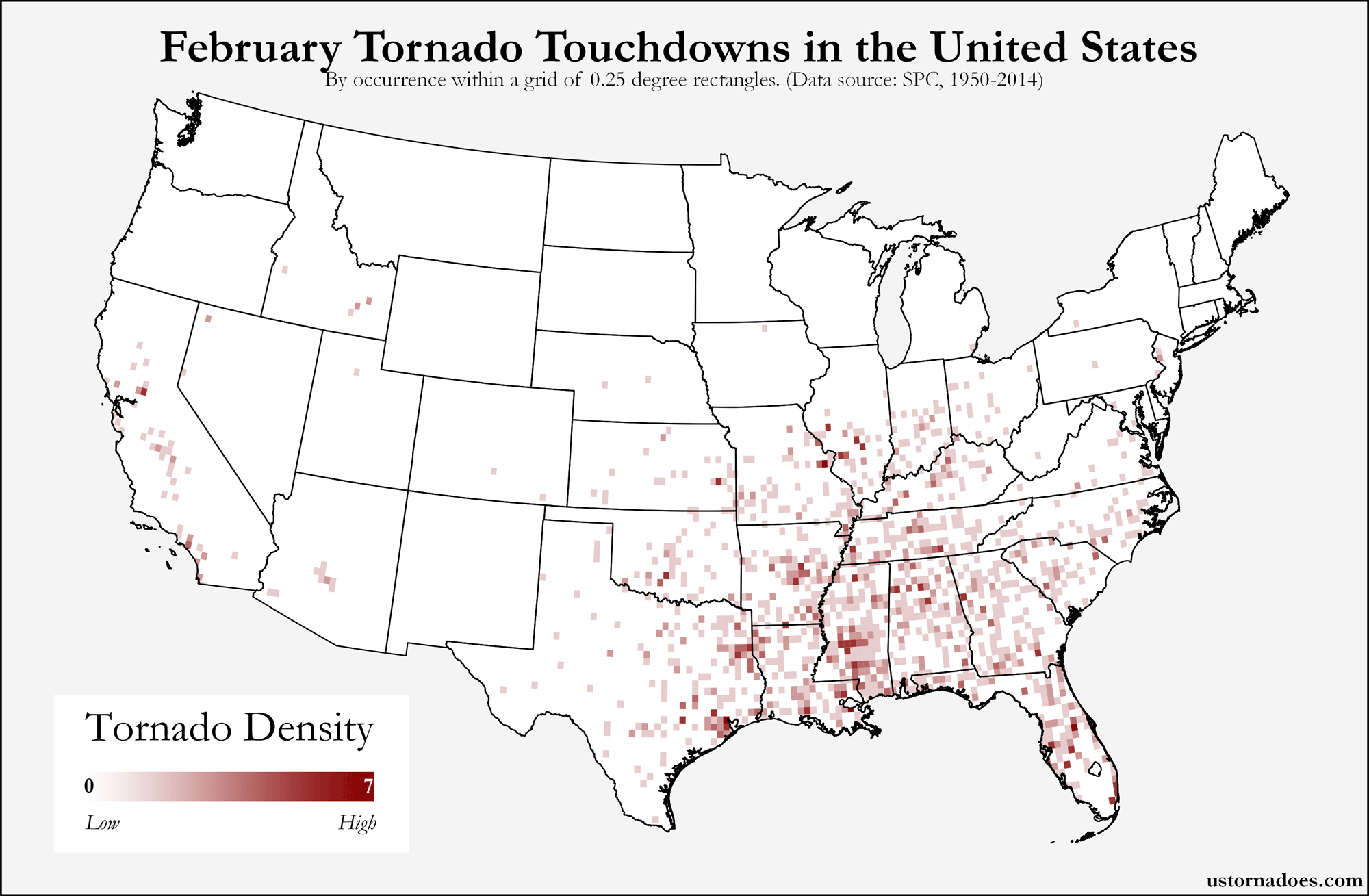 As we close out meteorological winter, February continues the low point in the tornado year. When cold and dry air frequently floods the whole country, twisters are often hard to come by.
The current average is between two and three dozen during the month. However, throughout all of modern history since 1950, there is a noticeable uptick in cumulative numbers compared to months prior.
Where tornadoes form: January, February, March, April, May, June, July, August, September, October, November, December
While it's a mostly quiet month, there have been some sizable events, and we're often knocking on spring's door as it closes.
15 states and D.C. have seen no February tornado touchdowns on record in the modern history. They're generally all states we typically think of as being quiet wintry during winter — New England, the northern Plains, and parts of the mountain west.
As with the rest of meteorological winter, favored states are mainly across the South and parts of the Mississippi Valley/Midwest. California continues to run through its tornado season which occurs in the winter and spring thanks to occasional big storms moving in off the Pacific at times.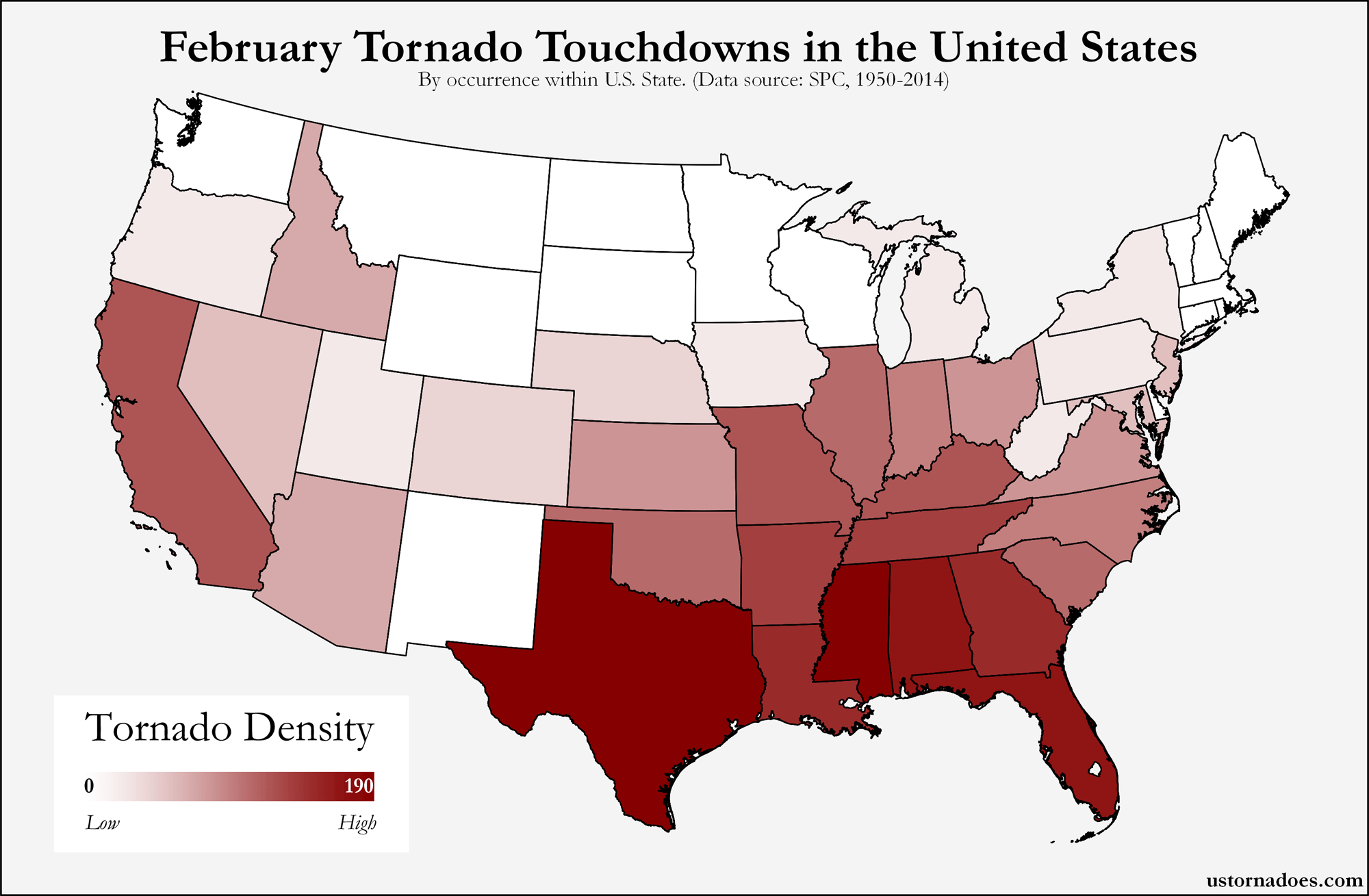 These states top the list when it comes to February tornado touchdowns: Mississippi (190); Texas (190); Florida (177); Alabama (131); Louisiana (122).
Related: February tornado averages by state (NOAA)
Specific trends in tornado touchdowns from month-to-month during the cold season are tricky to identify and often led by larger systems putting a solid dent in a map. Moving from January into February we mainly see perhaps a spreading of spatial coverage across the Southern U.S. In January, activity is somewhat bunched near the Mississippi Valley. In February, counties throughout the broader region are dotted with higher zones of touchdowns.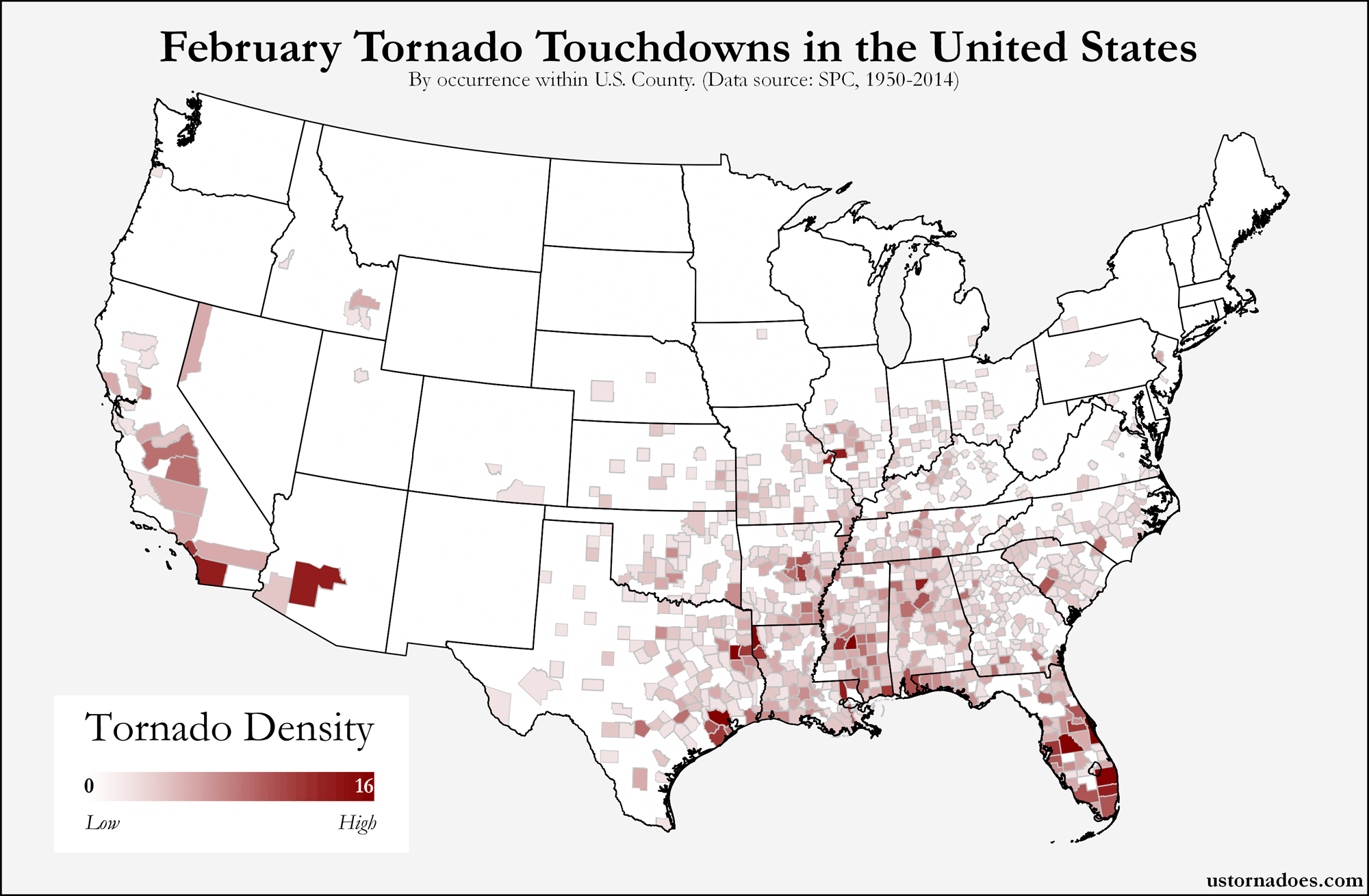 Five (plus ties) counties/parishes rise above the rest, and they include: Harris, Tx. (16); Rankin, Ms. (13); Brevard, Fl. (10); Rusk, Tx. (10); Polk, Fl. (9); Caddo, La. (9); Palm Beach, Fl. (9).
Related: The month of February by the numbers | Significant tornadoes in February
As with the months prior, southern NWS offices are in the thick of February tornado formation. In fact, the Jackson office in Mississippi rules all three months of meteorological winter when it comes to tornado touchdowns.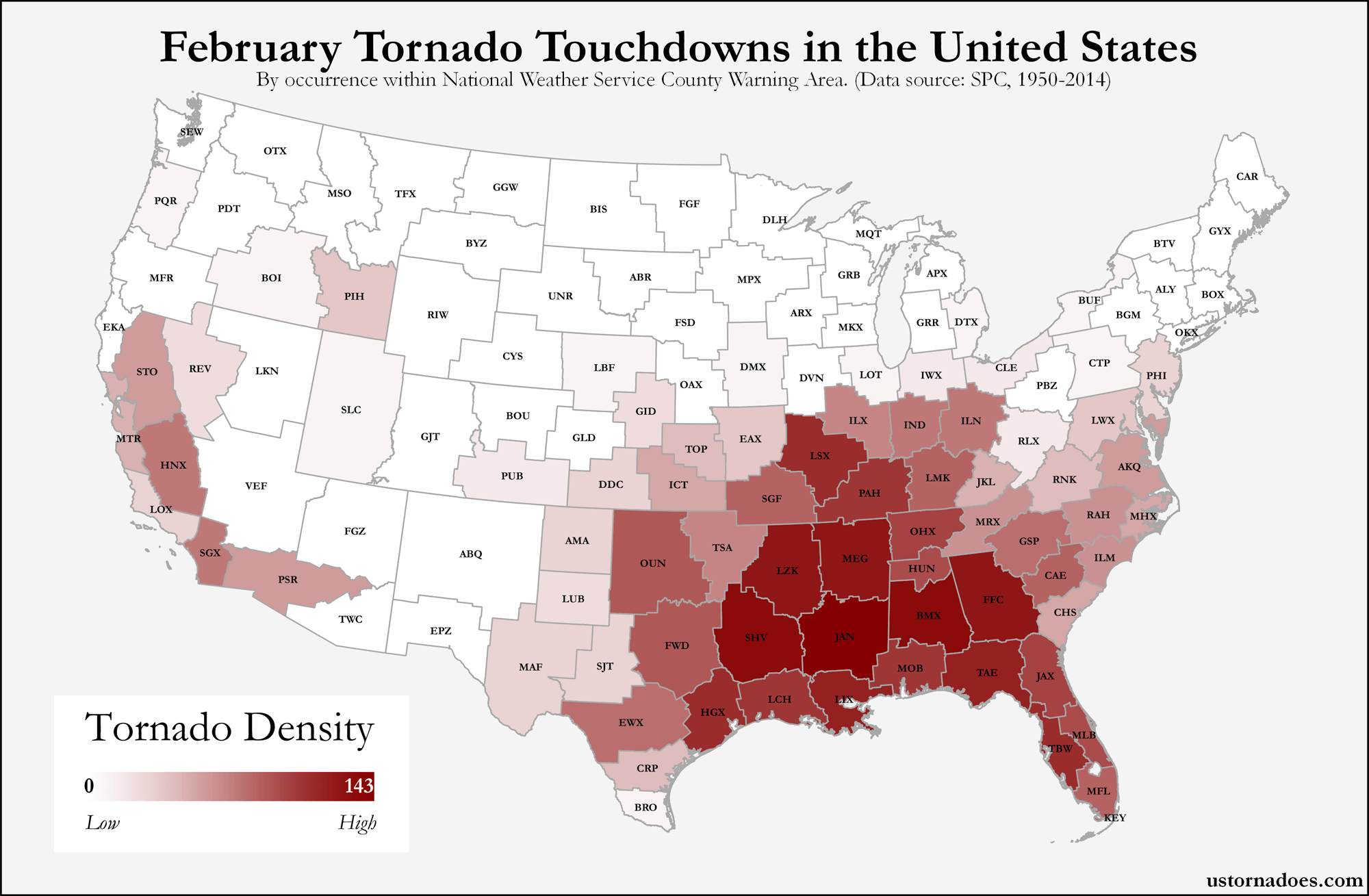 These National Weather Service offices have faced the most formative threats of tornadoes throughout February history: Jackson, Ms. – JAN (143); Shreveport, La. – SHV (99); Birmingham, Al. – BMX (80); Memphis, Tn. – MEG (76); Little Rock, Ar. – LZK (68).
The following two tabs change content below.
Defense and foreign policy researcher at a D.C. think tank. Information lead for the Washington Post's Capital Weather Gang.
Latest posts by Ian Livingston (see all)