Here's where tornadoes typically form in May across the United States
These maps break down May tornadoes based on where they begin.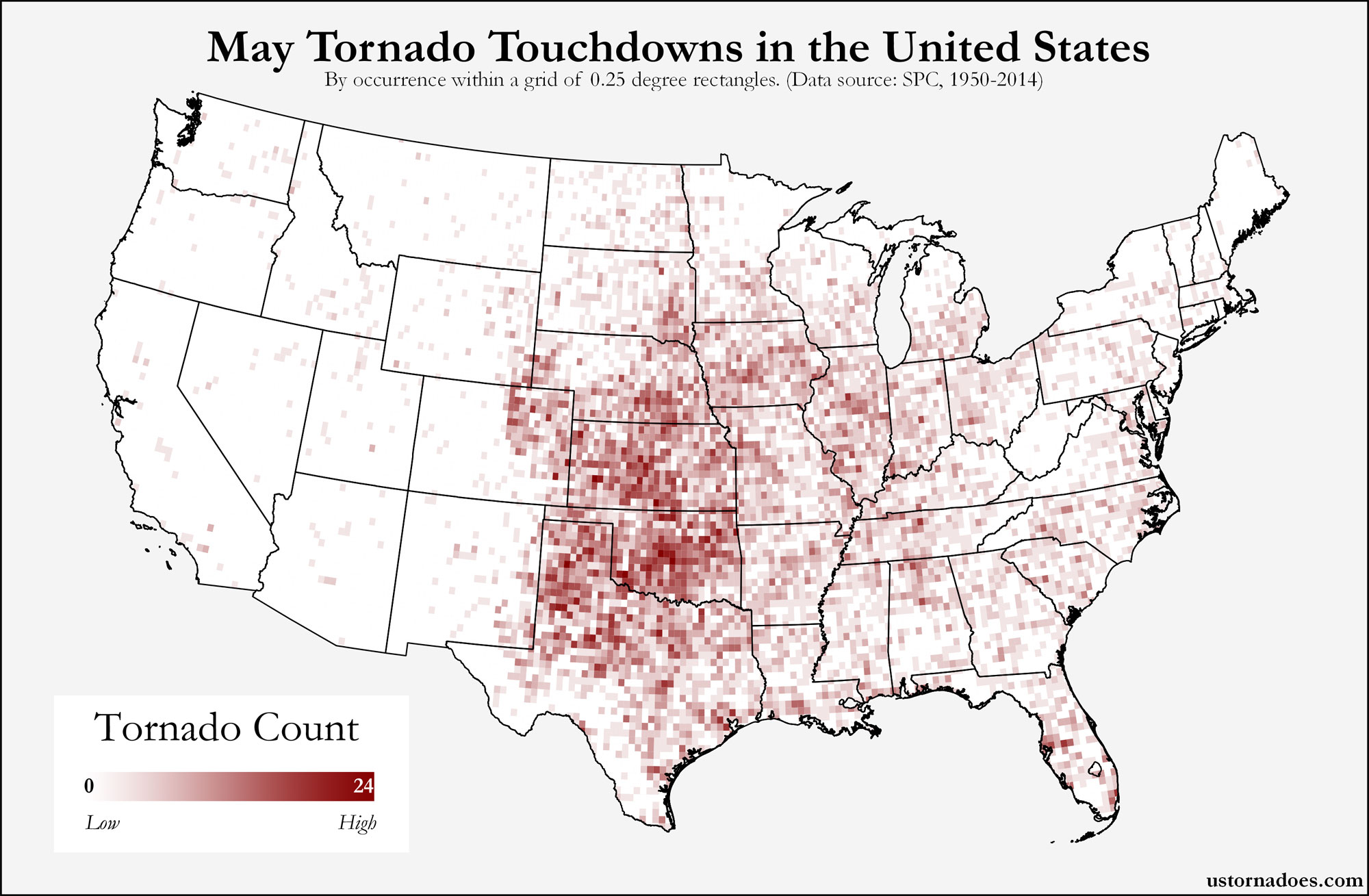 In your average year, May is the expected peak of tornado activity. That's of course not always the case, but the month has had over 4,000 more tornadoes than April since 1950 and it has seen almost 2,000 more touch down than June.
By May, a very noticeable move away from the cool-season home of tornadoes around the Gulf Coast and in parts of the Southeast is seen as the tornado zone lifts north and west into summer.  The heart of the classical tornado alley is shaded in lots of red during the month, and again in June.
Where tornadoes form: January, February, March, April, May, June, July, August, September, October, November, December
May usually brings about 260-280 tornadoes to the country, depending on how long and when your averaging period is.  Through 2014, 12,864 tornadoes have been recorded in May across the country going back to 1950.  The long-term average, skewed by early years with under-reporting, is 198 tornadoes per May.
While tornado days — or a day with at least one tornado touchdown — peak in late May through mid-June or so, and the number of twisters is often higher in May than any other month, we do see the cumulative count of violent tornadoes drop from April to May. This could be partly because there is less to hit in the Plains compared to the more densely populated Southeast, but also likely because of the seasonal slowing of the speedy winter jet stream.  Regardless, there have been many top-end tornadoes in May, including the recent infamous Joplin EF5 of 2011.
As you might expect during peak tornado time, few zones have totally escaped May's tornado wrath. In fact, across the contiguous United States, only Rhode Island and the District of Columbia have not recorded a May tornado since the modern record began. Undoubtedly in both cases, attributed to size of land mass available to strike.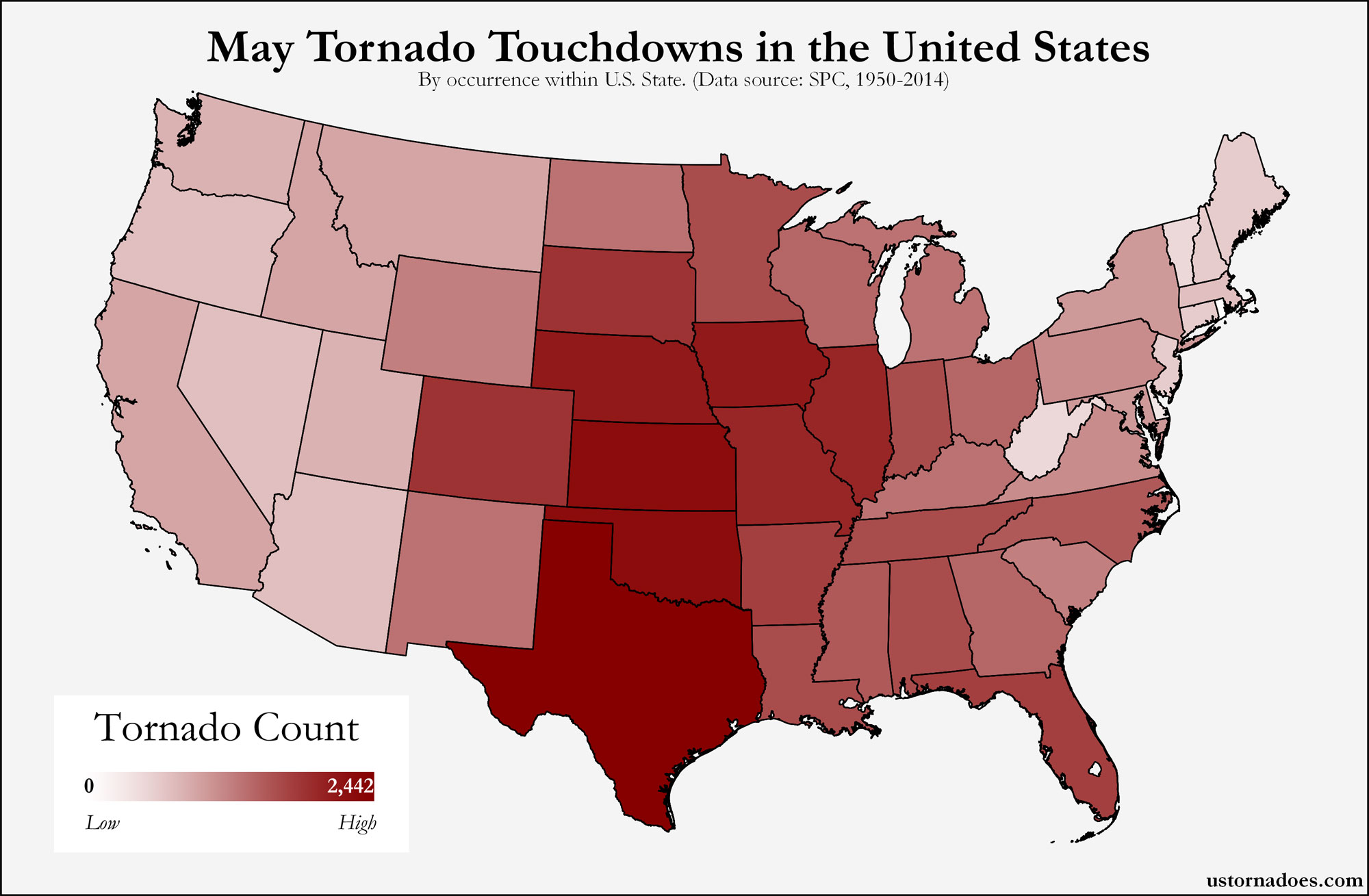 Texas comes away with the win for cumulative tornadoes because it's huge. The states at greatest risk for tornadoes during the month are mostly across the southern and central Plains into the western Midwest.  However, much of the country other than New England, some coastal areas, and parts of the west should "expect" at least a twister or two in May according to averages.
The top eight states for touchdowns in May are Plains heavy, hence the motto "When it's May, you chase" among storm hunters: Texas (2,442); Kansas (1,423); Oklahoma (1,409); Nebraska (782); Iowa (590); Missouri (531); Illinois (530); Colorado (437).
Related: May tornado averages by state (SPC)
On the county map, much as the unbiased-by-size grid map up on top of the post, you can basically trace where the Rockies end and the Plains begin by seeing where things turn red.
As opposed to April, when just a few spots of the southern Plains and South and Midwest were bathed in red, large chunks of areas take that on in May.
Of particular note is the zone from northern Texas through Oklahoma, Kansas and into parts of Colorado, Nebraska and Wyoming. But, as before in the state map, you can see much of the nation's counties are colored in some shade of red.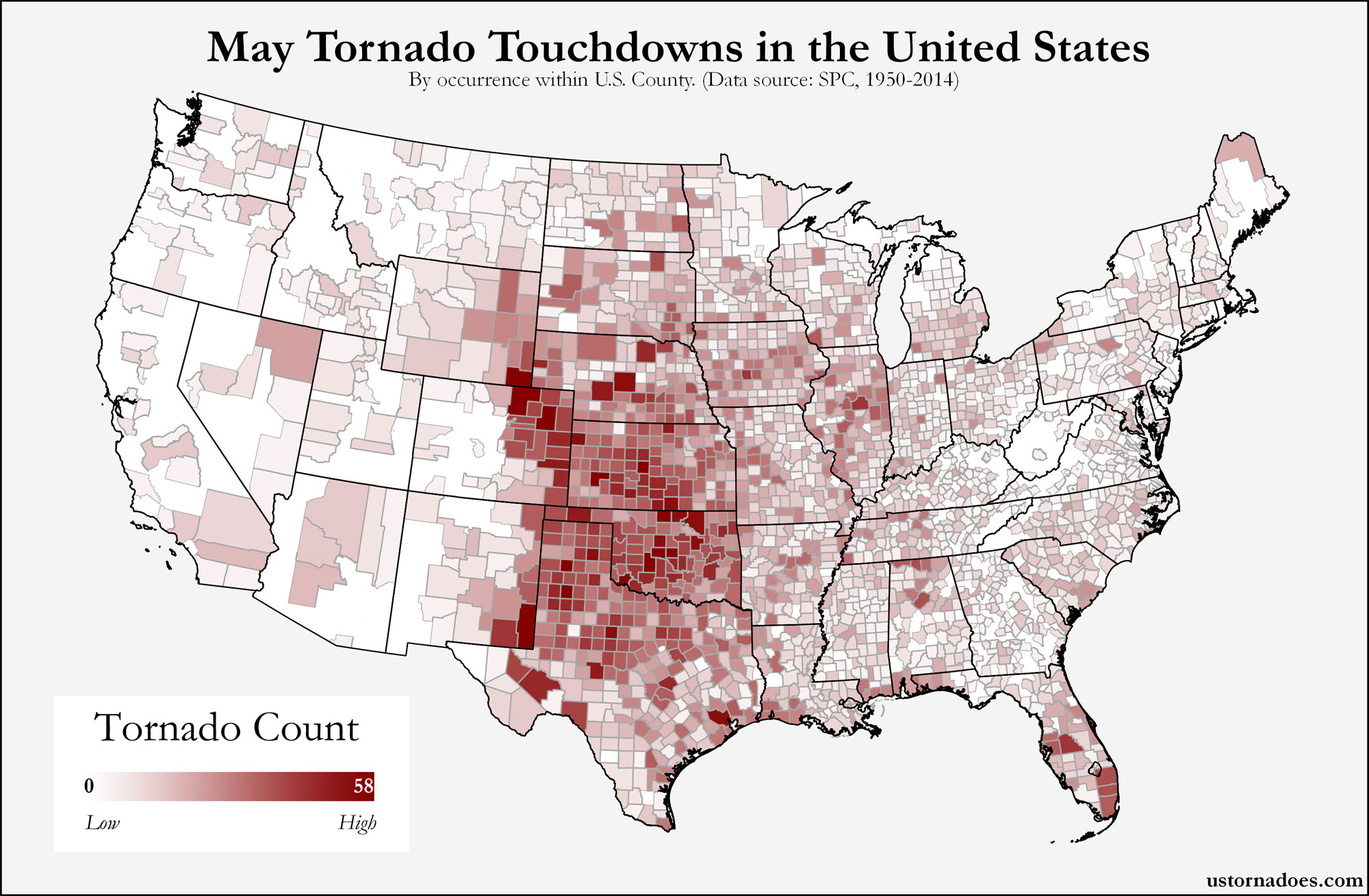 The tornado-est (for touchdowns) eight counties in May are as follows: Weld, CO (58); Caddo, OK (52); Canadian, OK. (50); Finney, KS (44); Oklahoma, OK (44); Barton, KS (39); Hale, TX (38); Laramie, WY (38).
Related: The month of May by the numbers | Significant tornadoes in May
NWS Norman (OUN) takes the top spot for the second month in a row. In this case, it's particularly lopsided. The 1,045 touchdowns in May over the past 65 years, within their warning area, is more than double the next two offices (Dodge City, KS and Wichita, KS). If the office boundary was a state boundary, OUN would fit in the top five in that ranking. Only Texas, Kansas and Oklahoma (home to most of OUN) have more cumulative tornadoes in May. Easy to see why OUN made our list of must-follows for tornado information.
Otherwise, we see the general idea shown in other maps. A southern Plains bulls eye and consistent deep reds around there. Pretty much the whole central U.S. office network, bounded roughly by the Mississippi River and the Continental Divide, are historically at risk of seeing at least a handful of tornadoes during the month.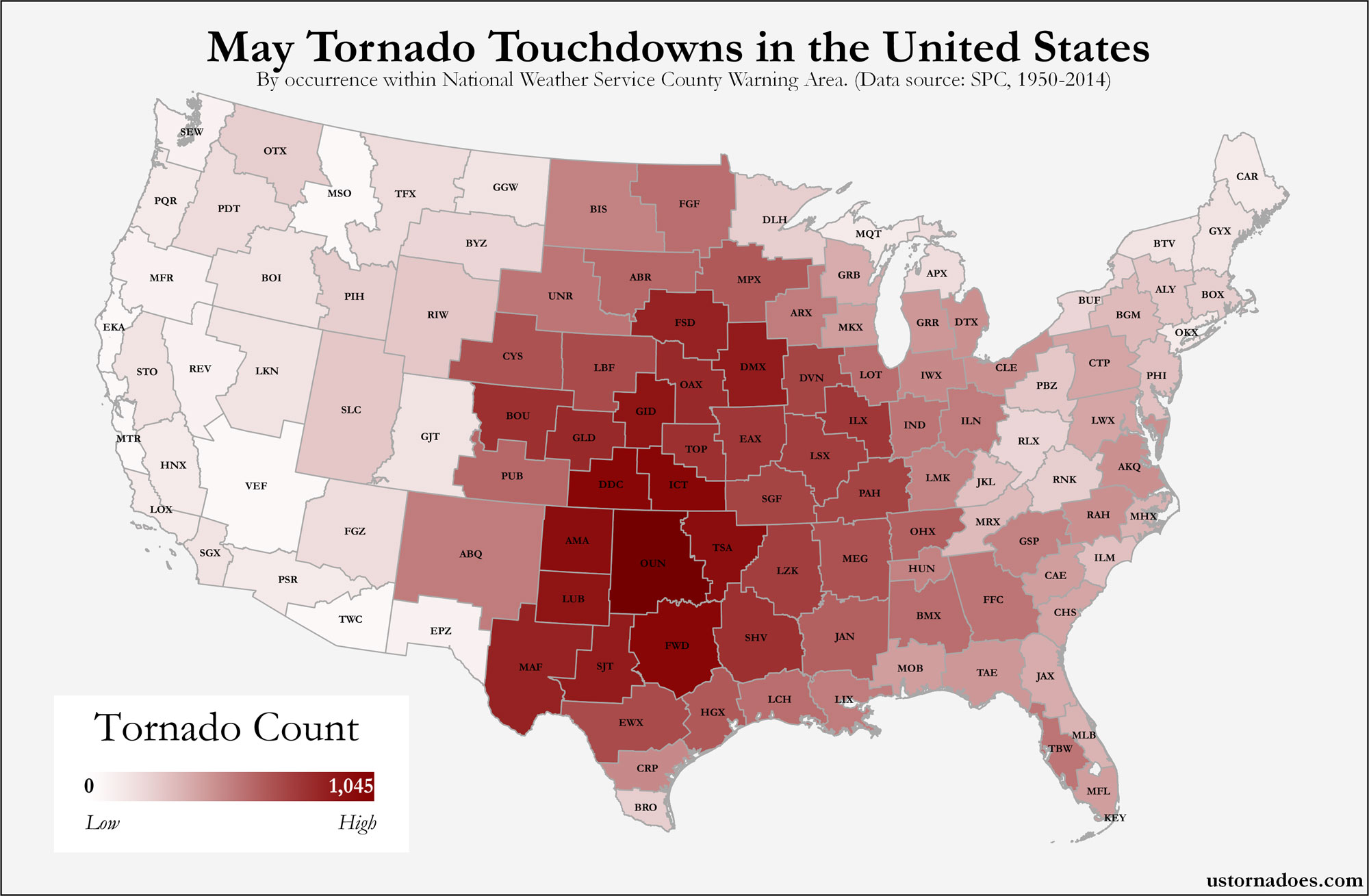 Top eight NWS offices for May touchdowns: Norman, OK – OUN (1,045); Dodge City, KS – DDC (438); Wichita, KS – ICT (438); Fort Worth, TX – FWD (438); Tulsa, OK – TSA (424); Amarillo, TX – AMA (419); Lubbock, TX – LUB (393); Hastings, NE – GID (339).
Data (1950-2014): States | Counties | NWS (.csv files)
The following two tabs change content below.
Defense and foreign policy researcher at a D.C. think tank. Information lead for the Washington Post's Capital Weather Gang.
Latest posts by Ian Livingston (see all)