Here's where tornadoes typically form in July across the United States
These maps break down July tornadoes based on where they begin.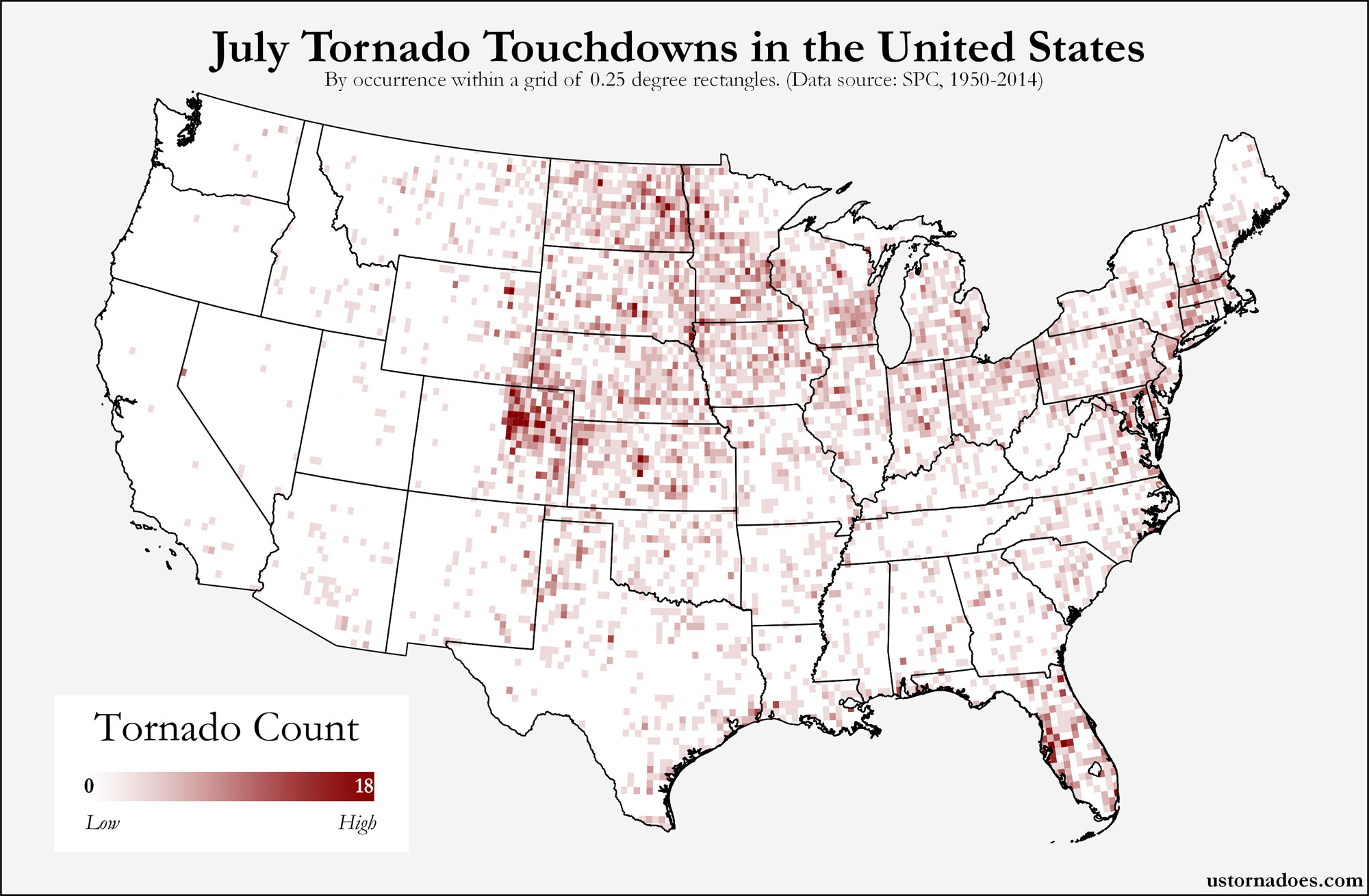 July is often thought of as the beginning of post-season when it comes to tornadoes, but the reality is that the month is the fourth most active of the year. In fact, partly since it's so warm across the whole country and storms are numerous, the month has seen several thousand more twisters than March, a month often thought of as a big one for tornadoes.
As across the warm season months, there is again a noticeable (if less stark because cumulative numbers are dropping) shift to the north and west for the most consistent tornado activity. The front range of Colorado and Wyoming continues to be a hotspot, but the states up near the Canadian border put up quite a fight there overall.
Where tornadoes form:  January, February, March, April, May, June, July, August, September, October, November, December
July averages about 120-135 tornadoes depending on the length of and specificity of the period used. That's only about half of June's total. So while tornadoes remain quite common in July, there's a noticeable down-tick in activity most years.
A big part of the lower numbers is simply that there is often not very much wind shear across the country. July is the peak of summer across most of the United States. While pop-up storms are frequent, as are more widespread threats often in the form of damaging squall lines, high pressure is often parked over the southern U.S. This deflects the jet stream north and typically puts a lid on storm development as one gets further south. Stay tuned — more on a shocking thing you'd never guess about Texas in a second…!
Attributable to the fact that almost anywhere can see a thunderstorm in July, this is the only month where every lower 48 state has seen at least one tornado touchdown since 1950. Only D.C. has not, but it's of course a rather small piece of real estate–and not a state.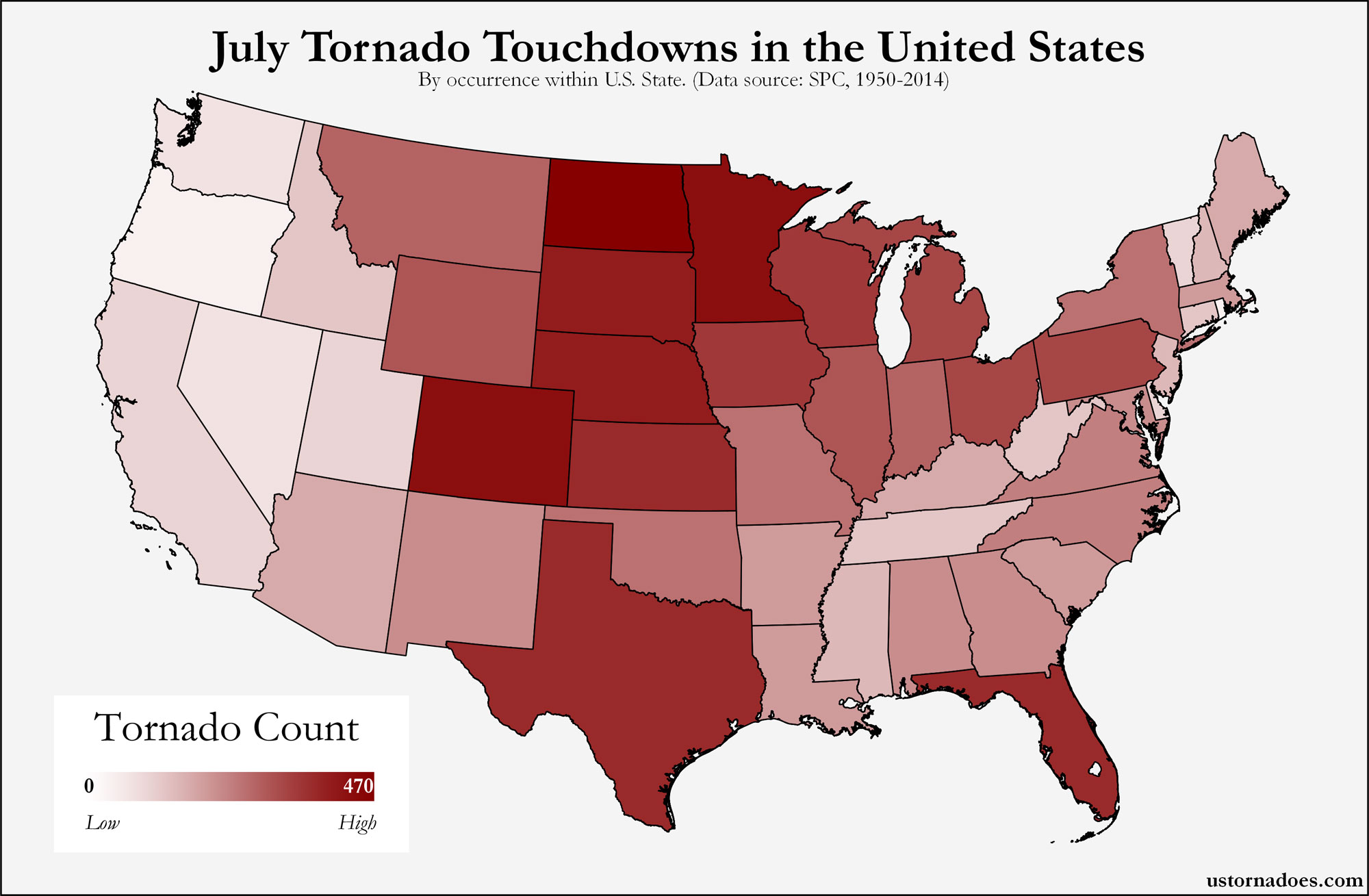 July tornado touchdowns, while possible just about anywhere during the month, tend to favor the north-central United States. There's also a bit of an extension of heightened activity across the Great Lakes states and into the northern Mid-Atlantic as well as northeast. Interestingly, Texas is either first (10 months) or tied for first (Feb.) per 1950-2014 numbers in every month except July. It doesn't just fall a spot or two in July either, failing to even make the top five. Thanks, "Death Ridge."
These states lead the way for tornado touchdowns in July: North Dakota (470); Colorado (430); Minnesota (430); Nebraska (363); South Dakota (360).
Related: July tornado averages by state (SPC)
Like with June, counties the darkest red are super apparent across northeast Colorado. Within the top part of the list, many Colorado counties are present. As is also typical, many of these are weaker landspout tornadoes. From there, a bit of a diagonal line of counties up into the northern reaches of North Dakota and Minnesota is present.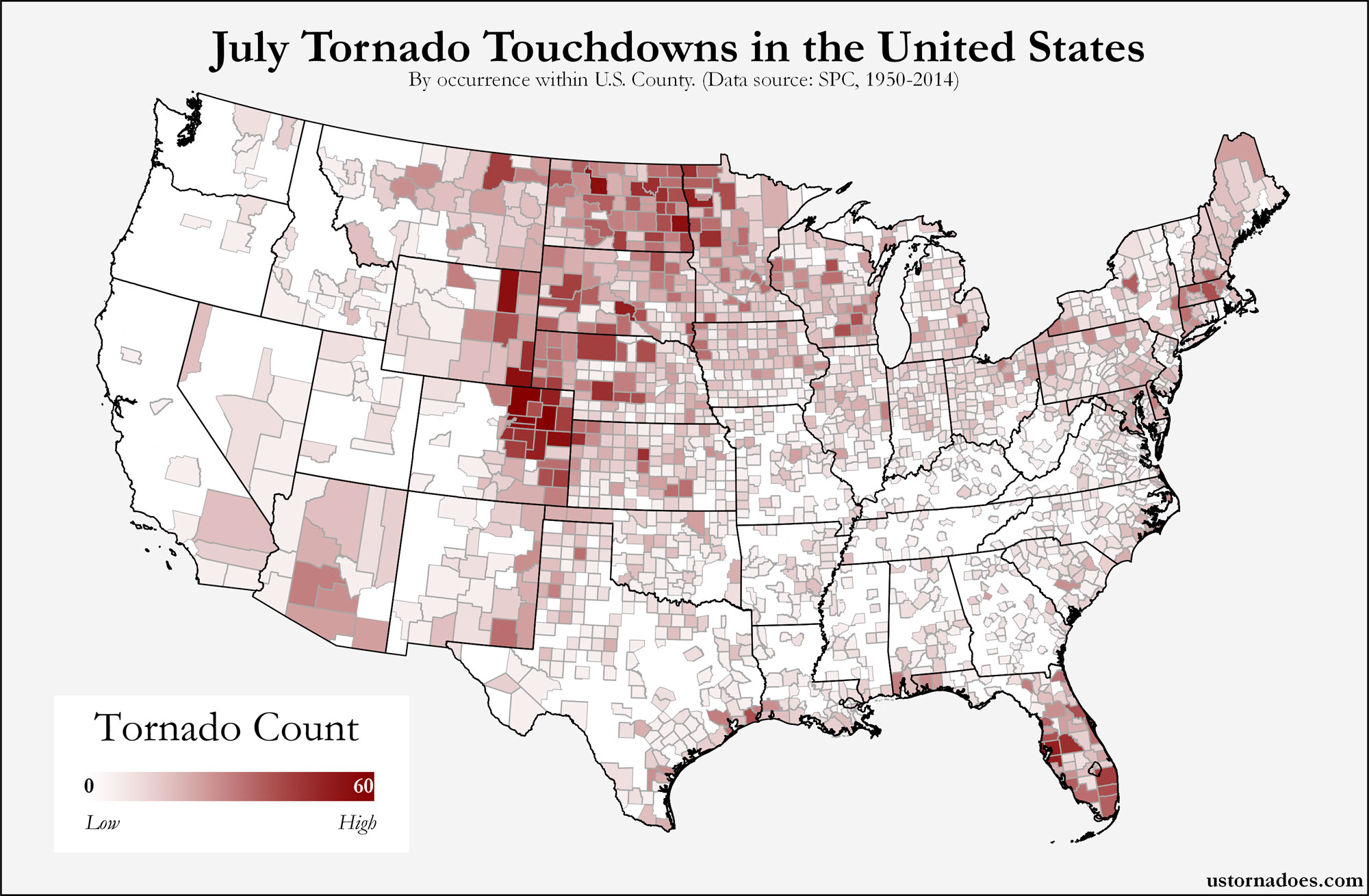 As with the state map, regions of darker red counties extend from the upper Plains through the northeast U.S. Notably, several New England counties are quite colorful.
These counties have seen the most tornado touchdowns in July: Weld, CO (60); Adams, CO (43); Washington, CO (40); Cass, ND (30); Campbell, WY (27).
Related: The month of July by the numbers | Significant tornadoes in July
As anticipated given the data already presented, National Weather Service offices across the northern U.S. tend to deal with the most tornadoes during July. The only exception to the top five is Boulder, CO, which covers the east of the mountains bulls-eye often present in summer.
The rest of the top five is dominated by the Dakotas and Minnesota. Patterns are generally similar to the other maps. The Tampa office stands out in Florida as well, mainly due to waterspouts coming ashore and/or weaker landmass type tornadoes.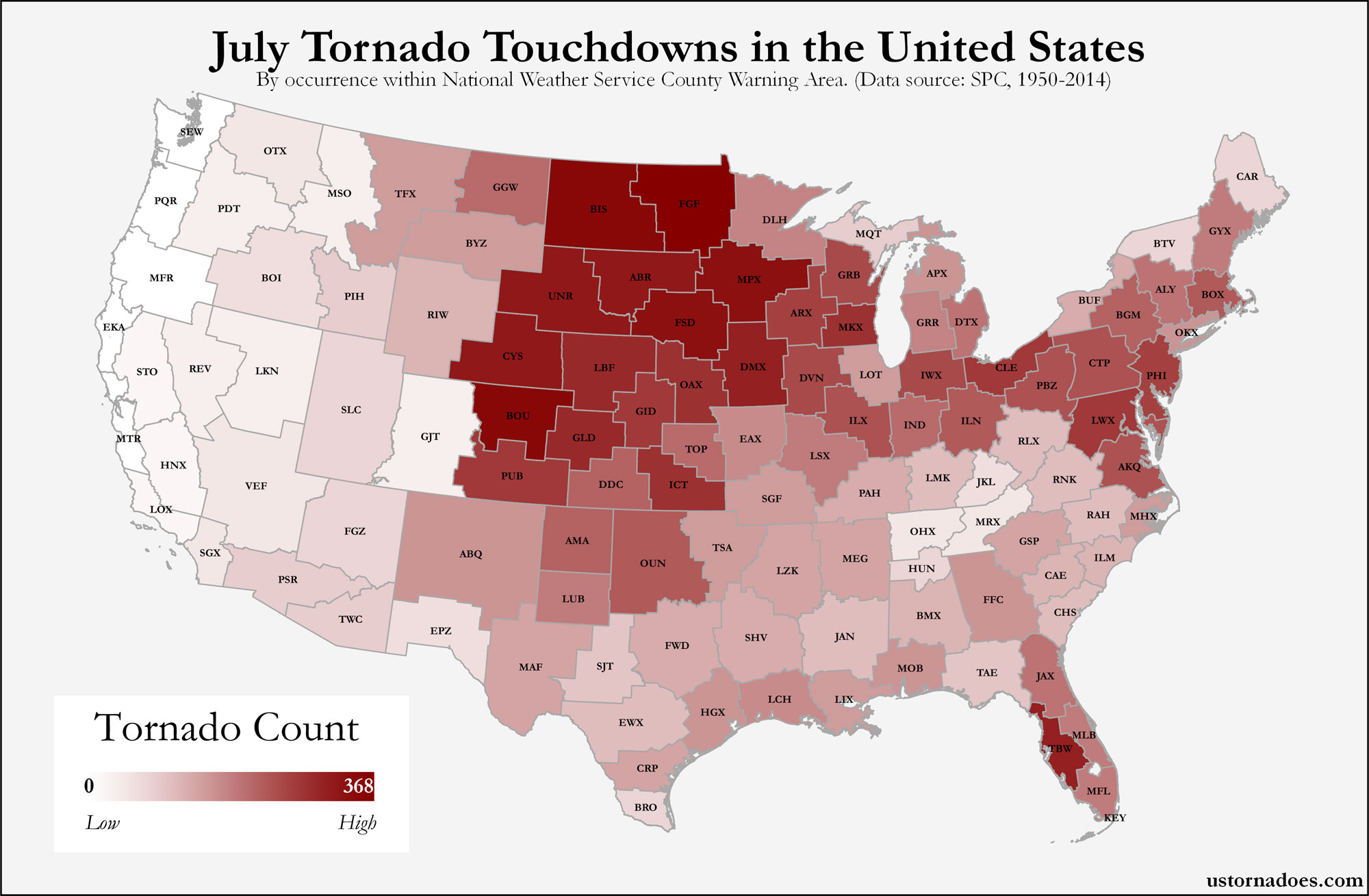 NWS offices that have dealt with the most touchdowns: Grand Forks, ND – FGF (368); Boulder, CO – BOU (292); Bismarck, ND – BIS (260); Twin Cities, MN – MPX (238); Sioux Falls, SD – FSD (184).
Data (1950-2014): States | Counties | NWS (.csv files)
The following two tabs change content below.
Defense and foreign policy researcher at a D.C. think tank. Information lead for the Washington Post's Capital Weather Gang.
Latest posts by Ian Livingston (see all)