Janice Dean on Freddy the Frogcaster, how the books help teach about weather, and more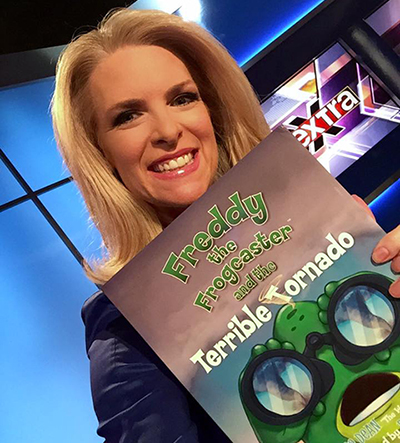 As the senior meteorologist at Fox News, Janice Dean has reported on all kinds of weather. Big-story storms have included Sandy and Katrina, both since etched into the memories of Americans.
Dean has also covered plenty of tornado outbreaks, including the Super Outbreak of 2011 as well as more recent tornado disasters in and around Dallas late last year.
Perhaps most important of all for us parents, since the books are so great(!), she's the creator the lovable Freddy the Frogcaster. Most recently, Freddy is facing the Terrible Tornado.
Given how much we talk about tornadoes here, it seemed like quite the opportunity to have a chat. Happily, Janice agreed!
Katie Wheatley (KW): Janice, thank you so much for your time. I'm really excited you've agreed to a few questions!
I just want to say, my daughter and I absolutely love your Freddy the Frogcaster books! She gave them to me as a gift for Mother's Day and we've read them every night. We especially love Freddy the Frogcaster and the Terrible Tornado.
Can you briefly tell us a little about yourself for those who may not be familiar?
[Freddy the Frogcaster and the Terrible Tornado on Amazon]
Janice Dean (JD): Hi Katie!  Thanks for reaching out, and I am THRILLED you and your daughter love Freddy.  I'm flattered that she got you all the Freddys for Mother's Day!   Toad-ally AWESOME.
Well, let's see now…I've been at Fox News Channel for 12 years now as their senior meteorologist.   Before that I was in news doing both radio and television as a reporter/anchor.  I even did some DJing back in the day, along with being a fill-in weather presenter back in my hometown of Ottawa, Canada. As you know most people who study weather remember a big storm or series of events that made them want to become involved in meteorology, and for me that was big winter storms and ice storms that affected the city I grew up in.  When I came to Fox as a weather forecaster I went back to school while working to become a broadcast meteorologist.  I absolutely love my job and the people I work with.
KW: What inspired you to write children's books about the weather? How did Freddy the Frogcaster come to be and what are your goals with him long term?
(JD): The idea for the Freddy the Frogcaster series came from friends and family members who were looking for recommendations for children's weather books.  After doing some research, I felt like there was a need for more of them, so I jumped in! (pardon the pun…) I was so fortunate to find Russ Cox, my illustrator, who is one of the best in the business.  I could never have imagined how beautifully he captures Freddy's world of weather.
I have to admit it took me a long time from the idea of writing a book to actually getting one published.  I had to go through many drafts and several publishers to find the right fit who really believed in what I was doing.  As for the frog character, I've always had a love of frogs starting with Kermit.  And when I was searching for a weather loving creature, I had read somewhere that frogs somehow innately know when the weather is changing, and have been known to "croak loader" when a storm is coming.  I'm not sure if this is scientifically proven, but when I read it, I thought wow – frogs are natural weather forecasters.  And then the fun names came into my mind – Polly Woggins, Sally Croaker, Frog News Network etc.  It was endless.
Long term, I have another book coming next year.  I've developed a Freddy the Frogcaster weather APP (which I'll bet your daughter will love!) and there's interest in making Freddy into an animation of some form.  I'm also proud and honored that Freddy the Frogcaster is an ambassador for NOAA's  Weather Ready Nation program.
KW: Specifically on the Terrible Tornado, I've seen you are on something of a severe weather awareness outreach tour for kids — an important job, I must say! Do you have a personal story, or experience, with tornadoes or severe storms that drives you to want to teach kids about them?
(JD): As I mentioned, I love my job here at Fox, but now that I've written these books and have spoken to thousands of kids about weather, I think this is one of the most important things I've ever done.  Kids are so excited to talk about weather.  I find that they are afraid of it, so I figure if we can tap into some of that excitement, and teach them about why things happen and how to prepare in advance, that can help take the scare out of a potentially serious weather event.
When I was out on the tornado alley tour with the book (Texas, Oklahoma, Kansas and Missouri) I loved talking to children about their experiences with severe storms.  Over the years covering extreme weather events, I am always struck by how communities come together and help each other.   I truly believe we can help save lives by talking about what to do and how to prepare in advance.  And I have parents that tell me after they read the books, many times the children are the ones that take the initiative to get an emergency preparedness kit together which is wonderful.
KW: Do you have any plans to write future books?
(JD): As a matter of fact, yes, I'm working on that book right now.  I think it's going to focus on floods.  I don't think people realize that flooding and flash flooding is the number one cause of weather-related deaths here in the U.S.   Most people who die in flash floods make one fatal mistake – driving into flood waters.  Freddy needs to tackle that in the next book.
KW: I want to change topics just a bit, you're a meteorologist for Fox News, which is wonderful to see as the majority of top on-air meteorologists are male. Can you share how you got to where you are today? Any advice for young girls who want to study science and meteorology?
(JD): Well, as I mentioned, I have always loved the subject weather, but went along the path of journalism and reporting first.  However, I truly believe my experience in broadcasting has made me a better meteorologist.
People are shocked to find out that meteorologists don't read scripts from a teleprompter. It's all adlib, but my days in radio and television writing and reporting have certainly helped my presentation.  And the fact that I went back to school in my thirties to study meteorology is a little rare, but I believe there should never be a time limit to learning something new.   I always tell kids coming out of school to try EVERYTHING.  Don't limit yourself to just one profession or job description. You never know where you might find yourself.
As for females in meteorology, I see more and more all the time.  The one thing that I don't particularly love is the focus on our hair and wardrobe- which is part of the job.  That's something men don't have to deal as much as we do. Even my mom is guilty of that.  "I loved your dress today—or did you do something with your hair?"  I always ask her if she actually listened to my weather report.  HA!  But that kind of thing is not exclusive to on air meteorologists.  That's just a tv thing. When I was in school, I LOVED math and science.  When I go and talk to kids at school I always encourage them to be excited about those subjects.
KW: Thanks again, Janice! Your books are awesome, and glad you were willing to do this!
(JD): My pleasure!  I'm so glad you enjoy the books.  It's a wonderful new "chapter" I'm so lucky to experience in my career.
The following two tabs change content below.
Katie Wheatley
Katie currently works as a GIS Analyst for EA Engineering, Science and Technology, Inc., PBC in Hunt Valley, Maryland.
See full bio
.
Latest posts by Katie Wheatley (see all)