Tornadoes have scoured the landscape on Election Day before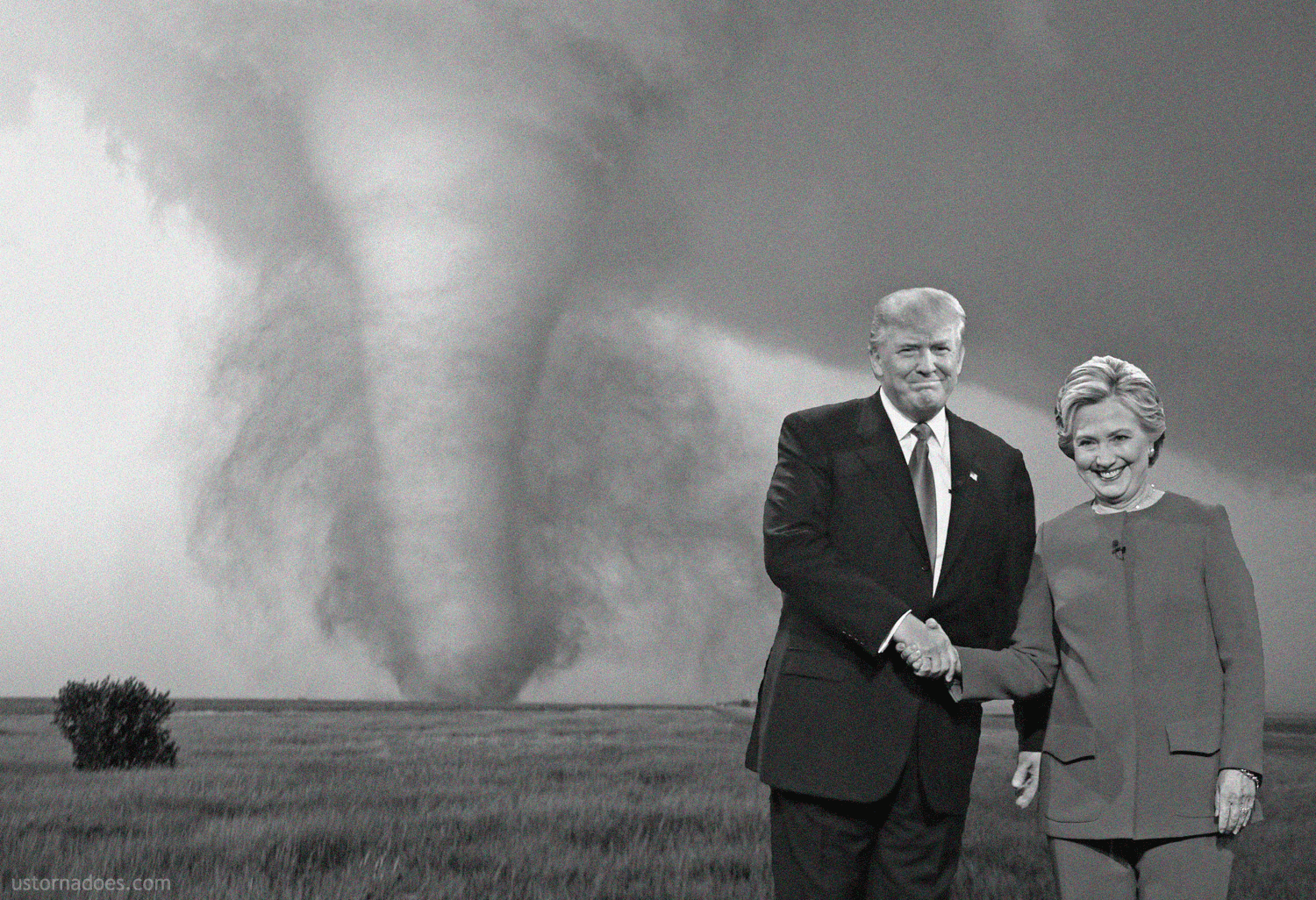 Any projectiles flying through the air today will almost certainly not be caused by wedges. In fact, there's not much weather at all this Election Day.
Decision 2016 won't feature tornadoes, but there have been some during elections in the past.
Given a presidential election only happens every four years, and the modern tornado record only goes back to 1950, our data here is fairly limited. That said, we can perhaps draw tentative conclusions about how the tornado vote swings.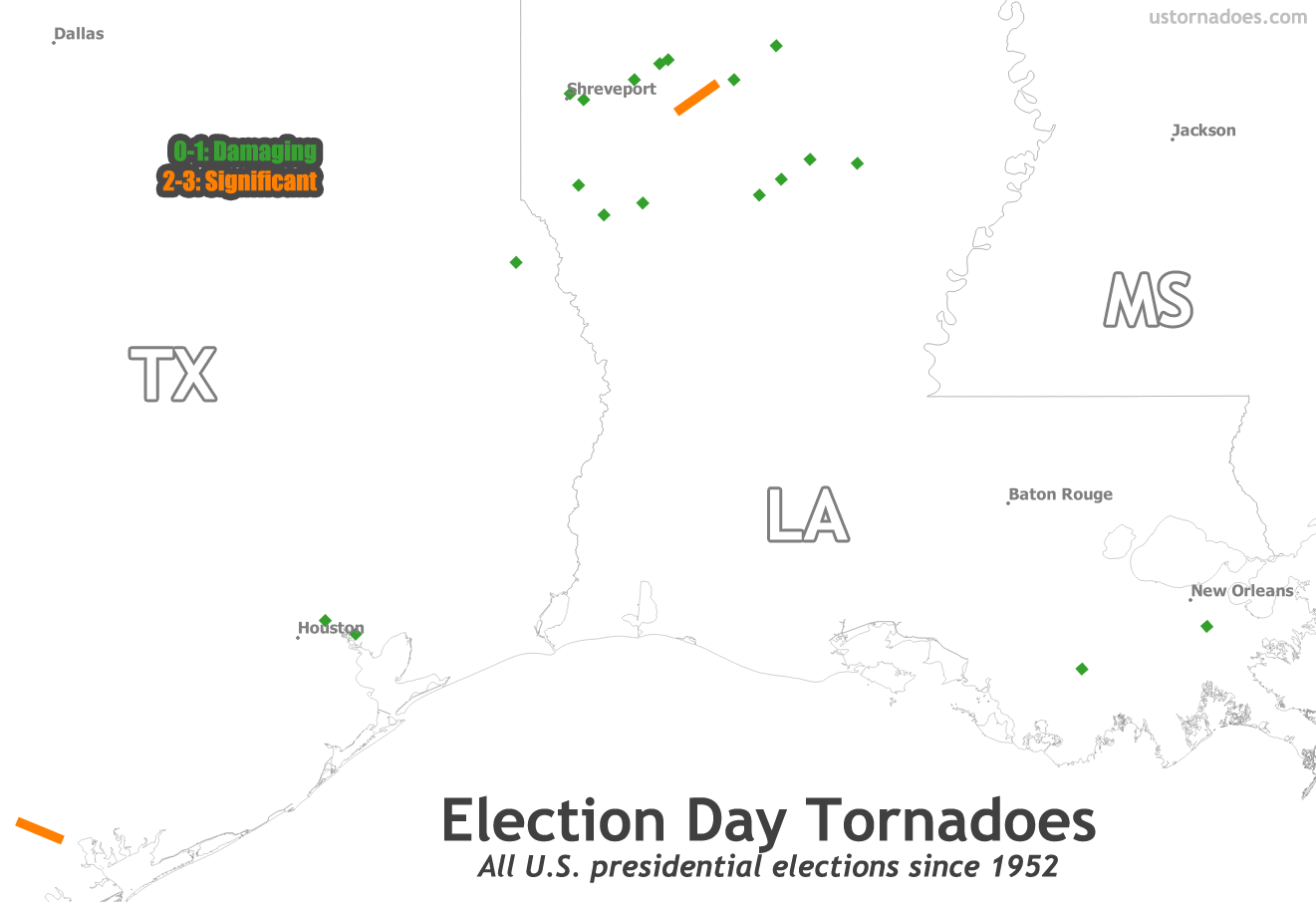 A few key points stood out while perusing the data:
Of the 16 U.S. presidential elections (1952-2012), three had tornadoes touch down. That is just shy of 20 percent of years. However, those historical odds will trend lower after today is done.
There were 21 tornadoes in total on presidential election days during the period. Four in Texas, the rest in Louisiana. 16 twisters touched down on November 3, 1992 during a localized outbreak of mostly weak tornadoes. This happened across northern Louisiana and adjacent east Texas.
Two strong tornadoes have occurred on presidential election days. Both were rated F3 on a 0 (weakest) to 5 (strongest) scale. The F3 tornado in Louisiana came during the outbreak noted above. Texas's F3 came on November 5, 1968. It caused several injuries.
[Holiday tornadoes: Valentine's Day | Leap Day | Independence Day | Halloween | Christmas/Christmas Eve]
Given the small sample, I figured it would also be worth looking at a map of the whole period in which the presidential election may happen. In other words, November 2-8. The election is always the first Tuesday following the first Monday of the month.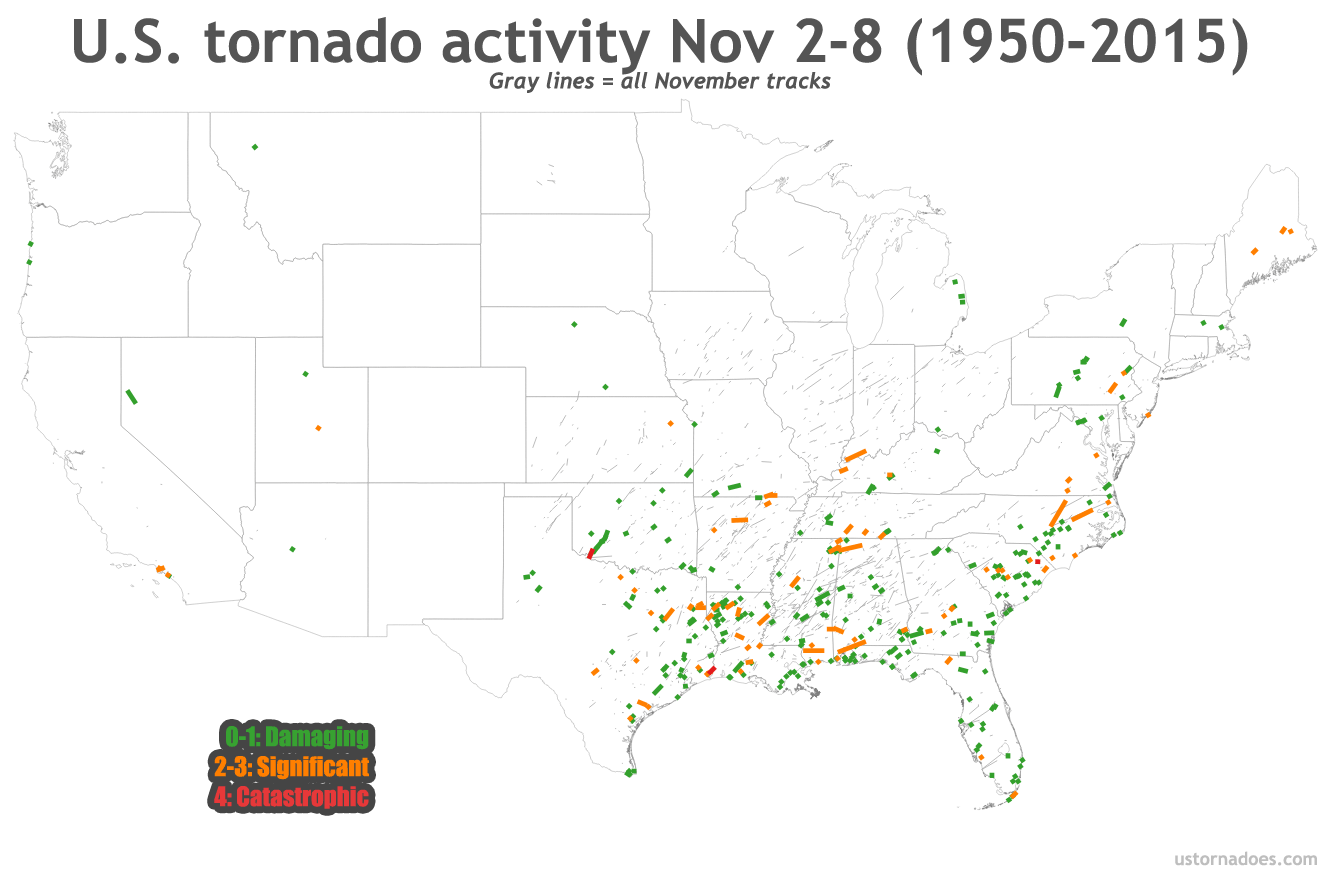 The month of November is part of the "second season." This is when there can be a typically small (in comparison to spring) fall peak of severe weather. Second season tends to favor the Southern U.S. The zone of highlight on the map above, from the southern Plains to the Carolinas is about where you'd expect the most activity this time of year.
The so-called second season doesn't always happen. When it does, it's often not as regular as springtime volleys.
[November tornadoes | Strong November tornadoes | November tornado maps]
Some of the lack of Election Day tornado events is just luck of the draw. Yesterday, folks were reminiscing about a tornado event in southern Oklahoma in 2011 on November 7. That localized outbreak produced a violent EF4 tornado, among a number of others.
Five years ago today, @strmchsr77 and I ventured to SW #OKwx and captured this #tornado. It was also our last chase together as a team. pic.twitter.com/gFl3k4N4Ik

— Mark Drees (@txskywtchr) November 7, 2016
During the same year as the presidential election event in 1992, an even larger tornado outbreak hit the South near Thanksgiving. The Houston area saw a violent F4 tornado touch down on November 21 that year. Another crashed through Mississippi. It ended up one of the largest November outbreaks on record, dwarfing the one that witnessed the victory of Bill Clinton occur earlier that month.
So while 2016 has been widely criticized as taking the wrong turn at every corner, at least there isn't a tornado outbreak on tap. And if you have not yet done so, go vote!
The following two tabs change content below.
Defense and foreign policy researcher at a D.C. think tank. Information lead for the Washington Post's Capital Weather Gang.
Latest posts by Ian Livingston (see all)