Map: U.S. Tornadoes by County, 1950-2011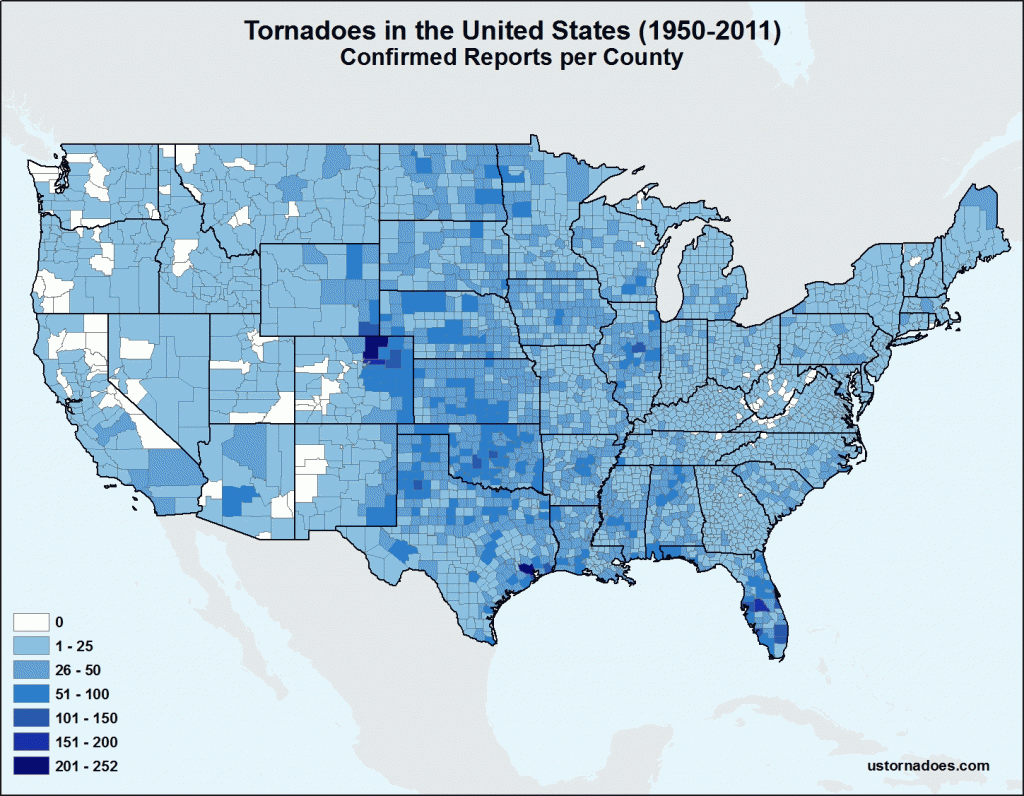 The map above shows county-level impacts of all U.S. tornadoes from 1950-2011. In this analysis, if one tornado crosses multiple counties, we have included it as an individual tornado for each county hit.
As would be expected by the name, Tornado Alley has had relatively consistent activity throughout the region from North Dakota to Texas. In addition to much of the Plains being highlighted in darker blues, additional areas from Louisiana through Alabama have had enhanced tornado activity as have parts of the Midwest and Ohio Valleys. Florida also ranks up there, though compared to other places further west, much of Florida's tornado activity is rather weak.
Weld County, Colorado leads the way with a total of 252 tornadoes for the entire period. Harris County, Texas also breaks the 200 barrier with 213 tornadoes. A sampling of other counties that have high tornado counts include: Polk County, Florida with 158; Adams County, Colorado with 156; Palm Beach County, Florida with 150; Hillsborough County, Florida with 138; and Washington County, Colorado with 134.
Though not shown on the map, Alaska has had four tornadoes touchdown in the state during the period. Hawaii has had 40 tornadoes touchdown, with Honolulu and Hawaii Counties recording 17 and 10 tornadoes respectively.
View interactive map » (pops up in sized window — works best in Firefox)
The following two tabs change content below.
Katie Wheatley
Katie currently works as a GIS Analyst for EA Engineering, Science and Technology, Inc., PBC in Hunt Valley, Maryland.
See full bio
.
Latest posts by Katie Wheatley (see all)