North Carolina's largest tornado outbreak – April 16, 2011
April 2011 was a defining month in terms of tornado climatology.  The most talked about event which took place during this month was the Super Outbreak  of April 25th-28th  that devastated parts of the southeast. The magnitude of that late-April event often overshadows a separate historic tornado outbreak that occurred earlier in the month, from April 14-16.
Here I focus on the April 16 portion of the event, which unfolded mainly across the Carolinas and Mid-Atlantic.
April 16 produced 57 tornadoes (including two close to midnight separate from the main barrage), with North Carolina the hardest hit state.  One of the most striking aspects of this event was how many tornadoes went through major urban areas including Fayetteville, North Carolina off of Interstate 95 and of course downtown Raleigh, North Carolina.
The Storm Prediction Center was monitoring this region for a possible severe weather outbreak that day. They bumped a Moderate Risk up to a High Risk by the 4 p.m. update.  Within the High Risk, they included a 30% hatched tornado probability area for eastern North Carolina.  (The "hatched" symbolization indicates a chance of significant tornadoes of EF2 or greater.)
Tornadoes by State:

North Carolina: 31
Virginia: 11
South Carolina: 8
Maryland: 4
Georgia: 2
Pennsylvania: 1
Tornadoes by EF-category:        
EF0: 17
EF1: 24
EF2: 10
EF3: 6 (5 which were in North Carolina, 1 in Virginia)
Radar Images:
Maps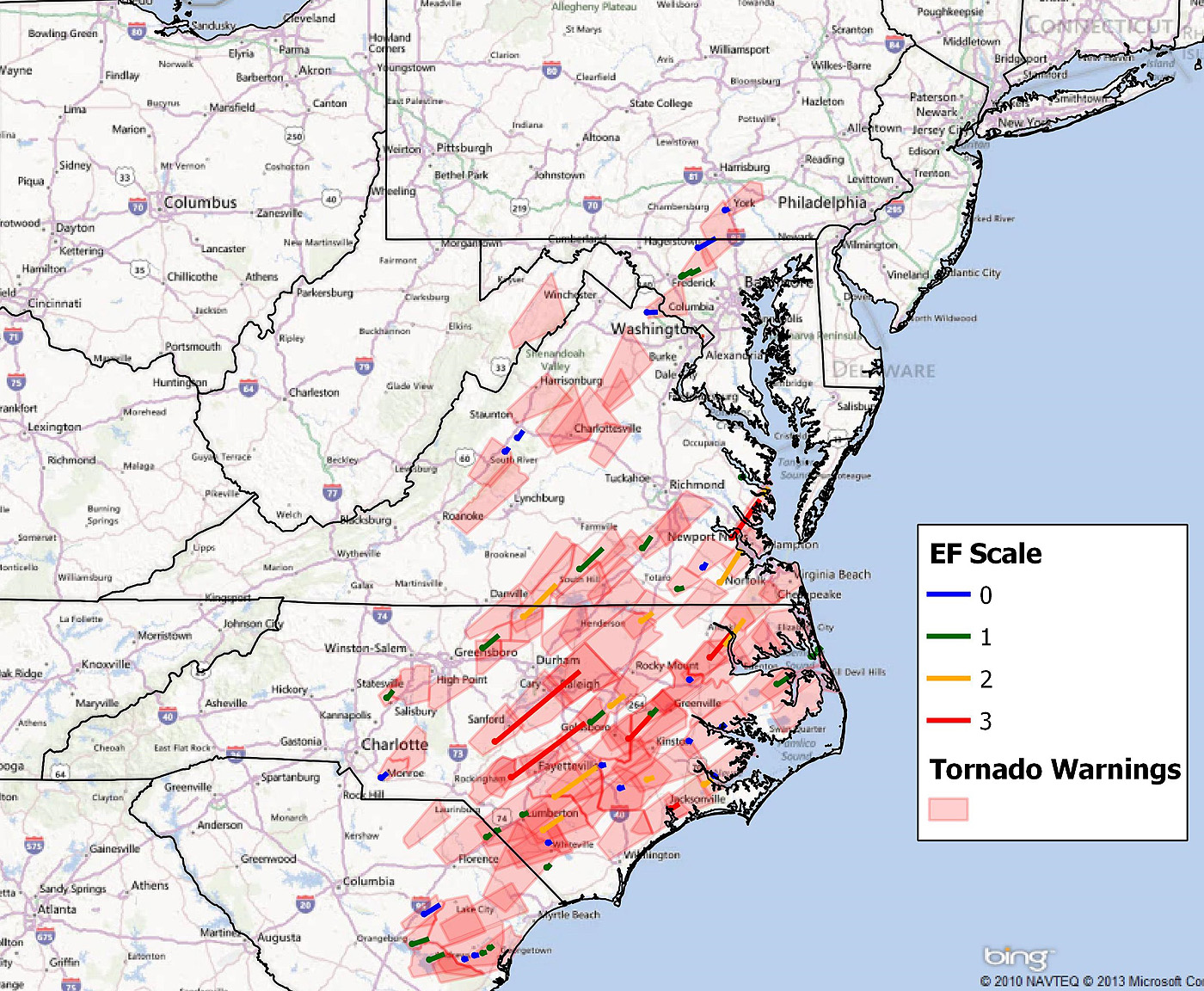 Reviewing the maps above, this event was well forecast by meteorologists, both from the Storm Prediction Center posting the watches and outlooks and local National Weather Service forecast offices in issuing the various warnings.
Photos
This impressive photo of a tornado was taken by my good friend and fellow storm chaser Andrew Smith near Kenly, NC.
Video
Above is perhaps one of the most well known videos from the event. It's a good example of what NOT to do if a tornado is nearby. That guy was pretty lucky.
Video of the Wilson, NC tornado shot by Jeremy Gilchrist.
USTornadoes.com lead meteorologist Mark Ellinwood chased the event with Jason Foster. He got some footage of the aftermath of one of the tornadoes that was eventually rated EF3.
Conclusion
While April 16, 2011 may not top the charts for tornado outbreaks on a national scale, it was the worst tornado outbreak in North Carolina history in terms of total number of tornadoes (31) and the number of strong tornadoes with 16 rated as EF2 and EF3.   It surpassed a the previous daily total record for the state, the 20 tornadoes which occurred on May 7, 1998. (Note: The March 1984 Outbreak had more violent tornadoes, but only 14 total in North Carolina itself).  
Casey Letkewicz, a PhD student studying atmospheric science at North Carolina State University and photographer of the opening picture, offers this first-hand account of her experience that day:
"I knew it was going to be a big day, since I had been following the forecast all week. […] once I saw that storms were developing, I decided to head to my school's building, since the top floor has the best view around. Turns out, I wasn't the only one with that idea! There were a few other grad students (my officemates), and my adviser. […] I was really amazed to see the line of storms break up into supercells–a truly unique experience! Seeing that made me think that something big was going to happen. Once we identified a storm that had a track towards Raleigh, we all kept a close eye on it. While we weren't in an ideal position to see the tornado (located north of the storm), that didn't stop us from looking out the window! After the storm passed, we knew the tornado had passed by really close to our building (maybe a mile or two away). I wanted to see the damage, so I went out and drove around downtown. It was definitely a surreal experience, as it was my first time seeing tornado damage in person."
 Ian Livingston contributed to this post.
The following two tabs change content below.
B.A. and M.S. at Virginia Tech in geography with an emphasis in geospatial technology and meteorology. Meteorologist and contributor for the Washington Post's Capital Weather Gang.
See full bio
.
Latest posts by Kathryn Prociv (see all)