Spring madness: The most extreme tornadoes of the 1990s
Posted March 24, updated March 31, April 7, April 14, April 18, April 21, and April 22.
by Aaron Davis and Mitch Feiler
Additional note (March 31): The general sentiment toward this post has been in the fashion it was envisioned and posted here. A lighthearted one. Given the subject matter, perhaps that was the wrong way to go about it all. The positive to negative comment ratio has been about 50 to 1, but the negative comments all made sense and each made salient points. In retrospect, this type of idea may always be outside the highest of taste due to the fact that many of these tornadoes disastrously changed the lives of not only those impacted but the people that knew them. While we thought the 1990s was far enough removed to diminish the freshness of those scars, it's possible we erred in that conclusion. Given the fact that this was a neat idea with no sort of ill will meant, and one full of historical relevance, we will continue the tournament through conclusion as the schedule shows below. However, we will limit official advertisement from here. We apologize to anyone who was offended, that was certainly not the intent. -U.S. Tornadoes leads
In honor of March Madness, we are proud to introduce Spring Madness: 90s edition.
Are you tired of looking at your already ruined March Madness (MM) bracket? Good! Then this is the perfect thing for you. We sat down and took 32 of what we thought were the most extreme tornadoes of the 1990s, gave them a seed and a bracket location, and are happy to share the final results.
On this page you will find the rules, the bracket, a write up of each tornado, and a voting option. Even if you are not a major weather junkie, we think you'll be able to play well. For Round 1, we've done a sports-style write up of each tornado to give you an idea of how the match-up could turn out. We'll try and do something like this for each round, but can't guarantee it with work schedules.
If during the course of this event you find yourself having any issues with any of the images or links, please contact Aaron or Mitch.
RULES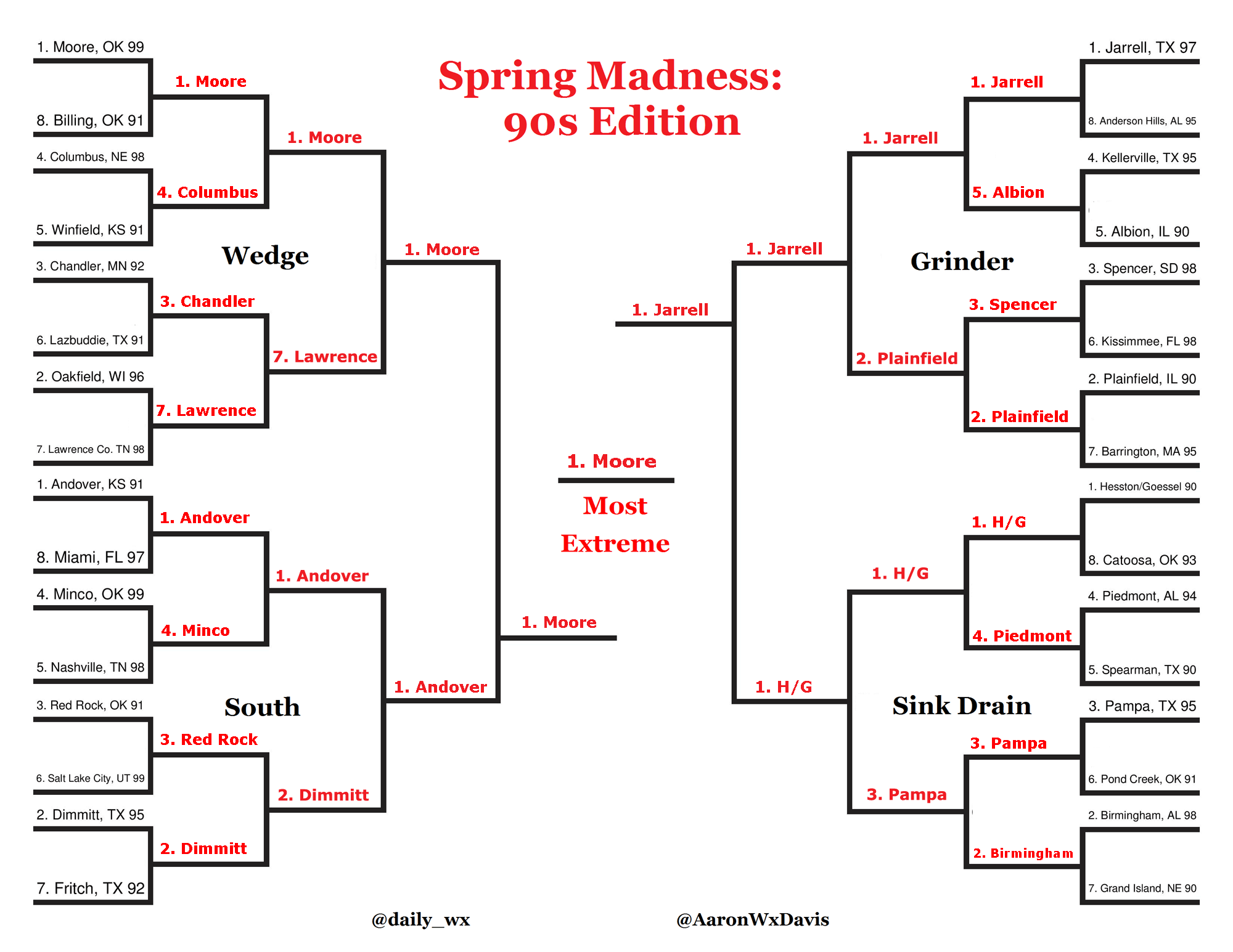 Much like a standard MM bracket, you will print this one off, and fill it out on how you feel the tournament will go (or you can just look at it, it's guidance, whatever is easiest). But if you fill it out you can see how you do in the end!
Unlike the real MM tournament, tornadoes can't really play each other in real life (we wish) so we are leaving it up to you to decide the outcome. The bracket is set up just like a real one. So when voting, keep in mind that in this round the number one seed is playing the number eight seed, #2 VS #7, #3 VS #6, and etc.
Each match-up may not receive the same number of votes, though we encourage you to vote for all. You can come back later (before the deadline!) to finish. Winners will be decided on whichever tornado in each match-up has the most votes. If it's a tie, we'll be the tiebreaker.
There are no rules, rules are an illusion. This is a free-for-all, this is Sparta.
Disregard #4.
SCHEDULE – TIMES ARE CDT
Feel free to tweet your bracket at us @USTornadoes @AaronWxDavis @daily_wx during the first round for use in the final post that announces the winner.
6 days for voting
Round 1: Thursday Mar 24 11a thru Wednesday Mar 30 10:59a
Sweet 16: Thursday Mar 31 11a thru Wednesday Apr 6 10:59a
Elite 8: Thursday Apr 7 11a thru Wednesday Apr 13 10:59a
3 days for voting
Final 4: Thursday Apr 14 11a thru Sunday Apr 17 10:59a
Tornado championship: Monday Apr 18 11a thru Thursday Apr 21 10:59a
The winner is….
Ladies and gentlemen, after many weeks of head to head matchups, one tornado has risen above the rest. In a contested battle right down to the very end, this F5 pulled away at the last minute to take the title of most extreme. The suspense here must be a mile wide.
We can't take it anymoore, it's time to reveal the most extreme tornado of the 1990s. The Jarrell, TX twister was truly a once in a lif……..oh, OH, our apologies, Steve Harvey must have switched our cards out.
Anyway, the true winner of our first Spring Madness bracket is the Moore, OK 99 mammoth F5. (results)
To be totally honest, we're not quite sure how Moore pulled it out. Twice over the past three days, Moore was down by double digits, and at one point was down a full 15 points. But in the final day, Moore started going toe to toe with Jarrell, eventually winning that matchup.
While Jarrell did not go on to be crowned most extreme, it was indeed favored by many people to take it all. In the end, both of these tornadoes were well deserving of the title of "most extreme." Each tornado had characteristics in them that set them apart from the other. When it came down to it though, Moore 99 showed us all why it deserved to sit atop the rest as the most extreme tornado of the 1990s.
Finally, overall, the bracket seemed to be set up quite well given that all four #1 seeds advanced to the final four. Still, not a ton of people got the final right. Congrats to some of the closest we saw!
This my heart-not-head @USTornadoes Spring Madness 1990s bracket. Go vote yourselves! https://t.co/XXx1RK2wtk pic.twitter.com/8ID1gWYXrS

— KoHoSo™ (@KoHoSo) March 24, 2016
Jarrell and Moore '99 are most extreme 2 IMO…Jarrell was so rare and unusual. Prob gets the nod in our books. https://t.co/oBI2DIANnc

— Tornado Trackers (@tornadotrackers) March 26, 2016
@GBlack_22 @USTornadoes moore, OK , May 3, 1999 #EF5 #TheDayTheWorldChanged

— Randy (@itzrandysavage) March 24, 2016
Aknowledgments: We'd like to take a minute to thank you all for participating in our little bracket. A lot of time and energy went into making this, and we very much appreciate the feedback and comments we received. We would also like to thank the U.S tornadoes team for hosting our bracket. Without their help, this thing would have never gotten the reach that it did, and for that we are very thankful.
FINAL ROUND
This is it. The moment we've all been waiting for. Spring Madness has come down to all but two of the most extreme tornadoes of the 1990s. Ladies and gentlemen, we have reached the championship game.
---
#1 Moore, OK 99 VS. #1 Jarrell, TX 97
What can we say about Moore that hasn't already been said? We know that this billion dollar tornado spawned a generation of meteorologists and weather lovers largely thanks to its jaw dropping video, size, and damage. We also know that this tornado had one of the most intense wind speeds ever recorded with 300+ mph measured by a mobile Doppler on wheels. (One thing to note, those winds were measured aloft, and not directly at the surface.) Moore '99 was truly a one of a kind tornado, and it reflects that by being one of the last two standing.
Strength: F5
Winds: 300+ MPH
Damage: $1 billion USD
Jarrell is clearly deserving of being one of the final two tornadoes remaining, and much like Moore, it is certainly deserving of being crowned most extreme. This tornado was so powerful it produced ground scouring up to a depth of 18 inches, and it completely removed asphalt from roads. Anything that got in its way was completely and utterly destroyed. Some tornadoes remove a home from its foundation, the Jarrell tornado not only removed homes but took them with it. Many houses were not just destroyed, but nowhere to be found. There is one photo that can describe this tornado the best. It is the same photo that gave this tornado its nickname, "the dead man walking." (see link below)
Strength: F5
Winds: 261+ MPH estimated
Damage: $40+ million USD
Other video: https://www.youtube.com/watch?v=yc1O1d_7HPU
Photo: http://lssn.us/image/JARREL~1.png
VOTING HAS ENDED.
---
PRIOR ROUNDS TEXT
Try to ignore the weird text errors in spots. The main text info came through OK at least!
Round 1 (32 tornadoes)
Round 2 (16 tornadoes)
Round 3 (8 tornadoes)
Round 4 (4 tornadoes)
Round 5 (2 tornadoes)
SOURCES
http://www.wrh.noaa.gov/
http://www.srh.noaa.gov/
http://www.weather.gov/
https://news.google.com/newspapers?nid=1906&dat=19900410&id=b_4fAAAAIBAJ&sjid=Bv8EAAAAIBAJ&pg=5148,4487056&hl=en
http://www.newson6.com/
http://www.tornadohistoryproject.com/
https://www.youtube.com/
http://www.spc.noaa.gov/
http://www.spc.noaa.gov/exper/outbreaks/
Editor's note (March 24): While this post is intended to be entertaining/educational, there is nothing fun about a tornado that slams into population. Sadly, many of these events killed people or otherwise destroyed lives. At the same time, as always, we believe being as informed as possible about tornadoes — including their history, and this is a great look at 1990s history — helps to keep people safer.
Editor's note: A previous version of the title included the word "greatest." That has been changed out for "most extreme." Greatest can be a measure of intensity/ability, as the term was used here, but it can also be misconstrued in any number of other manners.
AUTHORS
Aaron Davis is a storm chaser and recent college meteorology graduate. He loves all things weather, and is currently trying to pursue a career in the National Weather Service. Mitch Feiler has been an avid weather enthusiast since the age of 5, and is the founder of Daily Weather Updates.
The following two tabs change content below.
U.S. Tornadoes
Our multiple-author or special post account.
Latest posts by U.S. Tornadoes (see all)