The largest tornado outbreaks of 2017
by Katie Wheatley and Ian Livingston
2017 got off to a quick start for the tornado outbreak tracker. An outbreak hit on the second day of the new year and one of the largest winter tornado events on record struck in late January.
Since that time, additional large outbreaks struck in each month through June. After tending to the active side for much of the year, we have settled into a close-to-average range while awaiting any tropical or second season activity. So far, 11 outbreaks can make our list.
[Tornadoes of 2017 — Wikipedia]
As in the past, we'll continue to use a 20 confirmed tornado count as the baseline for this outbreak tracker. While there is plenty of argument about what constitutes an outbreak, there is little doubt some of the low numbers accepted in the past are too low for today's reporting environment. We feel that using 20 as a base removes most questions as to an event's legitimacy as notable in most years.
Posted: January 5, 2017. Last updated: August 18, 2017.
Large tornado outbreaks of 2017
Events with at least 20 confirmed tornadoes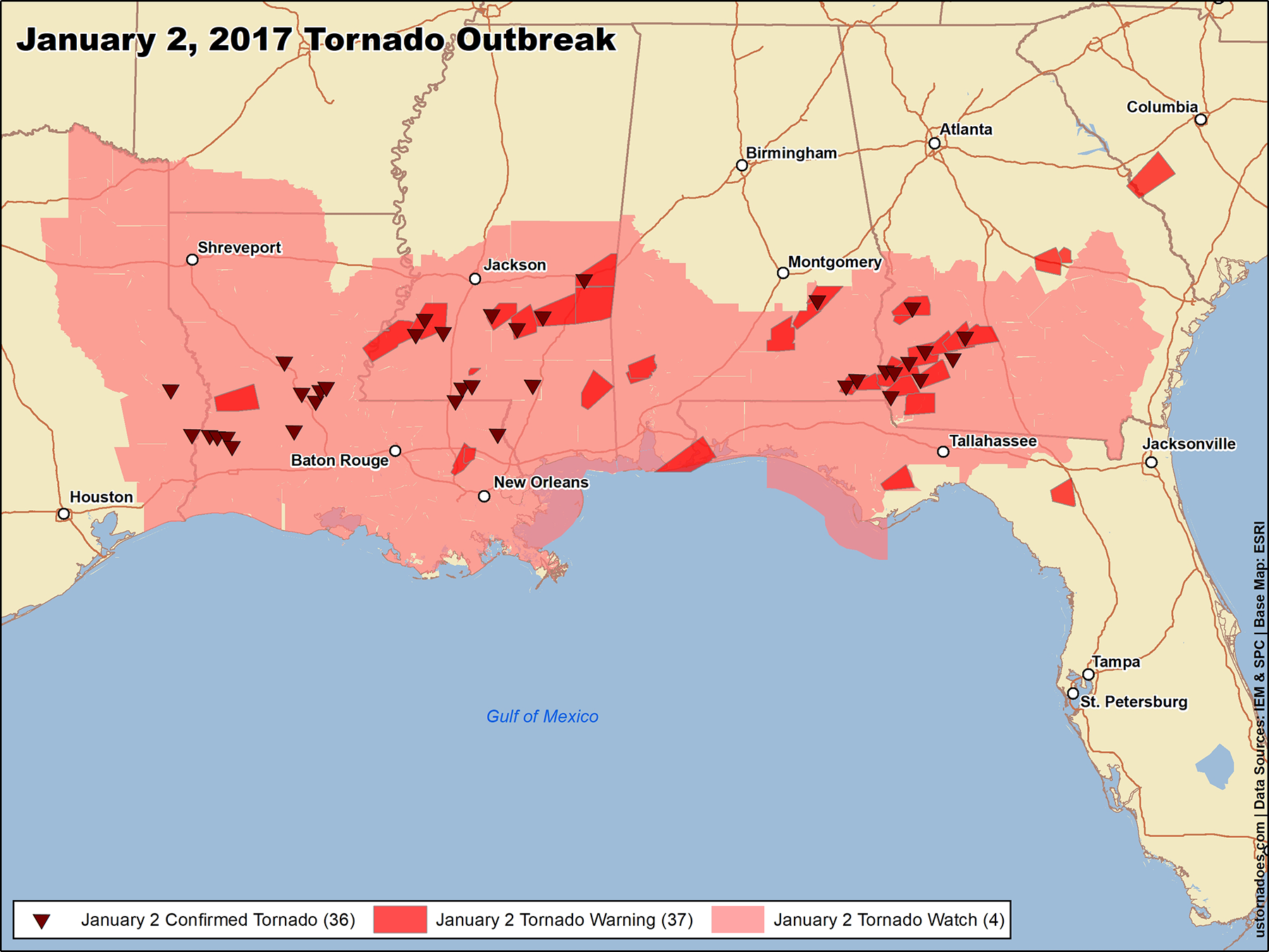 (A) January 2, 2017 | 36 confirmed tornadoes, 43 reports, 37 warnings, 4 watches
January 2 SPC event page
A typical cold-season tornado event, low pressure moved across parts of the South spawning severe weather and tornadoes. Many of the tornadoes came from line segments of storms known as quasi-linear convective systems. A larger convective system also created numerous wind damage reports, and in Alabama four people died from straight line winds.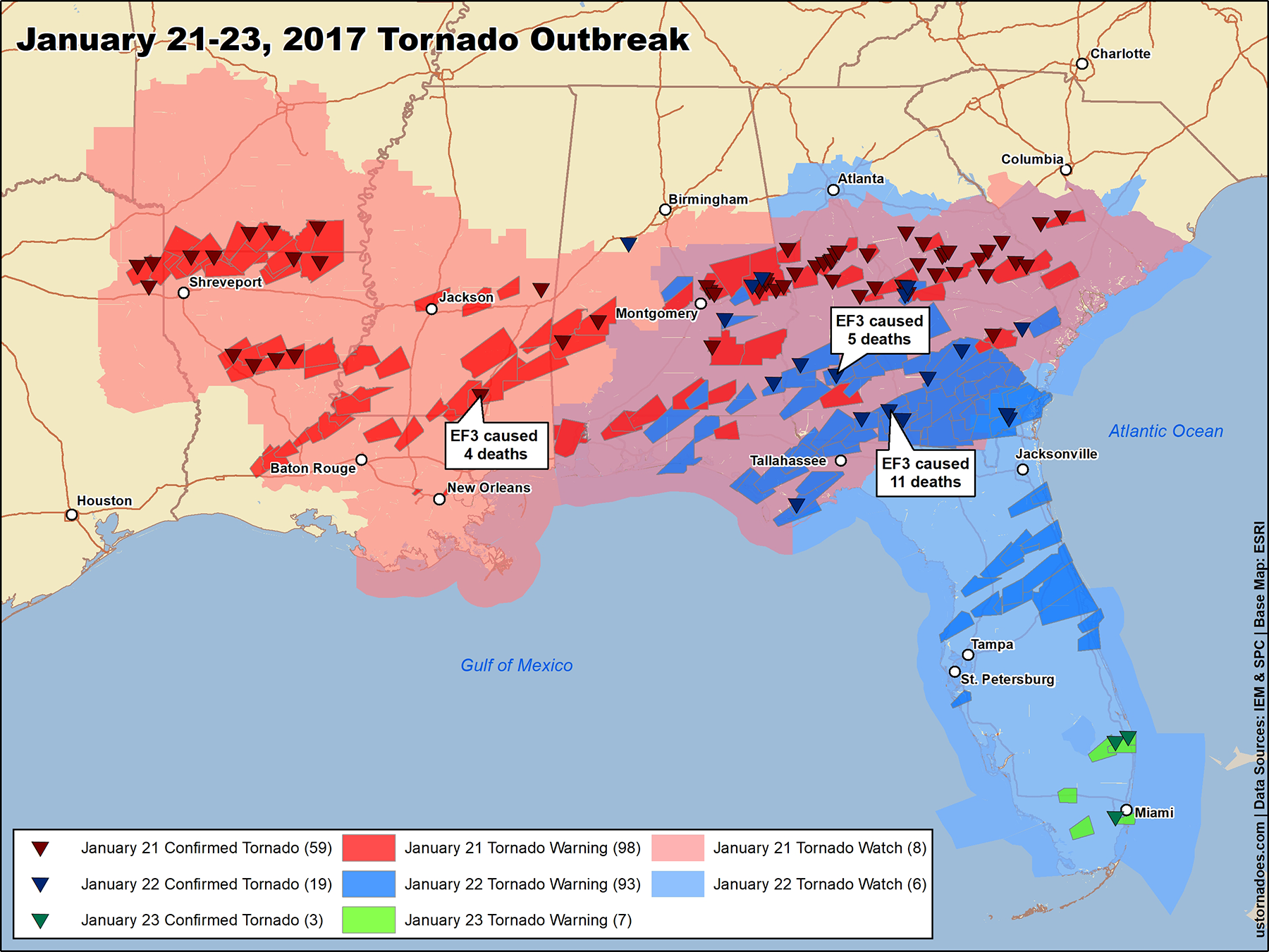 (B) January 21-23, 2017 | 81 confirmed tornadoes, 112 reports, 198 warnings, 14 watches
Jan. 20 SPC event page | Jan. 21 SPC event page | Jan. 22 SPC event page
This classic high-end severe weather pattern set up the deadliest few days of tornadoes in over a year. It was also among the largest tornado outbreaks on record during the winter. More people were killed in this series of tornado volleys than all of 2016. We also saw the first "High Risk" from the Storm Prediction Center since 2014, although it ended up not being the biggest tornado day of the bunch.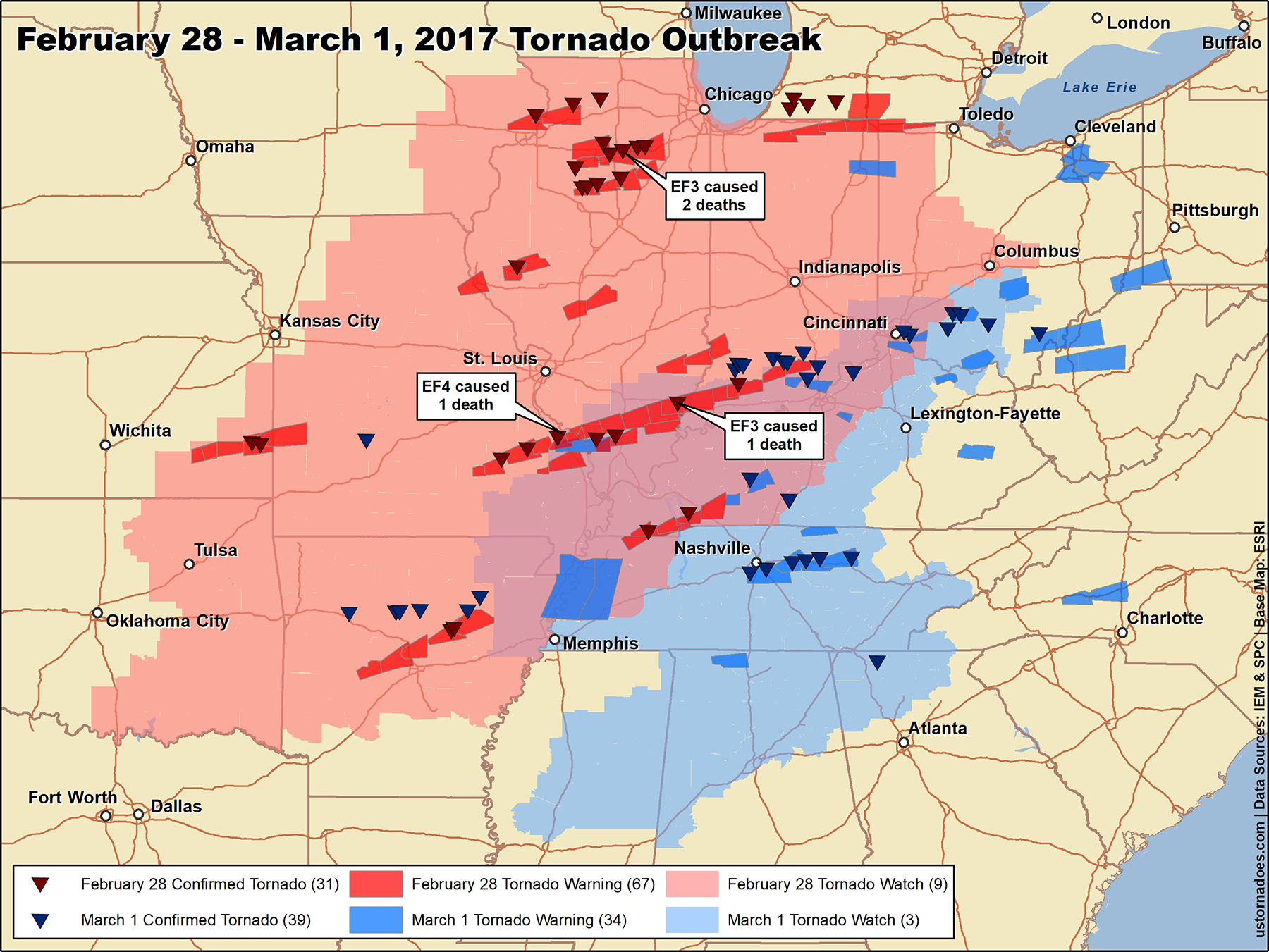 (C) Feb. 28-Mar. 1, 2017 | 70 confirmed tornadoes, 94 reports, 101 warnings, 12 watches
Feb. 28 SPC event page | Mar. 1 SPC event page
A powerful late-winter jet stream overspread a warm and unstable air mass hanging out in much of the eastern half of the country, touching off a major early-season severe weather outbreak. Tornadoes were focused across parts of the Midwest and upper Mid-South. Several high-end tornadoes impacted parts of Illinois, Missouri, and Indiana. Long-track tornadoes across southern Missouri, Illinois, and Indiana were somewhat reminiscent of the great Tri-State event of 1925.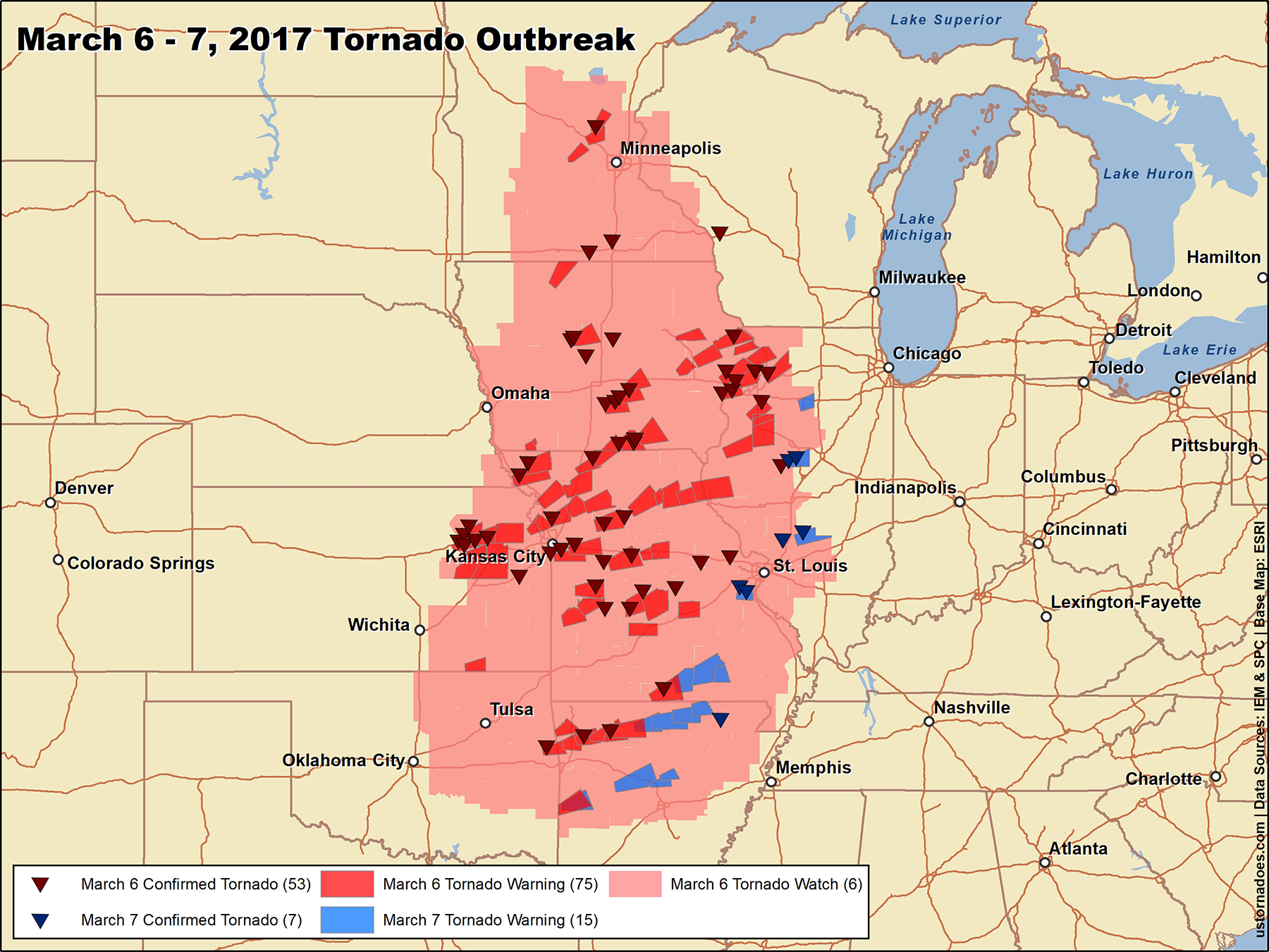 (D) Mar. 6-7, 2017 | 60 confirmed tornadoes, 89 reports, 90 warnings, 6 watches
Mar. 6 SPC event page
Another in a late-winter and early-spring volley of storm systems, this one was the farthest west outbreak so far this year. While many of the tornadoes were QLCS-type, spinning up within lines and broken lines, several supercells dropped tornadoes as well. The Kansas City area was particularly hard hit as an EF3 struck east of town. Fortunately, no one was killed despite relatively high impact.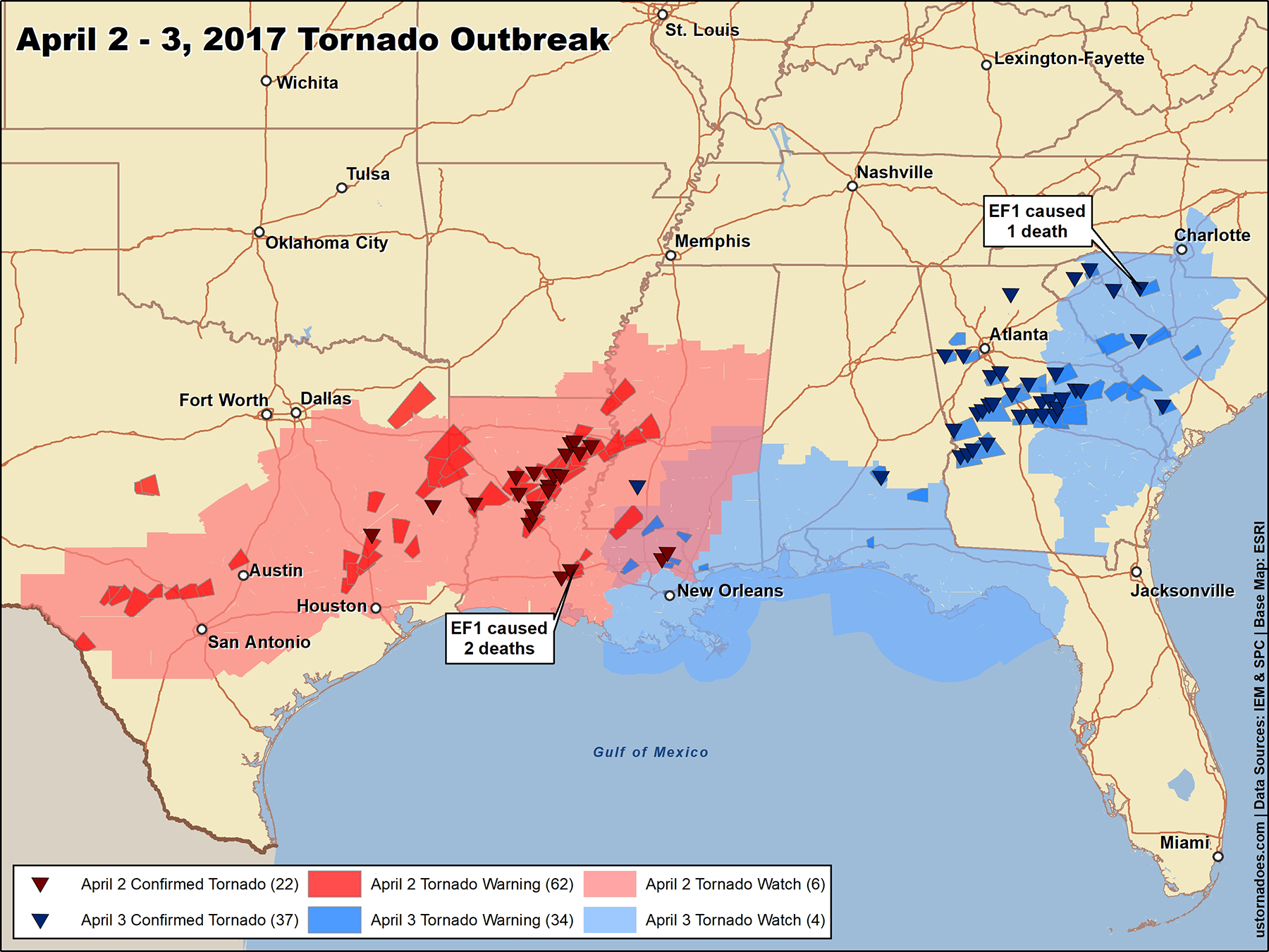 (E) Apr. 2-3, 2017 | 59 confirmed tornadoes, 83 reports, 96 warnings, 10 watches
Apr. 2 SPC event page | Apr. 3 SPC event page
The South took on yet another outbreak, and sadly more tornado deaths occurred in this event. At least three people were confirmed killed over the two days. The first day of this outbreak included an infrequent "high risk" from the Storm Prediction Center, the second such issuance this year. Interestingly enough, no tornadoes of EF3+ strength have been confirmed, which is unusual for a "high risk" event.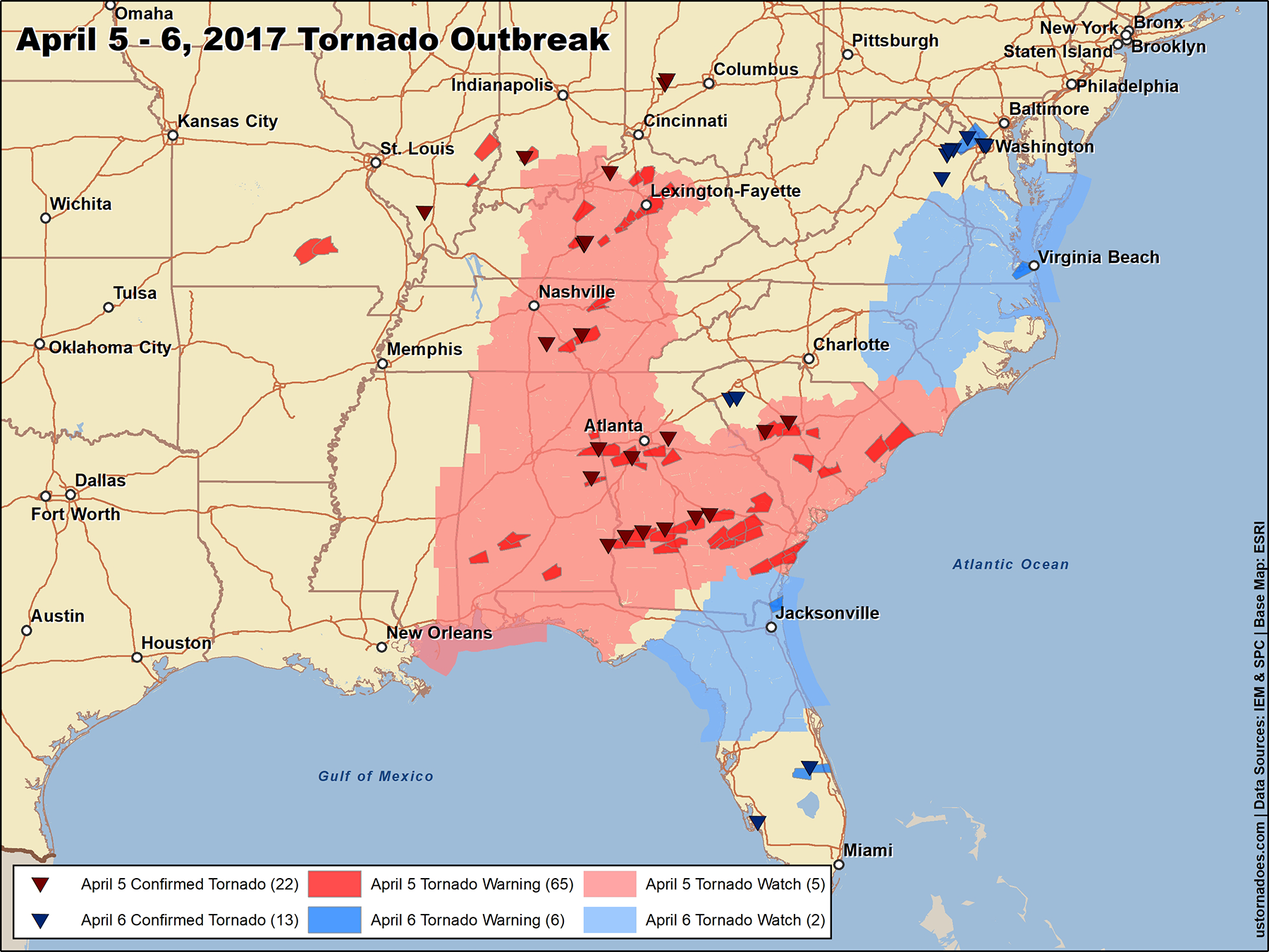 (F) Apr. 5-6, 2017 | 35 confirmed tornadoes, 41 reports, 71 warnings, 7 watches
Apr. 5 SPC event page | Apr. 6 SPC event page
The wait wasn't long for another high risk. Following a several-year lull without, the third of the year came along. Much like the first, parts of the southeast were ground zero for this event. This one had the look of a biggy, and it was, even though many will tell you it was not. A low-amplitude trough with speed max pushing into the risk area at just the right time for ugly weather. As with many such days, storm mode threw a wrench or two into plans. Despite what chasers might say, days like this not reaching maximum potential is always a good thing.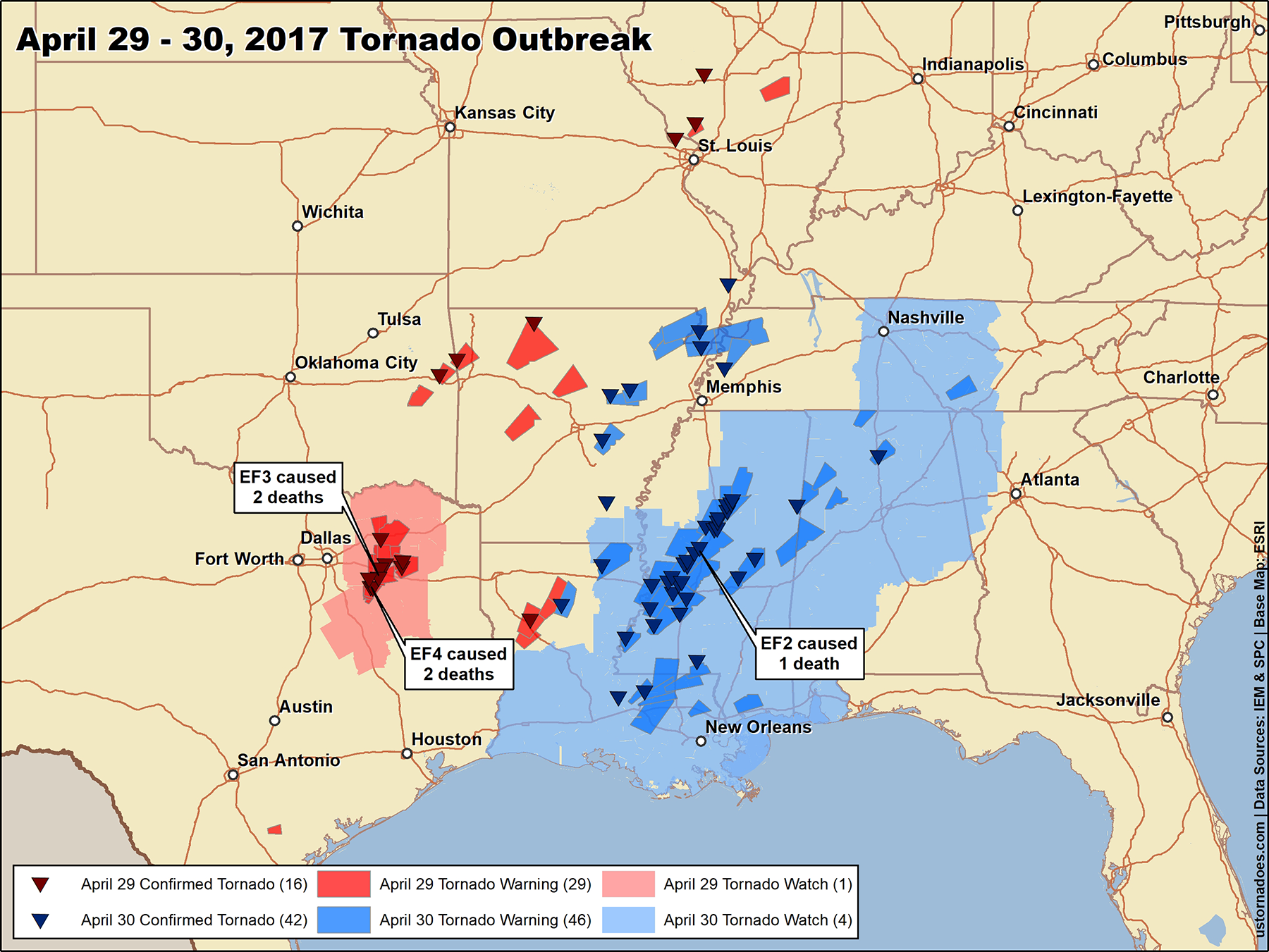 (G) Apr. 29-30, 2017 | 58 confirmed tornadoes, 69 reports, 75 warnings, 5 watches
Apr. 29 SPC event page | Apr. 30 SPC event page
A cap to an active month, this was a fairly classic system that featured an upper level low crossing the four corners, and significant severe weather across the eastern Plains into the South and Midwest. Also, a blizzard in the High Plains. Linear convective systems with embedded supercells were the dominant storm type, as has been the case in much of 2017. This event was unfortunately the cause of a number of deaths in several different tornadoes.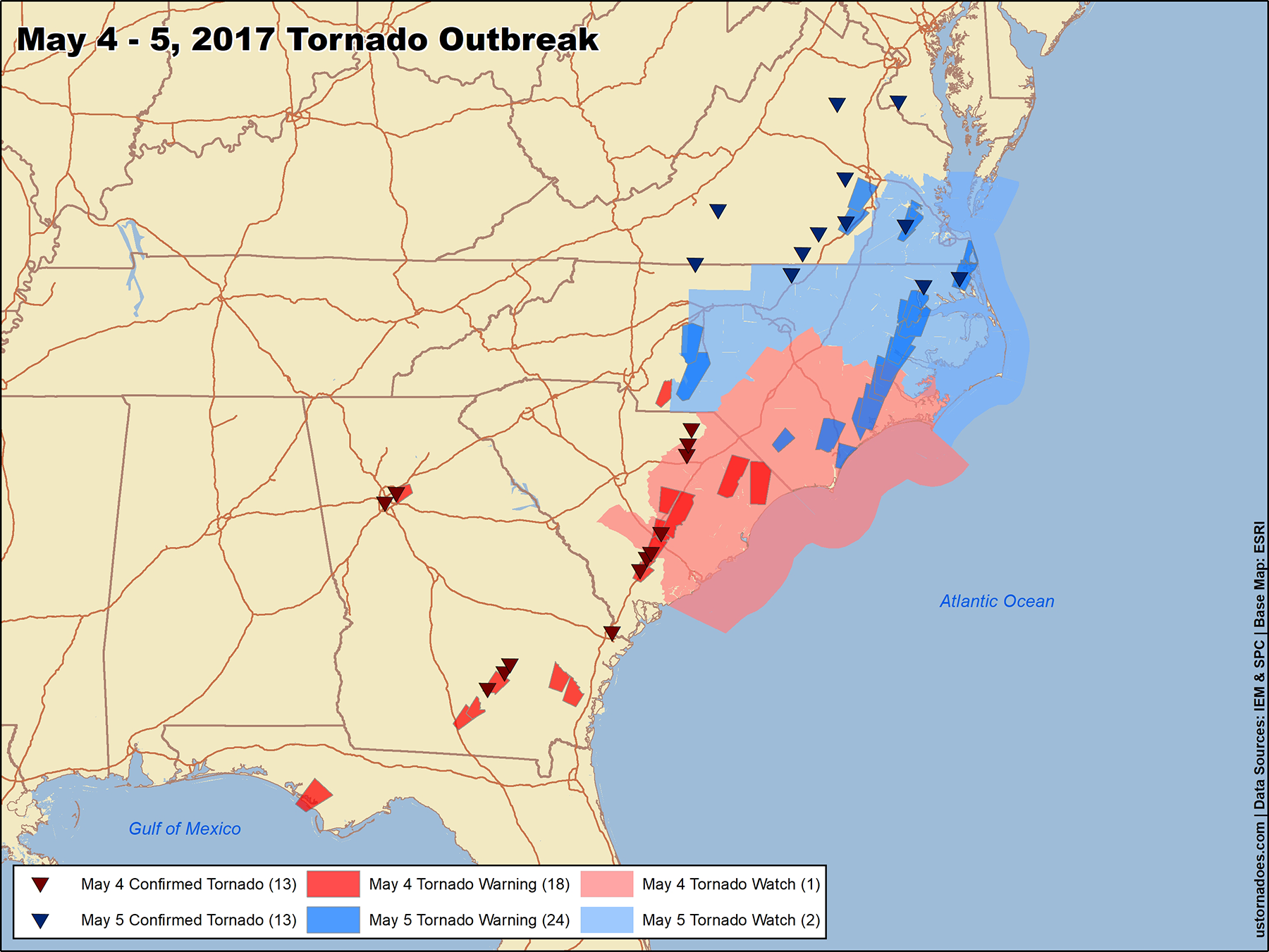 (H) May 4-5, 2017 | 26 confirmed tornadoes, 30 reports, 42 warnings, 3 watches
May 4 SPC event page | May 5 SPC event page
An overperformer, and the start of kind of a weird peak season that favored places east of normal. Much of the day featured a marginal risk from the Storm Prediction Center as a shortwave trough over the Mississippi Valley prepared to enter into a longwave trough focused over the Carolinas. A number of tornadoes occurred on a QLCS system over the southern part of the region early in the day. As the shortwave rotated through the region, a warm front in the Carolinas and Virginia helped pop some more supercells and tornadoes into the night.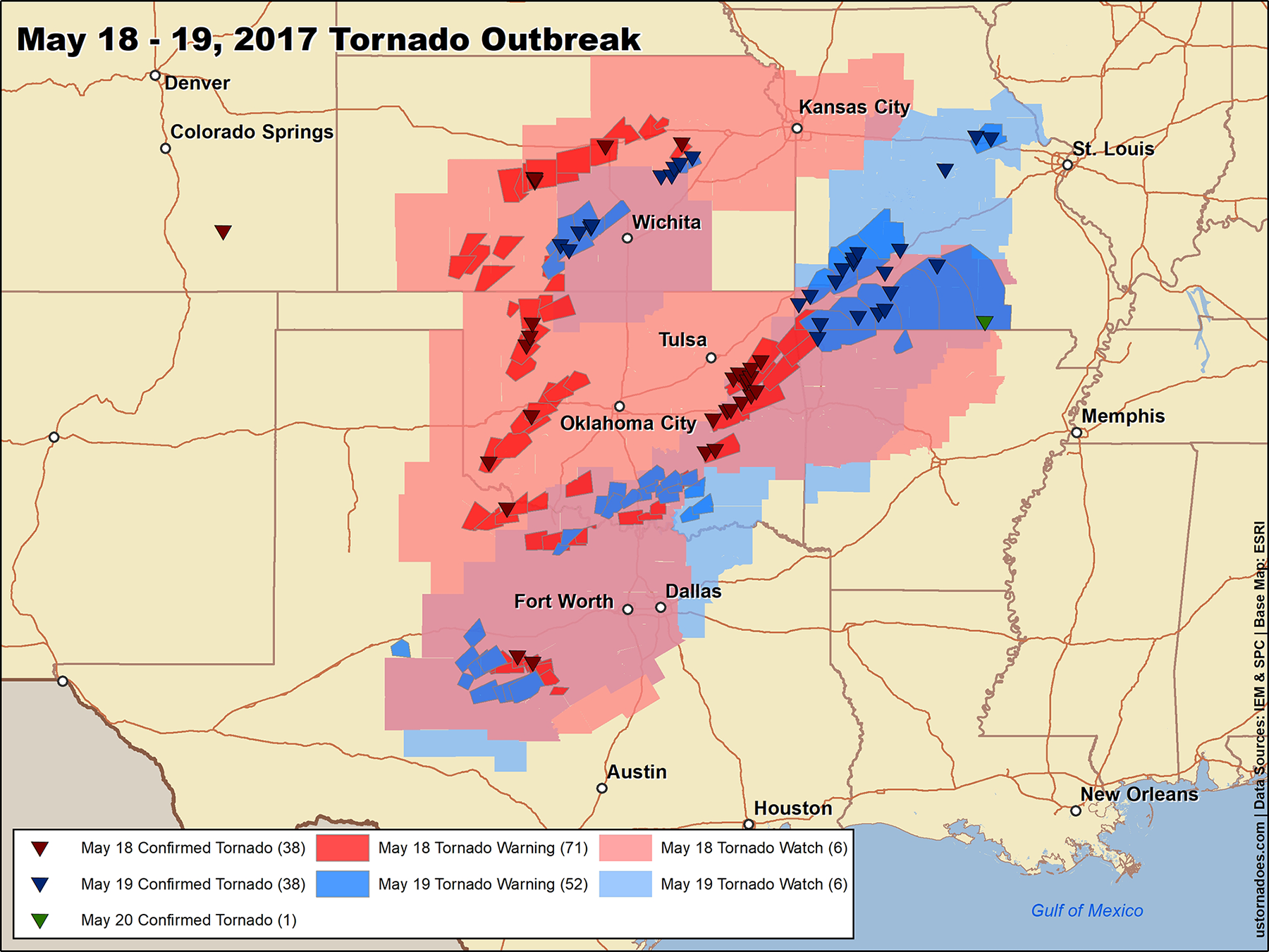 (I) May 18-20, 2017 | 76 confirmed tornadoes, 84 reports, 132 warnings, 12 watches
May 18 SPC event page | May 19 SPC event page
This was perhaps the most classic multi-day chase event of the season as things lined up for a big Plains day followed by more tornadoes as the upper low moved out across the region the day after. May 18 featured yet another high risk, this time over parts of southern Kansas and northern Oklahoma. Like most high risk days, there were plenty of tornadoes, and lots of fast moving storms, storm mergers and difficult chasing. Tornadoes hit Kansas again the day after when the upper low rolled by, and additional activity was reported east along the cold front.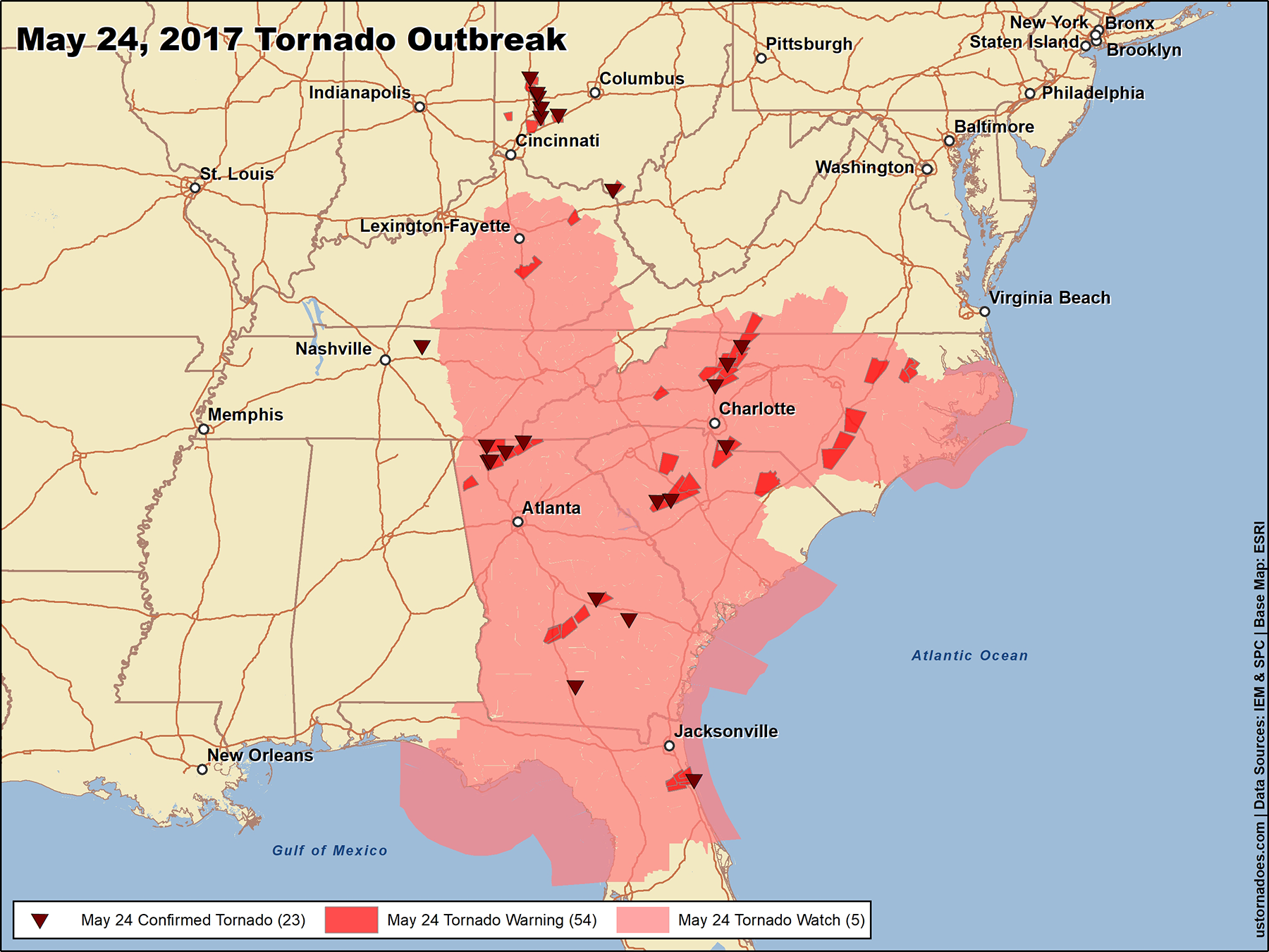 (J) May 24, 2017 | 23 confirmed tornadoes, 37 reports, 54 warnings, 5 watches
SPC event page
This one just inched into our count here, and it impacted a region that has seen plenty of tornado events during 2017. Another large upper level trough slowly swinging east was the culprit. Perhaps the most notable aspect of this event was that it started so far east. It came near the tail of one of several very quiet stretches for tornado alley during peak season.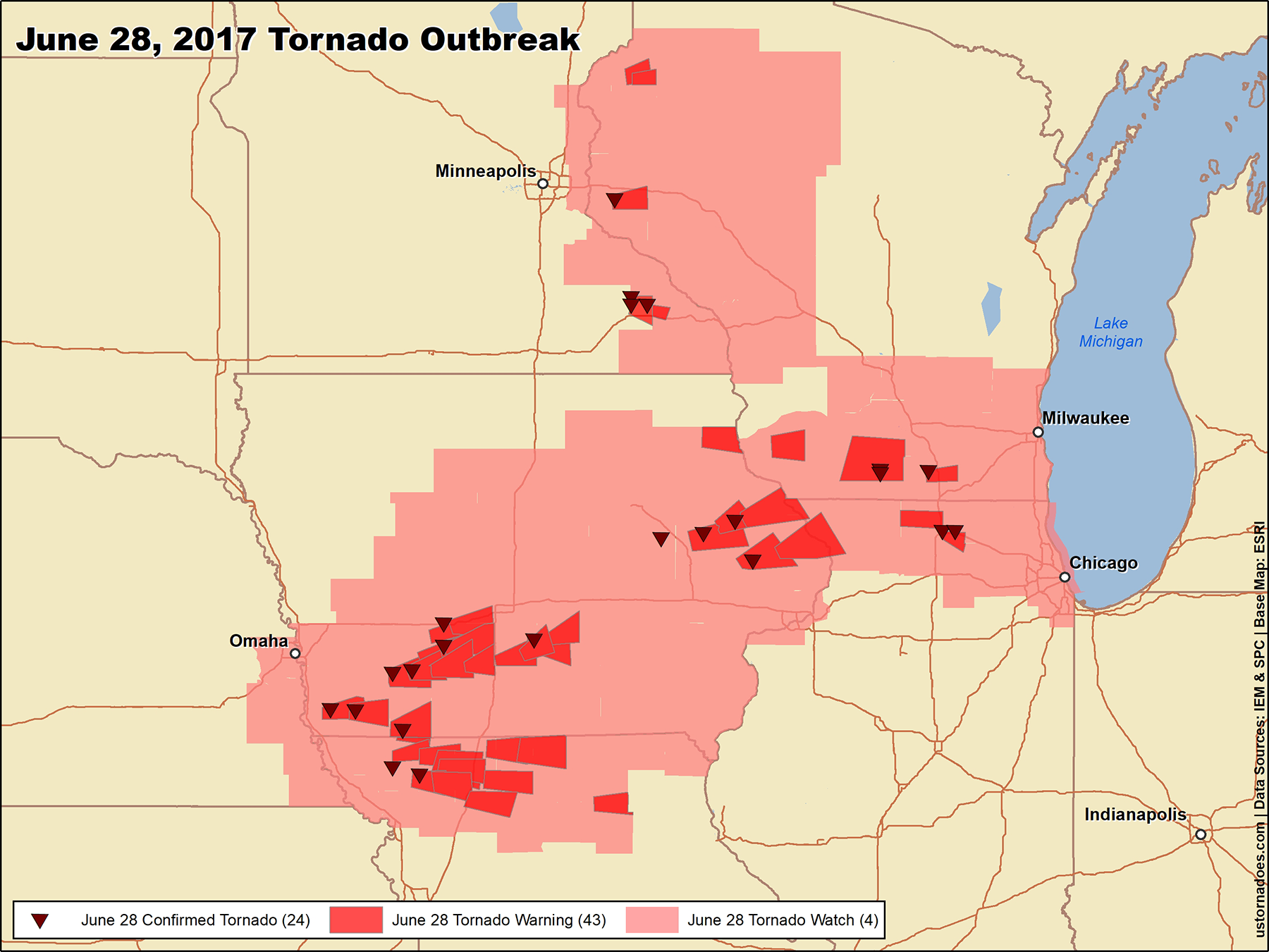 (K) June 28, 2017 | 24 confirmed tornadoes, 33 reports, 43 warnings, 4 watches
SPC event page
Once we get out of the peak of the peak of the season, getting big outbreaks can be tough. Even by June, some you might expect on this list — like the one in Wyoming and the surrounding high plains that dropped just shy of 20 tornadoes – are not there. "Subtle and almost anywhere" is the tale of this late in the season many years. With low pressure spinning over Minnesota, clusters of supercells developed in places like Iowa, dropping a number of photogenic tornadoes on somewhat of a low-key day.
The top 5 events based on confirmed tornadoes
#1: January 21-23, 81 tornadoes (B)
#2: May 18-20, 76 tornadoes (I)
#3: February 28-March 1, 70 tornadoes (C)
#4: March 6-7, 60 tornadoes (D)
#5: April 2-3, 59 tornadoes (E)
Methodology/Sourcing
For an outbreak to be continuous over multiple days, there must be no breaks greater than 12 hours. In some eyes this may constitute separate outbreaks, but we do it in attempt to simplify the discussion and to attempt to capture a system crossing the United States in its entirety as one outbreak when possible. Although we are presenting confirmed tornadoes, data is preliminary and subject to change. This is particularly the case when the most recent event is less than a week or two in the past.
We have tried to do this project over several years now. It is one that we are very interested in. It also happens to be quite time consuming for a small team that also has day jobs. While discussing how to move forward during our update over this summer, we have concluded that Wikipedia is a great source we should not be overlooking. We will continue to independently verify data we use, but the primary source for a current year (prior to SPC release of track information) will be that website.
Mitch Feiler contributed to this post.
The following two tabs change content below.
U.S. Tornadoes
Our multiple-author or special post account.
Latest posts by U.S. Tornadoes (see all)