Hurricane Harvey will likely end up among top tropical tornado producers on record
by Ian Livingston and Katie Wheatley
(This post was last updated on September 14)
Hurricane Harvey may be best remembered as a lingerer, a punisher. Like a deranged energizer bunny, it just kept going. What seemed like never-ending tornado activity occurred on eight days with Harvey.
The storm spawned dozens of tornadoes, including strong tornadoes which are somewhat less common in tropical cyclones than their mid-latitude cousins. Some places were under assault from tornado warnings for days. Those warnings number well past 300.
Gulf of Mexico systems are notorious tornado producers, but they don't all amount to a lot. Much of the story has to do with how long a system spins over land. As we all know, hanging around is Harvey's specialty.
Given the mass flooding, the windblown coastline, and crippled infrastructure, getting a handle on tornado numbers is even more trying than normal. The hardest hit area, NWS Houston, has thus far not released any information on surveys or plans for them. That's understandable given everything else. For now, we'll focus on what we can piece together.
Tornado warnings: 327
Tornado watches: 10
Filtered tornado reports logged with NWS: 86
Estimated confirmed tornadoes (so far): 45-50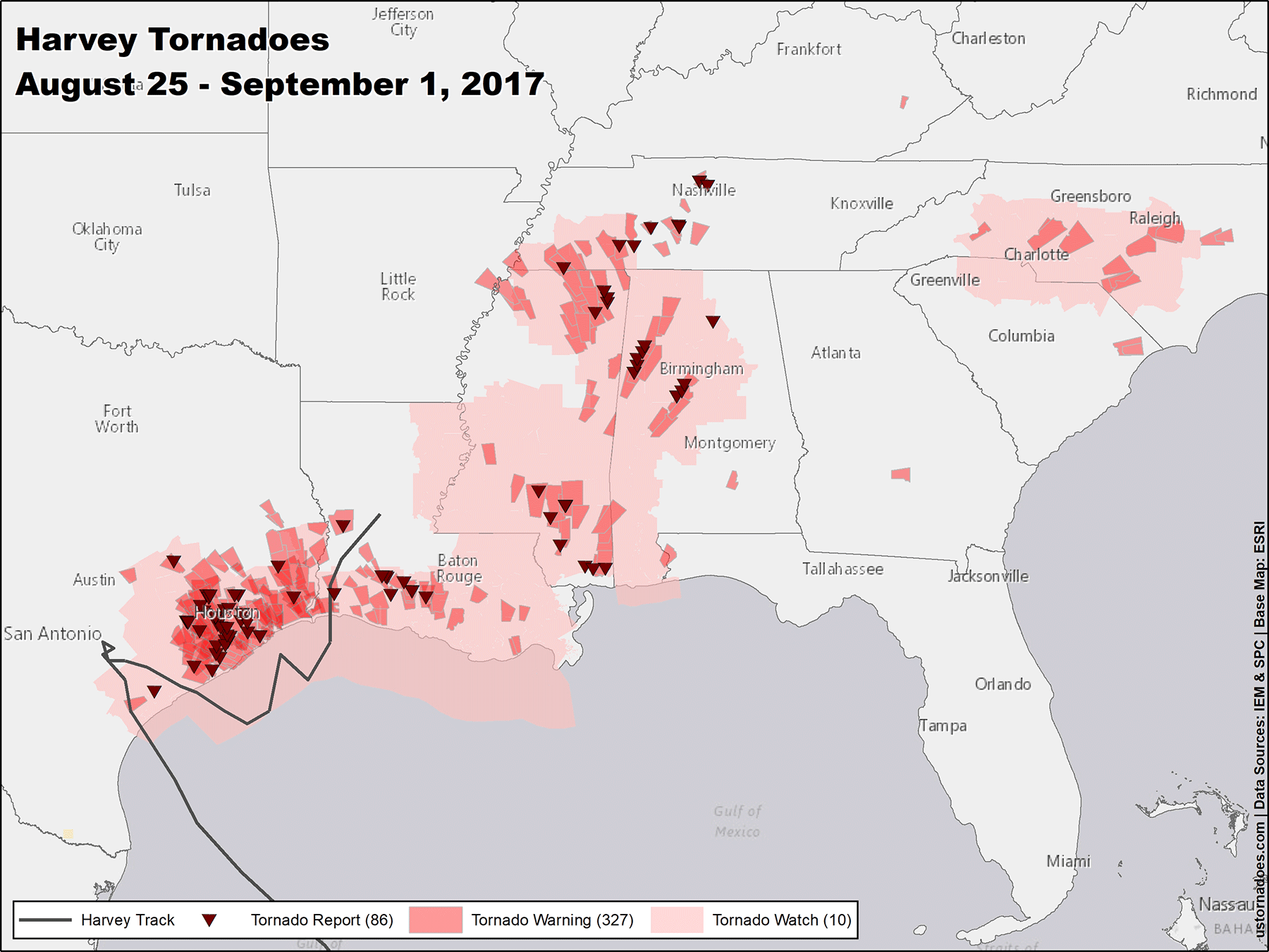 How it stacks up…
Tornado events are hard to get a handle on quickly. Even under normal circumstances, surveys take time, especially when twisters keep coming for days on end. Add in a vast and in some areas heavily flooded landscape — well… ¯\_(ツ)_/¯
It is certainly true that the number of tornado warnings was prolific, particularly for the Houston region. Records were set by that office, where more warnings were issued than the past few years combined. The overall numbers rival warning numbers from the largest of outbreaks. As comparison, the big tornado outbreak of April 2012 had 161 tornado warnings, but also well over 100 tornadoes confirmed.
Huge numbers of warnings are one thing, but tornado warnings typically include plenty of false alarms, and in general confirmed reports are still well below warning numbers. That said, Houston has now checked in with at least 29, with more likely to come from them.
Using filtered reports as something of a proxy for now, 86 is impressive, and keeps the door open to Harvey ranking among the largest tropical tornado events on record. Roger Edwards of SPC has done excellent work on the subject. Below is his top list for the modern tornado record (check out the full article).
You'll note that right behind the top event, Ivan (2004), is a storm called Beulah. It hit Texas in 1967, and dropped over 100 tornadoes in the state, mostly just to the southwest of where Harvey has impacted.
While we are still waiting for final tallies, totals are now likely in the 45 to 50 range, or so. If that's the case, we're cracking the list above.
Significant tornadoes…
Past studies have found that tropical cyclones tend to produce a smaller percentage of the worst tornadoes compared to systems that originate in the mid-latitude westerly flow that moves across the United States. In tornado-watcher parlance these are significant tornadoes, or those rated F/EF2 and higher.
While we watched an EF2 tear across western Alabama on Thursday Aug. 31, at least one significant tornado had already happened.
Supercell in west/central Alabama has a history of producing tornadoes. pic.twitter.com/lbE3qUy9PH

— U.S. Tornadoes (@USTornadoes) August 31, 2017
Although it may not have come from such classic supercell like the one above, the first confirmed significant tornado of this event ripped through parts of Louisiana on Tuesday the 29th.
Between Lake Charles and Lafayette, a tornado that actually at one point crossed Interstate 10 was rated EF2, with winds of at least 115 mph. Add in one or more tornadoes associated with the long-tracked supercell yesterday, and Harvey looks even more impressive.
Ultimately, at least three EF2s have been confirmed to date.
Some of the tornadoes captured…
UNREAL: Tornado on the ground earlier in Palmetto, AL. Video from Chief Dep. Gann at Pickens Co. Sheriff Dept. @WIAT42 #alwx pic.twitter.com/XicqbBAhAg

— Jack Royer (@JackRoyer) August 31, 2017
Picture from Toriano Blanks of the tornado near Petal earlier this morning. pic.twitter.com/Ui3dcYOB3O

— NWS Jackson MS (@NWSJacksonMS) August 30, 2017
Great video captures #tornado forming & touching down in Crowley. Video credit: Sierra Lejeune. h/t @KPLC7News #LAwx pic.twitter.com/MOVHbeYzKr

— Steve Caparotta (@SteveWAFB) August 29, 2017
VIRAL VIDEO – Watch as a possible #tornado blows by this police dashcam on Saturday afternoon #Harvey #txwx #WeatherNation pic.twitter.com/cauDCJfWRt

— WeatherNation (@WeatherNation) August 27, 2017
Cypress, Texas @FoxNews @KHOU pic.twitter.com/kCLswv8YWC

— Kendall Haynes (@kendall_haynes) August 26, 2017
We will update this post as more and better information is available.
The following two tabs change content below.
U.S. Tornadoes
Our multiple-author or special post account.
Latest posts by U.S. Tornadoes (see all)