Forecast basics Identifying and understanding ingredients | Search for boundaries and gradients | Looking for what could go wrong :: Spotting basics Tornado shapes and sizes | Tornadic radar signatures
Tornado risk overview – Storm Prediction Center
The key things to know from the experts, select images for more info at source
Today's tornado probabilities
The probability of a tornado within 25 miles of a point. If a hatched area is included in the image, which is only done with probabilities of 10 percent or higher, strong tornadoes are more of a concern than normal.
Current outlook areas, radar, and convective watches
Organized risk of severe storms begins with "marginal" (MRGL). Levels increase from there to "slight" (SLGT), then "enhanced" (ENH), next is "moderate" (MDT), and finally "high" (HIGH). In a marginal risk, one might expect mostly non severe storms, with perhaps an isolated severe weather incident. Severity is up from there, from short-lived in slight to more persistent in enhanced, long-lived in moderate, and exceptional in high. SPC has a graphic covering differences.
Watches, either tornado or severe thunderstorm, indicate that storms are likely to pose the highlighted threat. Tornadoes occur in severe thunderstorm watches fairly frequently.
Satellite
Viewing storms from space
NASA Regional Viewer (Visible, Infrared, Water Vapor)
Current surface conditions
A look at the key environmental factors
U.S. surface pressure
SPC mesoanalysis pressure plot | UNISYS surface plot
U.S. temperatures
U.S. dewpoints
U.S. observations, including wind speed and direction
Key tornado indices via the Storm Prediction Center
These indicators are among the best
Surface based CAPE
CAPE, or Convective Potential Available Energy, is among the necessary ingredients for storms. If CAPE is zero, the atmosphere is stable. Measured in Joules per kilogram (j/kg), values near or over 500-1,000 j/kg are often about the low-end needed for widespread severe weather chances. Values over 3,000-4,000 are considered extremely unstable, often indicative of a high-end severe weather event. There are several layers of the atmosphere in which CAPE is measured, with surface CAPE among the most used to determine thunderstorm potential and gauge a severity ceiling.
A look at Cape | Examining CAPE
Bulk shear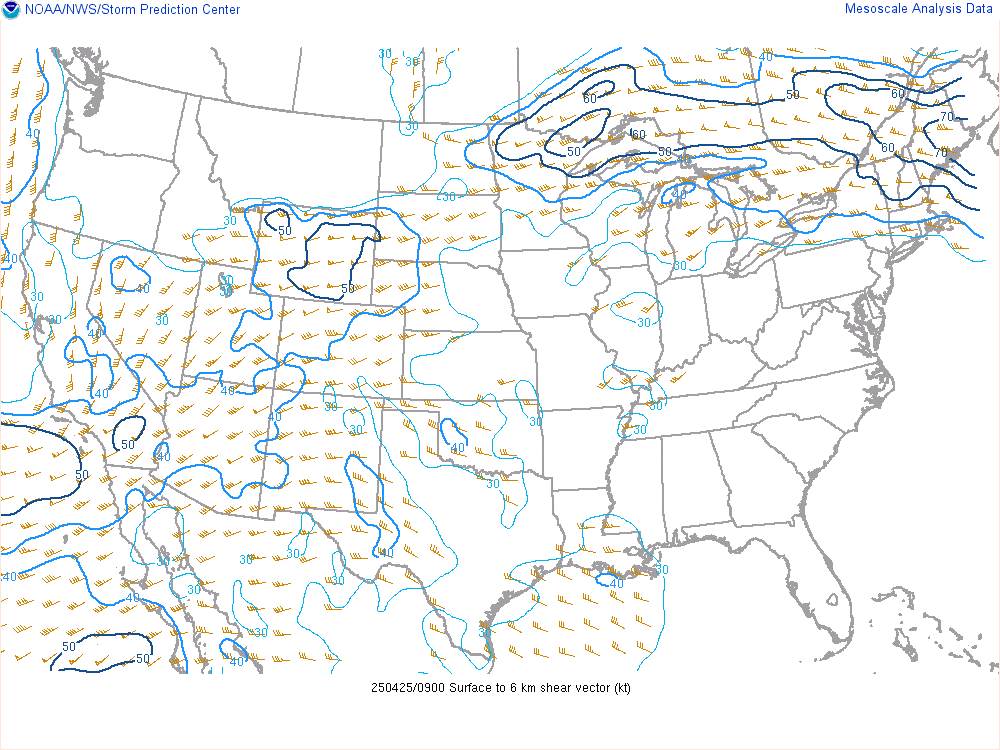 Bulk shear, or deep layer shear, is defined as the change in wind speed or direction within the lowest 6 km or 3.5 miles of the atmosphere. Bulk shear values of 40 knots or greater are supportive of supercells. Values lower, say between 30 and 40 knots, may also support supercells or supercell structures depending on the terrain and other ingredients. Larger bulk shear values tend to correlate to higher tornado potential, to a point at least.
Severe weather forecasting tip sheat (NWS, PDF)
Supercell composite
Significant tornado
Surface-1km EHI
LCL height
Handy links
Key sources for forecasting tornadoes and severe weather
Forecast Tools
TwisterData.com Data and Models | COD Meteorology Model Page | SPC Short Range Ensemble Forecast (SREF) Page
Short-Term Tools
SPC Mesoanalysis Pages | SPC Observed Soundings | CONUS Radar Loop (large)
Lightning tracking
Vaisala lightning network | LightningMaps.org – Real Time Lightning
Recent Tornado Warnings
Places at risk now or in the recent past

This page is undergoing development.