The month with the most tornadoes by county
by Katie Wheatley, Brendan Heberton, and Ian Livingston

View a larger version of this map here.
A question we're often asked is, "which month has the most tornadoes in my county?" Now we've got some answers.
While tornado season is typically thought of as spring, because a majority of them occur from April through June, twisters can and do happen throughout the year.
In fact, as you'll see above and in more detail below, every month is represented when it comes to peak tornado activity when plotted on a U.S. county map. In many instances, a pattern can be seen, especially as the heart of tornado season comes and goes across the central United States.
As we've shown in a number of other articles, tornadoes are like snowbirds — they winter in the South. Even there, cool and dry is the name of the game more often than not in the weeks around the new year when tornado tallies reach their minimum. Cold-season tornadoes are generally limited, but larger events happen.
Moving out of winter, we typically see tornadoes move back north and northwest through the Mid-South and Southeast during early spring, then into the Midwest and Plains heading into summer. The main tornado zone ultimately reaches the U.S./Canada border area by July or so, before crashing back southward (with occasional outbursts) during fall.
View a larger version of this map here.
The lesser-visited tornado spots — highlighted better in the above version of the map — like the Intermountain West, may show a peak month occurrence from only just one or two events. Other areas, like those impacted by monsoonal storms such as much of Arizona, have a low but somewhat regular recurrence of tornadoes during the summer thunderstorm months.
A hint of the tornadoes spawned by tropical cyclones can be easily seen across the Gulf Coast in the maps here. A number of counties in that region have witnessed the most tornadoes during the heart of hurricane season. Florida is kind of a hodgepodge of months, but much of the peninsula slowly adds up numbers via weak air mass tornadoes and landspouts coming ashore during summer.
California's central Valley is a hot spot in late winter and early spring, with the rest of the West Coast seeing the most tornadoes at times when thunderstorms are common in the warm season. Peak months across much of the northern tier of the U.S. are between July and September.
A quick dig into counties containing some well-known cities shows the following peak months:
Gulf Coast…
Harris County, TX. (Houston): May, 32 tornadoes
Orleans County, LA. (New Orleans): July, 4 tornadoes
Hillsborough County, FL. (Tampa): July, 22 tornadoes
Mid-South and Southeast…
Pulaski County, AR. (Little Rock): April, 29 tornadoes
Hinds County, MS. (Jackson): April, 20 tornadoes
Davidson County, TN. (Nashville): April/May, 10 tornadoes
Jefferson County, AL. (Birmingham): April, 32 tornadoes
Fulton County, GA. (Atlanta): May, 7 tornadoes
Wake County, NC. (Raleigh): May, 11 tornadoes
Plains and Midwest…
Dallas County, TX. (Dallas): April, 22 tornadoes
Oklahoma County, OK. (Oklahoma City): May, 48 tornadoes
Sedgwick County, KS. (Wichita): May, 25 tornadoes
Denver County, CO. (Denver): June, 13 tornadoes
Hennepin County, MN. (Minneapolis): May/June, 10 tornadoes
Cass County, ND. (Fargo): July, 32 tornadoes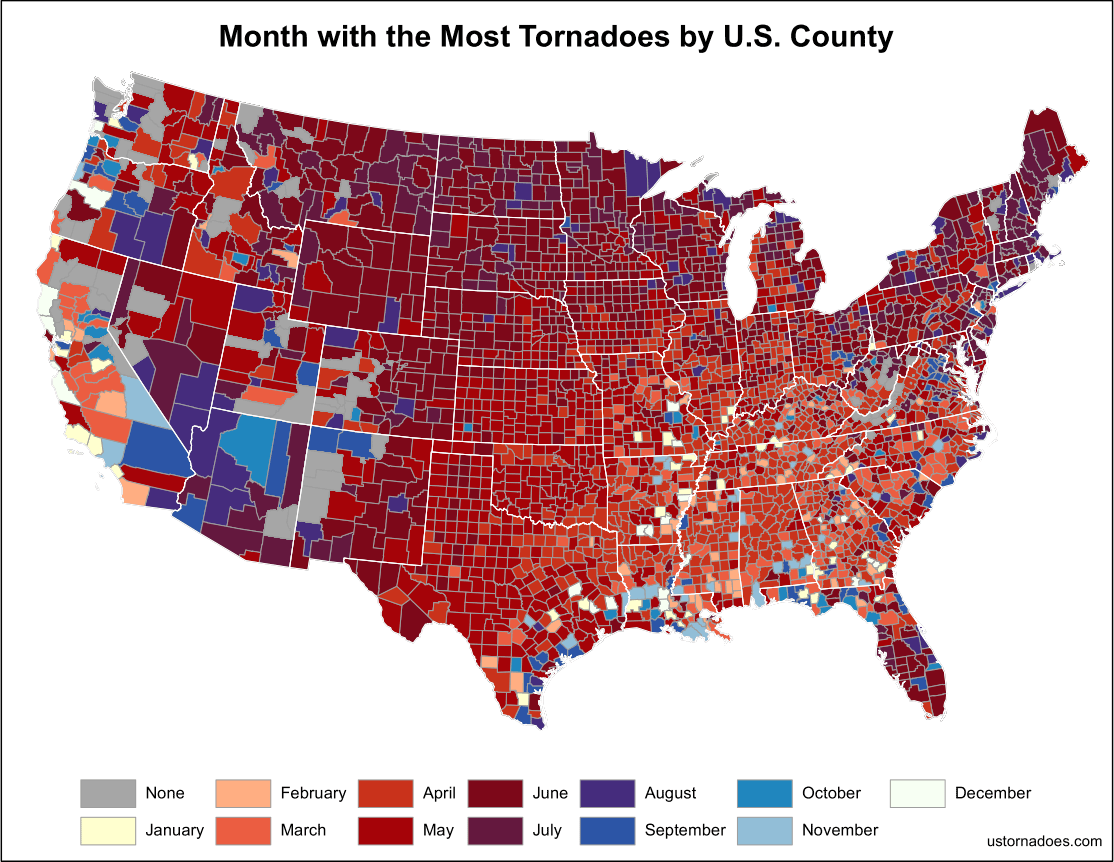 Get a PDF of this map here
Great Lakes…
Brown County, WI. (Green Bay): August, 6 tornadoes
Cook County, IL. (Chicago): June, 16 tornadoes
Wayne County, MI. (Detroit): July, 6 tornadoes
Mid-Atlantic and Northeast…
Philadelphia County, PA. (Philadelphia): May/June, 2 tornadoes
Loudoun County, VA. (D.C. area): June/July, 5 tornadoes
Allegheny County, PA. (Pittsburgh): June, 6 tornadoes
Hamilton County, OH. (Cincinnati): June, 4 tornadoes
Hartford County, CT. (Hartford): June, 5 tornadoes
West of the Continental Divide…
Maricopa County, AZ. (Phoenix): August, 11 tornadoes
Sacramento County, CA. (Sacramento): February, 5 tornadoes
Top 5 U.S. counties for one month…
If you want to maximize your odds of witnessing a tornado in your day-to-day life, you might want to consider the counties below. For most folks, perhaps a list of places to avoid?!
Weld County, CO.: June, 91 tornadoes
Adams County, CO.: June, 59 tornadoes
Caddo County, OK.: May, 57 tornadoes
Canadian County, OK.: May, 54 tornadoes
Elbert County, CO.: June, 53 tornadoes
You'll note a few of the locations above had ties for the month with the most tornadoes. In the maps above, we displayed whatever month comes first in the event of a tie. As an example, if April and May tied with 10 tornadoes, you will see April as the top month.
So… how does your county stack up?
Katie Wheatley is a GIS Analyst for EA Engineering, Science and Technology, Inc. PBC. Brendan Heberton is an engineer at the Environmental Systems Research Institute (Esri) and founder of Weather5280. Ian Livingston is co-founder of ustornadoes.com and information lead for the Capital Weather Gang. The data source for the tornado counts was the Storm Prediction Center's most recent tornado file. It and the maps cover the period from 1950-2014.
The following two tabs change content below.
U.S. Tornadoes
Our multiple-author or special post account.
Latest posts by U.S. Tornadoes (see all)