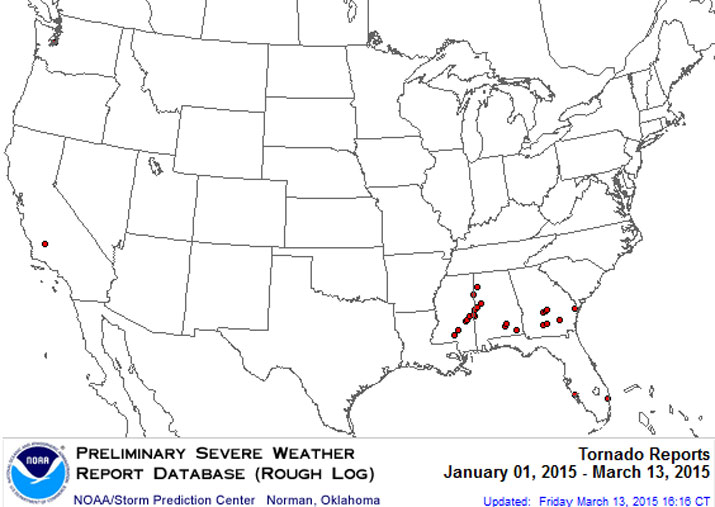 2015 is off to a slow start for tornadoes in the United States. Through today, only 28 tornadoes have occurred anywhere in the country, with the majority of these (23) coming in a two-day event on January 3-4 over the Southeast. These numbers are still preliminary as compiled by the Storm Prediction Center, but have been filtered temporally ans spatially for duplicate reports.
The number since January 5 is even more noteworthy, with a preliminary total of only five tornadoes reported. Of these five, two occurred in Washington State on January 18, one occurred in Florida on January 23, another occurred in Florida on February 5, and one occurred in California on February 23. No tornado reports have been received thus far in the month of March.
Dr. Greg Forbes of the Weather Channel reports that this is only the second time March has gone tornado-less through the 16th since 1950, with the only other occurrence being in 1969. I am reasonably confident that this number won't change much in the next seven days (see below). For reference, the average tornado counts by month are 35 in January, 29 in February, and 80 in March.
And it's not just the tornadoes that have been quiet: It's all severe weather.