A first crack at U.S. tornado days, the 1991-2010 numbers
I recently posted graphs showing the raw totals of tornadoes both by month and by day. They indicated a monthly peak in May and a daily peak from May into June. While full tornado numbers by day do show at least the general climatology of the overall historical period (currently 1950-2010), it is skewed — sometimes quite noticeably — by larger outbreaks.
A next step in the seasonal or yearly tornado climatology game is to take a look at tornado days. A tornado day is any day which has a tornado in the United States, whether one or 50.
From 1991-2010, the averaging period currently used by NCDC, there were eight calendar days that saw a tornado touch down in the United States in all 20 years. All of them were in June, and all were squeezed into the period bounded by the 4th and the 27th. When it comes to years that missed just once on any calendar day throughout the 20 years, the range opens, covering May 23 through July 14.
U.S. tornado days peaked in June during the period, with 91.7 percent of all days in the month having a tornado touch down. When rounded to the nearest full digit, both May and July came in with 84 percent of days containing at least one touchdown of a tornado. At the other end of the scale, December failed to crack 20 percent of days having a tornado, and January just barely did so.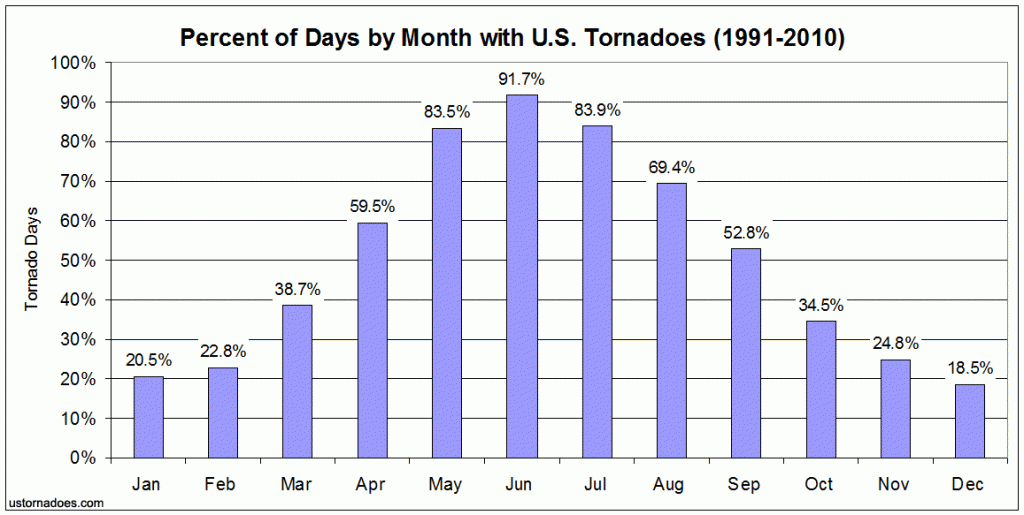 The graph of the whole year, by month, is a pretty standard curve, though the increase in tornadoes in the spring is quicker than the fall off into the winter. Examinations of earlier periods and significant tornadoes showed a quicker drop-off in the summer than this sample of all tornadoes, and that will be addressed in more depth here at some point in the near future.
Breaking the period down into two ten-year segments, we see a good deal more days with tornadoes during the 1991-2000 period compared to the 2001-2010 period. The former had 1,928 tornado days while the latter had 1,738. For one quick comparative look, 1991-2000 had 37 calendar days which had a reported tornado touchdown in all ten years, while 2001-2010 had 16.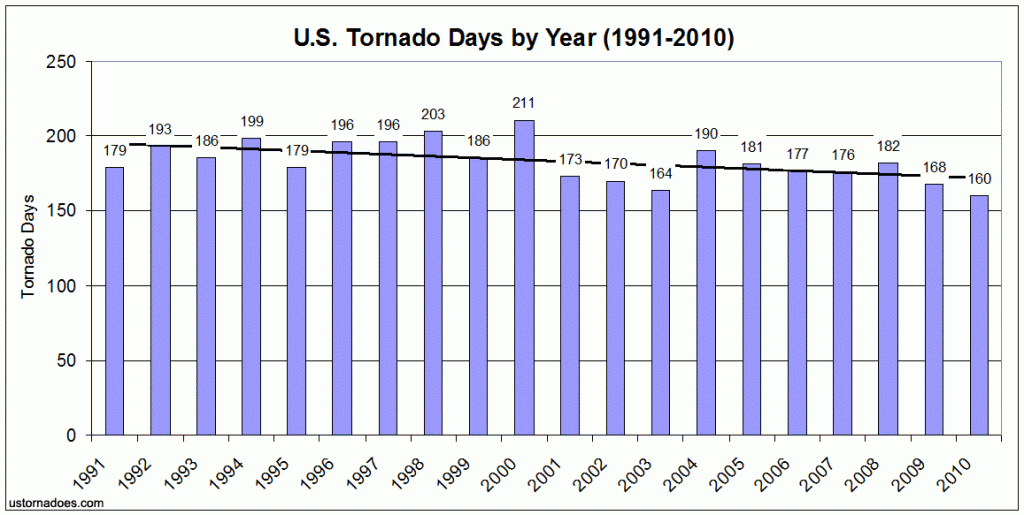 When it comes to tornado days by year, there is an overall sense of consistency, if also an observed trend slightly downward over time during the 1991-2010 period. The ten-year average for 1991-2010 was 193 tornado days per year, and it was 174 days for 2001-2010, with an overall 20-year average of 184 days.
This is a brief examination of an ongoing analysis. It will eventually cover the entire modern historical record back to 1950, as well as include data on significant (or strong) F2/EF-2+ tornadoes. 2011 data on each tornado is not yet available to the public and has been unmentioned because of that. This post will be amended to at least note it once it is available.
All images can be viewed larger by selecting. SPC tornado data obtained through the Tornado History Project. Get updates on U.S. Tornadoes on Twitter and Facebook.
The following two tabs change content below.
Defense and foreign policy researcher at a D.C. think tank. Information lead for the Washington Post's Capital Weather Gang.
Latest posts by Ian Livingston (see all)