Largest winter tornado outbreaks in the United States
When many think of tornadoes, the focus is on the peak of tornado season during spring and early summer. As we've noted here extensively in our monthly climatology series as well as other posts, and seen through recent events like the Christmas tornado outbreak of 2012, tornadoes happen during all times of the year.
While most of the winter tornado outbreaks would not register in the top list for the prime season, some hefty events have occurred just since 1950*.
Depending on how you define a tornado outbreak**, about 27 events (including Christmas 2012) have dropped 20 or more tornadoes since modern records began. This would lead to a long-term average of one event of that size about every two years. Yet, as with most tornado statistics, the numbers tend to come in bunches, so a raw average might not tell the real story.
TOP OUTBREAK BY WINTER MONTH
Each winter month (defined using the meteorological December-February period) has seen sizable tornado outbreaks.  Though December — with 14 of the events — dominates January and February when it comes to outbreaks of 20 or more tornadoes, the top 5 outbreaks all fall in January (3) or February (2).
Below is a brief look at the biggest outbreak by winter month…
December | 12/23-25/1982 | 43 tornadoes in main outbreak | Strongest: F4
#6 overall winter outbreak
Briefly noted in our Christmas Eve and Christmas Day tornado history, this outbreak held the record for tornadoes touching down one of those two holiday calendar days, before likely being bested by the preliminary count of 28 during the 2012 Christmas Day outbreak.
This was a lengthy event, with a few breaks quite close to the limit for a continuous outbreak by our measure here. It ran from midday on the 23rd of December, until early in the morning on the 25th.
As with many of the larger wintertime outbreaks, Arkansas was heavily featured in this event. 29 tornadoes passed through the state, with Missouri coming in second at nine. Oklahoma saw four, and Mississippi, Tennessee and Texas each tallied one.
The longest tracked tornado in the outbreak came with an F4 that traveled from northern Arkansas into Missouri, injuring 11 along its path. Three people died in the outbreak and 82 were injured.
500mb Progression – 0z 12/23 thru 12z 12/25
January | 1/21-22/1999 | 129 tornadoes in main outbreak | Strongest: F4
#1 overall winter outbreak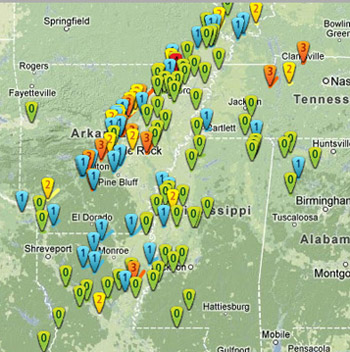 January 1999 sets the standard for winter tornadoes, not only hosting the top winter event, but also another top-5, and a third outbreak with over 20 tornadoes. The 200+ tornadoes in January 1999 bests all other winter months on record.
The January 21-22 event began early on the afternoon on the 21st and continued through the evening of the 22nd. In that time, 129 tornadoes dropped across a large area of the Mississippi Valley and border zones. Arkansas was barraged by 56 tornadoes, with Mississippi seeing 27 and Louisiana 18. Additionally, tornadoes touched down in Alabama (5), Illinois (3), Kentucky (2), Missouri (12), Tennessee (7) and Texas (2).
28 strong tornadoes scoured the landscape over these two days, 11 of which were F3s and one of which was an F4. The longest track of the outbreak was 39 miles. 9 deaths and 131 injuries are attributed to the event.
Some sources, including a local National Weather Service office, refer to an entire sequence starting on January 17 as the "outbreak." However, these events were caused by different systems. That independent outbreak on the 17th did cause over 20 tornadoes in largely the same region.
500mb Progression – 0z 1/21 thru 6z 1/23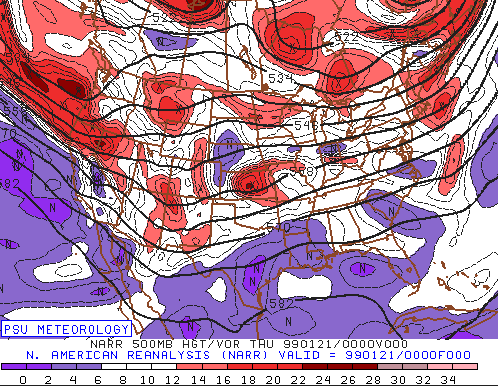 February | 2/5-6/2008 | 86 tornadoes in main outbreak | Strongest: EF-4
#2 overall winter outbreak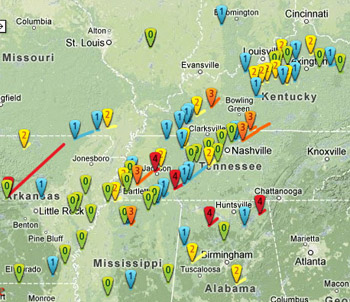 2007-2008 was another memorable winter when it came to tornadoes, with the Super Tuesday Outbreak accounting for a sizable chunk of the overall activity. February 2008 holds the record for tornadoes in the month.
This event started on the afternoon of the 5th and rolled into the morning of the 6th. Throughout that period, 86 tornadoes raked a large region. Tennessee and Kentucky were hardest hit by the outbreak, with 25 tornadoes passing through each state. Mississippi and Arkansas were each hit with 12, with Alabama (7), Missouri (2), Illinois (2), Texas (1), Louisiana (1), and Indiana (1) rounding out the list.
27 tornadoes in the barrage were rated as strong or significant (EF-2+). Five of those were EF-3, and five EF-4. 10 separate killer tornadoes killed 57 people, making this event as deadly as they've come in modern tornado history winter, and also the deadliest outbreak in over two decades when it struck.
The tornado with the longest track in the outbreak traveled 122 miles across northern Arkansas. It was rated EF-4, and killed 13 while injuring 139. Seven tornadoes had track lengths of 25 miles or more.
500mb Progression – 0z 2/5 thru 18z 2/6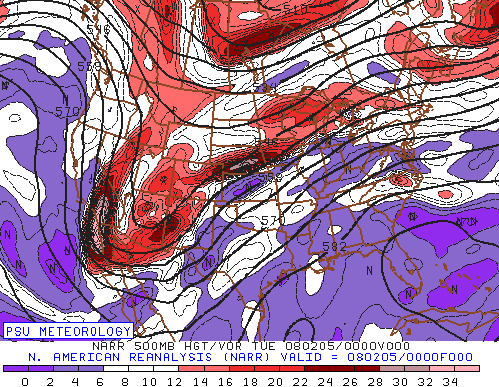 THE 20+ PACK
As mentioned above, a simple average would indicate we might see an outbreak of 20 or more tornadoes during winter about every two years. However, those outbreaks are heavily weighted toward recent times.
Two such outbreaks occurred in the 1950s, two in the 1960s, two in the 1970s, two in the 1980s, six in the 1990s, 10 from 2000-09, and three since 2010.
Further, 20 winters have produced this subset of winter outbreaks, of which six had two or more outbreaks featuring 20 or more tornadoes. The winter of 1998-99 is the leader with three such outbreaks, all three of which occurred in January 1999.
Almost 40% of the outbreaks dropping more than 20 tornadoes in winter have had violent tornadoes associated with them. Only the December 18, 1957 (number 19) outbreak contained a strongest-rated F5. On the other end of the spectrum, an outbreak on December 23-24, 2002 (number 12) had no tornadoes stronger than an F1.
Four of the 27 outbreaks with 20 or more tornadoes ended up tornado-death free, including the one on Christmas Day 2012. The deadliest of the bunch is the Super Tuesday outbreak of February 5-6, 2008.
2/5/13 Update: The outbreak which occurred on Jan 29-30, 2013 is now confirmed to have dropped at least 48 tornadoes. If these tornadoes occurred without any 6-hour breaks, this outbreak will also be added to the list. In fact, it appears it will be the 4th largest winter outbreak, and third largest January outbreak on record. It also will make the 7th winter with two such outbreaks. We will update this post as necessary once the data is more finalized.
Notes…
*The official tornado record begins in 1950, though numerous historical episodes also happened prior.
**Here, "tornado outbreak" is defined using the common idea of no breaks in activity of more than 6 hours between tornadoes.
In addition to any links above, the following sites were used as sources for data and imagery: The Tornado History Project, The Storm Prediction Center, e-WALL: North American Reanalysis Selection Page, and the Cooperative Institute for Meteorological Satellite Studies.
The following two tabs change content below.
Defense and foreign policy researcher at a D.C. think tank. Information lead for the Washington Post's Capital Weather Gang.
Latest posts by Ian Livingston (see all)