The strongest tornadoes of 2016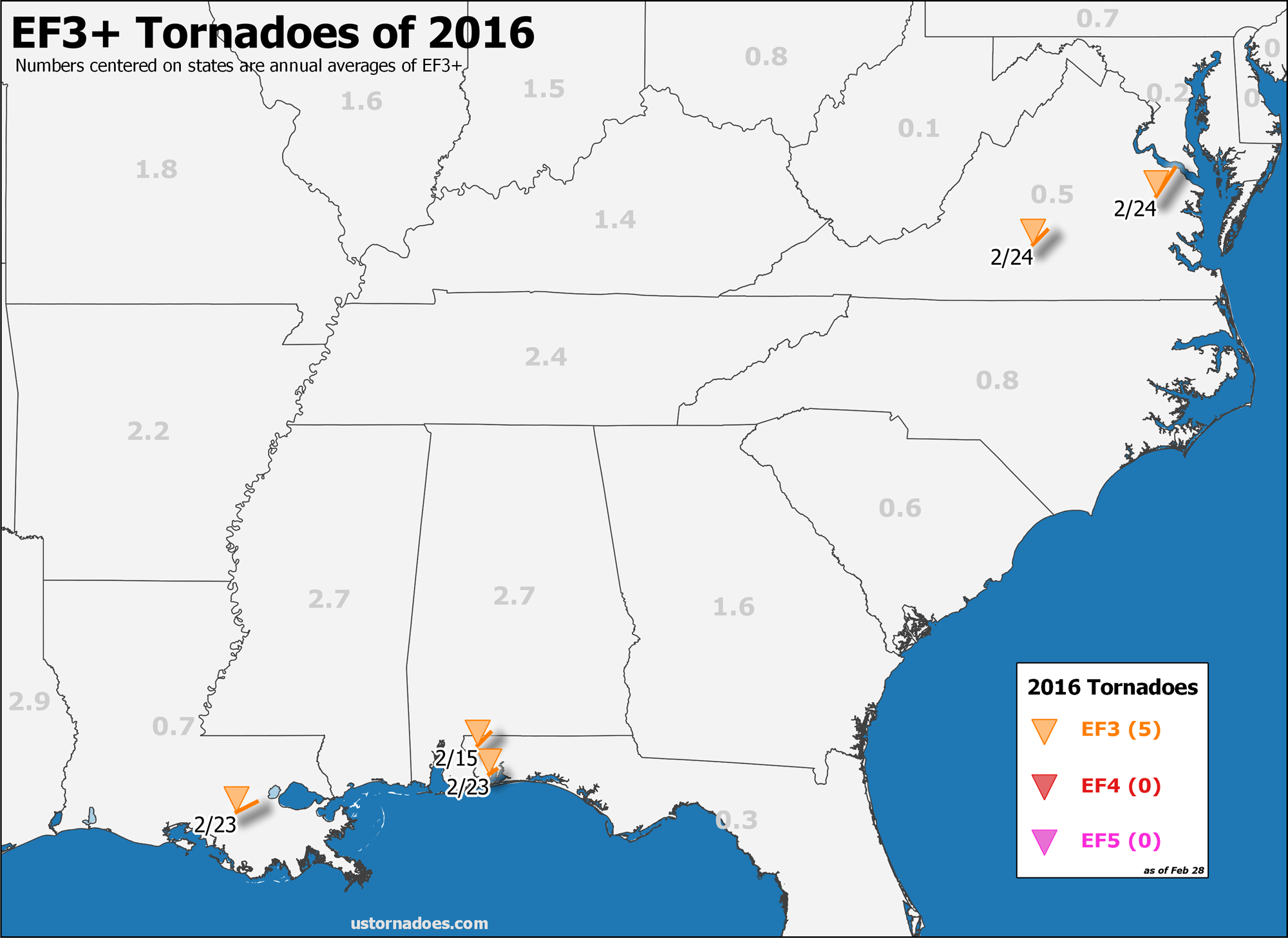 EF3+ tornadoes (and F3+ of the past) make up less than 5 percent of all twisters in most years, but they are responsible for a vast majority of the deaths, injuries, and property destruction. With winds of at least 136 mph, these tornadoes strike the country on average about three dozen times per year.
Following a slow season for this intensity of tornado in 2015, 2016 has gotten off to a quick start. Several EF3s have scoured the landscape in places not too frequently hit by them. And the real season has yet to begin.
We'll track the EF3+ tornadoes of this year below as 2016 unfolds. At the bottom of the post, a few quick stats to keep it all in perspective.
#1 – February 15, 2016: Century, Florida
Rating: EF-3, est. peak wind speed of 152 mph
Path length/maximum width: 16.5 miles/300 yards
Fatalities/injuries: 0/3
Time: 3:32 pm CST to 3:55 pm CST
The tornado first touched down southwest of Lambert-Ridge road southwest of McDavid. The tornado gradually increased in strength and width as it continued northeast toward Century. The first EF-2 intensity damage noted was on Holland Drive where a workshop was completely destroyed. The tornado reached its peak intensity (widespread EF-2 damage with isolated EF-3 damage) as it moved into Century. Numerous homes were damaged or destroyed. A couple of homes experienced complete loss of the roof with only the walls of small interior rooms remaining. The tornado continued to track northeast out of century and across the Florida/Alabama state line. EF-2 intensity damage was found on Old Fannie Road east of Flomaton. The tornado continued northeast toward Pollard where it weakened and lifted. Extensive tree damage with numerous softwood and hardwood trees either uprooted or snapped. Several power poles were also snapped. Damage was also noted on the periphery of the tornado due to straight line winds produced from the rear flank downdraft.
(Survey details and summary via NWS Mobile)
#2 – February 23, 2016: Paincourtville, Louisiana
Rating: EF-3, est. peak wind speed of 140 mph
Path length/maximum width: 21.0 miles/350 yards
Fatalities/injuries: 2/~75
Time: 3:21 pm CST to 3:42 pm CST
A strong tornado touched down just southwest of Paincourtville, Assumption Parish and moved northeast for 12 miles and crossed the MS River into St James Parish. The strong tornado continued northeast for another 8 miles, with the last visible damage on Airline Highway about 7 miles north northeast of Convent. In Assumption Parish – significant damage was noted to residential and business structures in the Paincourtville area in the vicinity of the junction of LA Highway 1/ LA 308/ LA 70. EF-2 scale damage was noted in this area with considerable damage to small two story apartment building, hardware store and commercial business. A tractor trailer was also overturned at a commercial business in this area. The tornado tracked northeast along LA 1/LA 308 causing major damage to an area of small frame houses and mobile homes, with most damage in the EF-1 area. Further to northeast, the 2nd floor of well- constructed brick structure was nearly removed. A low end EF-3 scale rating of 140mph was assigned to this damage. The residents of this structure had taken shelter in the lowest floor of an interior area and were not injured. Further northeast , two small frame homes on piers were swept off their foundation and destroyed. None of the occupants were at either of these residences at the time. The tornado continued to travel northeast crossing the MS River with considerable tree damage in the Batture area of the river.
Overall, Assumption Parish emergency management reported the following damage…45 structures destroyed or not salvageable…22 structures major damage, 22 structures moderate damage, after crossing the MS River the damage path was quite wide at this point and moved through the Sugar Hill RV Park where numerous travel trailers were tossed and destroyed. Numerous trees were snapped or uprooted in this area, with a damage width of 350 yards. Two fatalities occurred at the RV park, 31 were transported to medical facilities, with 7 of those listed in critical conditions on arrival. Another 25 to 50 were injured, and treated at the scene or self transported to medical care. An EF scale rating of an upper end EF-2 was assigned to this area with max wind of 125 mph. The tornado continued to track northeast and crossed LA Highway 3125 with trees snapped and uprooted in a 200 yard path. A residence suffered minor property damage. The tornado weakened as it crossed US Highway 61 with tree limbs snapped and a few trees uprooted in a more narrow path. No damage to trees was noted along interstate 10 to the northeast. Radar also indicated that the parent mesocyclone circulation weakened considerable in the vicinity of us 61 or Airline Highway. St James Parish emergency management preliminarily reported 25 to 50 homes were total losses and public housing complex had major damage.
(Survey details and summary via NWS New Orleans)
#3 – February 23, 2016: Pensacola/Ferry Pass, Florida
Rating: EF-3, est. peak wind speed of 155 mph
Path length/maximum width: 8.0 miles/300 yards
Fatalities/injuries: 0/~3
Time: 8:10 pm CST to 8:21 pm CST
The tornado first touched down southwest of Creighton Road (Pensacola) and quickly strengthened as it moved northeast. The first area of EF-2 damage was noted on Lansing Drive where significant roof damage was observed to a couple of homes along with snapped power poles and extensive tree damage. The tornado crossed over Interstate 10 just west of 9th Avenue and crossed 9th Avenue north of the interstate. EF-1 damage was noted…primarily to hardwood trees in the area of Interstate 10 and 9th Avenue. Intensification was noted as it moved further east of 9th Avenue and east of Northpointe Boulevard. The roof was blown off of two homes…one on La Borde Lane and one on Gladstone Drive. Additional EF-2 damage to homes was observed further to the northeast on Tradewinds Drive. Two vehicles were overtuned in this location. It was at this point that further intensification began. The tornado then reached peak intensity shortly thereafter as it moved over the mooring apartments on Old Spanish Trail and the General Electric (GE) plant. EF-3 damage was observed at two of the apartment buildings with major damage to the 2nd story of the buildings (walls). EF-3 damage occurred at the GE plant where a warehouse was destroyed. Additional EF-3 damage was observed at the Grand Baroque Townhouses on Scenic Highway where two units were destroyed.
The tornado was near peak intensity as it moved across Escambia Bay. An 18 wheeler was overtunred on the Escambia Bay Bridge just west of the Santa Rosa county line. Some of the debris from the GE plant was found near the western Santa Rosa County shoreline. The tornado weakened as it moved into Santa Rosa County. EF-1 damage was first noted on San Juan Street at Sealark Lane. The tornado continued northeast…producing additional EF-1 damage. The tornado finally lifted near Shetland Circle just west of Avalon Boulevard.
(Survey details and summary via NWS Mobile)
#4 – February 24, 2016: Evergreen, Virginia
Rating: EF-3, est. peak wind speed of 140 to 150 mph
Path length/maximum width: 17.0 miles/400 yards
Fatalities/injuries: 1/7
Time: 3:27 pm EST to 3:44 pm EST
The National Weather Service in Blacksburg VA has confirmed a tornado from extreme northeast Campbell County through Evergreen in Appomattox County into far northeast Appomattox County in Virginia on 02/24/2016.
A tornado touched down just inside the Campbell and Appomattox County line just south of county line road. This tornado continued to track northeast passing just to the southeast of the town of Appomattox impacting the community of Evergreen before ending around Holiday Lake State Park. This tornado was on the ground for 17 miles with a width of 400 yards…and damaged over 100 homes and structures…including one well-built brick house. One fatality and seven injuries resulted from this tornado.
Viewer photos from Jason Smith-Evergreen at 3:30pm @MarParNews @wx_will @gflickinger @ABC13News #vawx pic.twitter.com/Q5Tlrsff3o

— Melissa Le Fevre (@LeFevreWX) February 24, 2016
(Survey details and summary via NWS Roanoke)
#5 – February 24, 2016: Tappahannock, Virginia
Rating: EF-3, est. peak wind speed of 140 to 145 mph
Path length/maximum width: 30.0 miles/400-500 yards
Fatalities/injuries: 0/25+
Time: 6:34 pm EST to 7:05 pm EST
The tornado tracked across King and Queen, Essex, Richmond and Westmoreland counties reaching speeds of 140 to 150 mph, spanning as wide as 500 yards at times.
Following the initial touchdown along Homlestown Road the tornado intensified to a 200 yard wide EF-1 tornado moving along Bruington Road where a home was destroyed and others damaged just west of millers tavern. The tornado crossed Highway 360 moving into Essex County as an intensifying 300 yard wide high end EF-1 severely damaging several homes along Dunbrook Road. The tornado continued to intensify crossing Perkins Road as an EF-2 before hitting Kino Rd as a 500 yard wide EF-3 tornado. Along Kino Road all the homes in the path including 3 modular homes, two double wide mobile homes and one single wide mobile home were completely destroyed with most of the debris carried away. Tree damage was severe and winds were estimated at 140 to 150 mph based on damage. Everyone impacted by the tornado along Kino Road suffered injuries, some life threatening.
After leaving the Kino Road area the tornado crossed Scotts Mill Rd just west of Tappahannock as a high end EF-2 tornado causing severe tree damage, severely damaging numerous homes and causing the collapse of several garages and outbuildings. The tornado passed just west of downtown Tappahannock crossing Highway 17 as an EF-1 tornado severely damaging homes on Tuckaway Lane and Highway 17. The tornado then crossed the Rappahannock River.
After crossing the Rappahannock River the tornado entered Richmond County striking Naylors Beach as an EF-2 tornado removing significant portions of the upper floor of one two story home and destroying several other smaller homes. At this point the tornado was 300 yards wide with winds around 120 mph. The tornado then crossed Newland Road weakening slightly to low end EF-1 with winds around 90 mph and continuing to Tallent Town Road and Piney Grove Road.
The tornado re-intensified as it entered Westmoreland County crossing kings highway (Route 3) west of Naomi Grove as a high end EF-1 tornado. Tornadic winds increased to 100 mph and the width to 300 yards severely damaging two homes and destroying a mobile home along Kings Highway. The EF-1 tornado continued to Cople Highway near Mount Holly severely damaging numerous homes and increasing in width to 400 yards. After crossing Nomini Creek the EF-1 tornado crossed Bushfield Road damaging several homes. The tornado continued northeast along Mount Holly Road uprooting and snapping trees before moving into the Potomac River.
(Survey details and summary via NWS Wakefield)
How this year stacks up
2016 totals
EF3: 5 | EF4: 0 | EF5: 0
In recent history, the United States can expect about three dozen EF3+ tornadoes per year. May is most favored, as you might expect given it is generally the peak of tornado season. The pattern more or less follows monthly activity levels.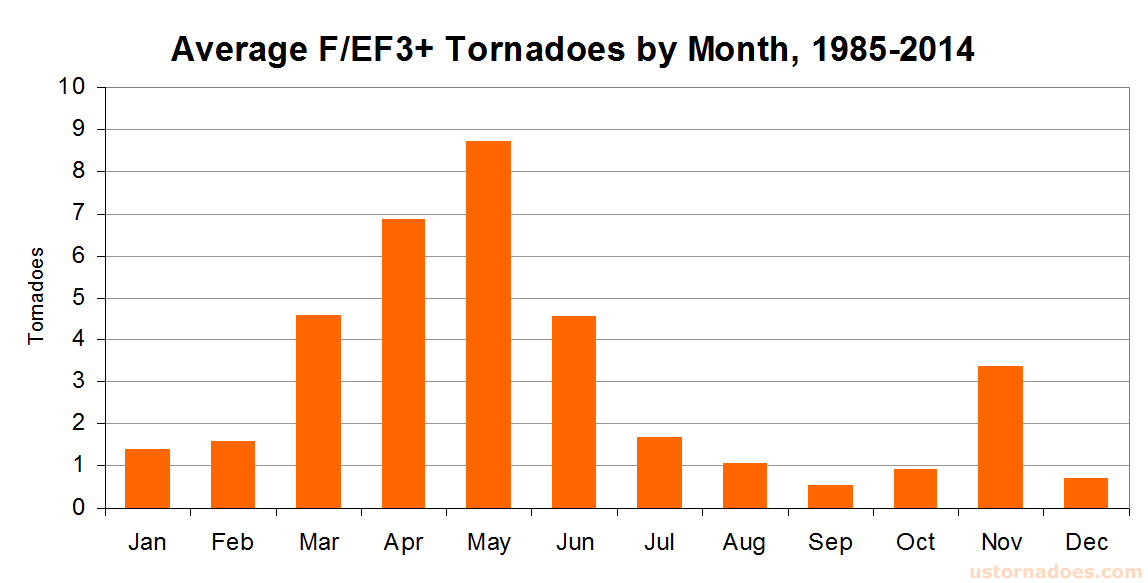 And by year, it seems there's been something of a decreased incidence with time. Part of this is refinement of rating methods. The most such tornadoes in one year came in 1974 with 131. 1987 had the least with 15, and 2015 fell just short of that mark with 21.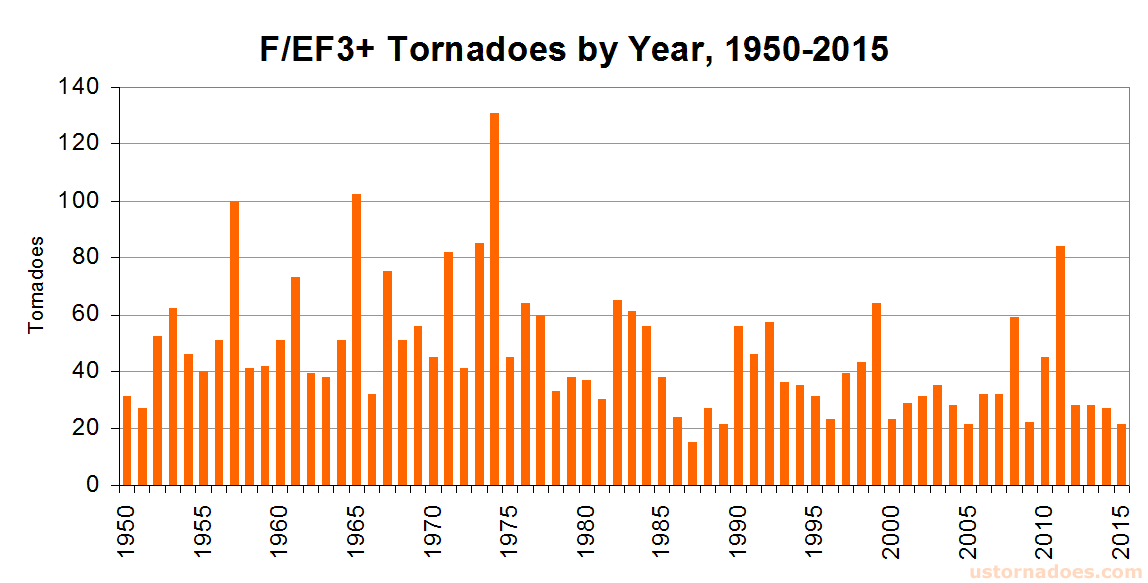 This post will be updated as EF3+ tornadoes are added to the list throughout the year. Last updated February 28, 2016.
The following two tabs change content below.
Defense and foreign policy researcher at a D.C. think tank. Information lead for the Washington Post's Capital Weather Gang.
Latest posts by Ian Livingston (see all)