The largest tornado outbreaks of 2016
We began tracking the biggest tornado outbreaks of the year in 2015. It's still a work in progress when it comes to exact methodology, and doing so in real time leaves plenty to be desired when it comes to data management.
2016 started off fast and furious and has settled down a bit since.
[Tracking the tornadoes of 2016]
Given ustornadoes.com is also now testing an experiment to track ALL the tornadoes of 2016, we have modified the criteria from 25 filtered reports with the Storm Prediction Center to 20 confirmed reports. The 25 filtered was our insurance of ending up somewhere near 20 in the final number given that reports are inflated compared to end results historically.
Posted: February 29, 2016. Last updated: June 30, 2016.
Large tornado outbreaks of 2016
Events with at least 20 confirmed tornadoes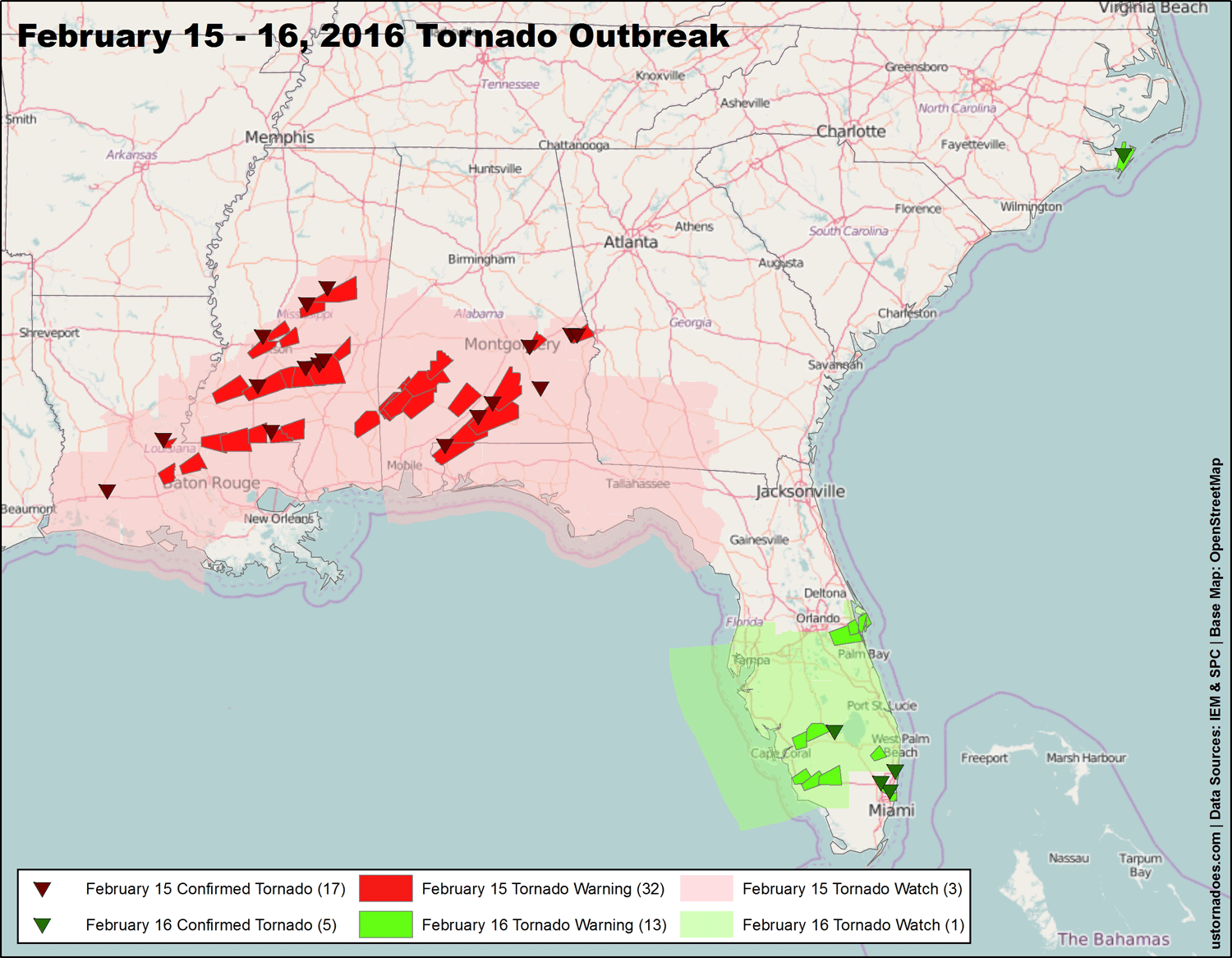 (Outbreak 01) February 15-16, 2016 | 22 confirmed tornadoes, 36 reports, 45 warnings, 4 watches
February 15 SPC event page | February 16 SPC event page
A moderate sized two-day outbreak, this one mostly impacted the northern Gulf Coast. Storms fired along a dry line where shear and CAPE were maximized. The first EF3 tornado of 2016 touched down in Century, Florida where three people were injured. Other tornadoes were reported near Miami, Florida on the 16th.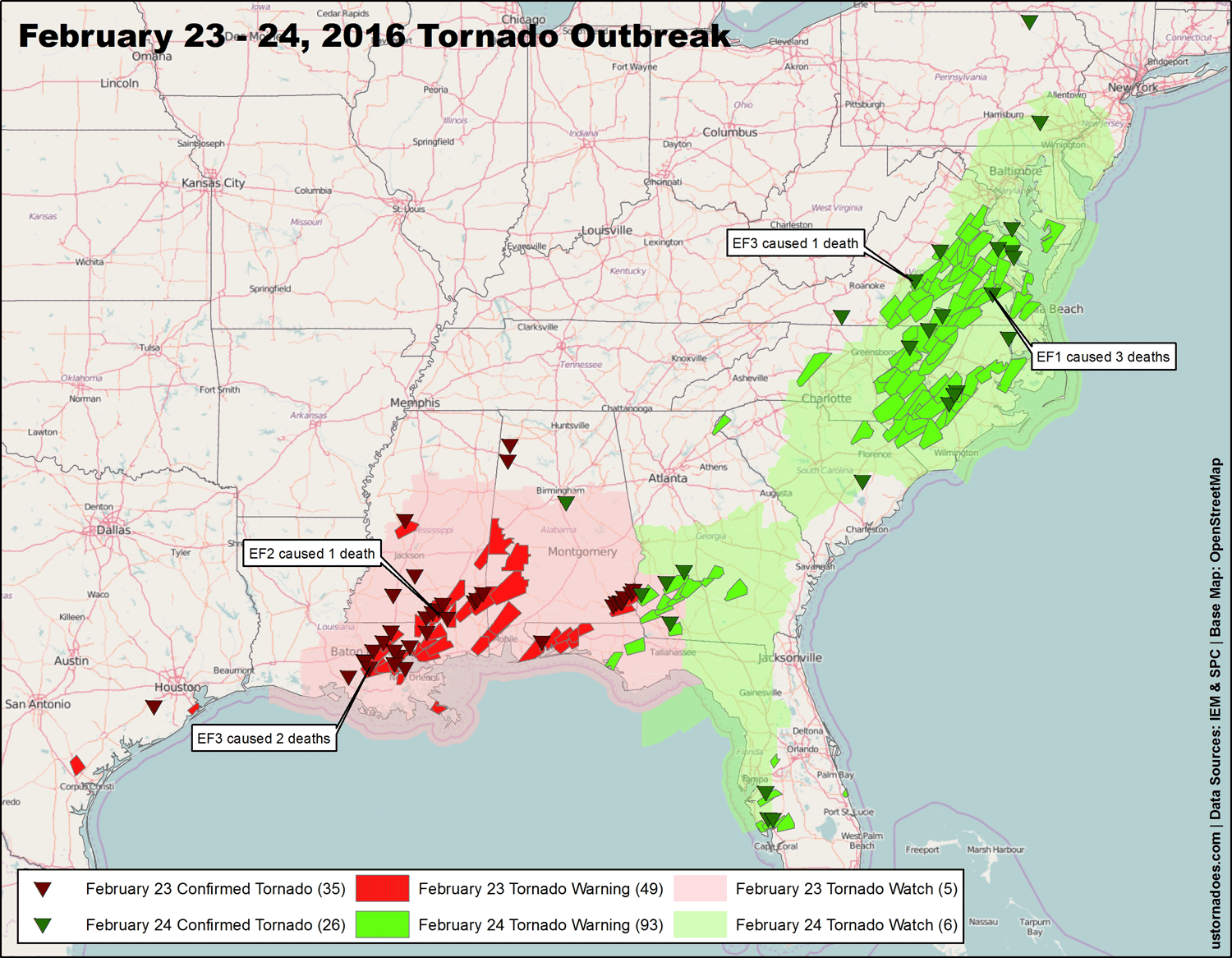 (Outbreak 02) February 23-24, 2016 | 61 confirmed tornadoes, 79 reports, 142 warnings, 11 watches
February 23 SPC event page | February 24 SPC event page
The first significant outbreak of 2016 resulted from a deepening surface low pressure system over the South and then up into the eastern United States. The combination of extreme wind shear and near normal to higher than normal instability for February produced what is likely the second largest February outbreak on record since 1950. In addition to more typical zones around the Gulf and into the Carolinas, the system dropped unusual strong February tornadoes in Virginia, and even up to Pennsylvania. As many as five dozen tornadoes or so have been confirmed.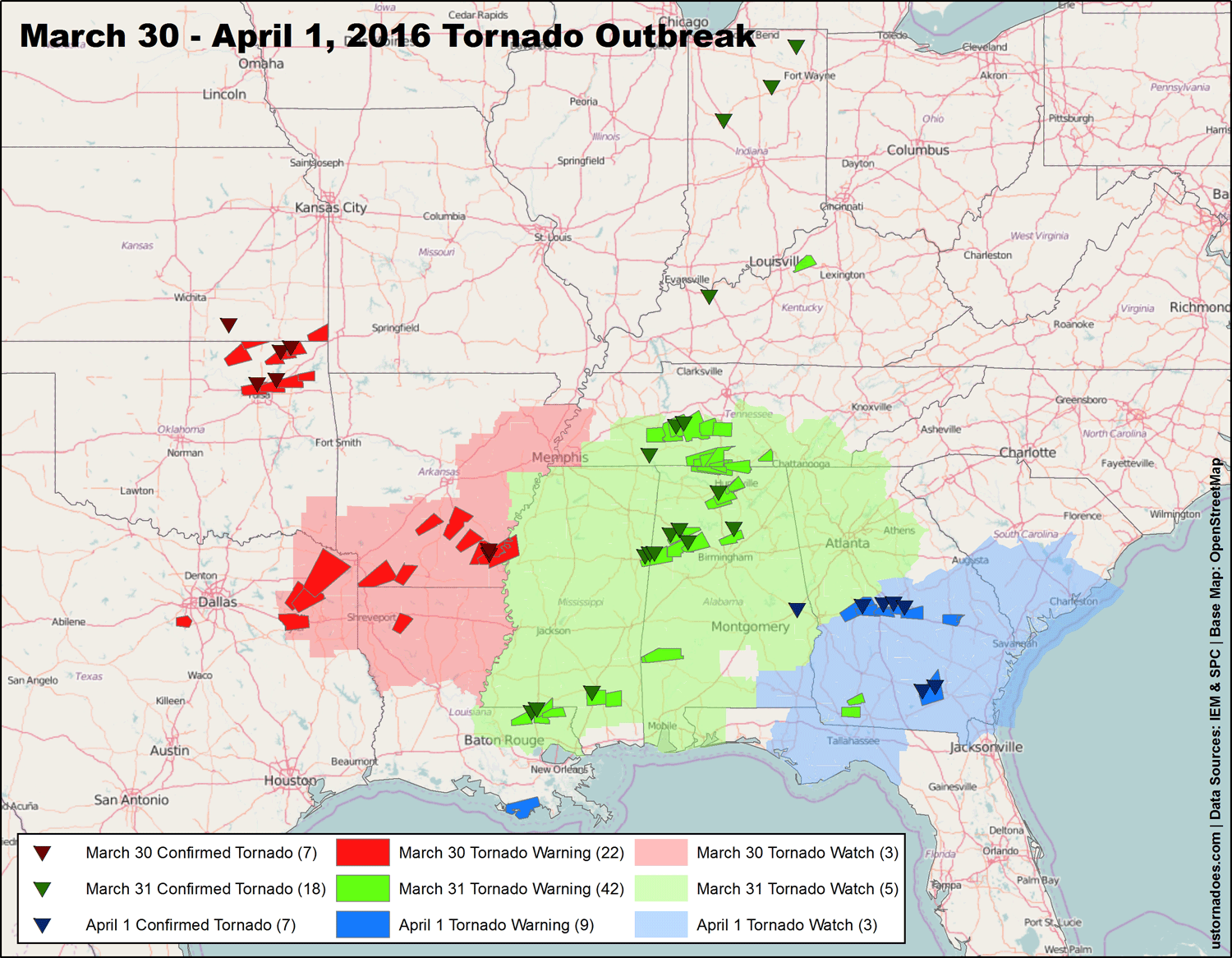 (Outbreak 03) March 30-April 1, 2016 | 32 confirmed tornadoes, 40 reports, 73 warnings, 11 watches
March 30 SPC event page | March 31 SPC event page | April 1 SPC event page
A late March regional outbreak in the Gulf Coast region. While not a robust outbreak , there were at least 20 tornadoes over multiple states, including two EF2 tornadoes that damaged or destroyed numerous houses and caused injury in the Tulsa, Oklahoma area. An EF1 also destroyed two homes and damaged six, in the early mornings hours of April 1st, in Georgia.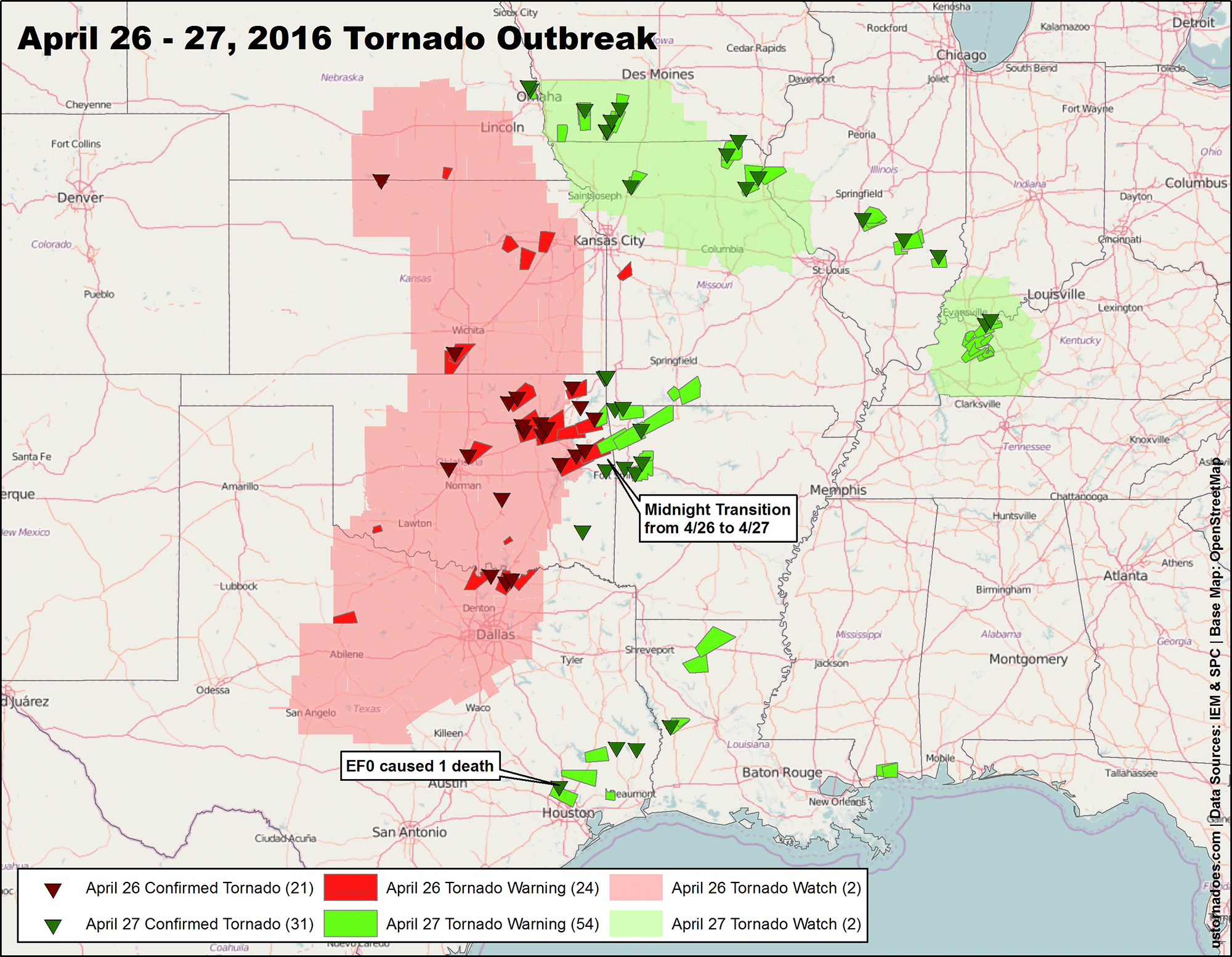 (Outbreak 04) April 26-27, 2016 | 52 confirmed tornadoes, 56 reports, 78 warnings, 4 watches
April 26 SPC event page | April 27 SPC event page
A 'moderate risk' of severe weather for April 26 prompted the Storm Prediction Center to issue a not often used Particularly Dangerous Situation tornado watch for Texas and Oklahoma. While the event has been characterized as an underperformer due to few twisters forming early on, it still managed to deliver a lot of tornadoes during the overnight period. At least 24 twisters have been confirmed from part one, and an additional 17 from part two. Due to a gap of less than 10 hours between parts, we have combined into one event.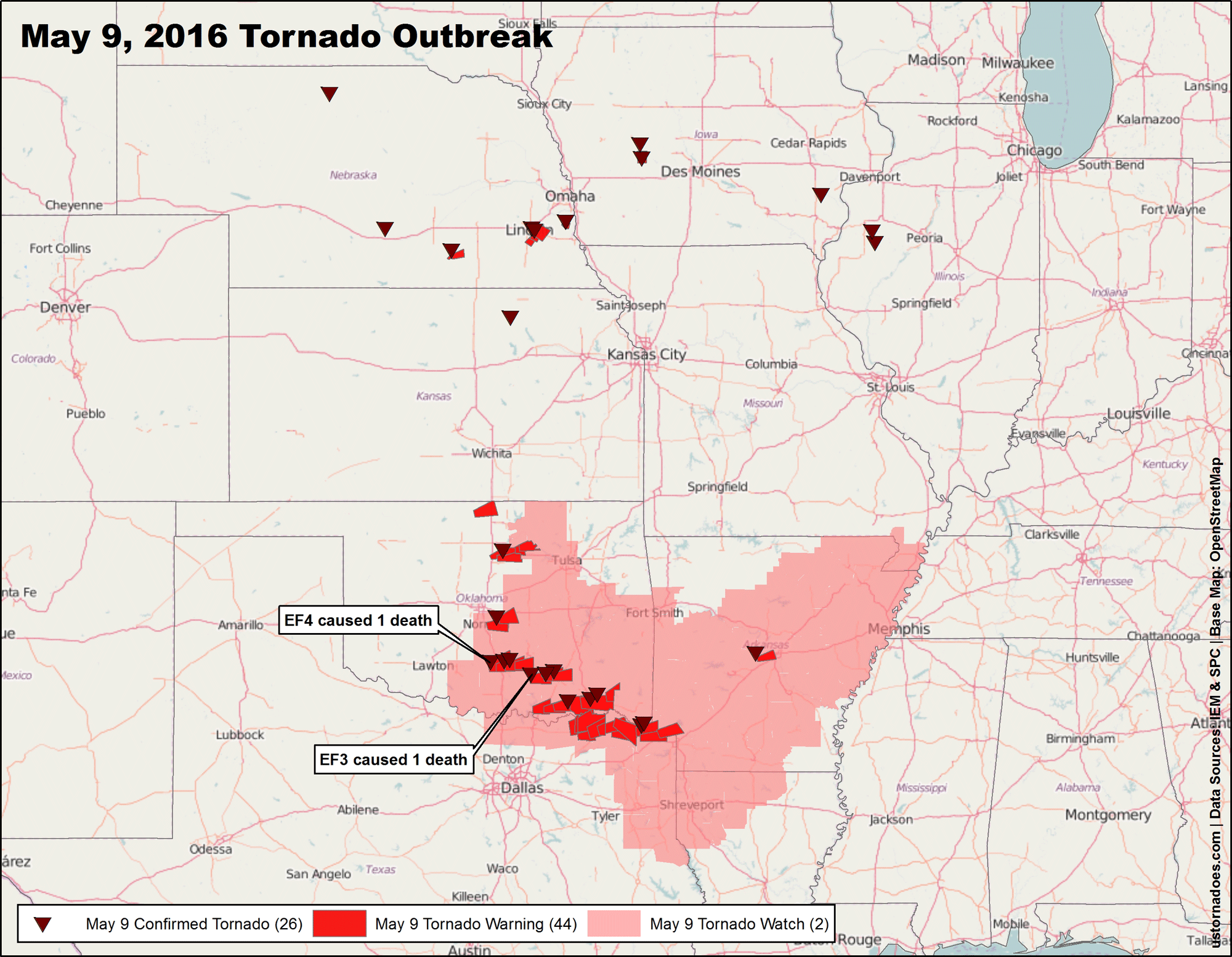 (Outbreak 05) May 9, 2016 | 26 confirmed tornadoes, 30 reports, 44 warnings, 2 watches
May 9 SPC event page
A bit of a "sleeper" event, with most of the focus on the day prior initially. A dry line in Oklahoma ended up west of expectations and delivered four tornadoes of EF3 or higher, the most in the state since May 24, 2011. The first violent tornado of 2016 happened in southern Oklahoma as well, where two people were killed by tornadoes. Additional tornadoes occurred across the Plains and into parts of the Midwest.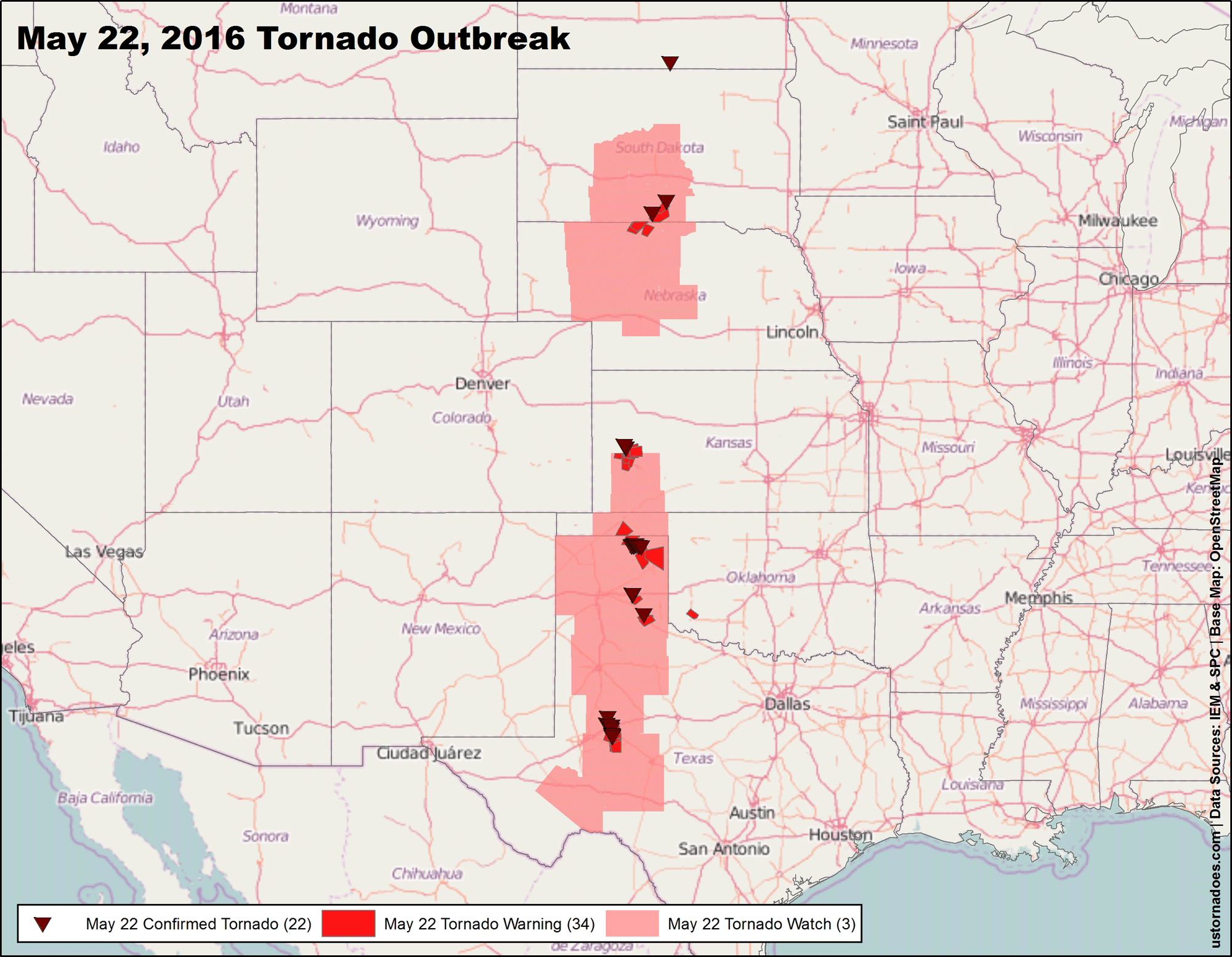 (Outbreak 06) May 22, 2016 | 22 confirmed tornadoes, 31 reports, 34 warnings, 3 watches
May 22 SPC event page
Numerous tornadoes touched down in Kansas, Oklahoma and Texas thanks to modest southwesterly upper-level winds interacting mostly with a dry line. The strongest tornadoes were in Texas, including two EF3's in Big Spring and Garden City, Texas.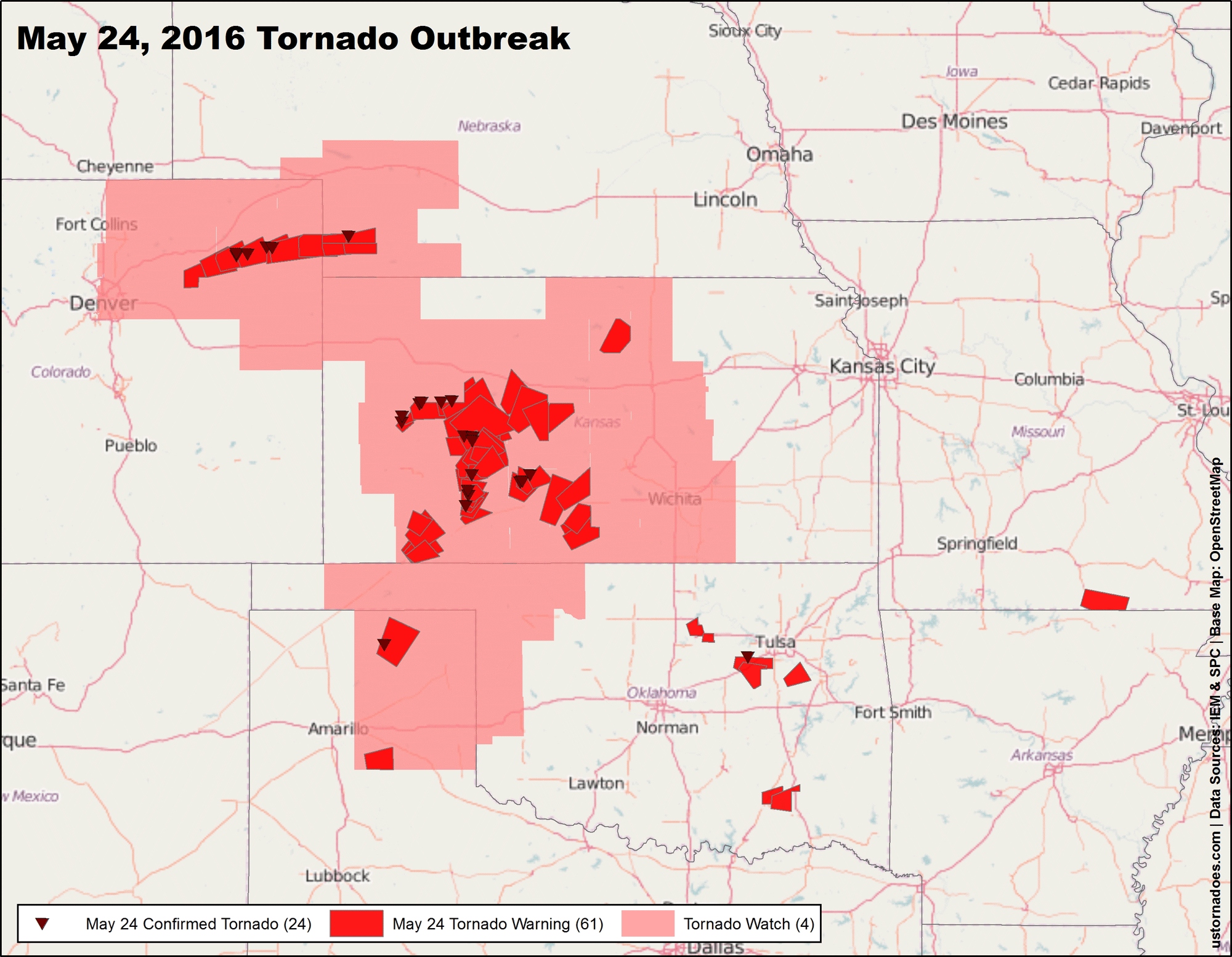 (Outbreak 07) May 24, 2016 | 24 confirmed tornadoes, 30 reports, 61 warnings, 4 watches
May 24 SPC event page
A prolific tornado day in southwest Kansas, as several cyclic supercells produced nearly a dozen highly visible tornadoes. There was a total of five EF3 tornadoes, and two EF2 tornadoes that affected the rural areas around Dodge City, Kansas, in addition to several tornadoes in states north and south.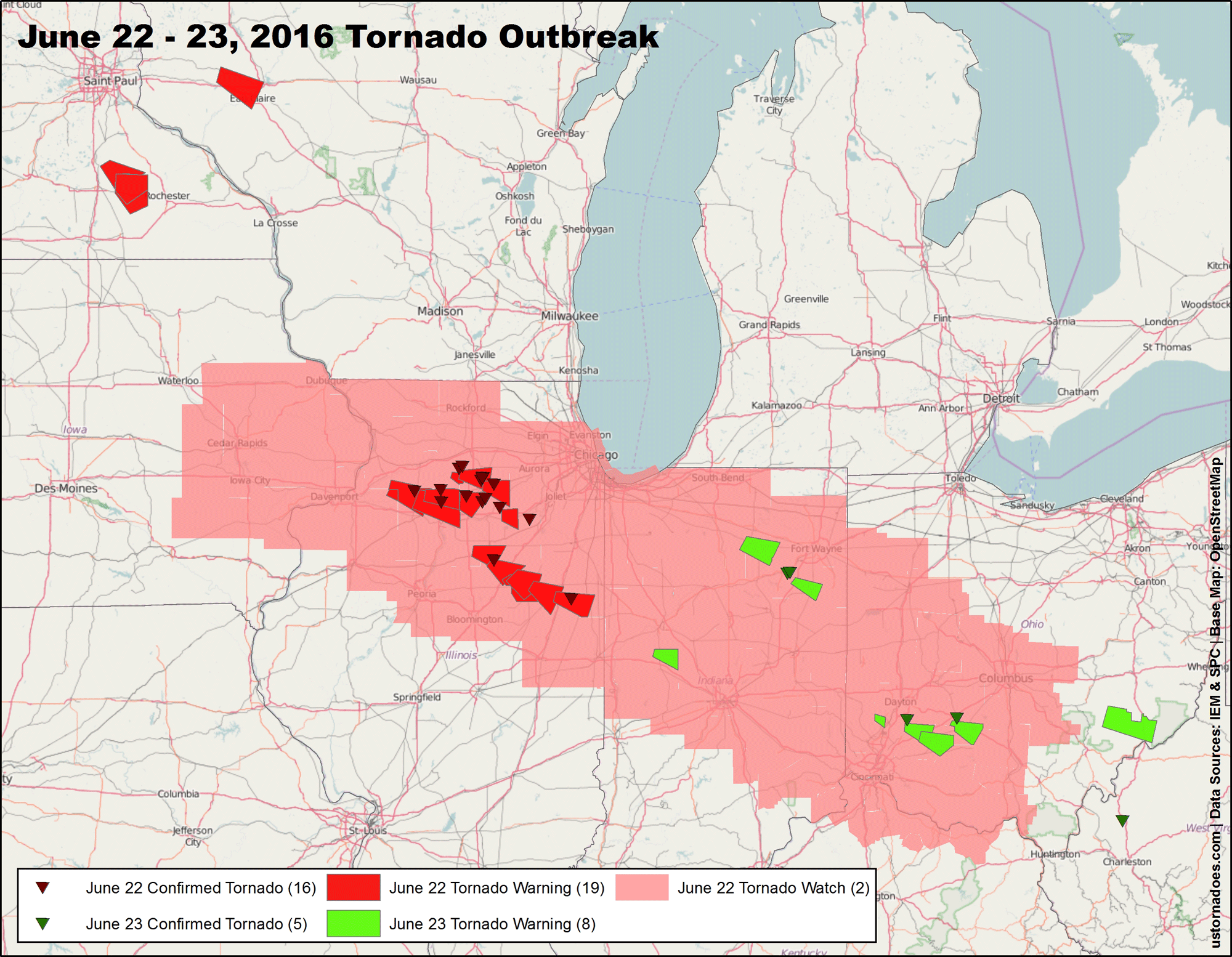 (Outbreak 08) June 22-23, 2016 | 21 confirmed tornadoes, 26 reports, 27 warnings, 2 watches
June 22 SPC event page | June 23 SPC event page
Clusters of supercells dropped numerous tornadoes before trending linear and bowing out as they moved east. The Weather Channel ultimately called the event a low-end derecho. Most of the tornado activity was while the storms were still fairly discrete, but several occurred within the eventual line that progressed east. There were three EF2 tornadoes, two in Illinois and one in Indiana.
Outbreaks ranked
The top events, from high to low, based on confirmed tornadoes
#1: Feb 23-24, 61 tornadoes
#2: Apr 26-27, 52 tornadoes
#3: Mar 30-April 1, 32 tornadoes
#4: May 9, 26 tornadoes
#5: May 24, 24 tornadoes
#6: Feb 15-16, 22 tornadoes
#6: May 22, 22 tornadoes
#8: June 22-23, 21 tornadoes
As we continue to refine this process, we are presently using 20 confirmed tornado reports as a baseline for a significant event. Since we are running a trial near-real time tracker of all tornadoes in 2016, the need for 25 filtered SPC reports is diminished for the time being. For an outbreak to be continuous over multiple days, there must be no breaks greater than 12 hours. In some eyes this may constitute separate outbreaks, but we do it in attempt to simplify the discussion and to attempt to capture a system crossing the United States in its entirety as one outbreak when possible.
Ian Livingston contributed to this post and the methodology of tracking outbreaks. Posted on February 29, 2016. Last updated on June 30, 2016. Although we are presenting confirmed tornadoes, data is preliminary and subject to change. This is particularly the case when the most recent event is less than a week or two in the past.  
The following two tabs change content below.
Katie Wheatley
Katie currently works as a GIS Analyst for EA Engineering, Science and Technology, Inc., PBC in Hunt Valley, Maryland.
See full bio
.
Latest posts by Katie Wheatley (see all)