Significant July Tornadoes in the United States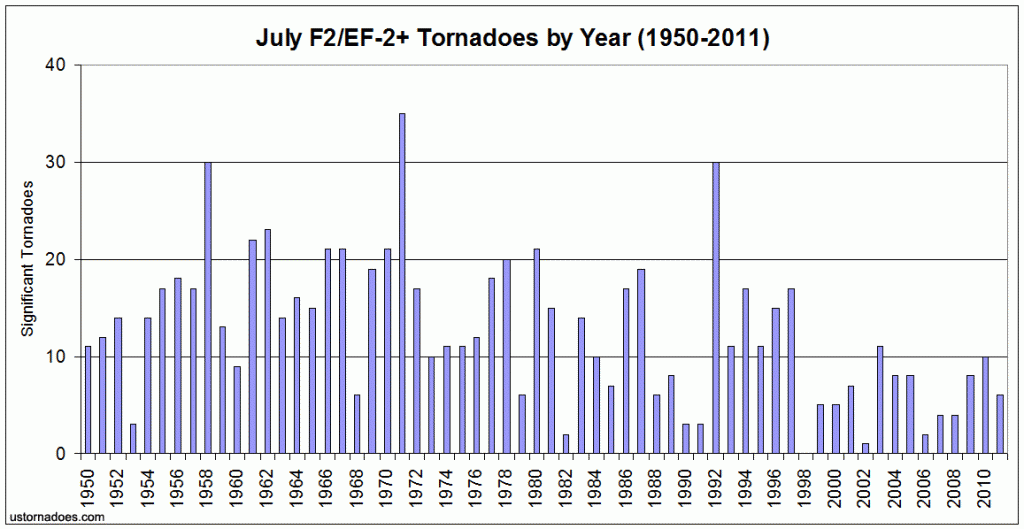 July continues the trend in recent months of a smaller ratio of significant tornadoes, or those F2/EF-2 and stronger, to overall tornadoes. Only 13 percent of the months tornadoes from 1950-2011 reached this strength. But, as throughout the year, these tornadoes make up in death and destruction what they lack in numbers.
July Significant Tornado Stats (1950-2011)

Total significant tornadoes: 781
July high: 35 (1971)
July low: 0 (1998)
1991-2010 average: 8.9
There have been considerably fewer significant tornadoes in July compared to June, and looking back at May and April, the differences are even larger with both of those months seeing about three times as many significant tornadoes as July.
The same general zones (map and numbers) for overall tornadoes are most frequented by significant tornadoes. While North Dakota leads the larger pack, it drops in the significant tornado ranking. As with other months, Colorado has a relatively low all tornado to significant tornado ratio.
Besides tornado-prone states in the Plains and Midwest, states like Ohio and Pennsylvania rise high on the July list for strong/significant tornadoes. Even states like New York can expect, on average, about one every three or four years (of course they often come in bursts).
The F3/EF-3 tornado category is dominated by the northern Plains and upper Midwest, with North Dakota holding a decent lead. Pennsylvania joins Minnesota, South Dakota and Iowa with N.D. on the top-5 list for F3/EF3 tornadoes in July.
When it comes to violent F4/EF-4+ tornadoes, the volatility of earlier months is far diminished, a trend that will continue through much of the next half year. Even compared to dwindling numbers in June (88 such tornadoes), July produces little in the way of the worst of the worst, coming in at 22 violent tornadoes. Only one F5 has hit in July, and that happened on the 18th in 1996 at Oakfield, Wisconsin.
SPC tornado data obtained at the Tornado History Project. Images can be selected for larger versions. Get updates about U.S. Tornadoes on Twitter and Facebook. Official 2012 data will be available during spring 2013.
The following two tabs change content below.
Defense and foreign policy researcher at a D.C. think tank. Information lead for the Washington Post's Capital Weather Gang.
Latest posts by Ian Livingston (see all)