Monthly tornado averages by state and region
"Tornado season," in common parlance, is usually thought of as spring into early summer. While it is true that the peak of most tornado years occurs in this period, the story is not quite that simple.
As the map above shows quite nicely, some parts of the country experience tornadoes almost exclusively during one season or another, while others may want to be on the lookout almost all year to some degree.
In this post, I've broken down the averages by state and by month, going further as to grouping states by regions. The regions are probably up for some debate, but I tried to match similar tornado states or known "alleys" such as Dixie and Hoosier together.
The oft-cited and most chased portions of Tornado Alley (i.e., much of the Plains) are simply broken up by north and south.
Quick link to regions…
West Coast | Intermountain West | Southern to Central Plains | Northern to Central Plains | Mid South | Western Midwest | Lakes and Midwest | Southeast | Mid-Atlantic | New York and New England

West Coast
California, Oregon, Washington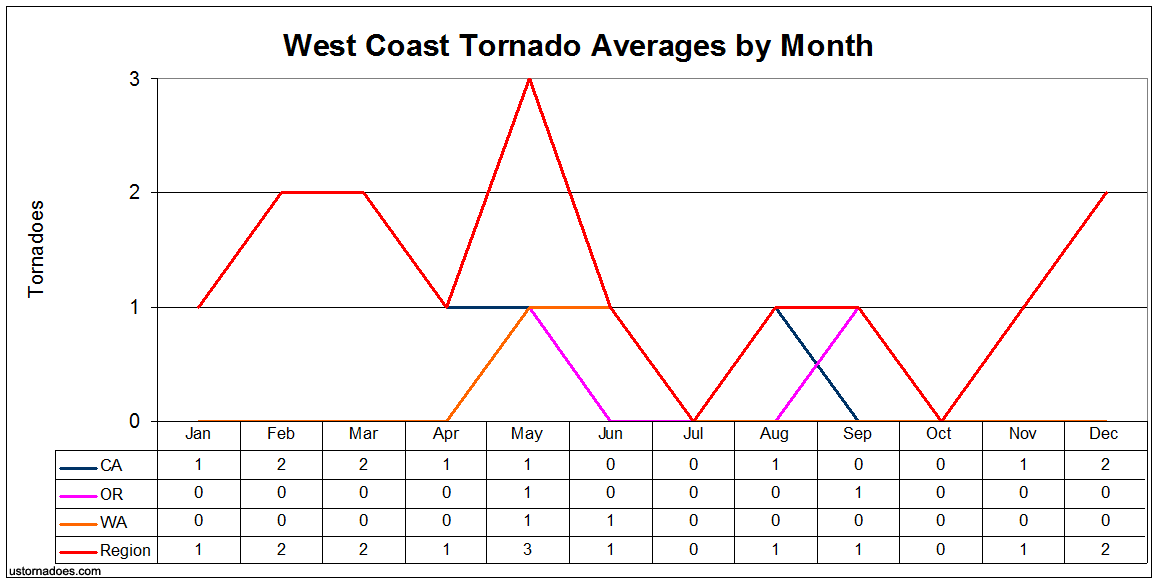 Average annual tornadoes: CA, 11 | OR, 3 | WA, 3
The West Coast features a somewhat irregular tornado climatology, at least as a region. California's tornado season is primarily during winter and spring, though summer tornadoes are sometimes noted, particularly across southern California thanks in part to monsoonal moisture. Further north, in Oregon and Washington, it's mainly the milder months when tornadoes are found, and they are generally few and far between.

Intermountain West
Idaho, Nevada, Utah, Arizona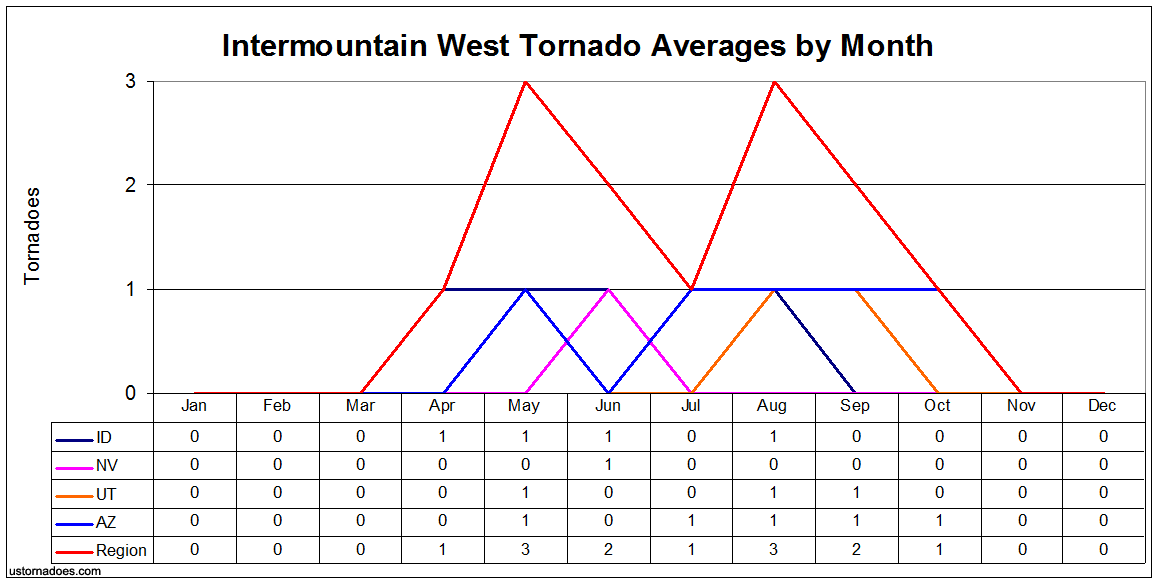 Average annual tornadoes: ID, 5 | NV, 2 | UT, 3 | AZ, 5
States making up the "intermountain west" (defined here as those fully within that region) also have a fairly irregular tornado climatology, and overall, tornado events are not terribly common in this area compared to most of the country. Tornadoes are more often than not entirely warm season based here, with May through September being the favored period overall. As Kathryn noted recently, just because tornadoes don't happen often in the mountains doesn't mean they don't happen!

Southern to Central Plains
Texas, New Mexico, Oklahoma, Kansas, Colorado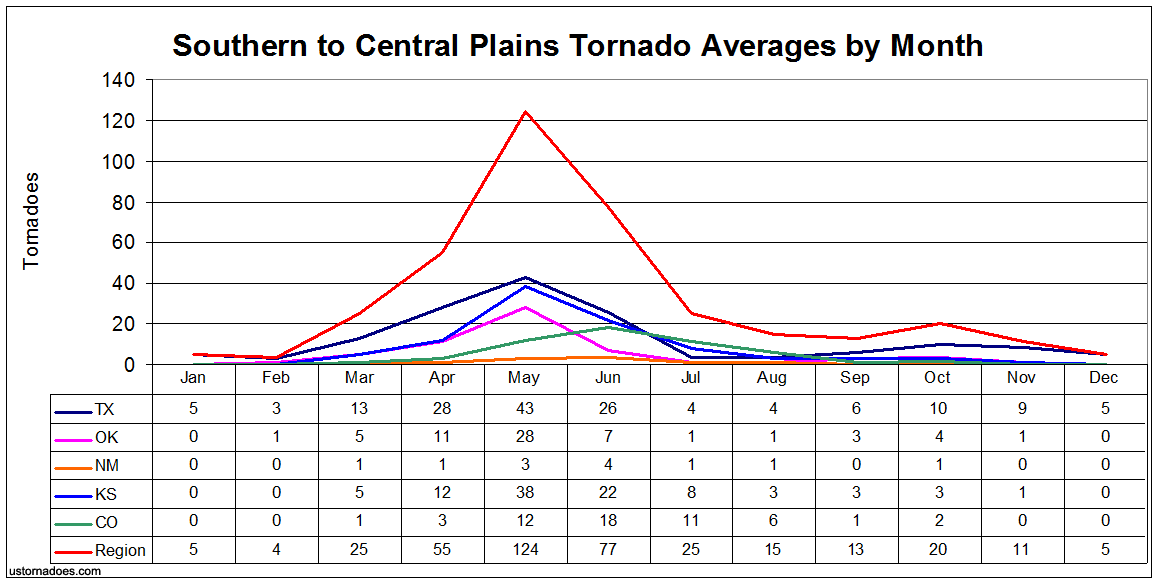 Average annual tornadoes: TX, 155 | NM, 11 | OK, 62 | KS, 96 | CO, 53
Parts of the Southern to Central Plains are often included in maps of the classic Tornado Alley, so it is no major surprise these states are generally quite active. The dominant tornado states in this region of Texas, Oklahoma and Kansas all see tornado averages peak in May. Texas is somewhat unique in the region, in that it has a tornado average in every month of the year. Both the western, and partly mountainous, states of New Mexico and Colorado see their tornado years peak in June on average. New Mexico ranks relatively low on the scale of big tornado states in part because it is tucked into an arid region, often to the west of the dryline, and it is harder to get moisture into the southern reaches of its plains.

Northern to Central Plains
Montana, North Dakota, South Dakota, Wyoming, Nebraska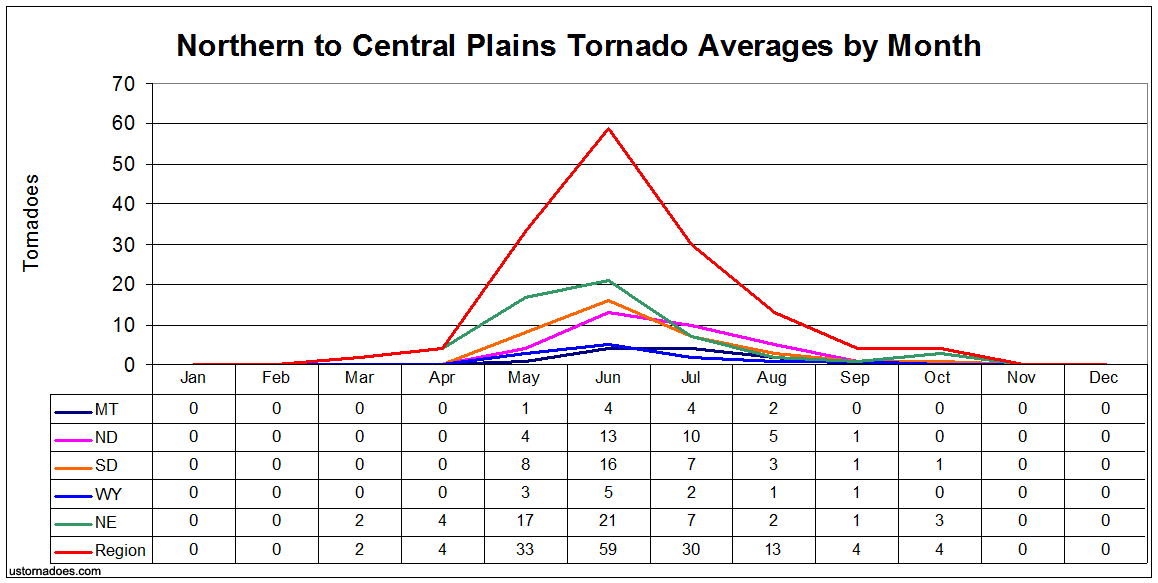 Average annual tornadoes: MT, 10 | ND, 32 | SD, 36 | WY, 12 | NE, 57
Many of the states in the Northern to Central Plains buckets fall within what is referred to as Tornado Alley as well, which also extends east into some Midwestern states detailed below. Being further north, and initially further away from the warmest and juiciest air, the peak of tornado activity is later than the states in the southern Plains. The seasons are shorter, and the opportunities usually less than further south. Though this is also where you'll find some of the most classic supercell structure thanks to that summertime heat. Nebraska, Wyoming, South Dakota and North Dakota all can typically expect tornado season to peak in June. Montana has about equal chances for it to be June or July.

Mid South
Arkansas, Louisiana, Tennessee, Mississippi, Alabama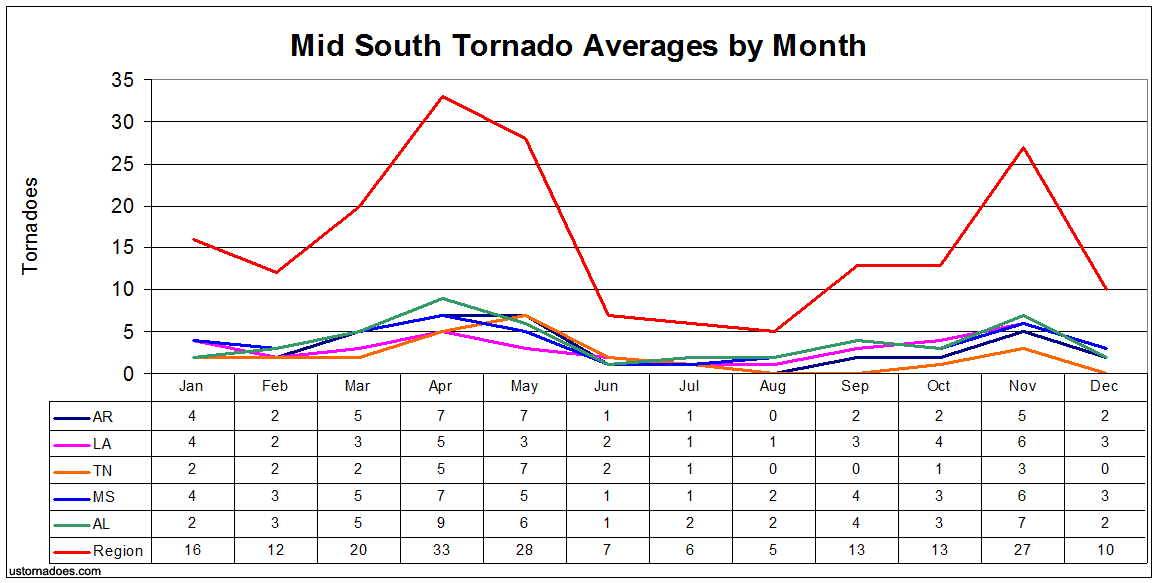 Average annual tornadoes: AR, 39 | LA, 37 | TN, 26 | MS, 43 | AL, 44
Large portions of the Mid South are also known as Dixie Alley. This is a region where tornadoes are probable just about all year long, and one known for a propensity to be home to long-track and damaging tornadoes. Peak season comes earlier here than in the Plains, often by April or sometimes (depending on location) May. A notable secondary peak is also seen in November (more broadly, fall) as storm systems begin dropping back south while a new cold season sets in. Summer is often comparatively quiet due to the jet stream residing well north, though waterspouts coming ashore and air mass tornadoes are possible.

Western Midwest
Minnesota, Iowa, Missouri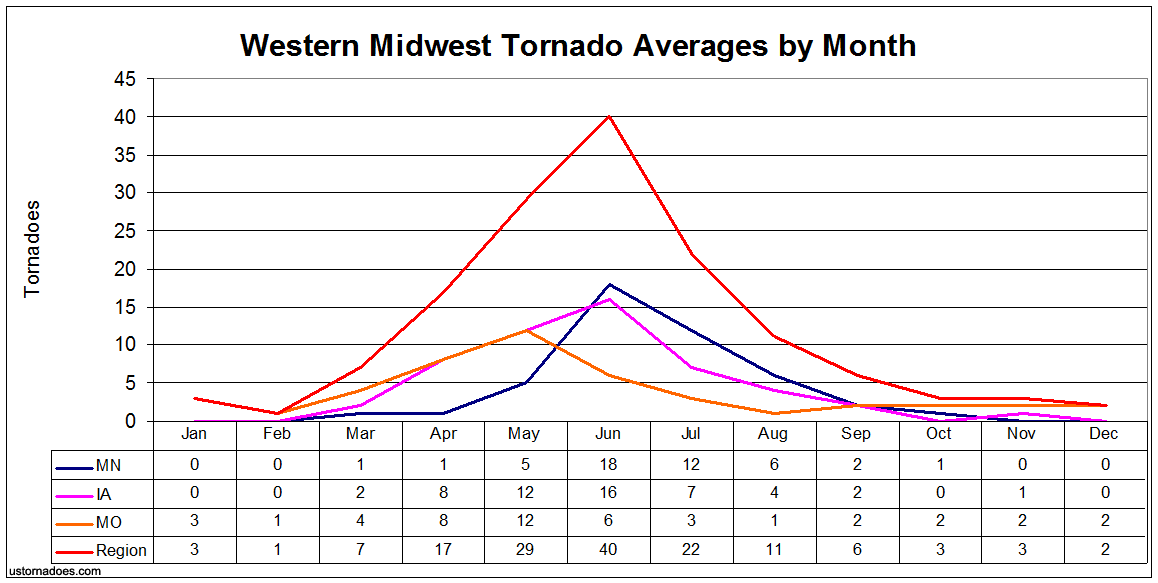 Average annual tornadoes: MN, 45 | IA, 51 | MO, 45
This set of states has a somewhat uneven distribution of tornadoes due to it covering considerable north/south distance. Missouri is a state that can expect a tornado just about any time of year, while Iowa and Minnesota are generally shut out in winter thanks to proximity to cold air source regions. The peak of the season for Missouri comes in May, while Iowa and Minnesota favor June or later in the northernmost reaches. Parts of this region, Iowa in particular, are often included in the Tornado Alley nomenclature.

Lakes and Midwest
Michigan, Wisconsin, Illinois, Indiana, Ohio, Kentucky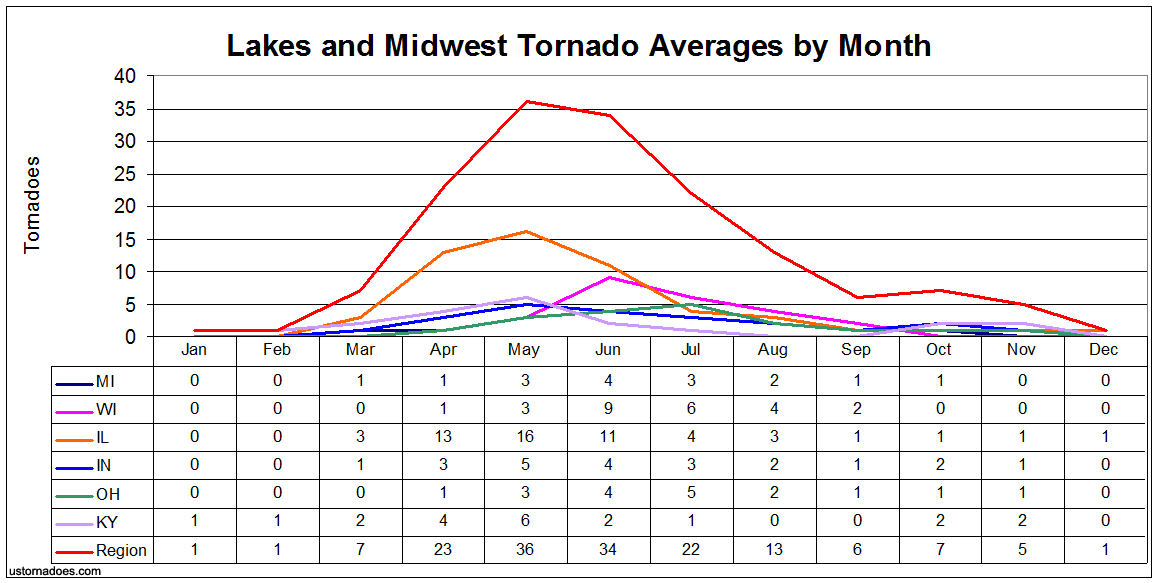 Average annual tornadoes:  MI, 16 | WI, 24 | IL, 54 | IN, 22 | OH, 19 | KY, 21
Southern portions of the Lakes and Midwest region (with Kentucky thrown in because it is considered part of Hoosier Alley) usually see peak tornado activity in May. Northern states like Michigan, Wisconsin and Ohio often record peaks in June or July. Illinois is particularly susceptible to tornado activity in April as well, at least compared to other states in the area, as energetic early-season outbreaks have hit that area hard.

Southeast
Florida, Georgia, South Carolina, North Carolina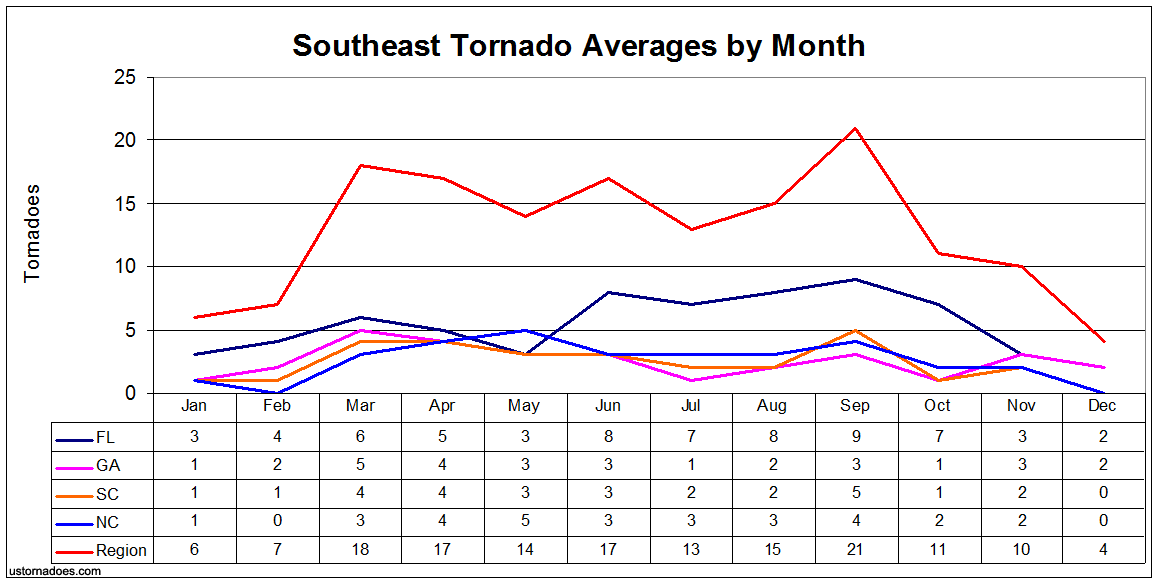 Average annual tornadoes:  FL, 66 | GA, 30 | SC, 27 | NC, 31
Like the Mid South, much of the Southeast can expect to see at least random tornado touchdowns in the region most of the year. Once into the Carolinas, it's more typical for winter to bring quieter times as moisture has trouble reaching that far north. A state like Florida has fairly erratic but continual tornado activity throughout the year, with tropical season favored as a peak. In states to the north, Georgia and the Carolinas both have springtime peaks, but then some activity throughout the summer and enhancement by tropical systems.

Mid-Atlantic
Pennsylvania, New Jersey, Delaware, Maryland, Virginia, West Virginia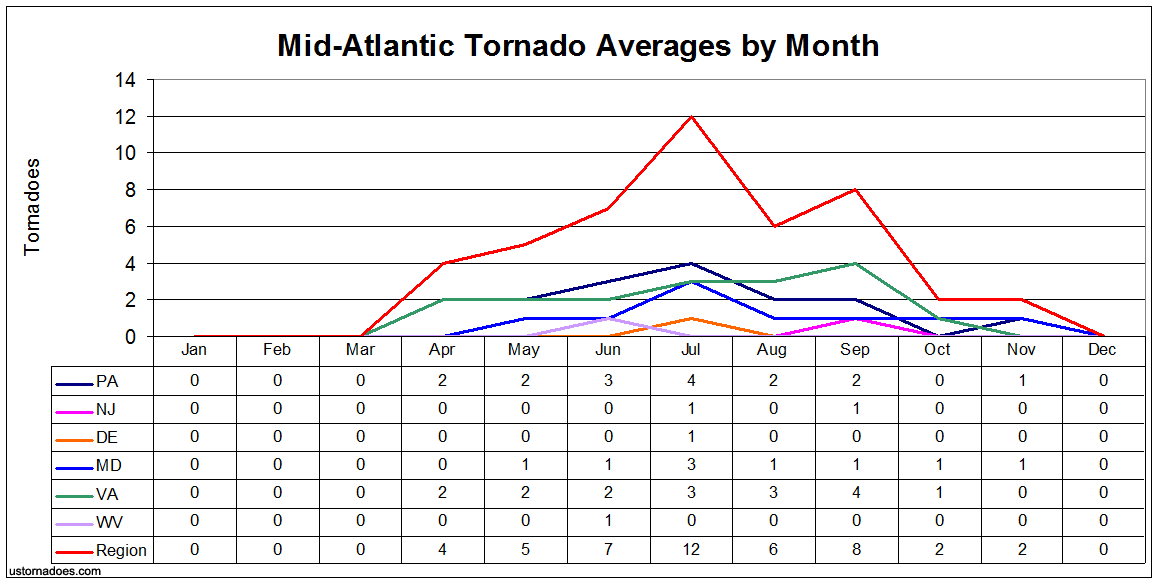 Average annual tornadoes: PA, 16 | NJ, 2 | DE, 1 | MD, 10 | VA, 18 | WV, 2 
Much of the Mid-Atlantic sees a consistent 8-month tornado season with low to moderate frequency of tornadoes throughout. Though some strong tornadoes (like the La Plata, Md. F4) have favored April in the Piedmont region especially, activity peaks with the early heat of summer in most spots. Enhancement from tropical systems is an important part of the tornado climatology of the Mid-Atlantic, mostly south of Pennsylvania. In Virginia, the current peak (influenced heavily by Hurricane Ivan) comes in September.

New York and New England
New York, Vermont, New Hampshire, Maine, Massachusetts, Connecticut, Rhode Island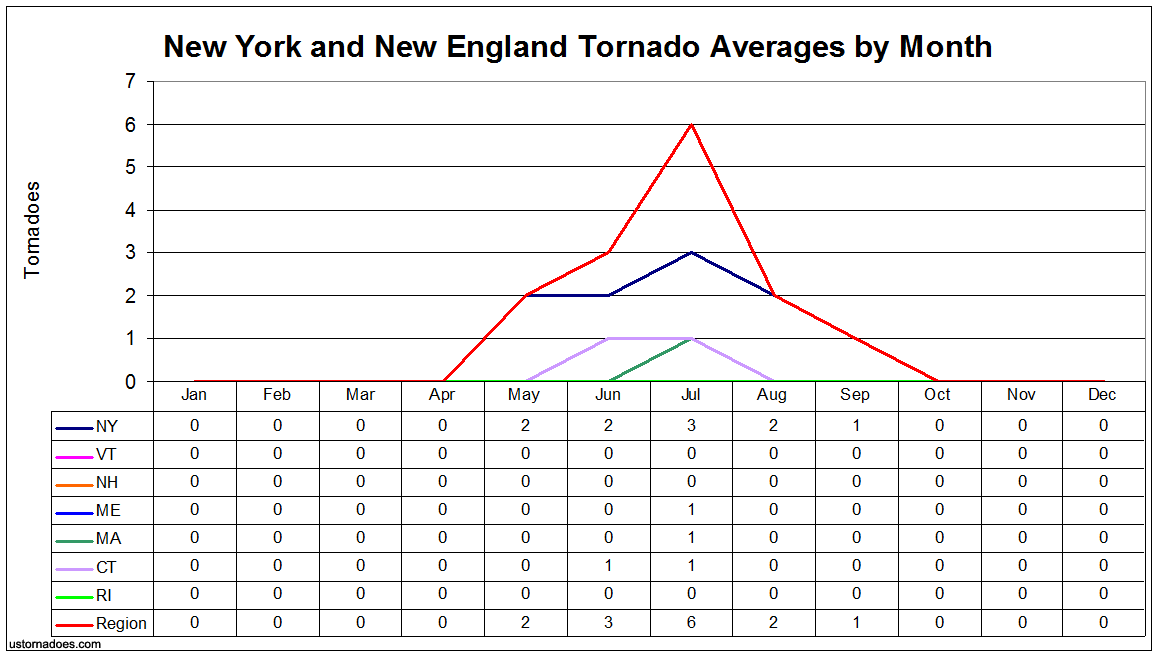 Average annual tornadoes: NY, 10 | VT, 1 | NH, 1 | ME, 2 | MA, 1 | CT, 2 | RI, 0
New York and New England have fairly short tornado seasons, with averages peaking in July and many locations not having much of an average to begin with. It's not as nebulous as a region like the West Coast though. New York, Massachusetts and Connecticut in particular have seen a number of notable tornado events throughout history and severe weather episodes occur with frequency in the summer. Torndao events tend to favor summer in the northeast, because the jet stream is often nearby and it is the only time of year abundant surface moisture usually makes it that far north.
Averages in this post are based off the same period (1991-2010) NOAA NCDC currently uses, and the numbers presented here come directly from that source. In most cases, these averages and peaks are fairly stable if we run a more recent 20 years, say 1993-2012. Major outbreaks like the one in April 2011 across the South can result in some increases in monthly numbers, but still largely fit in with the expected climatological peak in the region it occurred. Please also note that average annual tornadoes may not match the sum of monthly totals for a state due to rounding. 
The following two tabs change content below.
Defense and foreign policy researcher at a D.C. think tank. Information lead for the Washington Post's Capital Weather Gang.
Latest posts by Ian Livingston (see all)