November 2015 High Plains tornado outbreak was rare and historic for the region
Posted at 9:30 a.m. EST November 17, updated briefly at bottom at 8:30 p.m. November 18.
In a year of tornado setups that seemed to generally underperform, one of the most impressive patterns of 2015 set off a sizable tornado outbreak yesterday.
Given the lack of events to talk about lately, I figured it was worth a quick dive into the rarity of what occurred last night across the High Plains.
The simple fact we're talking High Plains tornadoes in November is probably a quick tip off to tornado observers. That's more typically a late spring and summer thing.
Rare for November…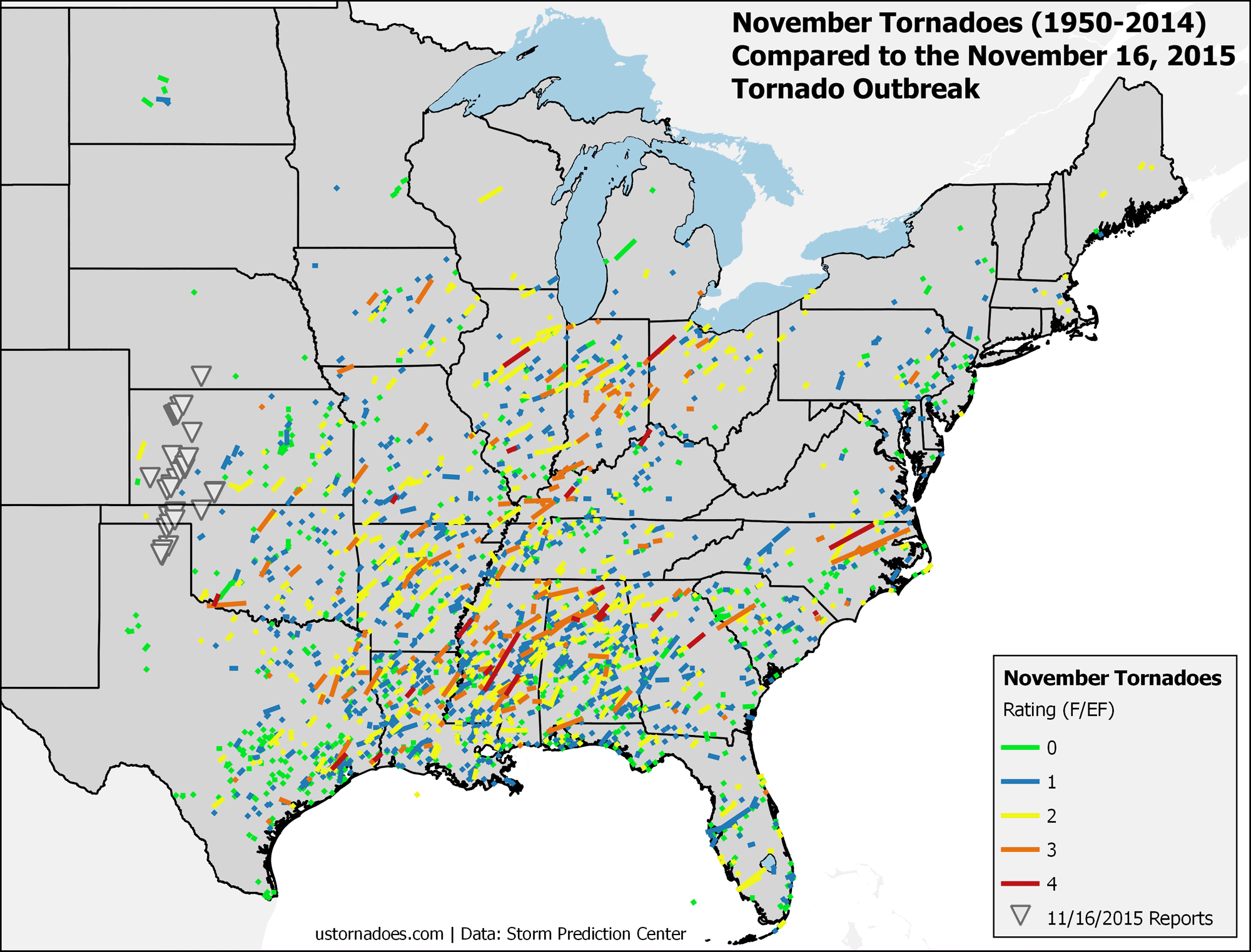 Looking at all Novembers since 1950 (when records began), this was an extremely atypical event for the month when it comes to location.
Related: Here's where tornadoes typically form in November
The tornadoes in the main body of the Texas panhandle, a number of which appeared to be very strong to even violent, were the first recorded there during the month.
Heading north through the rest of the main outbreak zone, very few tornadoes have been observed during November either. In Kansas, there are only two tracks to the west of last night's, and yesterday brought the first November tornadoes in northwest Kansas as well.
This event was larger than anything seen so late this far west in the central U.S. It rivaled some of the larger main-season outbreaks in that area.
…and the cold season
Why add December, January and February to November in the map above?
All are low-tornado months, so samples are small (a fraction of peak season each). All generally run into the same types of problems unless there's an anomalous event. Of course, November can provide some spring-like days.
Changes are minor, but continue to indicate considerable rarity to the western extent of last night's outbreak. Despite no November tornadoes prior to last night, the Texas panhandle has seen some weak tornadoes in both December and February, which fills in the map above a bit.
Similar to the only-November map, tornadoes are almost unheard of throughout the cold season from northwest Kansas and north.
How does tornado occurrence change wrt longitude throughout the year? Kinda looks like a supercell. #pyplot pic.twitter.com/SvEPInkZ3B

— Alex Haberlie (@alexhabe) March 26, 2015
Another fact the additional months help to highlight is that cool season tornadoes like the Mid-South and into parts of the Midwest. The most consistency is in the Deep South and Gulf Coast. Anything outside those higher-density regions (or California during winter) is not very common.
Strong tornadoes this late in the year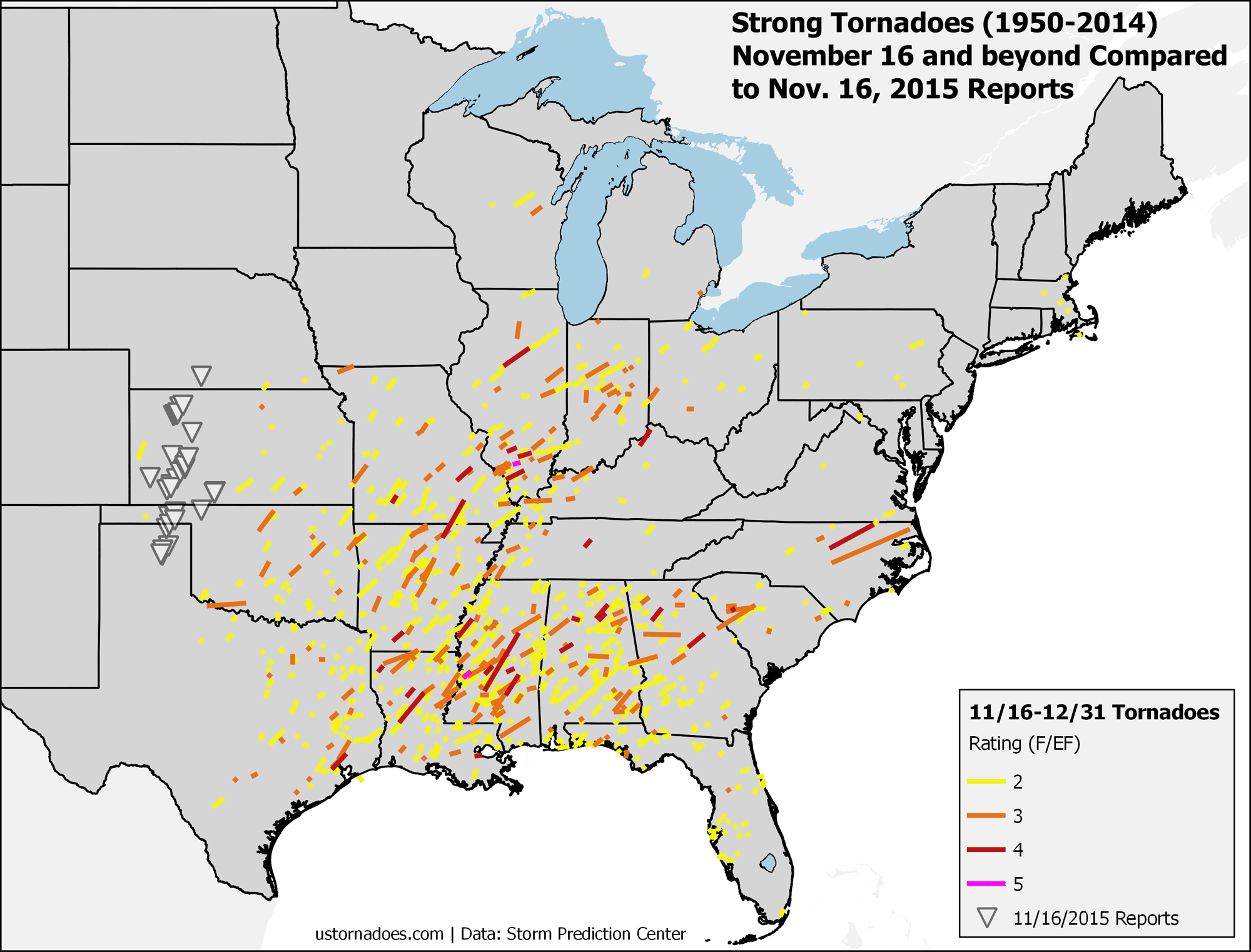 If any of these tornadoes were strong (F/EF2+), and it's likely they will be considering images and reports, there's even less company in the area hit on November 16.
Prior to this event, no strong tornadoes have happened in the Texas panhandle, or so far west in Texas this late or later in the calendar year. If we step up the ratings and attain an EF3+ number (the U.S. was still running behind this year), it will be the furthest west in the Plains this late.
There have only been two strong tornadoes recorded so late in the year in Kansas, and a handful in both Oklahoma and Texas. No F/EF4s+ have impacted the heart of the Plains this late. The only one that has been recorded west of the mid-south are happened near Houston on November 21, 1992. It was rated a 4.
El Nino what?
Given the rarity in all years, and the small sample of El Ninos in the period since 1950 when tornado records began, it's hard to say a whole lot more about the rarity in El Nino. It's arguably roughly as rare as overall, though there might also be hints it's not unheard of.
I looked over a quick grouping of similar "off season" events. One that came up was March 28, 2007. March tornadoes are probably slightly more common that far west in the Plains than in November, but not by much.
Mar 28 2007 looks like sort of a similar "out of season" event in the area targeted tonight. pic.twitter.com/9evHlKLEZO

— Ian Livingston (@islivingston) November 17, 2015
The March 2007 event dropped about five dozen tornadoes, five of which were EF3. It was a similar area with a number of long-track supercells. This was coming out of a weak El Nino.
Additionally, the El Nino fall of 1963 also featured a similar-looking event, at least as far as the pattern goes. It only produced one strong tornado in western Kansas (west of last night's activity) but it's possible several were missed. The system went on to produce a few more tornadoes further east in the days ahead.
As we head deeper into the cool season, tornado frequency — once this system is gone — should generally tend to continue to wane. However, a strong southern jet associated with El Nino may keep it relatively active across the southern U.S. through the winter.
November 18 update

Three EF3 tornadoes have been confirmed from the outbreak. One in southwest Kansas and two (from separate storms) near Pampa, Texas. Dodge City NWS has confirmed nine tornadoes in their warning area. Amarillo has confirmed at least a few.
These EF3 tornadoes were all west of where they've been observed so late in the season. The Kansas EF3 had a track length of 51 miles, making it the lengthiest track so far west this late in the year.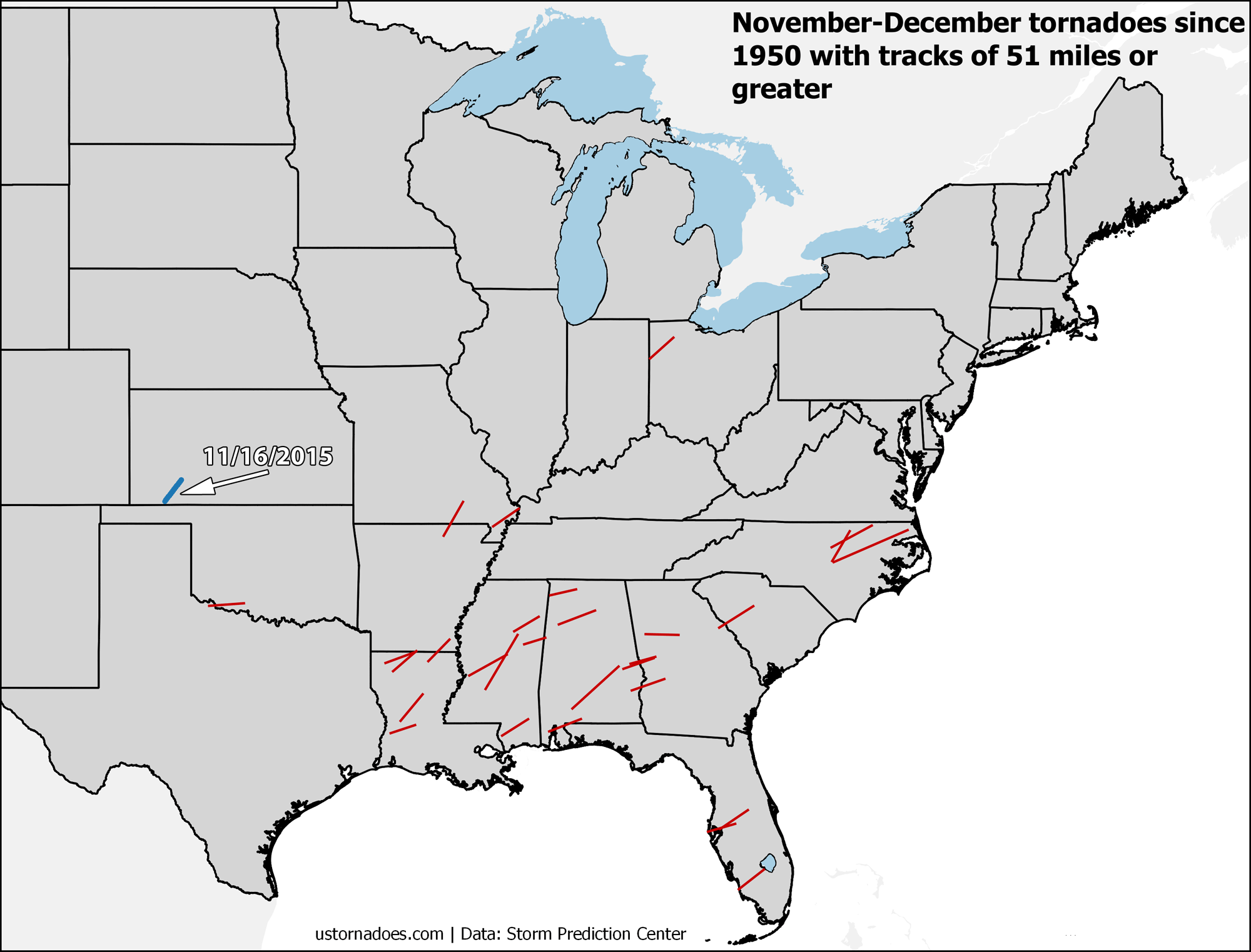 With three EF3s on November 16, 2015 also moves out of last place for cumulative tornadoes of this strength or stronger. The annual total now stands at 16, which is one above 1987.
The following two tabs change content below.
Defense and foreign policy researcher at a D.C. think tank. Information lead for the Washington Post's Capital Weather Gang.
Latest posts by Ian Livingston (see all)