5 underrated tornado chasing areas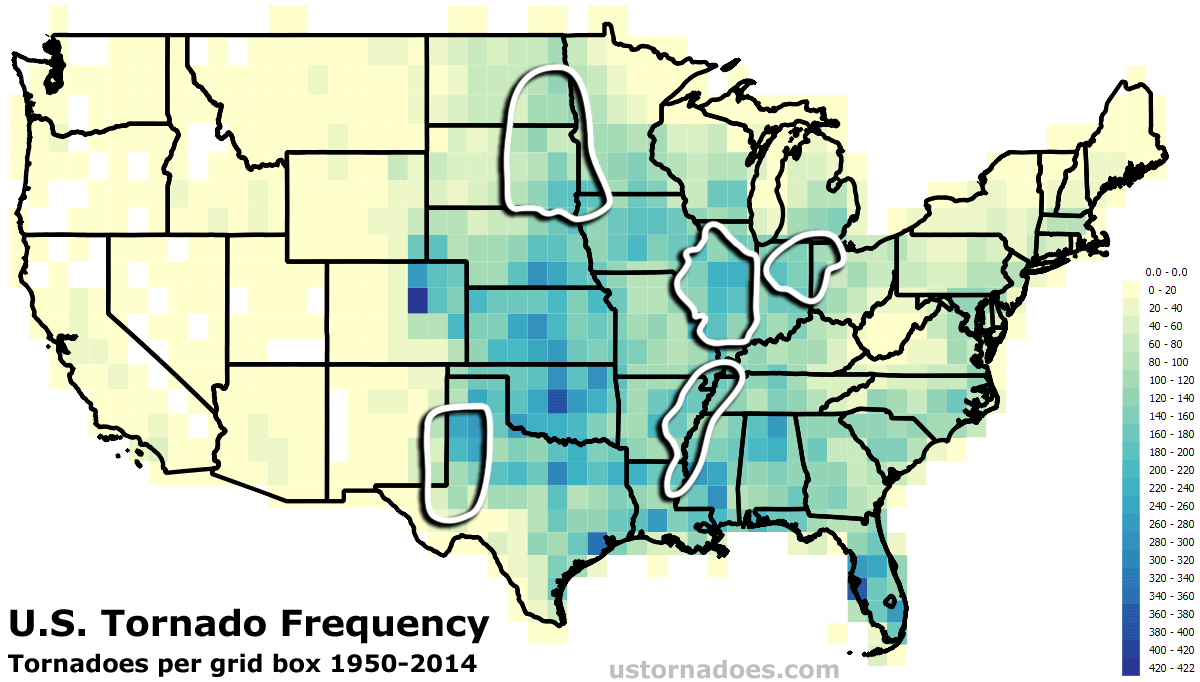 When thinking about tornado chasing, places that generally come to mind are typically Oklahoma, Kansas and Nebraska, in the heart of "tornado alley." Knowing that tornadoes happen all around the country, there are other areas that often get overlooked.
To unwrap some of the "best kept secrets" of tornado chasing, let's take a look at five underrated chase areas that regularly see tornadoes and have favorable terrain and good road networks.
Eastern New Mexico/West Texas: The southern High Plains between I-10 and I-20 features some of the best visibility of anywhere in the Plains. It doesn't get much more rural than this area, on the western outskirts of what is commonly referred to as tornado alley. At roughly the same longitude as eastern Colorado, this is very much a High Plains region that is going to benefit during an upslope flow event, even if moisture return is not particularly impressive.
In 2015, one of the most photogenic tornadoes of the year was captured by Brandon Sullivan in Big Spring, Texas. On average, this region can expect about three to five tornado events per year, but it's also about as far west as you can go in the Lower 48 and still average one significant tornado per year. April 17th, 1970 was a particularly notable localized tornado outbreak in this area, featuring four F-4 tornadoes in West Texas an F-2 tornado in eastern New Mexico. To top it all off, the road network is fairly consistent for chasers.
AMAZING #tornado today near Big Spring, TX! #txwx @breakingweather @NWSMidland pic.twitter.com/P7T27Yrz7U

— Brandon Sullivan (@BTSullivan91) May 5, 2015
Eastern Dakotas (and vicinity): This region lies near the northern edge of tornado alley, and recent violent tornado events in the area include Bowdle (2010) and Alpena (2014). Don't expect to chase up here early in the season, but if you can have patience and wait until late May and June, this is definitely a great spot to chase.
The road network is about as good as it gets across the central U.S., and because it is relatively far removed from the southern Plains, where most chasers live, chaser convergence is often not as big of a problem as in Kansas or Oklahoma. Don't overlook northwestern Iowa or southwestern Minnesota either. The favorable road network remains intact. Climatologically, tornado activity is common here into July, which can certainly extend the season.
Illinois: This is arguably the most chaseable state east of the Mississippi for a number of reasons. Local tornado hunters will probably tell you that they've had good success here. Not only does the tornado season stretch from April to August (with outbreaks in the fall too, like 11/17/13), but the road network outside of Chicagoland and the southern tip of the state is very chaser friendly.
Illinois does seem to be a fickle state for storm chasing, having some great tornado seasons and others lackluster. For busy times, just look at 2015. Northern Illinois was the place to be, starting right off the bat in early April (Rochelle, 4/9/15). In the radar era, Illinois is also the only state to experience an EF/F-5 tornado during the month of August. All things considered, Illinois is definitely a state worth chasing, especially if you haven't chased there before.
Northern Indiana/Northwestern Ohio: For chaseable, grid-layout road networks, you can't go further east in the country than the eastern corn belt. The tornado season here is spread out, with events ranging from April (Palm Sunday outbreak of 1965) to November (Veterans Day 2002), but the late spring to early summer period is generally the most consistent.
This is an especially appealing area to chase for tornado die-hards in the East, who may not have the luxury of taking an extended vacation to make a trip out to the Plains.
Lower-Middle Mississippi Valley: The area about 50 miles on either side of the Mississippi River from Vicksburg, MS to Paducah, KY takes advantage of lowlands with good visibility and workable road networks. Chasing here opens the "season" up to winter and early spring "Dixie alley" tornado events, as well as the sporadic fall tornado outbreaks.
As recently as the long track tornadoes of December 23, 2015, many chasers have boasted great success in this underrated chase area.
The underrated side of #Arkansas: pic.twitter.com/P1bKJ7jjVl

— Quincy Vagell (@stormchaserQ) February 14, 2016
Honorable mentions: Iowa gets a bad reputation for failing to meet expectations, but its chaser-friendly road network and terrain have coincided with many strong, long-track tornado events. Eastern Colorado has gotten a lot more attention in recent years and rightfully so. This is another fickle chase area, the High Plains from I-25 to the Kansas/Nebraska border often produces some prolifically photogenic tornadoes, sometimes with marginal atmospheric conditions that would fail to produce tornadoes farther east.
In the eastern U.S., there are not many areas that fall under the chaseable category, although arguments can be made for eastern North Carolina and the region between central Maryland and south-central Pennsylvania. The former may not have a great road network, but tree density is manageable and the area has seen its fair share of significant tornadoes. The region between D.C. and Harrisburg, Pennsylvania has a relative lack of trees in comparison to most of the East Coast, but urban areas can prove tricky for chase prospects. Some in the East prefer to use the term storm "intercepting" as opposed to chasing, hoping that you catch a clearing somewhere as a storm comes your way.
The West Coast is a whole different animal, but the central valley of California is another strip that can be chased. The road network is favorable, trees are not a big obstacle and tornadoes are not completely uncommon there. Other places west of the Rockies are largely unexplored by most chasers, but if you have a spot out there that you find chaser friendy, let us know!
The following two tabs change content below.
Meteorologist who storm chases around the country. Also enjoys photography and the outdoors.
Latest posts by Quincy Vagell (see all)