2017 is off to a record-breaking start for tornadoes and severe weather. Will it continue?
2017 has been off to as fast a start to the severe weather season as any in the modern record. Through the beginning of April, it's running neck-and-neck with 2008 for first place.
There have been outbreaks in each month of the year, and roughly 360 to 400 tornadoes so far. That's more than twice normal to date, and we've barely even started to wander through the beginning of peak severe weather season, which runs April-June.
The country is also in the midst of a two-week long onslaught of severe storms, with more on the way over the next few days.
There's no question it's a hot start to the year. Does this mean we're on our way to record severe weather throughout 2017? Does it mean anything at all? As with most things tornado related: it might, or it might not.
Big numbers early are compared to small numbers in a typical year
The January through March period is highly variable when it comes to severe weather. Quiet is the rule way more often than not. While vigorous storm systems frequently cross the country, it's winter and it's usually cold. Tornadoes seek warmth.
The average for the three months is about 140 tornadoes. The fact that the country was pushing 350 tornadoes to close March is a big deal. When final numbers are tabulated, it's even possible this year will end up higher than 2008 through the end of March. That year holds the number one spot for the first quarter of a year, with 360 tornadoes.
Despite large wintertime tornado outbreaks both this year and last year, any big cold-season activity is unusual. Across the modern record dating to 1950, a continually active cold season comes along every 5 to 10 years or so. The last was 2012, which was weighted toward March, and before that it was 2008. In the former's case the year eventually stalled out and finished below average. 2008 went on to be one of the most active on record.
Historical comparisons are tricky. Given improvements in tornado detection technology, and additional eyes from spotters and chasers, comparing tornado numbers to years too far in the past is often a frustrating journey.
Like most cumulative counts that include the weakest (F/EF0) tornadoes, there is something of a steady increase over time. Much of this is purely in detection ability. Doppler radars were installed nationwide in the 1990s. The same period also saw an increase in storm chasing, particularly from the 1990s through much of the early 2000s. More recently, dual polarization radar is likely showing us more tornadoes that we missed even a few short years ago.
How active first thirds of the year have ended up
While the early-season activity has most certainly been notable, especially given tornado fatality counts already surpassing the two dozen mark, the first few months of the year only make up a little more than 10 percent of the total tornado activity on average. An active January and February can quickly be superseded by a quiet May.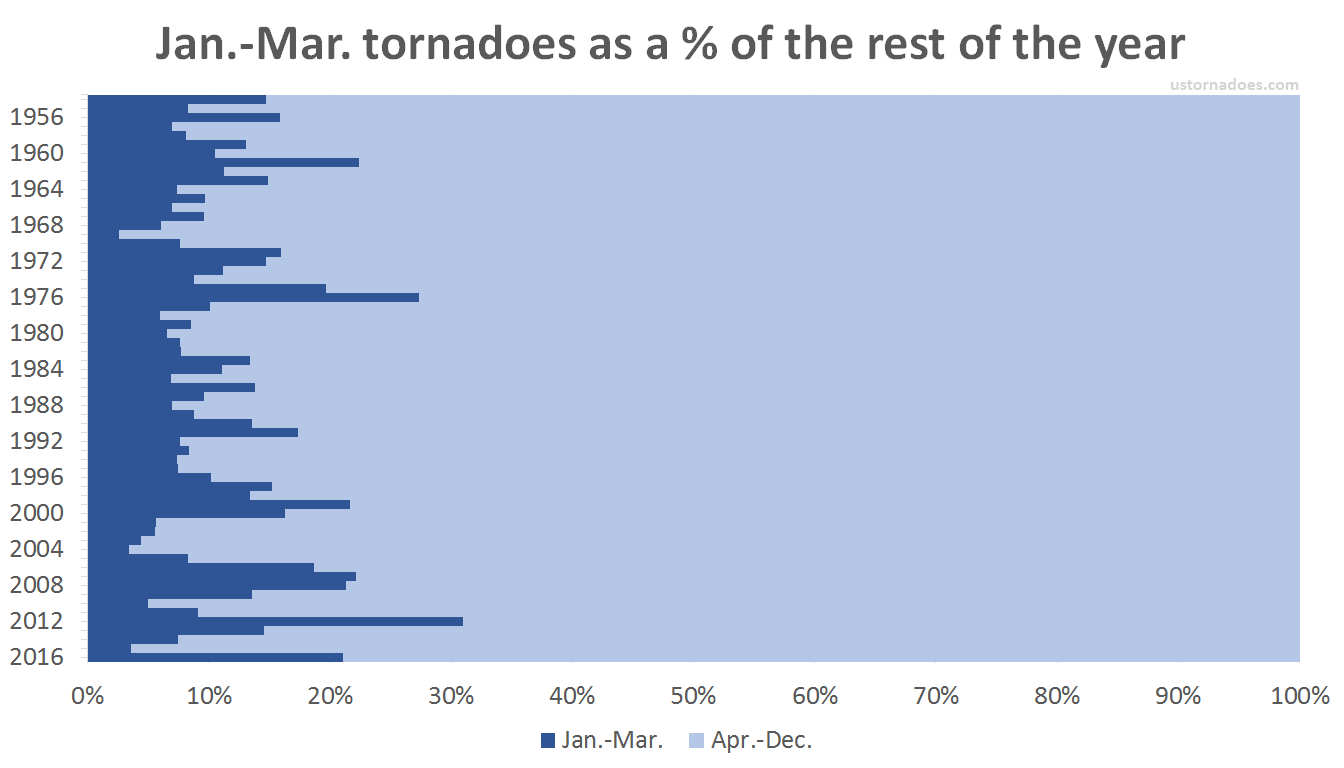 To attempt to put years on something of an equal footing over time, I used a trailing 20 year average to find above and below average periods over the past few decades.
20 years as an averaging period cuts out a lot of the already short record, but those older numbers aren't always super useful anyway. A trailing average has its negatives as well given a general slope upwards in reporting, but it generally does the job here. The averaging method leaves us with 47 years in the sample, inclusive of 1970 through 2016.
In this modified sample of the modern record, 23 years were above average in the January-March period, or just shy of one half. Of the years that had an above average January-March tornado number, 15 went on to have above average numbers for the remainder of the year. That's 65 percent of the time for fast starters, although I suspect the trailing average shows itself a little, especially in the earlier years.
But what if we put up an active April as well?
I long planned this article for the first work week of April, thinking I'd be ahead of the action for the month. Then the April 2-3 outbreak happened. April 2 was the second "high risk" from the Storm Prediction Center during what has become an overactive 2017. While the event could have been worse, it was another that sadly contained tornado deaths.
Given the start to this month and the forecast this week, it's only natural to start thinking about an above average April.
As we group then regroup our tornado years, we're into increasingly serious sample-size problems. Pretending that doesn't matter, we persist and come to a finding that about 70 percent of years with an active January-March went on to have an active April.
Rolling the idea forward for the year doesn't help strongly in confidence of a record breaker through the end. Even with an above average April after an above average January-March, past years would suggest just shy of a 60 percent chance of an above normal year. Better than a coin flip odds, but barely.
The idea of an active April is not hard to believe based on history alone. It's the period beyond that becomes murkier as varying paths to quiet can be found. Some is the fact that the biggest of big years tend to need help from the tropics. Predicting an active tropical season with Gulf of Mexico landfalls is certainly not easy from range!
Speaking of the Gulf of Mexico, it's warm and sending soupy air north. There has also now been a multi-month tendency for East Coast high pressure and West Coast low pressure. As long as these features in particular keep on doing their thing, it's hard not to favor active.
Ripe for more?
We just saw a significant severe weather event play out across the southern United States. The next one is slated to start delivering severe weather today in the Plains, and that risk heads to the South and Southeast tomorrow, where a higher end day is again possible.
Signs point to additional activity through the next week or so, intermixed perhaps with a shorter break. At least two or three additional storms look to cross the country in the short range.
Longer-range ideas suggest a generally favorable severe weather patter into early May. It's hard to sustain nonstop, so even in that scenario there would be breaks. With that in mind, April tornado averages are about 180, and climb to near 300 in May. Keeping pace is much harder in the days ahead than in the past.
Whether or not severe weather threatens you in the near future, with peak season here, now's a good time to think of what you might do if threatened.
The following two tabs change content below.
Defense and foreign policy researcher at a D.C. think tank. Information lead for the Washington Post's Capital Weather Gang.
Latest posts by Ian Livingston (see all)