Annual and monthly tornado averages for each state (maps)
Early every spring, the Storm Prediction Center releases final data for the year prior.
This year seemed like a good time to cook up tornado average maps for annual numbers, and every month individually, so we could have our own here on the site. I've followed the general methodology from the Storm Prediction Center, which currently has averages updated through 2013 using a 25-year period.
Details here are minimal, basically just the hard facts, given we already have a post that breaks down a lot of these ideas by state and region (that post may need some updating soon!).
Annual
An average of 1,224 tornadoes touch down per year across the United States.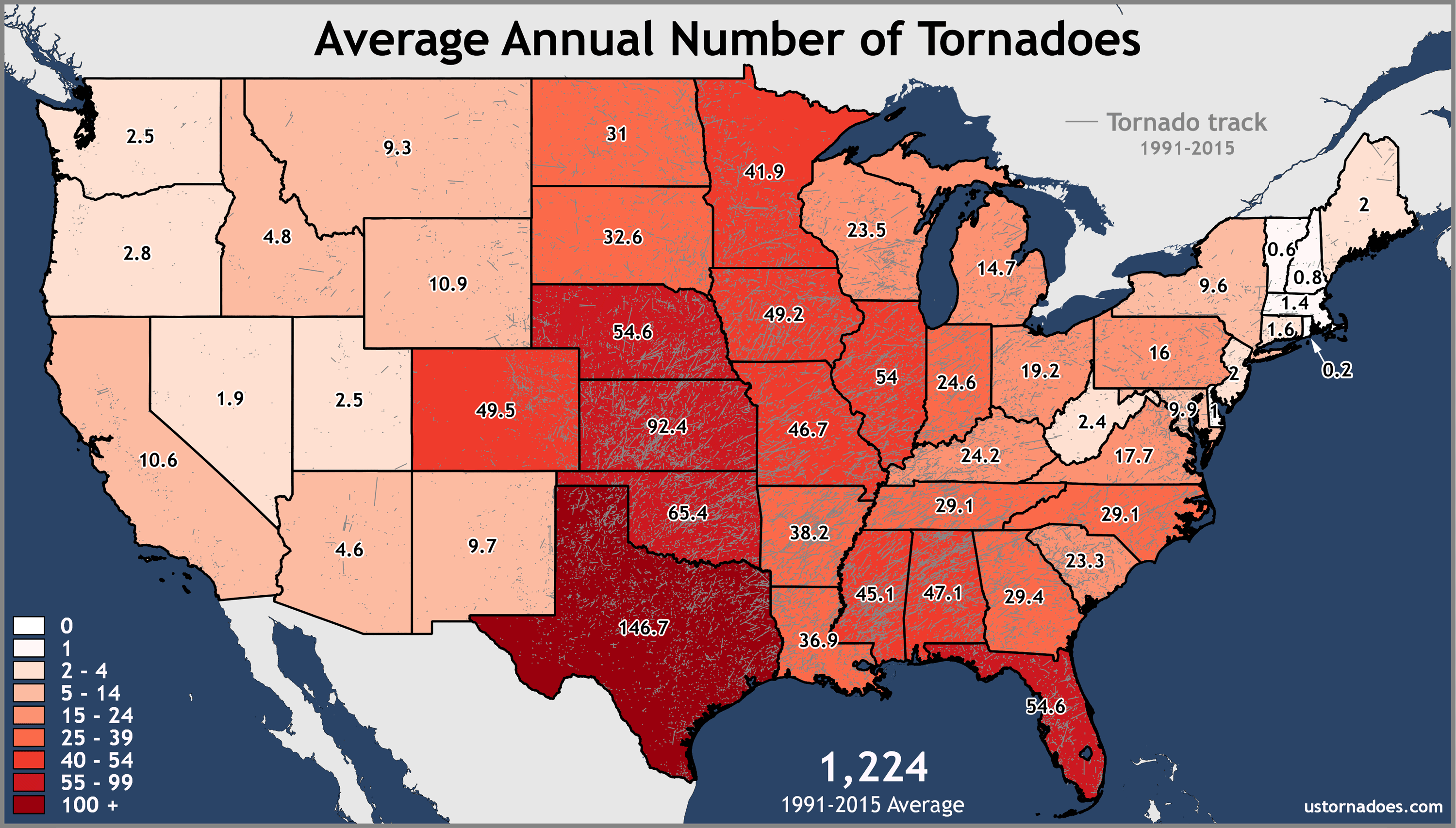 The top 10 states for tornadoes as of the most recent (1991-2015) average are as follows, in order from high to low: Texas, Kansas, Oklahoma, Florida, Nebraska, Illinois, Colorado, Iowa, Alabama, Missouri, and Mississippi.
While the southern into central Plains represents strongly, much of the South and Midwest ranks up there nearly as high as the states most frequented by tornadoes.
Jump to month: January | February | March | April | May | June | July | August | September | October | November | December
January
Of the 1,224 twisters in your average year, 36 tornadoes touch down in January.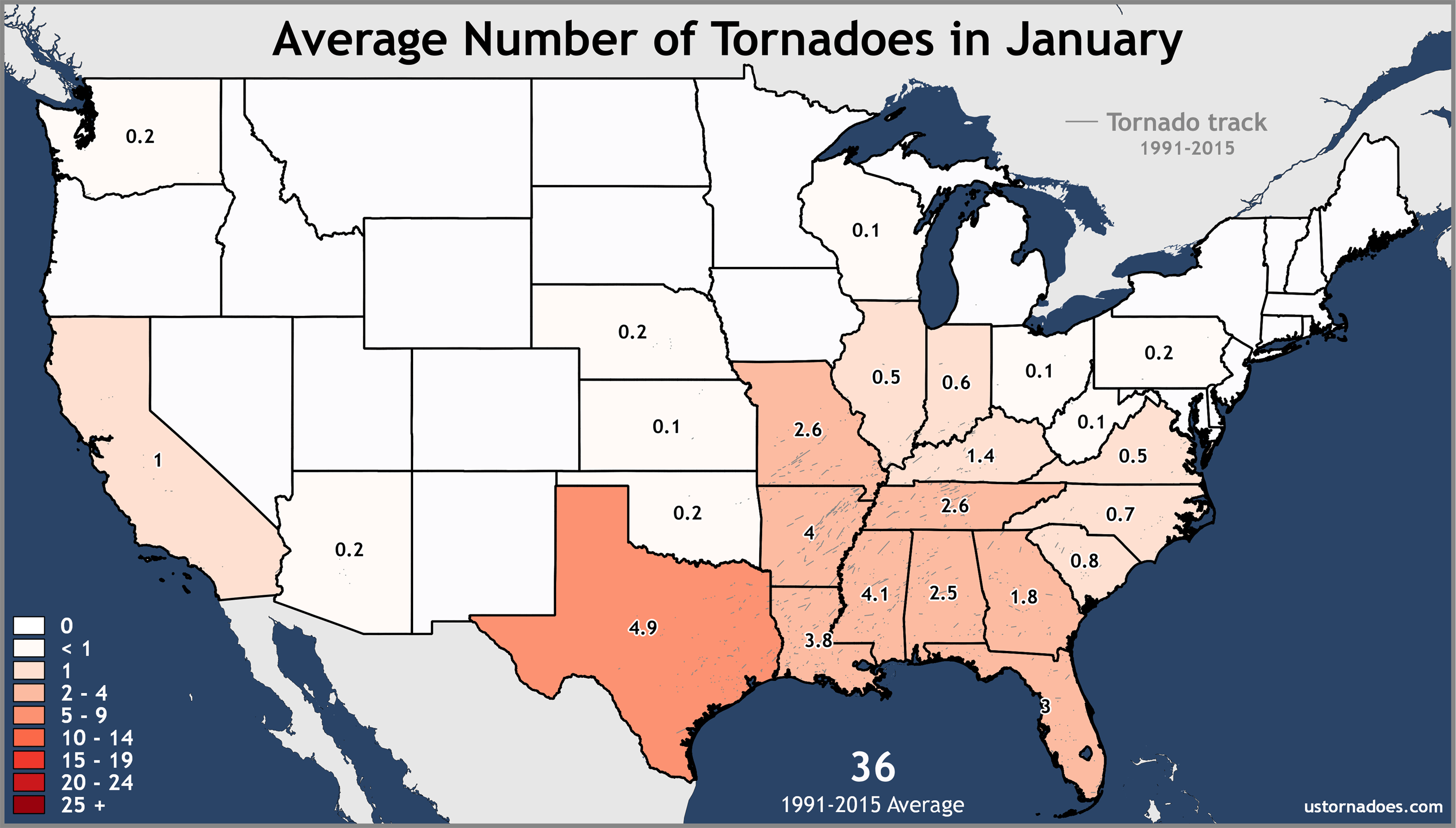 The top 5 states in order, all seeing three or more tornadoes in an average January: Texas, Mississippi, Arkansas, Louisiana, and Florida.
February
32 tornadoes occur in February, that's actually a slight downturn since January but basically a head-to-head match up.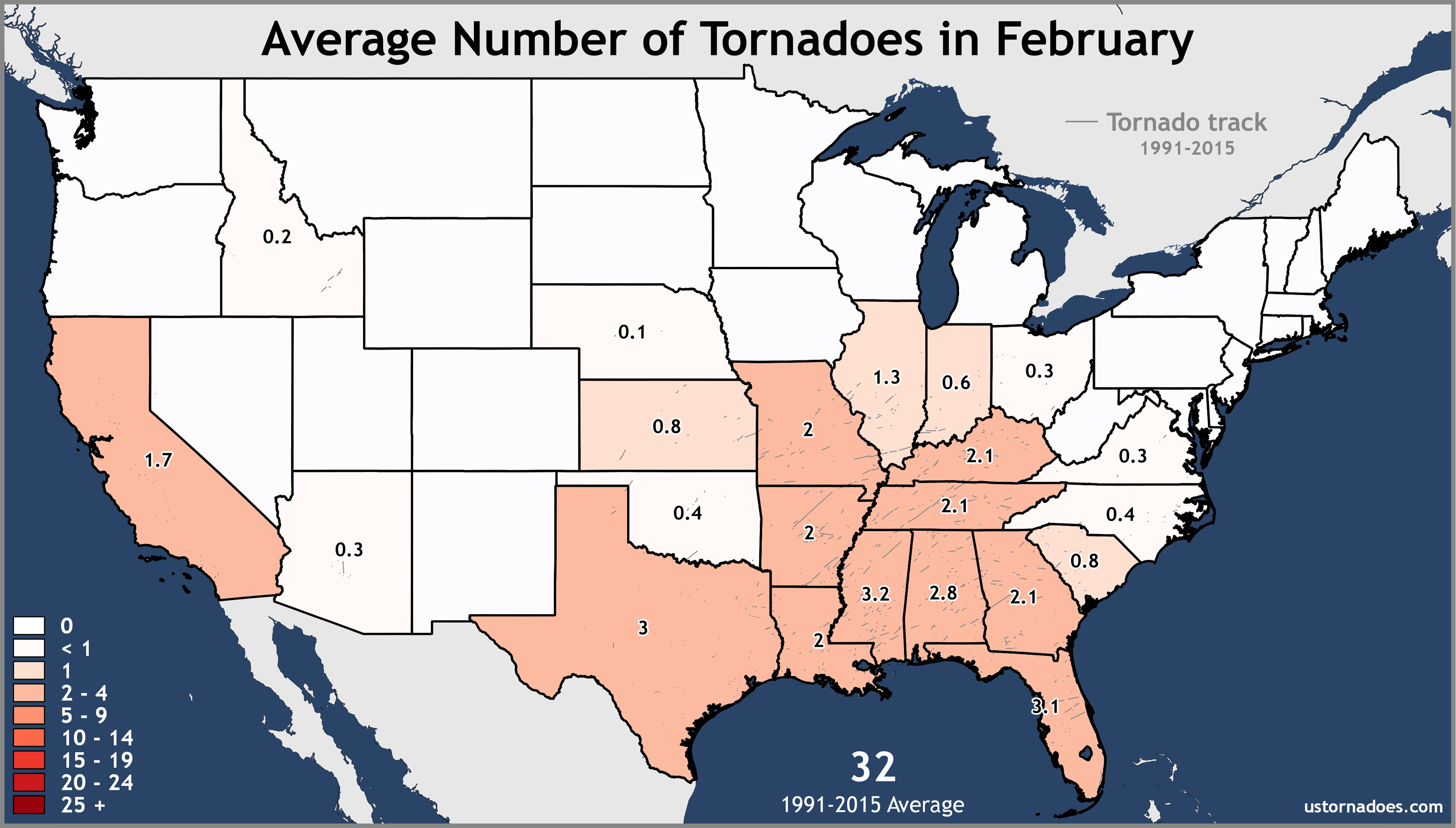 The top four states for tornadoes in February are Mississippi, Florida, Texas, and Alabama. Georgia, Kentucky, and Tennessee tie for fifth place. All see more than two tornadoes during the month.
March
The onset of the spring season is often apparent by now, at least in fits and starts. 75 tornadoes scour the landscape during March in an average year, with a majority striking the South, the Midwest and the Plains.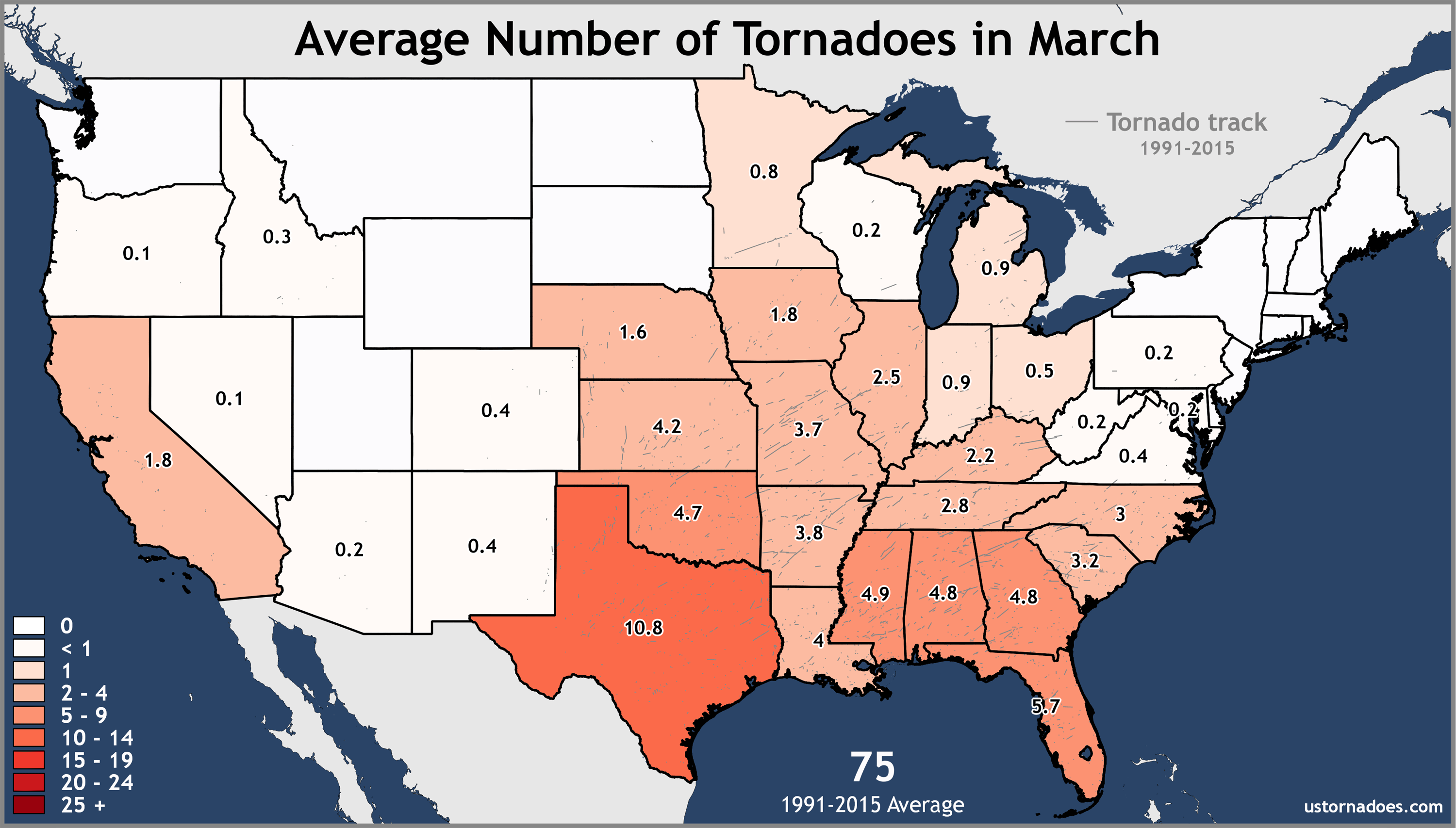 In March, these are your state leaders for tornadoes: Texas, Florida, Mississippi, Alabama, and Georgia. They all see five tornadoes during the typical month, as does Oklahoma, but it's un-rounded number is slightly lower.
April
As peak tornado season gets underway, April can still be hit-or-miss. 178 tornadoes touch down in April which puts it well ahead most months. And, of course, there are many memorable April events.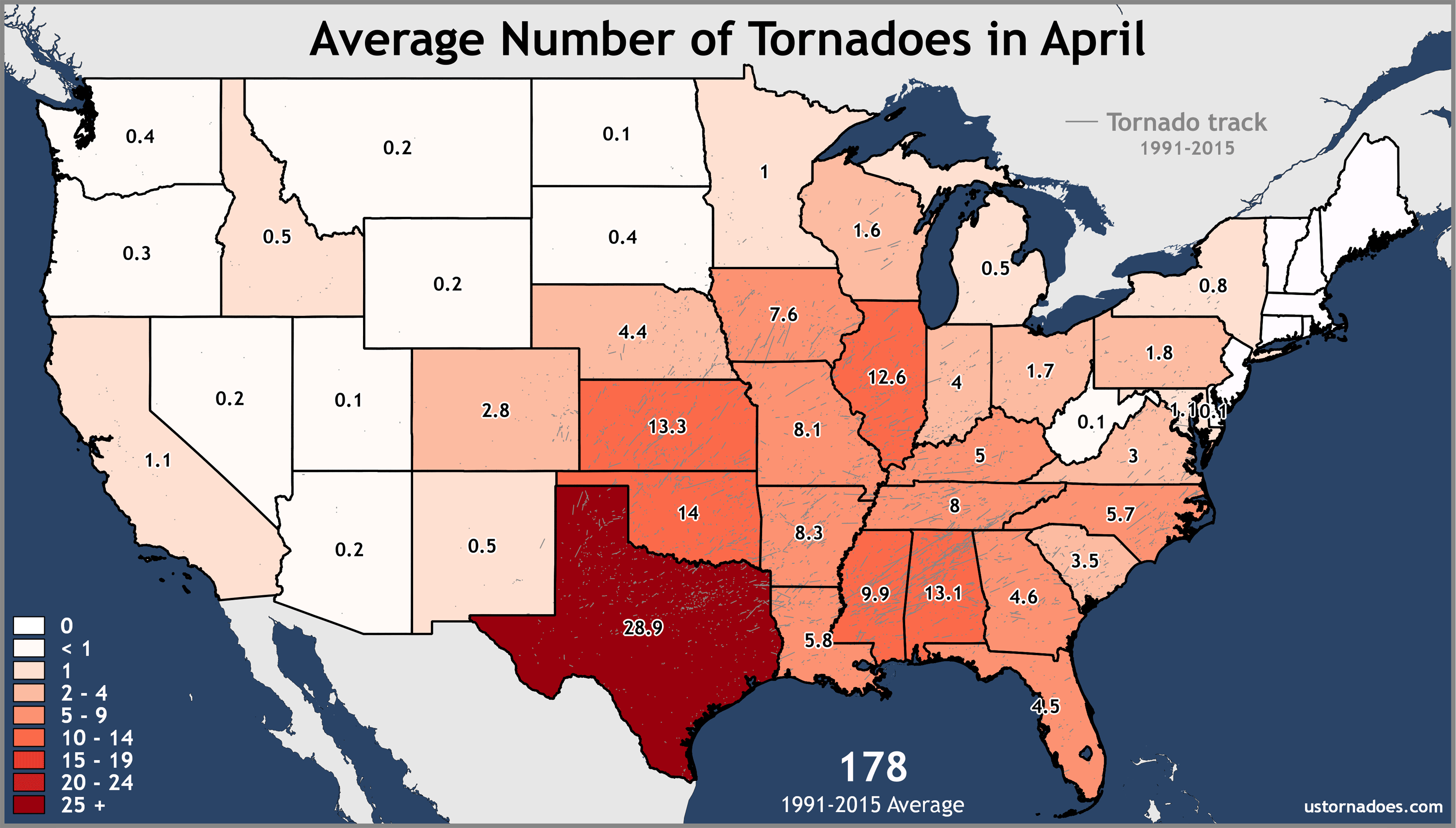 The top five states for April tornadoes all see 13 or more twisters on average during the month: they are Texas, Oklahoma, Kansas, Alabama, and Illinois.
May
"When it's May you chase," and hope these frequent beasts manage to miss population. 269 tornadoes occur in an average May, the highest tally of the year, and continually backing northwest into better storm chasing terrain across the Plains.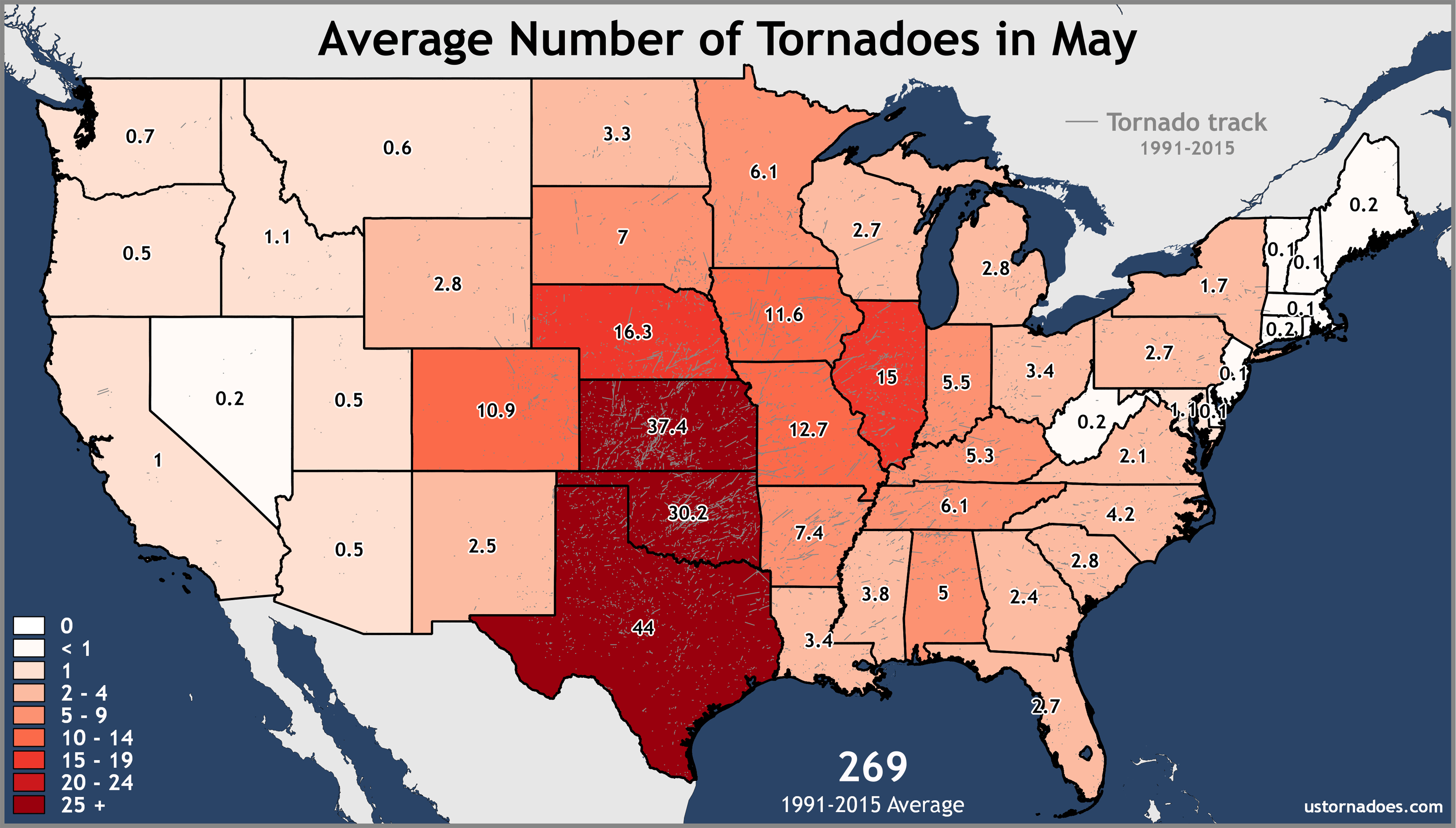 The states most frequented by May tornadoes include Texas, Kansas, Oklahoma, Nebraska, and Illinois. Each of these states sees 15 or more tornadoes in the average May.
June
At least the second best month for storm chasing. 229 tornadoes touch down in June as the final month of peak tends to target the high Plains, the northern Plains, and the Midwest. This can be an active Chicago to East Coast month as well.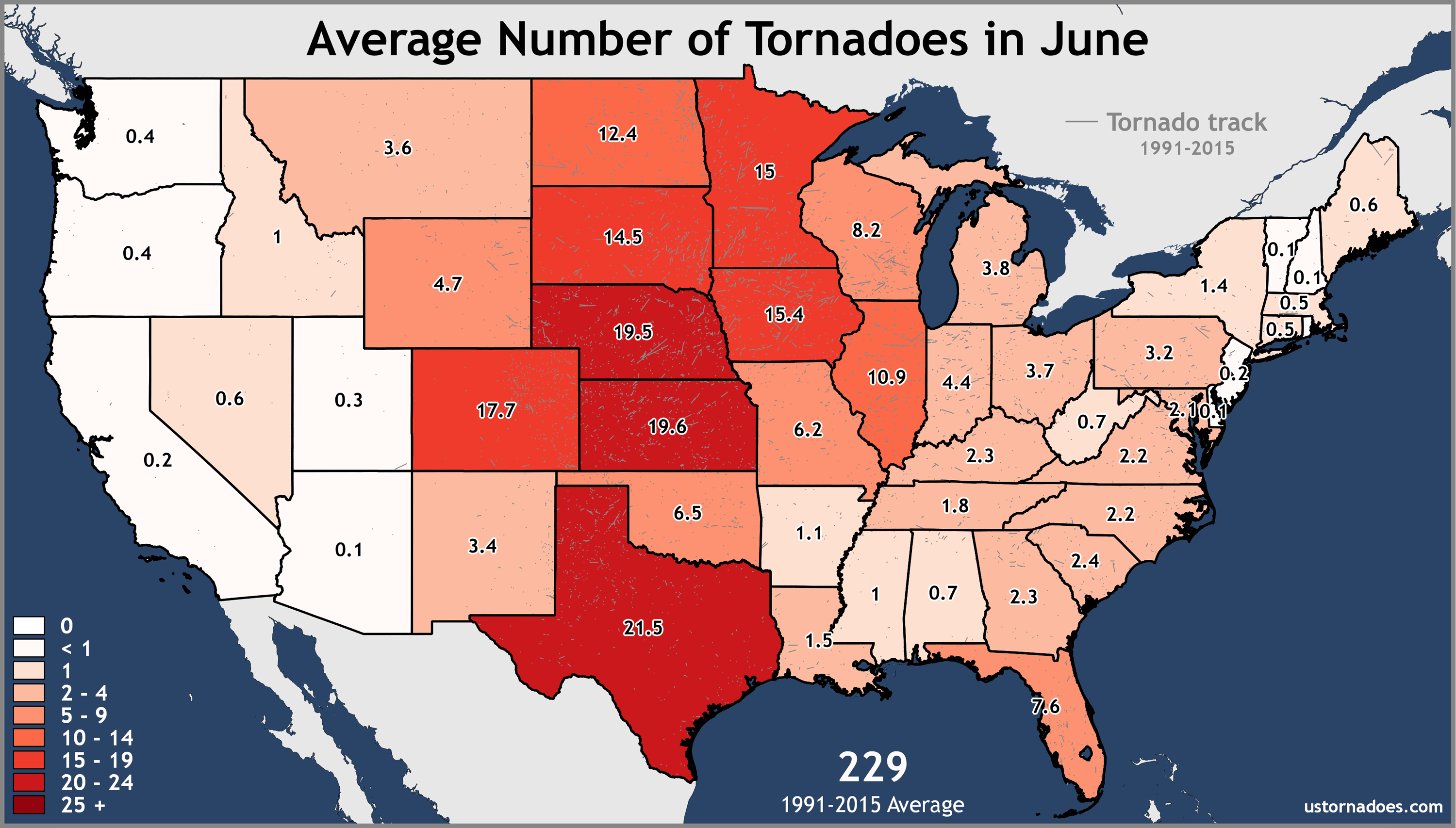 The top five states for June tornadoes are Texas, Kansas, Nebraska, Colorado, and yes, Iowa. All see 15 or more tornadoes in June on average. Minnesota also comes in with a 15 but a lower stature one than Iowa's.
July
Tornado "patterns" begin to lose coherency in July but the migration north and west generally persists. 123 tornadoes happen in July on average, the fourth highest of any month. This is another month which tends to target the northeast U.S.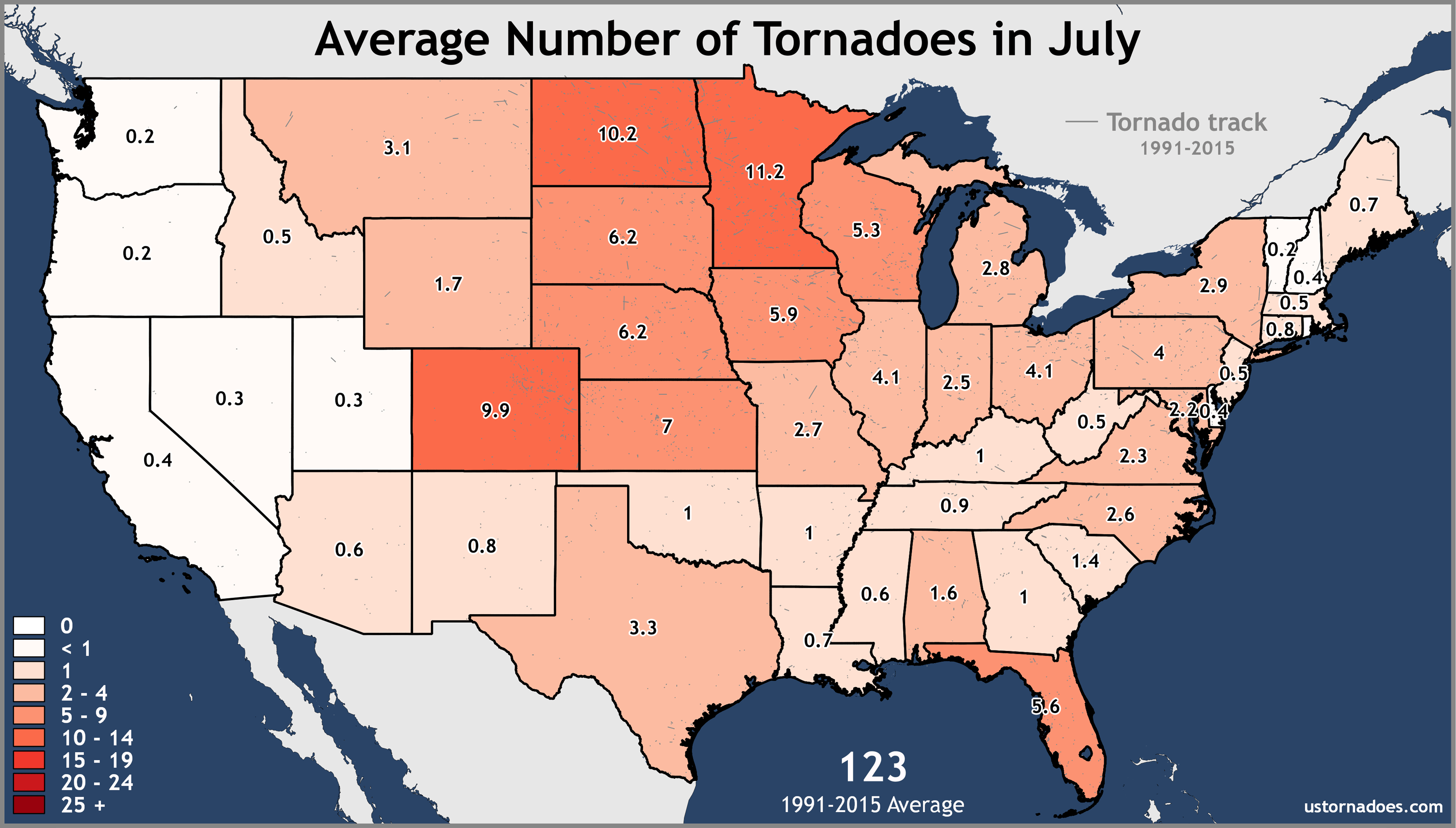 Perhaps the most notable thing about July is that giganto-state of Texas doesn't show up on the top list. All with six or more tornadoes, here are July's favored states: Minnesota, North, Dakota, Colorado, Kansas, and Nebraska.
August
August is kind of like a deflated July. There are often tornadoes all over the place, just not many in one spot. 75 tornadoes touch down in August on average, which makes it the March of late summer.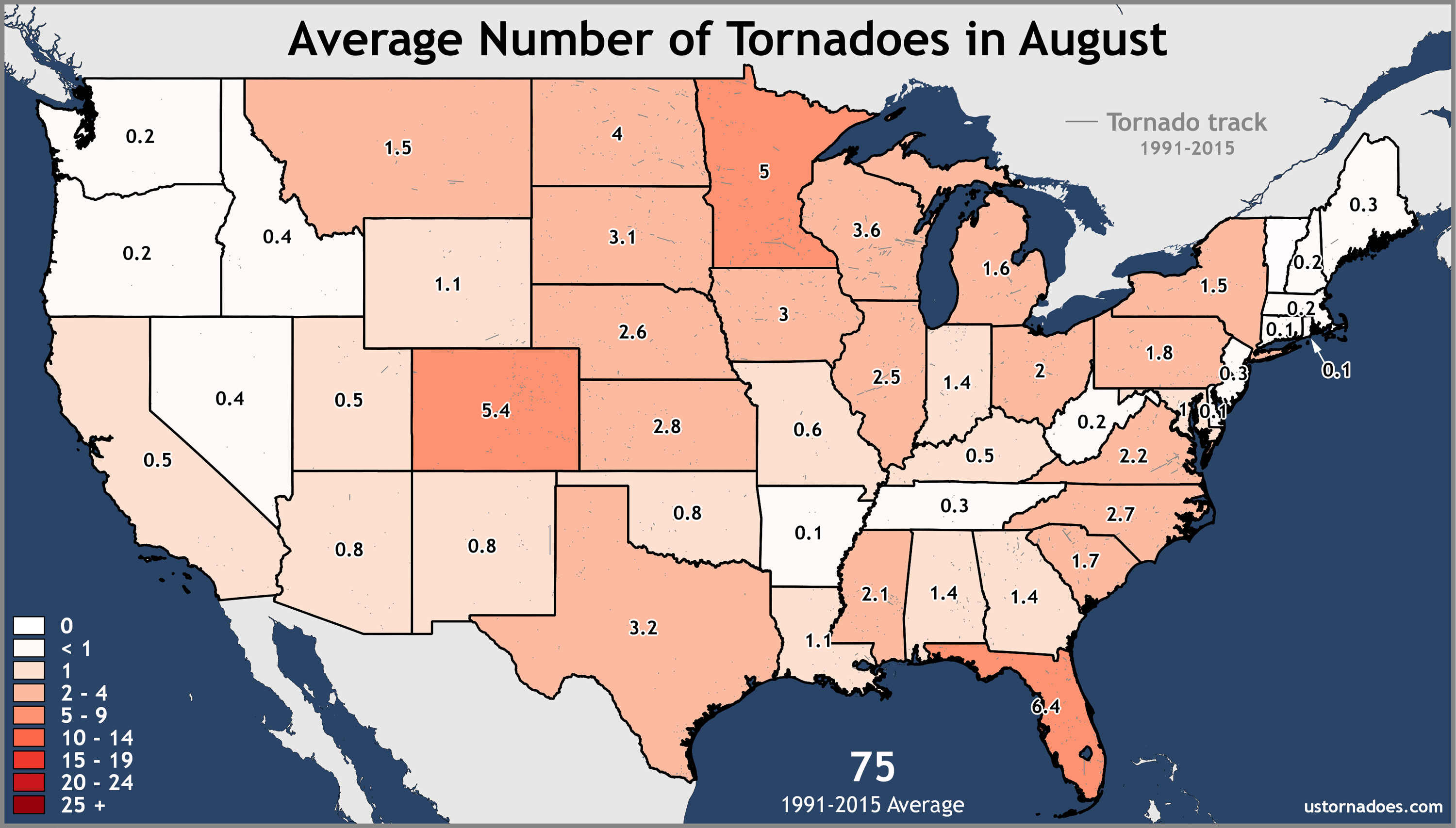 The leaders for August again don't include a state starting with T and ending in EXAS. Florida, Colorado, Minnesota, North Dakota, and Wisconsin win this mish-mash lottery. They all see four or more tornadoes when their numbers are rounded.
September
September features 66 tornadoes on average, usually continuing the August deflation. It also shows the beginning of a southward constriction back toward the Gulf warmth headed to winter. There's also a tendency for tropical influence in the South and mid-Atlantic.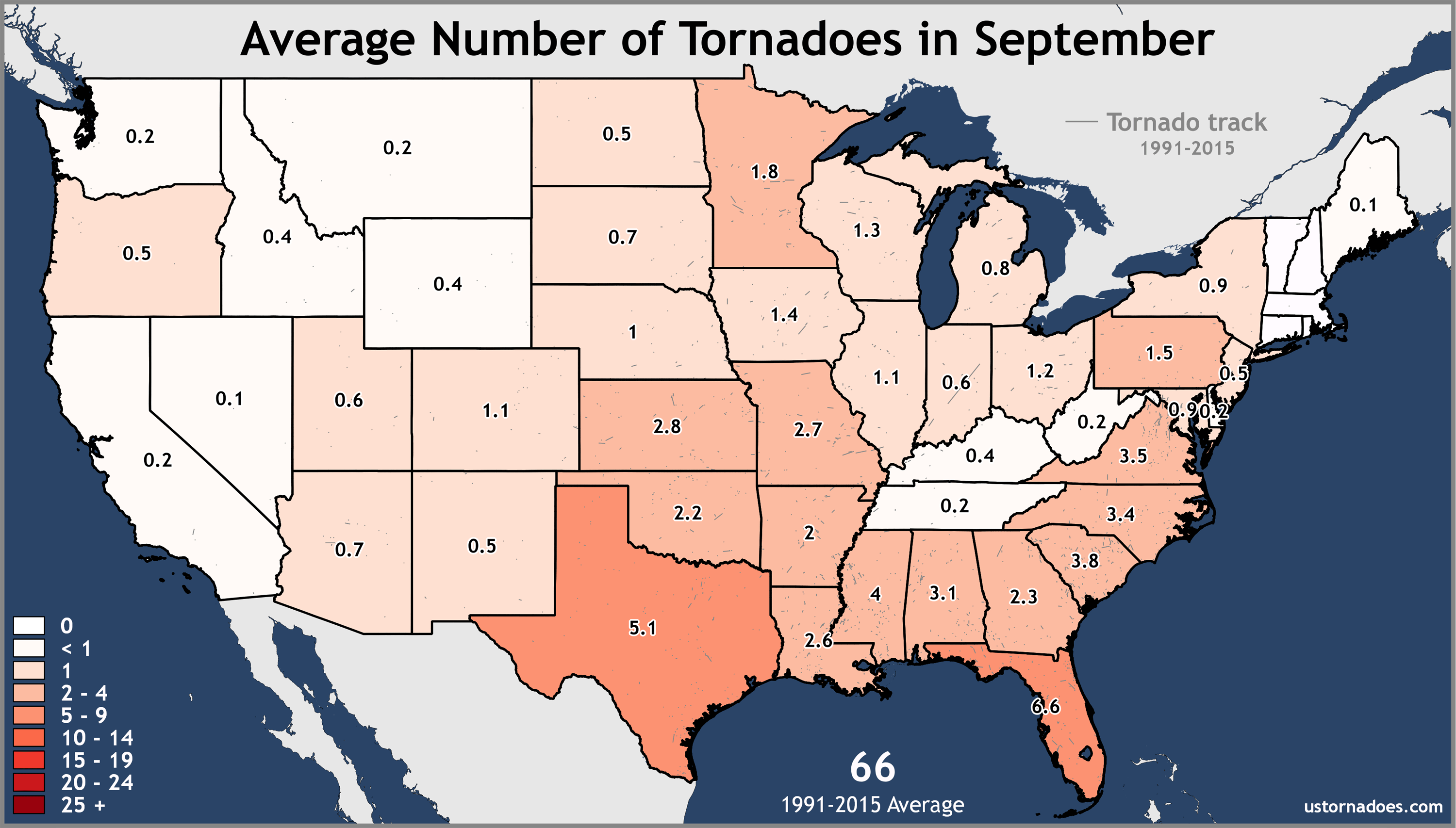 The top five states for September tornadoes all see four or more when their averages are rounded. Florida, Texas, Mississippi, South Carolina, and Virginia lead the way.
October
Tornadoes continue to wane into October, but much of the nation has still been impacted during the month. There are 58 tornadoes in October on average, and the Plains into the South become a favored zone once again.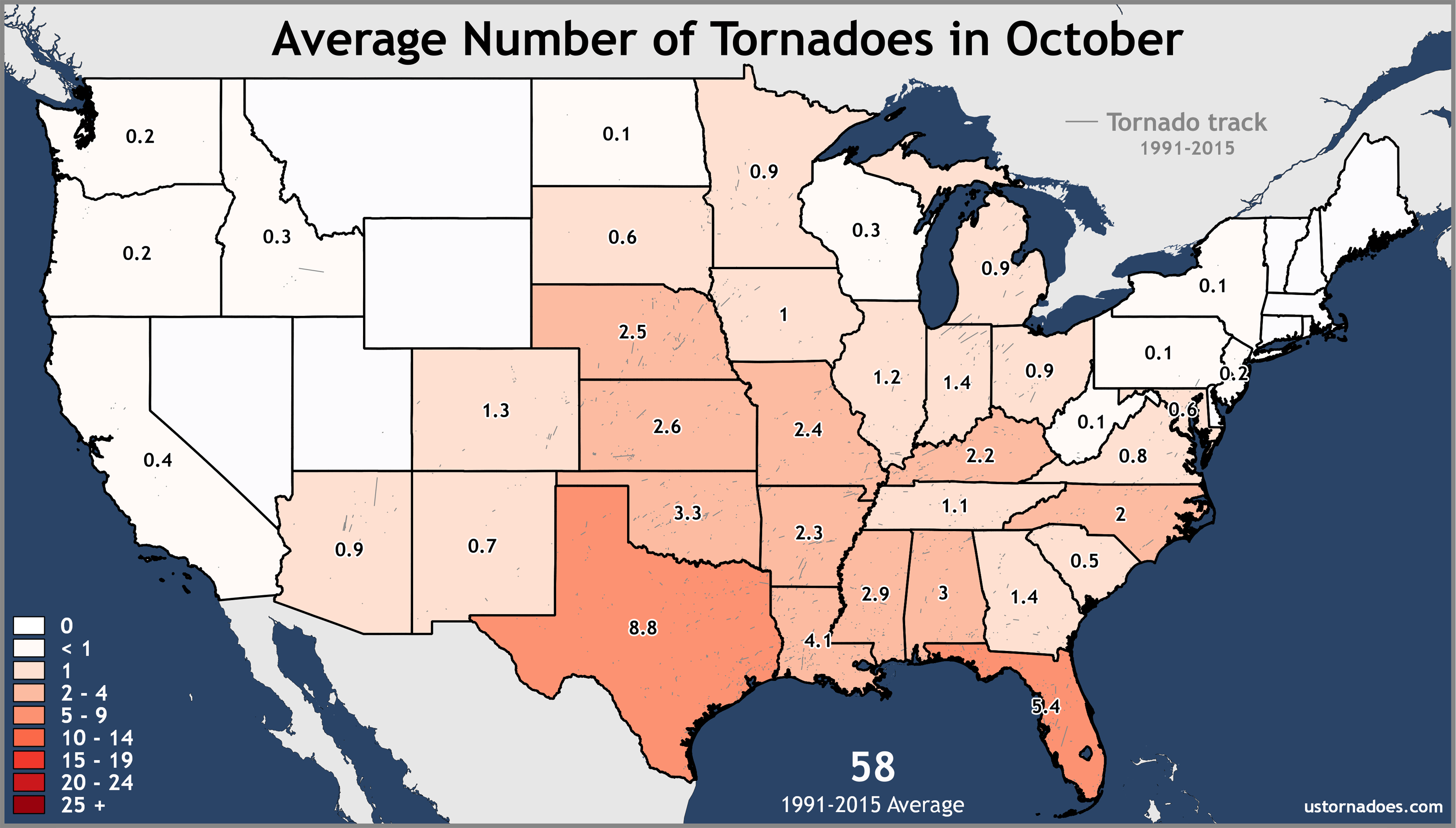 October tornadoes like the following states most: Texas, Florida, Louisiana, Oklahoma, and Alabama. Each sees three of more tornadoes on average. Rounded up, Mississippi, Kansas, and Nebraska also reach that mark.
November
November, like October, can be part of "second season" in many years. It's usually nothing like the first season and doesn't always occur. Although the average count drops to 56 tornadoes across the country in November, numbers go up across the south from October.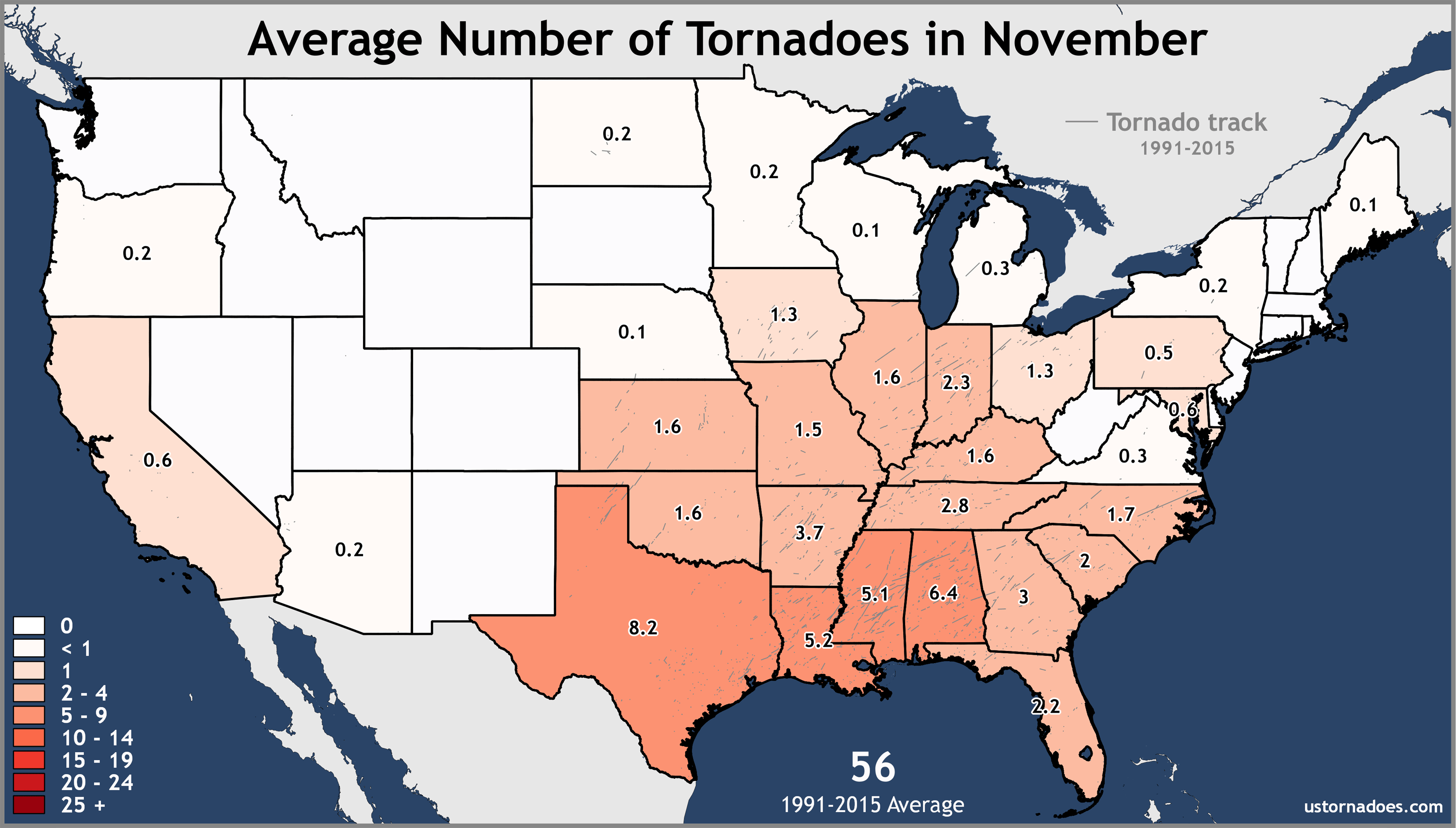 If you're looking to see a November tornado, you might want to hang out in these states: Texas, Alabama, Louisiana, Mississippi, and Arkansas. They all tend to see four or more during the month.
December
This is not a month to sleep on, as 2015 sadly reminded us. However, it's the low point of the tornado year right now, 27 tornadoes occurr in December on average.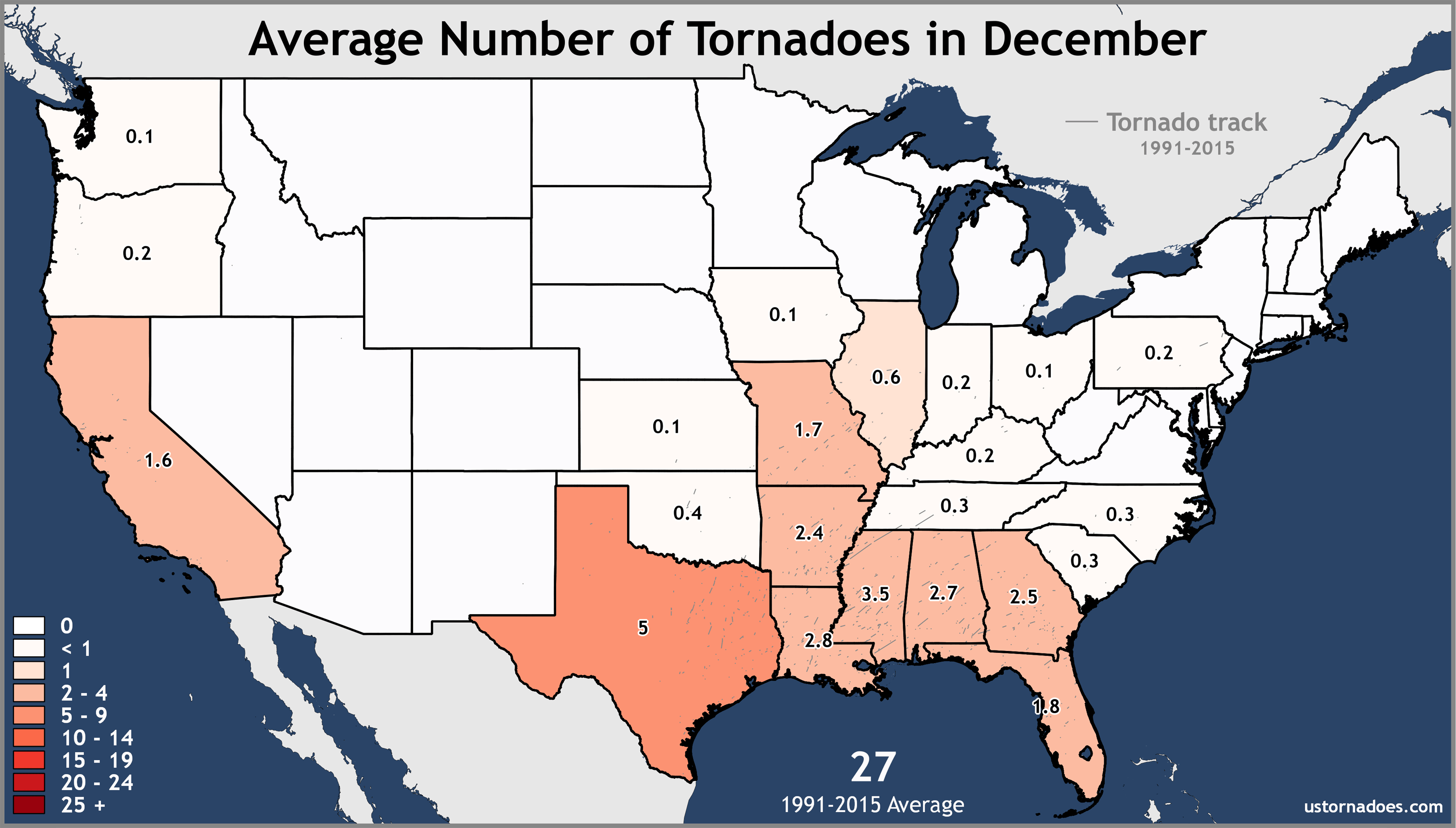 Even in the quietest time of the tornado year, five states see three or more tornadoes in your average December: Texas, Mississippi, Louisiana, Alabama, and Georgia.
Recap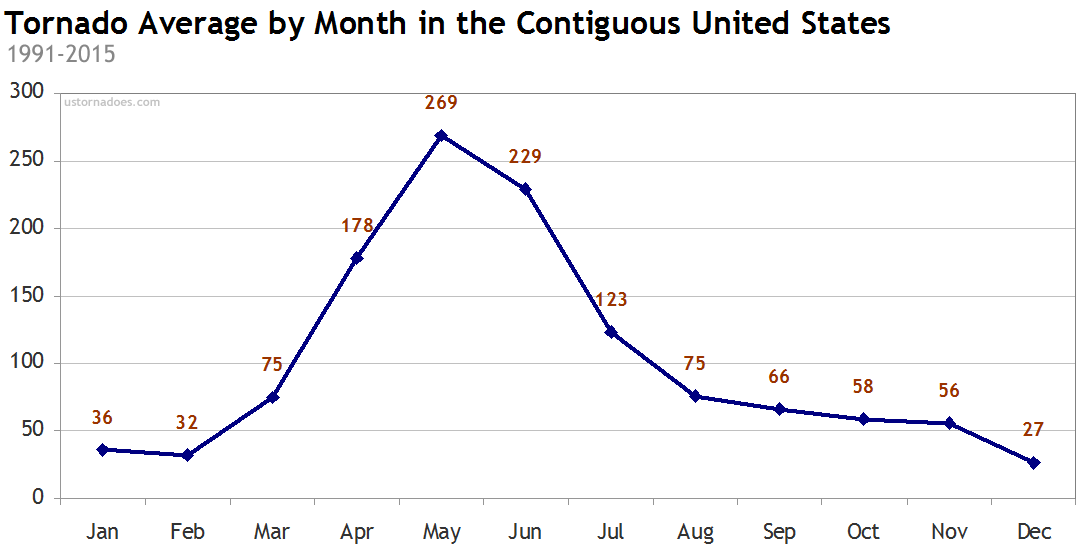 The tornado year features four months with over 100 tornadoes on average, running April through July. While the typical tornado season is often thought of as the peak months of April through June, most months have featured significant tornado events at one time or another.
By meteorological season, roughly 8 percent of tornadoes occur during winter, 43 percent in spring, 35 percent in summer, and 15 percent in fall.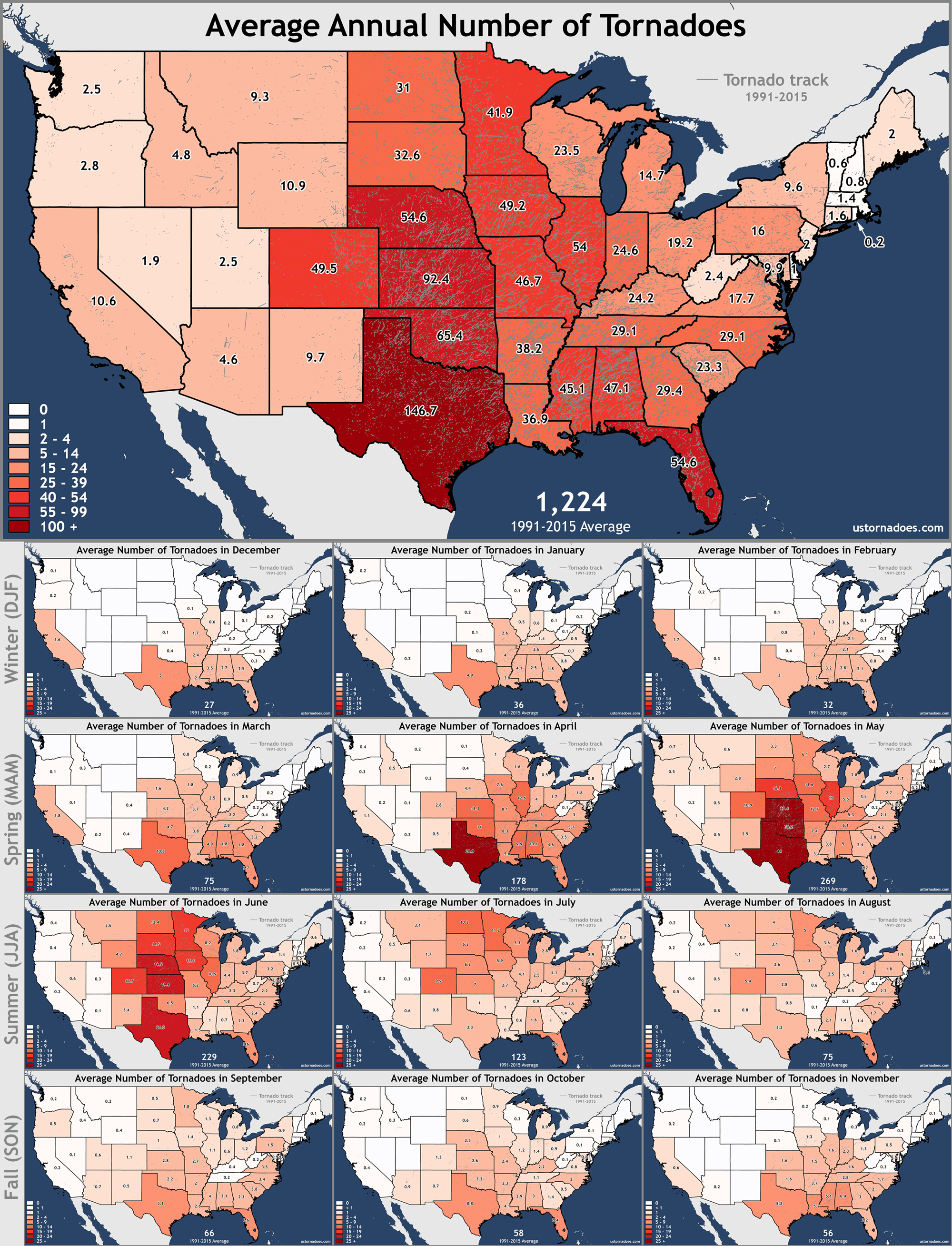 During winter, tornadoes tend to reside near the relative warmth of the Gulf of Mexico. They also like California from winter into spring as storms push ashore from the Pacific. Roughly from March through July, tornadoes slowly march northwest with the jet stream. By late summer that pattern reverses, and sometimes there is an increase in activity during part of fall before a return to the winter quiet period.
Notes…
Averages were produced using Storm Prediction Center data run through GIS.
State values added will not equal the monthly average exactly because some tornadoes cross state lines and are counted for each state impacted. The monthly and annual values are averages of the 25 year sample combined without splitting by state.
Color shades correspond to rounded values.
The following two tabs change content below.
Defense and foreign policy researcher at a D.C. think tank. Information lead for the Washington Post's Capital Weather Gang.
Latest posts by Ian Livingston (see all)