Chasecation 2019 Day 10 – Murky Cone In Oklahoma
Late-ish post brought to you by two long days of chasing and driving.
Wednesday's tornado potential did not become as pronounced and evident until the night before, and to see the SPC forecast quickly ramp up to 15% hatched tornado probability was a bit of a surprise. The low-level moisture return was much quicker and stronger than anticipated, which led to a series of tornadic storms, one of which we caught.
We started off waiting for a long time with a bunch of other chasers in Parsons, Kansas. Oklahoma looked like a better play, but recent rains had caused a slew of road closures north and east of Tulsa, so navigating the area was much more difficult than usual.
A cluster of storms had produced tornadoes south and west of Tulsa, and new storms were popping to the north side of Tulsa. We watched a small one pass by and dropped southeast toward a massive supercell that was trying to cycle and become better organized.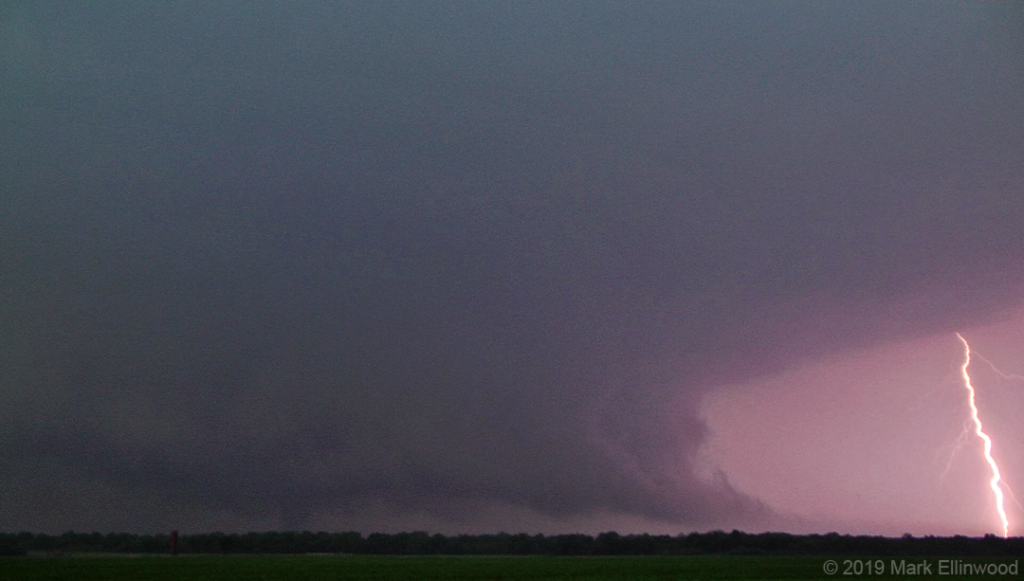 The storm did cycle, and we were greeted with a massive ground-scraping wall cloud near Commerce, Oklahoma. It went on to produce a cone tornado, which you can somewhat see in the contrast-enhanced screen capture above.
This cell went on to produce more tornadoes in Missouri, but we bailed on the storm as it was pulling away and heading into a more densely populated area while darkness was setting in. Keeping up with it would have also put us further away from the next day's target area.
Today we targeted the northeastern Texas Panhandle, and while storms did produce tornadoes in that area, being in the right spot at the right time to see them proved difficult. More on that tomorrow.
The following two tabs change content below.
Operational Meteorologist at WeatherBug (Earth Networks).
See full bio
.
Latest posts by Mark Ellinwood (see all)