Significant August Tornadoes in the United States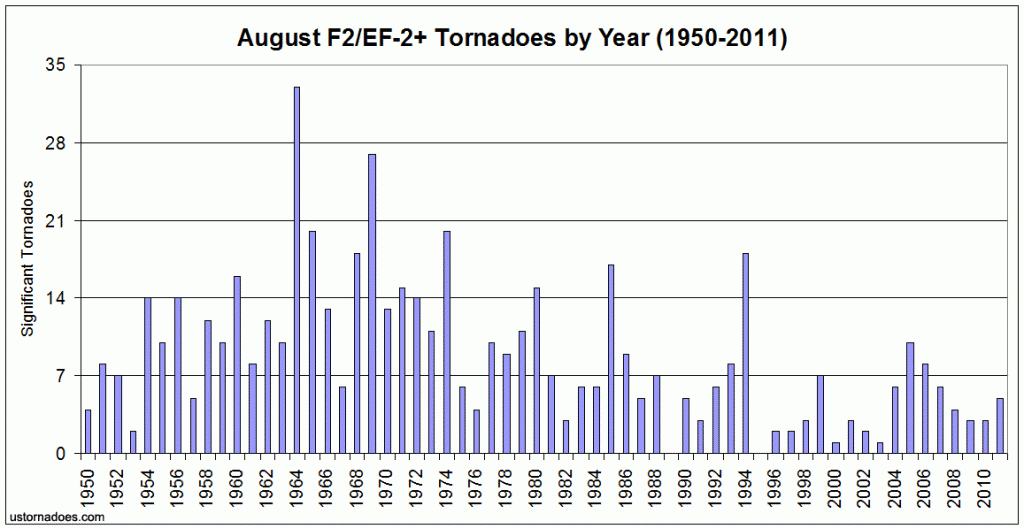 From 1950-2011, August has consistently seen fairly low numbers of strong/significant tornadoes rated F2/EF-2 or higher, though its ratio of strong tornadoes to all tornadoes is similar to July, so there is a sense of summer stability. As with all months, these tornadoes are by far the deadliest.
August Significant Tornado Stats (1950-2011)

Total significant tornadoes: 543
August high: 33 (1964)
August low: 0 (1989, 1995)
1991-2010 average: 4.8
Also seen in other months, unlike the overall tornado account, there appears to be a general decrease in strong tornado activity over recent years. At least some of this can be attributed to increased standards in ratings, but the only two years with no significant tornadoes were both quite recent.
Texas holds the lead for overall count in strong tornadoes during August, but whereas Florida is the second overall state for August tornadoes, it drops to 11th for strong tornadoes. Places experiencing the most strong tornadoes in August are generally those nearest the jet stream across the northern United States. Texas' lofty count is buttressed by mostly F2/EF-2 tornadoes, though not heavily influenced by tropical activity which can also favor the month.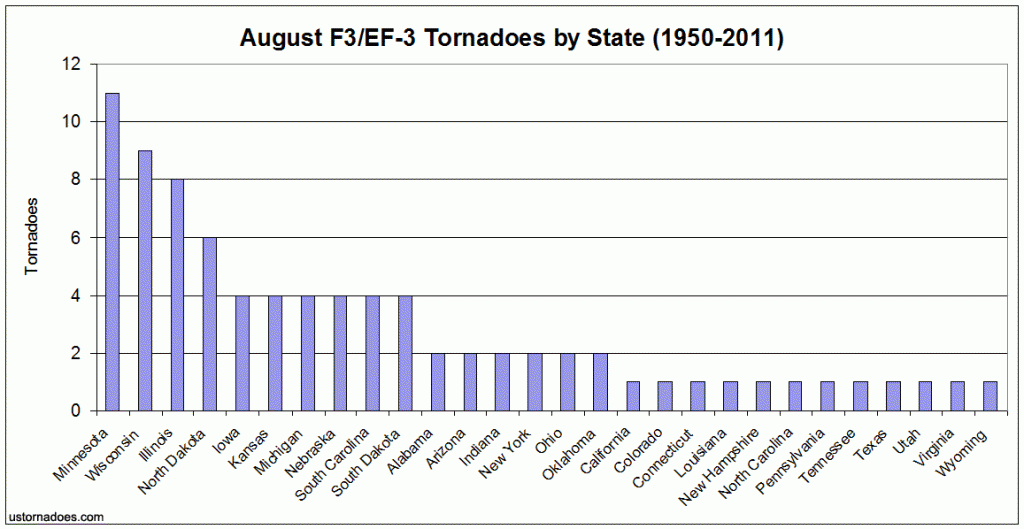 By this time of year, the high level counts for tornado intensity are often dictated by outbreaks. Minnesota leads the F3/EF-3 count as of 2011, but 6 of them came on the 6th in 1969. However, all states in the top of the pack have been hit by tornadoes of this strength in multiple Augusts.
Rare as they are overall, violent tornadoes are few and far between in August on average. The month has seen about 12% the violent tornadoes that April has. As a ratio of overall tornadoes it comes in at less than half a percent compared to over 2 percent in April. Still, those 15 tornadoes caused about half of all August tornado deaths.
All: Jan | Feb | Mar | Apr | May | Jun | Jul | Aug | Sep | Oct | Nov | Dec
Significant: Jan | Feb | Mar | Apr| May | Jun | Jul | Aug | Sep | Oct | Nov | Dec
SPC tornado data obtained at the Tornado History Project. Images can be selected for larger versions. Get updates about U.S. Tornadoes on Twitter and Facebook. Official 2012 data will be available during spring 2013.
The following two tabs change content below.
Defense and foreign policy researcher at a D.C. think tank. Information lead for the Washington Post's Capital Weather Gang.
Latest posts by Ian Livingston (see all)