Here's where tornadoes typically form in June across the United States
These maps break down June tornadoes based on where they begin.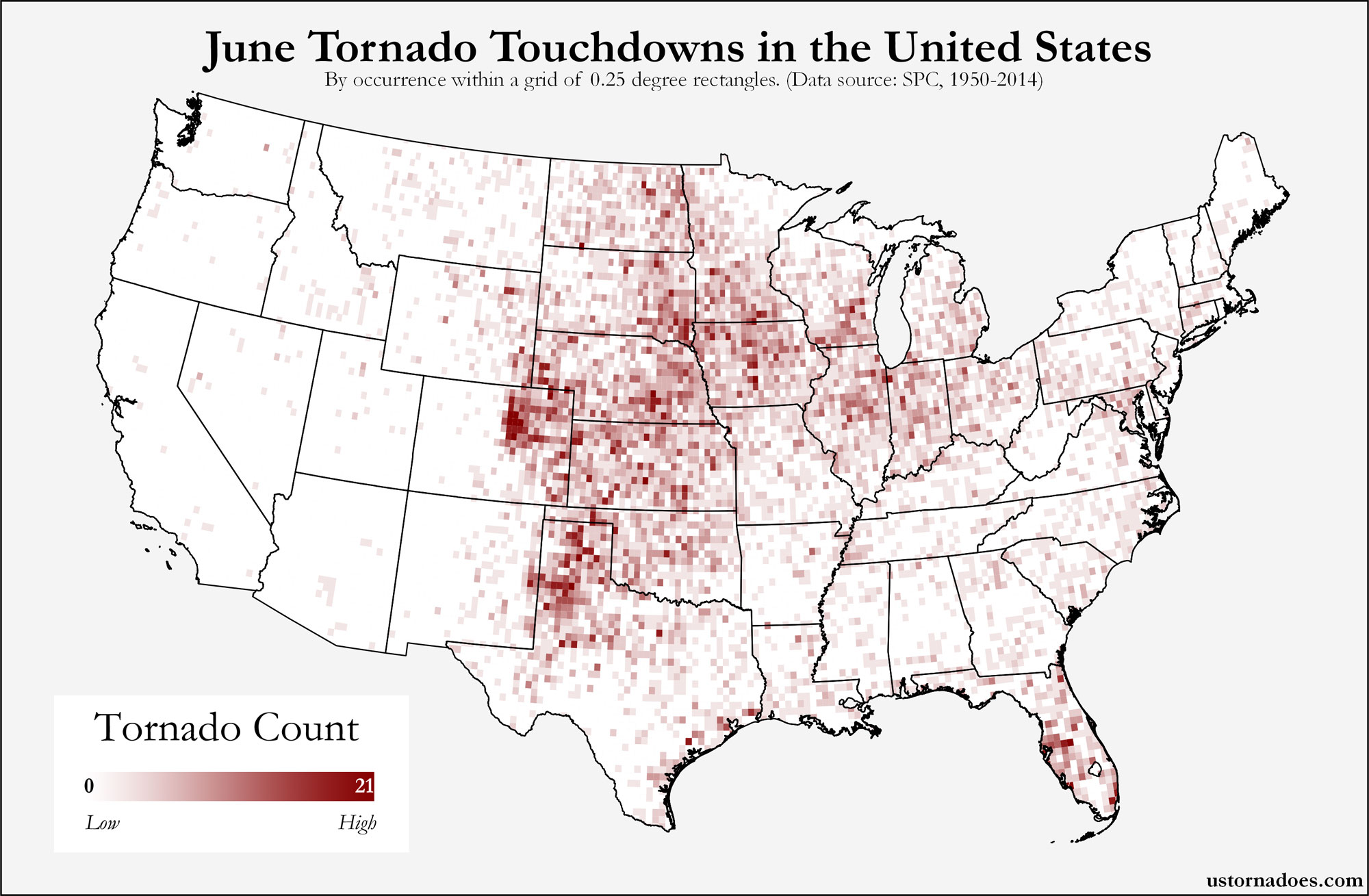 June is the typical end of peak season when it comes to tornadoes. It's historically the second most active month of the year. While major outbreaks are a little less common than in April and May, days featuring tornadoes are at yearly peak for much of the month.
Like prior months, there's a noticeable shift north and west when it comes to the most frequent activity. The high Plains, the central Plains, northern Plains and upper Midwest are particular hot spots.
Where tornadoes form: January, February, March, April, May, June, July, August, September, October, November, December
Tornado averages for the month range from about 230-250 depending on the length and recentness of the averaging period. Throughout recorded history, June has about 1,000 fewer tornadoes than May but that's still considerably more than April.
What June lacks in major outbreaks, it makes up for in continual volleys of tornadoes. In the 1991-2010 period, the "peak of the peak" when it comes to days with tornadoes lies squarely across June. More than 90 percent of all days in that same time-frame saw tornadic activity in June.
All states across the lower 48 have seen tornadoes in June except for Rhode Island. D.C. also has no recorded tornadoes in June. In both cases, it seems quite likely the reason for that is due to their very small size.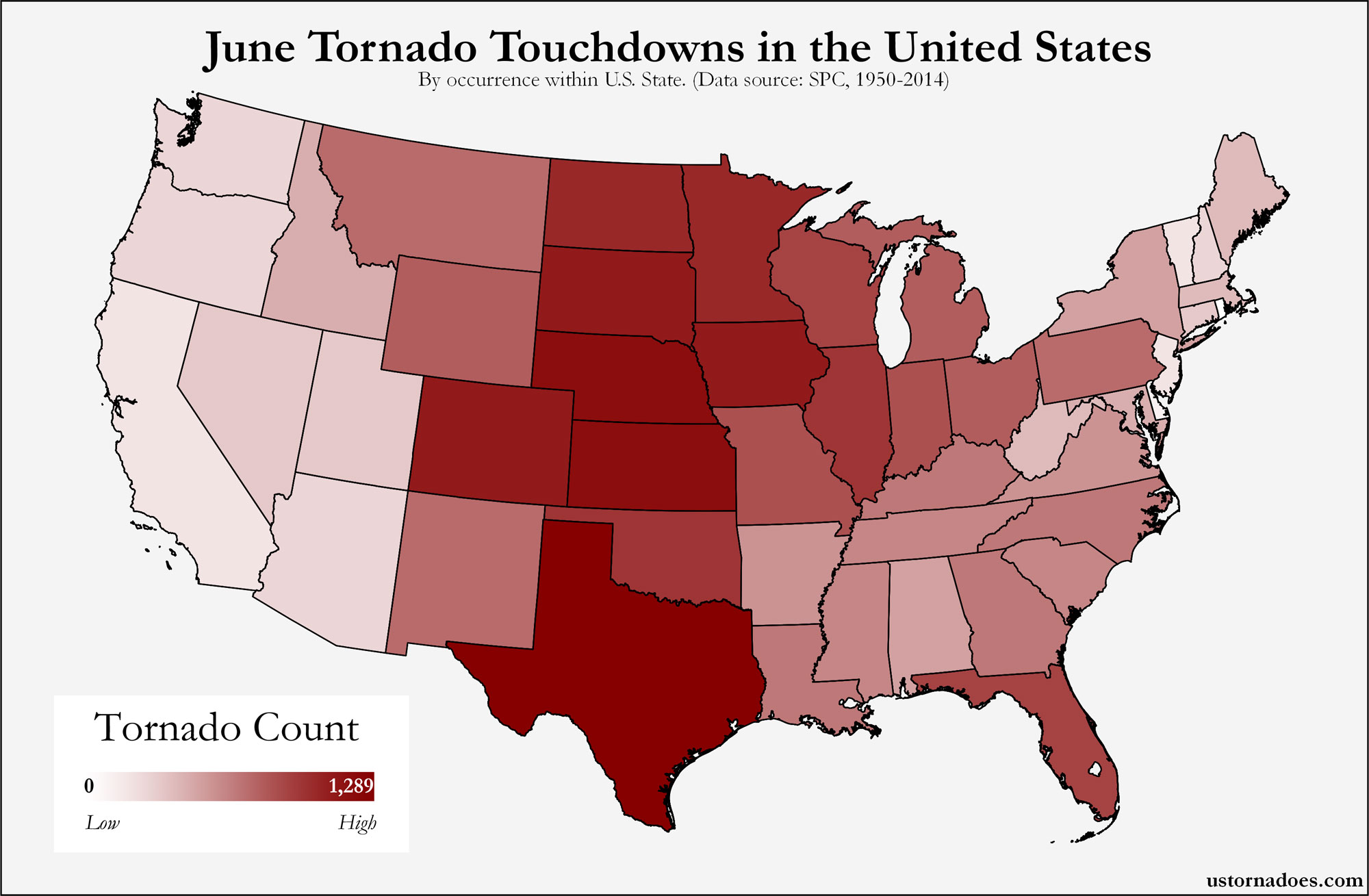 Texas leads the state pack once again, heavily because it's very large (at some point we'll do this kind of thing with normalized numbers). The Plains remains heavy on the list, with perhaps the most notable shift from May to June being Oklahoma quickly falling down the list from third to ninth. Otherwise, the top group is mostly made up of central Plains states and north, then over into the Midwest.
The states with the most twister touchdowns in June: Texas (1,289); Nebraska (965); Kansas (923); Colorado (754); Iowa (708); South Dakota (700); Minnesota (596); North Dakota (546)
Related: June tornado averages by state (SPC)
Like the unbiased-by-size grid map up top, the county map helps highlight the specific areas of tornado activity quite strongly. The high Plains, particularly Colorado and surrounds are bathed in red. Lots of June tornadoes!
In May, the main axis ran from the southern Plains back up into the central high Plains, but in June you see a more north to south coverage area from the Texas panhandle area on up. The central and northern Plains also have a lot of red counties.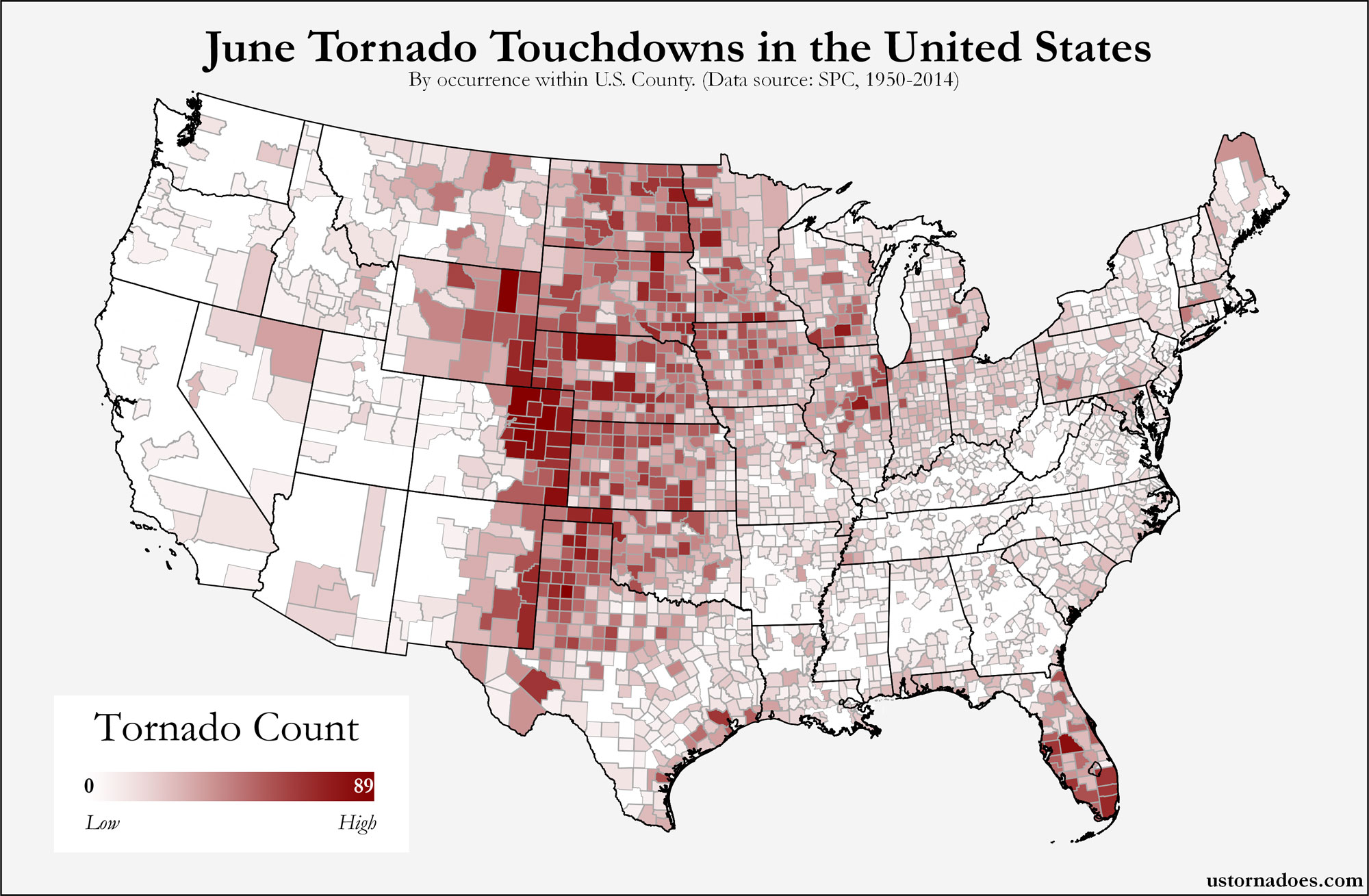 Here are the top eight counties where tornadoes love to drop in June: Weld, CO (89); Adams, CO (60); Elbert, CO (54); Washington, CO (45); Hale, TX (42); Campbell, WY (42); Lincoln, CO (41); Cherry, NE (39)
Related: The month of June by the numbers | Significant tornadoes in June
When it comes to the busiest NWS offices for touchdowns, Sioux Falls, South Dakota leads the way. This is a sizable north shift from prior months, when Norman in Oklahoma has the most touchdowns for April and May.
Other than that, you see the same general pattern as the maps above as you'd expect. The Boulder, Colorado office is often quite busy as supercells love to fire up near the Denver area and roll east throughout the month.
Top eight National Weather Service offices for tornado touchdowns: Sioux Falls, SD – FSD (483); Boulder, Co – BOU (473); Grand Forks, ND – FGF (406); Des Moines, IA – DMX (386); Norman, OK – OUN (358); Amarillo, TX – AMA (356); Twin Cities/Chanhassen, MN – MPX (347); Hastings, NE – GID (332)
Data (1950-2014): States | Counties | NWS (.csv files)
The following two tabs change content below.
Defense and foreign policy researcher at a D.C. think tank. Information lead for the Washington Post's Capital Weather Gang.
Latest posts by Ian Livingston (see all)