Here's where tornadoes typically form in September across the United States
These maps break down September tornadoes based on where they begin.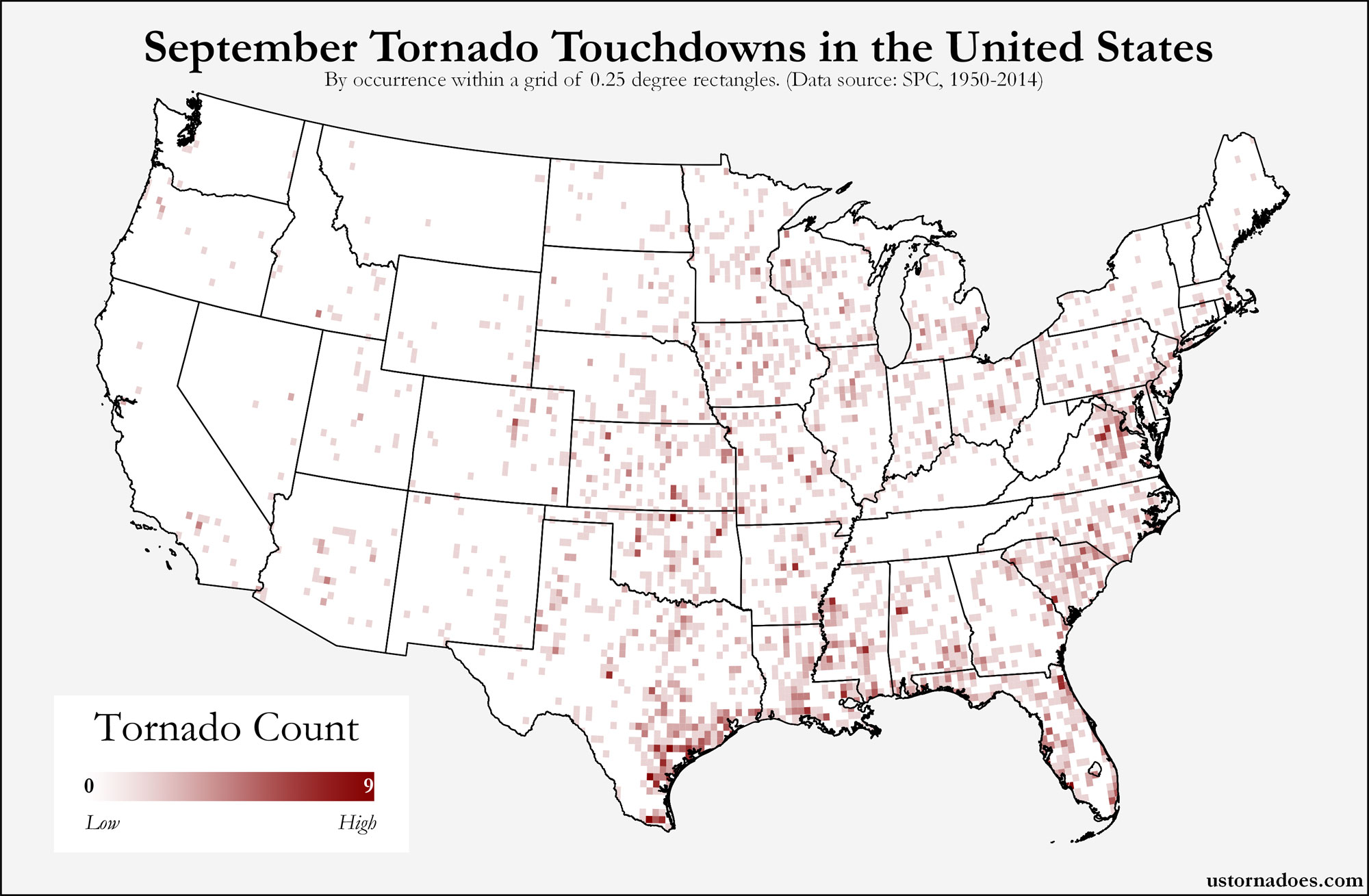 The late-summer slide into the true tornado off-season generally continues in September. But tornadoes happen during all months of course, and September can have some tricks up its sleeve, especially when it comes to tropical cyclones and their remnants.
Overall, there's fairly sparse activity across the eastern two-thirds of the country. The signs that the tornado region is shrinking back to the south are often noted as the cool and dry air of fall makes more frequent appearances.
Where tornadoes form: January, February, March, April, May, June, July, August, September, October, November, December
The average for August tornadoes is right around 70 tornadoes, part of a decline seen coming out of spring and summer. The average numbers are much way lower than August though, in part because of the tropical wildcard which can quickly pad the numbers.
As we get deep into September, seeing much advancement of a primary ingredient — abundant low-level moisture — becomes an increasingly more difficult prospect. On the flip side, some of the first stronger jet stream pushes of the cold season come in as well, and those can occasionally spark intense convection capable of dropping tornadoes.
Like August, there are no significant patterns to September tornadoes across much of the continental United States. There are somewhat apparent signals of tropical system activity, noted east of the Appalachians from the Southeast up into the Mid-Atlantic, and also across much of the Gulf Coast area. These types of events are not an every September type of thing, but they can be prolific. Ivan in 2004 dropped a record-breaking 118 tornadoes.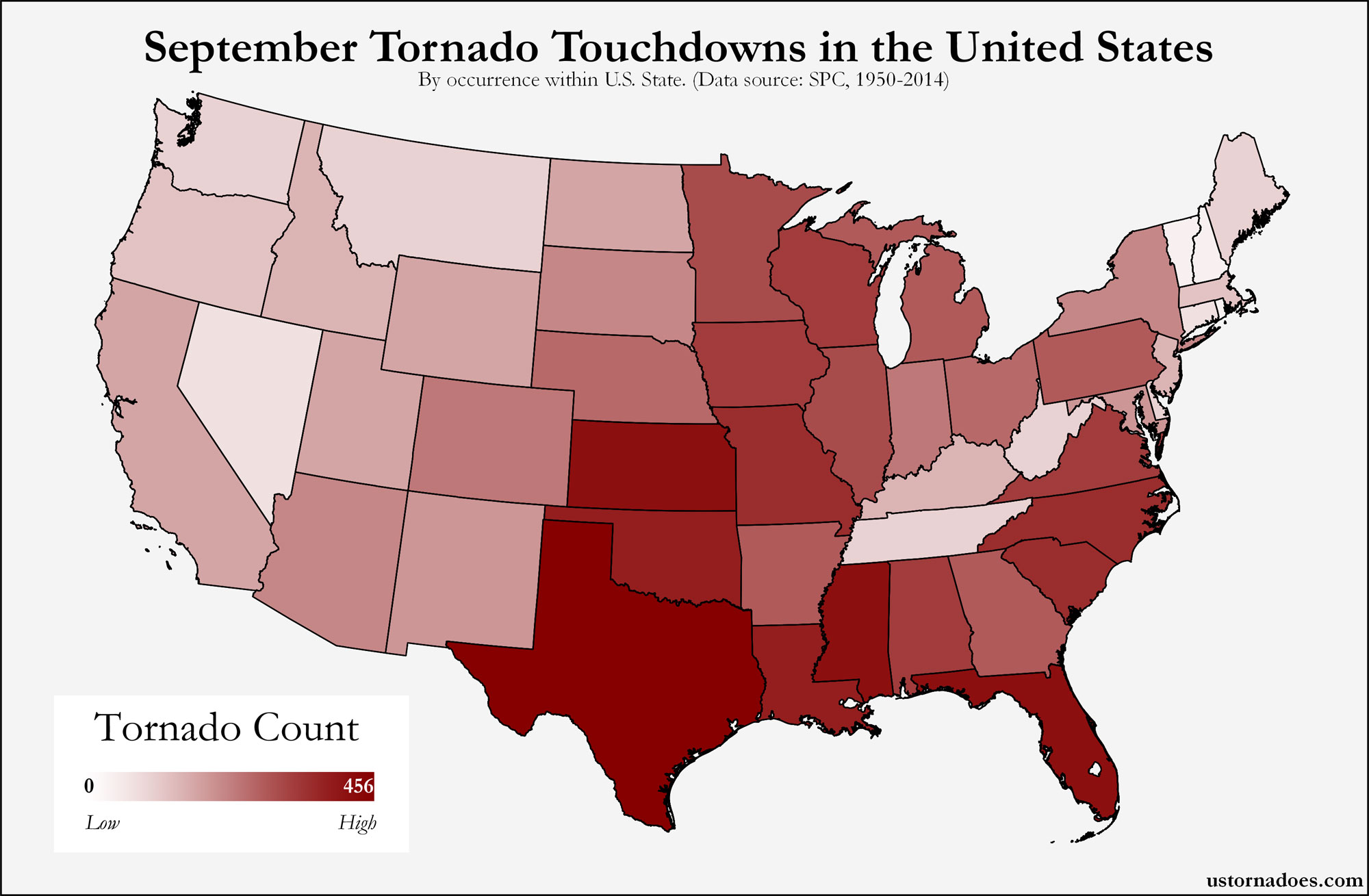 Only the District of Columbia has not seen a tornado touchdown in August across the contiguous United States.
The shrinking of tornado territory is somewhat apparent on the state maps if you compare September to August and October. After tornadoes tend to hang out near the northern international border during the summer, they often quickly evacuate back south as fall sets in.
Again, we see the Gulf states and Carolinas up into the Mid-Atlantic a bit extra red thanks to tropical cyclones making landfall and spawning tornadoes.
These states lead the way for touchdowns in September: Texas (456); Florida (265); Kansas (135); Mississippi (134); Louisiana (130).
Related: August tornado averages by state (SPC)
September is often a bit early for the stronger mid-latitude impulses of the cold season, so there are typically not many big tornado days outside tropical systems. There are of course exceptions, but the month is often a fairly quiet one in years with limited hurricane activity.
The same splatter plot of activity described above is seen in the county maps. Some other more significantly redder regions include the upper Midwest into the central Plains. This can be a battle ground between remnant moist air and the beginnings of more vigorous storms of winter.
And it's a big county, but San Bernadino in California actually ranks up there, with 9 tornadoes during the month!
These counties have seen the most tornado touchdowns in September: Lee, FL (20); Nueces, TX (16); Harris, TX (15); Hidalgo, TX (13); Goliad, TX (13); Palm Beach, FL (13); Jim Wells, TX (13).
Related: The month of September by the numbers | Significant tornadoes in September
Several NWS offices known for facing a lot of tornadoes return to the lists after a summer slumber. While outside the top five group, NWS Minneapolis and NWS Des Moines have each seen their fare share of strong September tornadoes. As has NWS Baltimore/D.C., again largely from Ivan but also from other notable September events like the one which spawned the College Park tornado in 2001.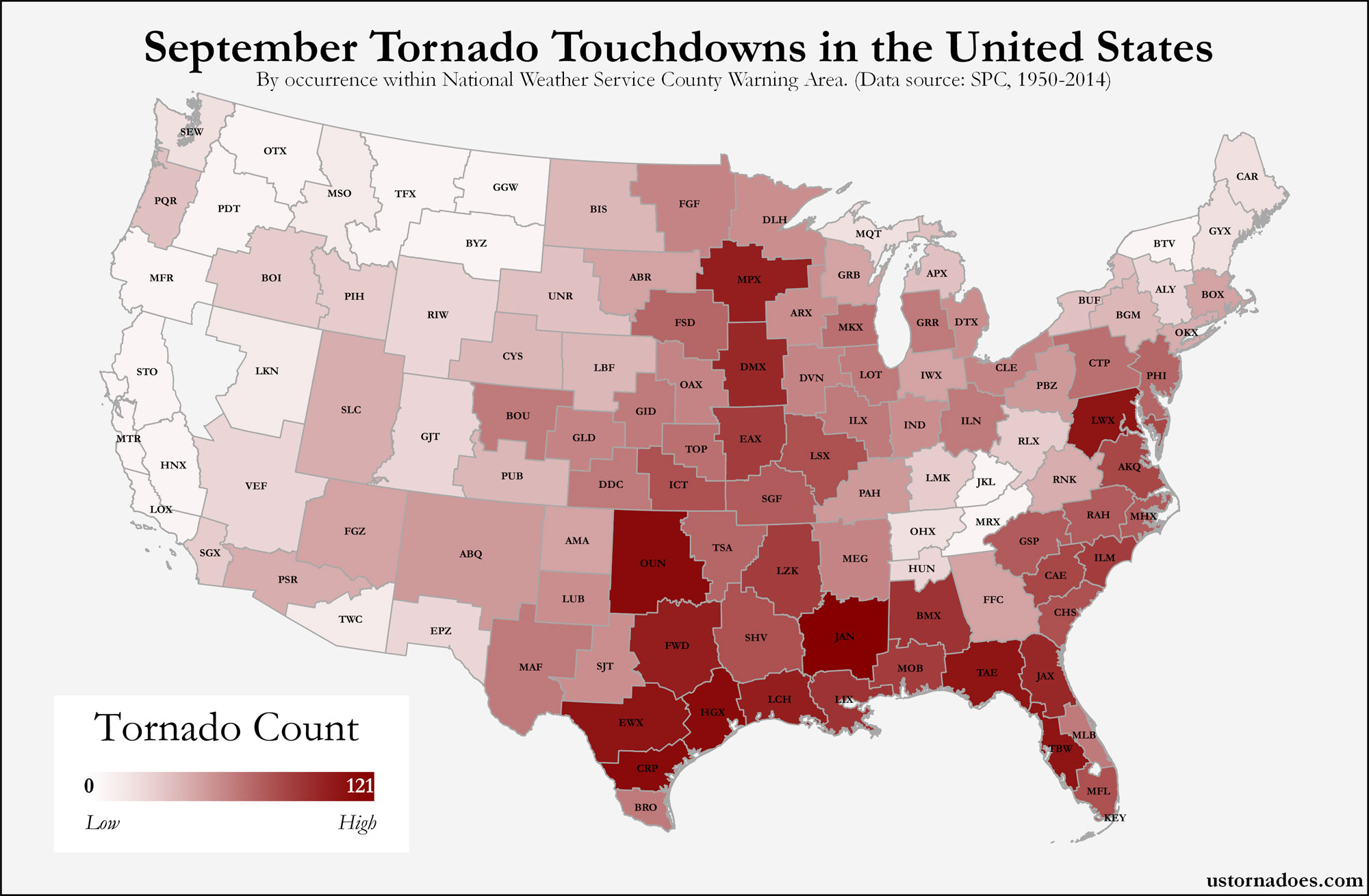 These NWS offices have dealt with the most September touchdowns: Jackson, MS – JAN (121); Norman, OK – OUN (92); Corpus Christi, TX – CRP (88); Houston/Galveston, TX – HGX (85); Tallahassee, FL (77).
Data (1950-2014): States | Counties | NWS (.csv files)
The following two tabs change content below.
Defense and foreign policy researcher at a D.C. think tank. Information lead for the Washington Post's Capital Weather Gang.
Latest posts by Ian Livingston (see all)