Spring 2016 seasonal tornado outlook
After kicking off 2016 with a fairly normal January, a few strong upper-level systems dropped into the central United States in February, tapping into the Gulf of Mexico and generating a slew of tornado reports that together amounted to one of the more active Februaries the country has seen in recent years.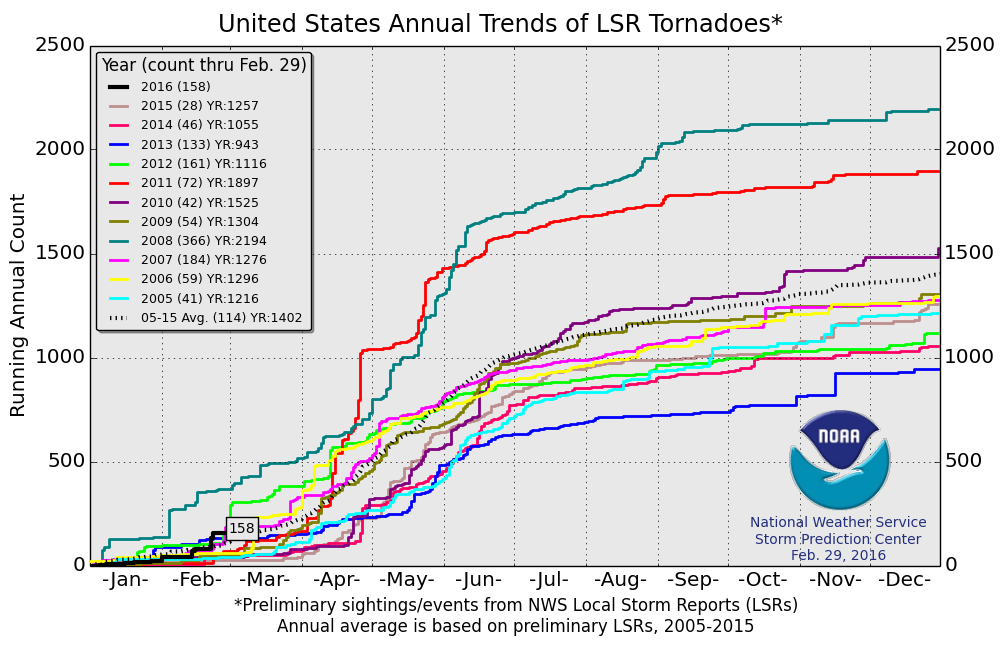 The first week of March does not look very conducive to tornadoes. The month will kick off with a positively-tilted trough that will move across the Midwest and East. The area of combined instability and directional wind shear needed for tornadoes will be limited. Another system moving in behind it a couple of days later should be weak and is not expected to produce tornadoes.
A different pattern develops for week two of March. A deep trough will likely slide across the southwestern U.S., pulling the warm Gulf air up into the South. There is some potential there for a multi-day severe/tornado setup across the South. Before it even reaches that part of the country, I would not be surprised if California has a tornado day during the first weekend of March as the system comes ashore.
Troughing will most likely linger over the southwestern U.S. during the back half of March, which would offer higher-than-normal chances for tornadoes in the Plains, Midwest, and South to close out the month.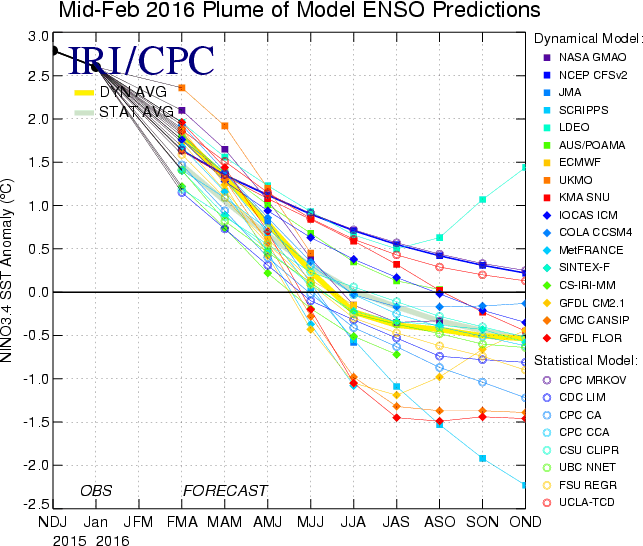 For April and May, I mainly focused on the impacts of the El Niño-Southern Oscillation (ENSO), a positive, but likely to weaken, Pacific Decadal Oscillation (PDO), and warm waters in the Atlantic creating a positive Atlantic Multidecadal Oscillation (AMO).
The strong El Niño we are currently in has proven to be a major pattern driver this winter. Lingering effects of this pattern will likely persist into spring.
A positive PDO typically correlates to upper-level ridging over the western United States, which would create a less favorable storm track for tornadoes. However, I anticipate the PDO to weaken in March as more troughing sets up over the Southwest. From there, I expect a continued weakening into the rest of spring as storm systems dig down from the eastern Pacific into the Southwest.
The warm sea surface temperatures in the Gulf and Atlantic could help with delivering more moisture and warmer temperatures across the South, provided the dominant storm track over the country can tap into this source of moisture and energy.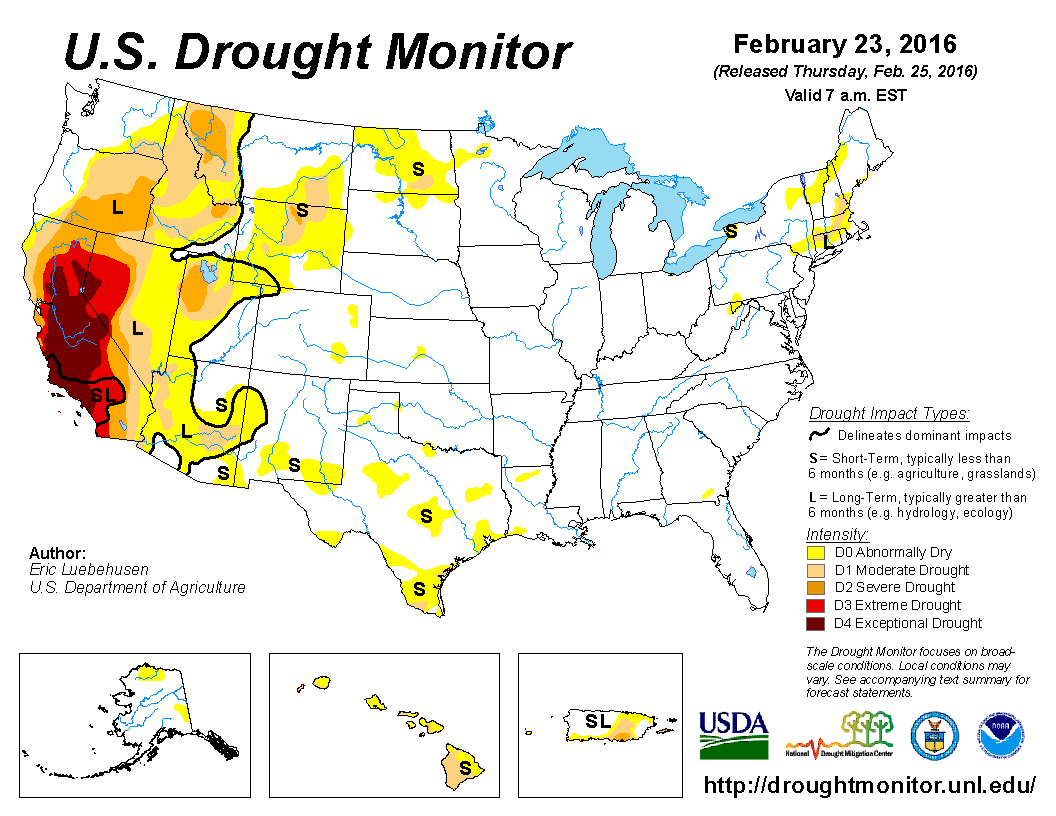 I put less weight on drought conditions this year compared to previous years. The current main drought area in the western Southwest and interior Northwest may try to enhance western ridging at times, which is less favorable for tornadoes because it disrupts the jet-stream flow needed for their creation. However, this year, the drought is not that prolific outside of California, and is not directly impacting areas east of the Rockies.
My seasonal analogs were limited to just two years this time around. I heavily weighted 1998, which was another strong El Niño that had a +PDO and +AMO. There were also some similarities to 1983, but the correlations were not as strong as 1998, so it was weighted less.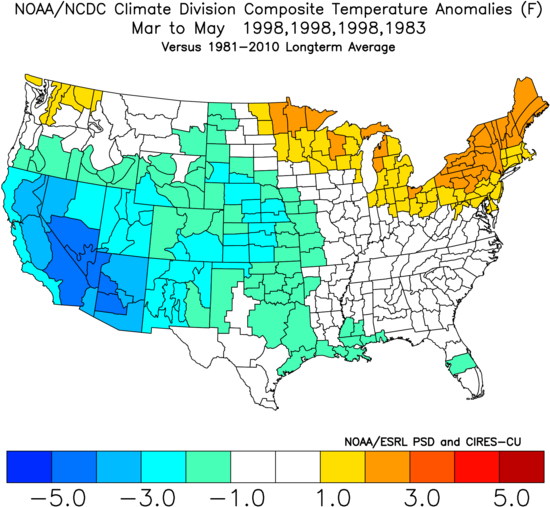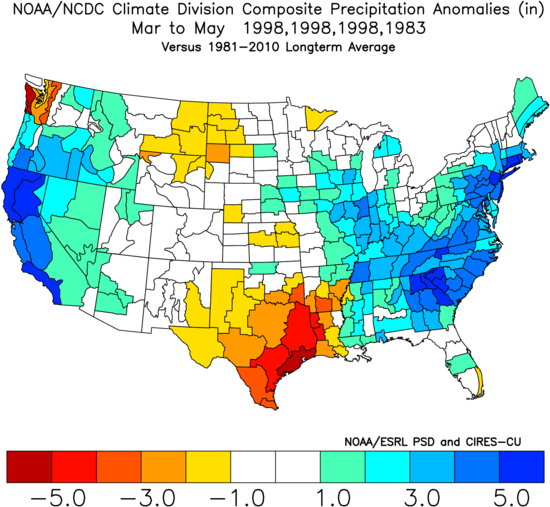 I would lean towards this year having a warmer spring across the northern part of the country compared to what the analog composite above shows. I would also favor a bit less precipitation along the immediate West Coast, with more precipitation in the interior Southwest and High Plains.
Bottom line…
I am expecting the tornado count to be near normal this spring, with more frequent storm tracks that would favor a higher concentration of tornadoes in the High Plains to Midwest compared to normal. The Texas/Oklahoma Panhandles up through Nebraska/Colorado and into the Upper Midwest could get more tornadoes than normal under this setup.
Heavy weighting towards 1998 as the main analog year would suggest a slight upside risk to the forecast due to the persistent trough in the southwestern U.S., though the lower than normal tornado count of 1983 puts some doubt in the upside potential.
Odds of the tornado count ending up below/near/above the normal off 511 tornadoes (1991-2010 average) for meteorological spring:
Below normal: 20% (less than 460 tornadoes)
Near normal: 50% (between 460 and 550 tornadoes)
Above normal: 30% (above 550 tornadoes)
Long term forecasts, while generally providing added value to climatology, are still very broad-brush outlooks and do not offer a very consistent level of skill. This forecast only hopes to capture some of the most reliable information available to provide a best guess as to what spring may bring.
The following two tabs change content below.
Operational Meteorologist at WeatherBug (Earth Networks).
See full bio
.
Latest posts by Mark Ellinwood (see all)