U.S. Tornadoes: The Month of July by the Numbers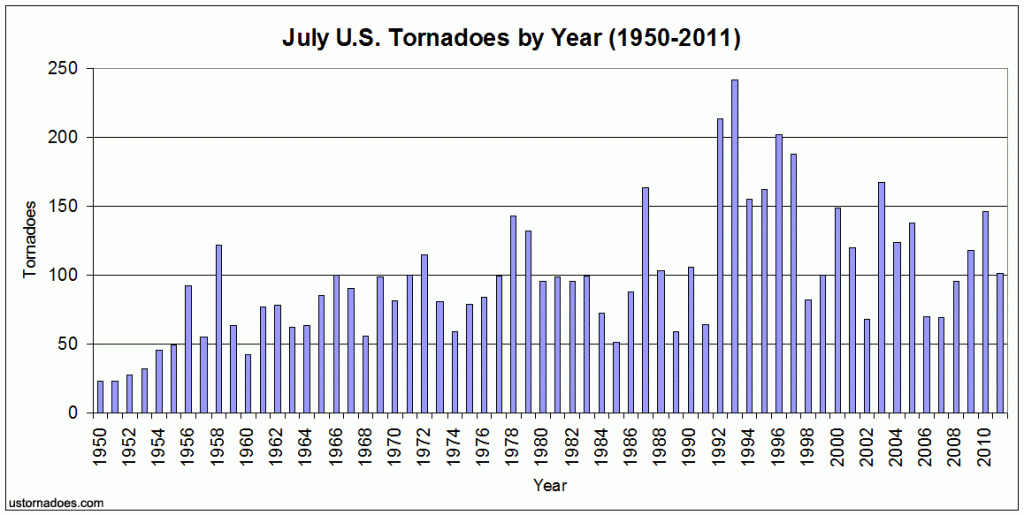 July is the fourth most active month of the year for tornadoes, but the continued downward trend from peak season becomes quite evident during most Julys. Outbreaks are less common, yet given that it's also the peak of the warm season across the United States, tornadoes are possible in most parts of the country.
The 1950-2011 July tornado history map indicates that tornadoes are most prevalent in the northern Plains, with favored areas also including the central and high Plains as well as Florida and perhaps even the northeast!
July Tornado Stats (1950-2011)
Total tornadoes: 6,054 (-4,979 from June)
Climatological average (1991-2010): 133.6 (-109.3 from June)
10-year average (2002-2011): 109.6
Long-term average (1950-2011): 97.6
Monthly high: 242 (1993)
Monthly low: 23 (1950/51) / 51 (1985), lowest recent
Total fatalities: 67
Total injuries: 2,150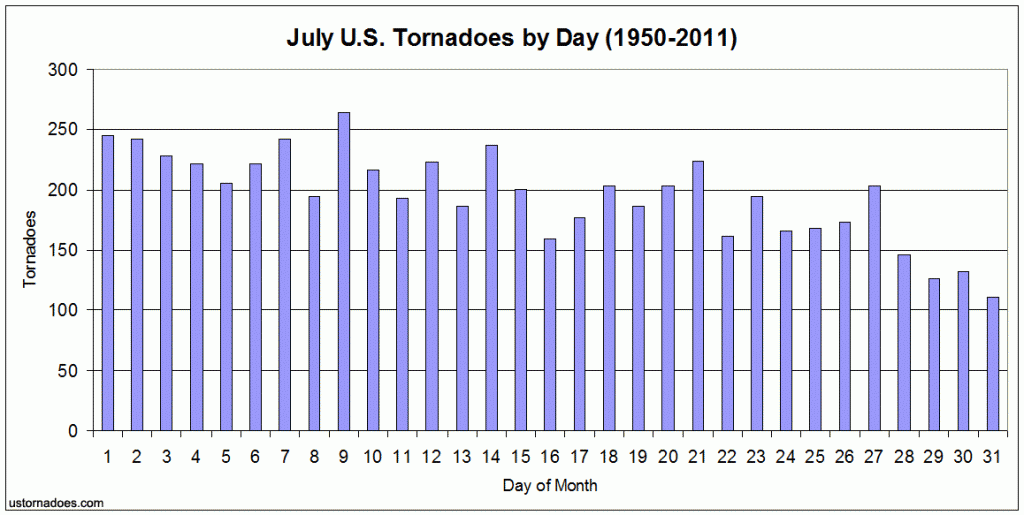 Though most comparable to April in terms of overall numbers, tornadoes by day show less variability, and also less top-end potential. April is a month known for its lengthy quiet periods intermixed with major outbreaks. July features more consistent smaller-scale activity thanks to a considerably less active summer jet stream. This idea can be seen in the percentage of days with tornadoes in each month using a tornado day count — July has almost 25% more days with tornadoes, but still finished with several thousand less when tallied.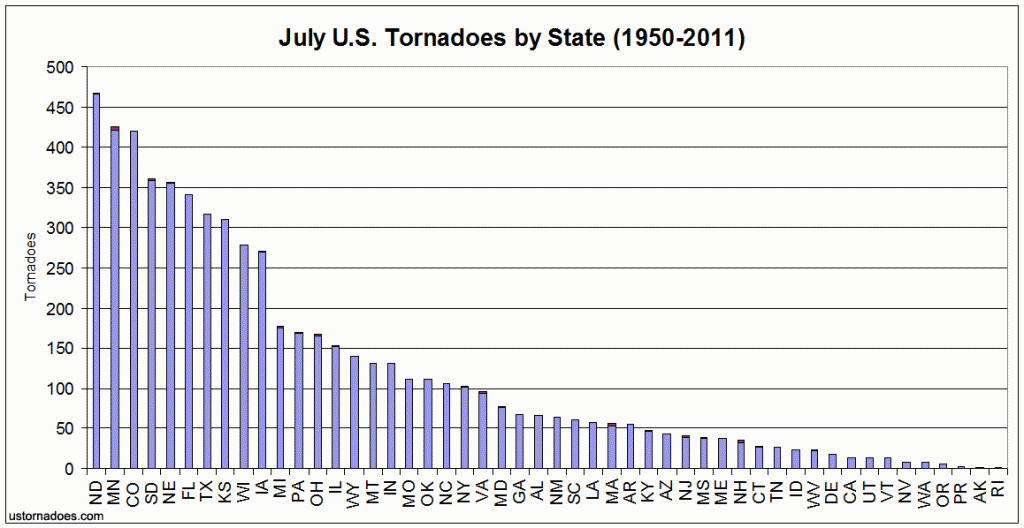 When looking at tornado numbers by state, perhaps the most immediately evident aspect is that Texas falls out of the top spot that it's held for every month (back to April) examined here thus far, all the way to 7th on the list. All states come in with below 500 tornadoes in the period for July, with North Dakota, Minnesota, Colorado, South Dakota and Nebraska leading the list.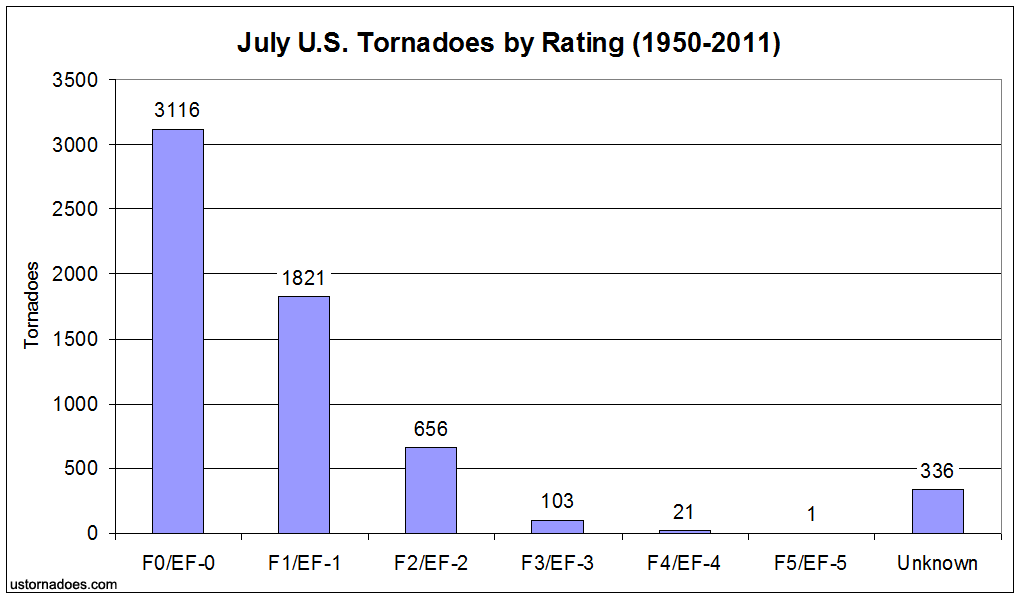 U.S. Tornadoes by The Numbers

All: Jan | Feb | Mar | Apr | May | Jun | Jul | Aug | Sep | Oct | Nov | Dec
Significant: Jan | Feb | Mar | Apr| May | Jun | Jul | Aug | Sep | Oct | Nov | Dec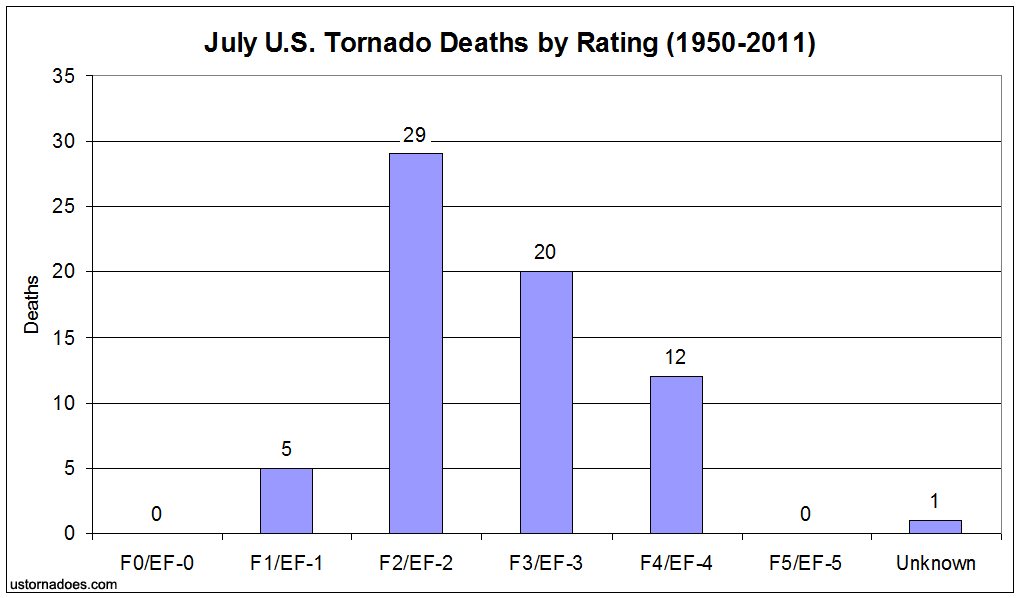 Significant tornadoes comprised 12.9 percent of July tornadoes throughout the period, but they were responsible for 91 percent of the deaths. The ratio of significant tornadoes to all tornadoes is now quite low compared to peak months. The deadliest July tornadoes each killed 5 people, one was an F3 in Minnesota and one was an F4 in North Dakota.
SPC tornado data obtained at the Tornado History Project. Images can be selected for larger versions. Get updates about U.S. Tornadoes on Twitter and Facebook. Official 2012 data will be available during spring 2013.
The following two tabs change content below.
Defense and foreign policy researcher at a D.C. think tank. Information lead for the Washington Post's Capital Weather Gang.
Latest posts by Ian Livingston (see all)